In a previous article on Noble Corp. (NYSE:NE), I had explained how investors can expect a better performance from the company in the long run and take advantage of the slide in its shares. The reason behind my positive argument was attributable to Noble's robust backlog and the fact that lower supply will eventually spur an investment in deepwater projects. Additionally, I had also pointed out that Noble has been able to improve its revenue, cash flow, and margin profile despite the weakness in the end market.
However, given the weakness in the oil market, with the commodity having dropped to less than $30 a barrel, it is also important to check whether or not Noble's fundamentals are strong enough. This is because Noble will ideally need a strong balance sheet and also reduce costs in order to withstand weakness in the oil market. Let's take a look.
Managing the balance sheet smartly
At first look, Noble's balance sheet clearly indicates that it is burdened with debt. The company's debt position of $4.49 billion is way ahead of its cash position of just $164 million. However, on taking a closer look, it becomes evident that Noble will be able to manage this level of debt given its smart steps and favorable maturities.
For instance, Noble enjoys a favorable debt maturity schedule, as shown below, with smaller payments to be made in the coming four years.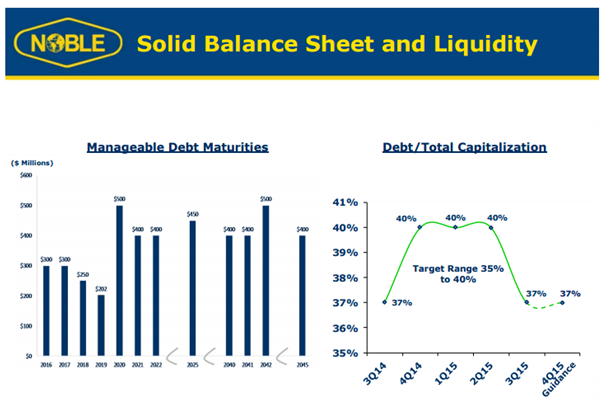 Source: Noble Corp.
Now, a look at the debt-maturity schedule clearly indicates that Noble will be able to gradually pay down its debt going forward, which will allow it to reduce the leverage. This is the reason why Noble's debt-to-total capitalization ratio has dropped of late, and given the steps that it is taking to improve the cash flow, it should be able to pay down more of its debt and reduce the interest burden further.
For example, Noble has drastically reduced its annual capital expenditure of late. In 2015, the company's capex went down from $1.9 billion in 2014 to $450 million during the year. What's more, for 2016, Noble forecasts that its capital expenditure will go down to $340 million. This is shown in the chart given below: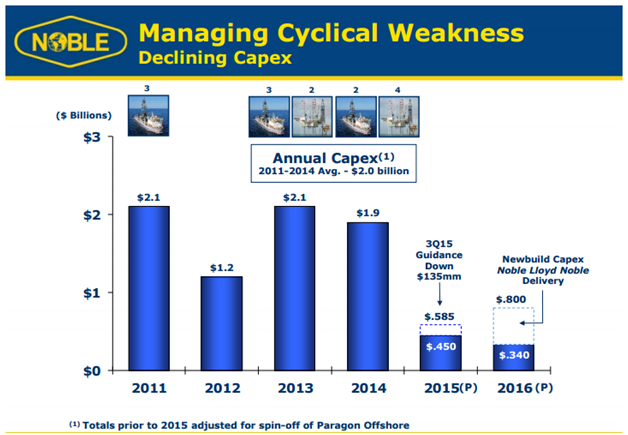 Source: Noble Corp.
As a result of the decrease in the capital expenditure, Noble has been able to improve its operating cash flow in the past few months. This is shown in the chart given below: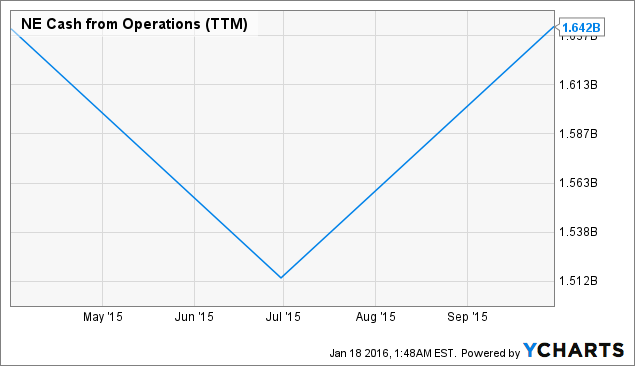 NE Cash from Operations (NYSE:TTM) data by YCharts
Now, the increase in Noble's cash flow and the decline in its capital expenditure are improving Noble's liquidity position. The good thing is that the company is using this liquidity to reduce the debt burden. For instance, in the third quarter, Noble brought down its debt to $4.5 billion from $4.8 billion in the second quarter by repaying $350 million worth of senior notes.
As a result of this move, Noble was able to reduce its debt to net capitalization ratio to 37% for the quarter, an improvement from the ratio of 40% for the second quarter Going forward, Noble's longer-term debt maturity profile, along with the improving cash flow, will allow it to continue reducing the leverage to as low as 35%.
Maintaining impressive liquidity
As Noble has been following a conservative capital expenditure plan, the company has seen its free cash flow improve rapidly in the past year. This is seen in the chart given below: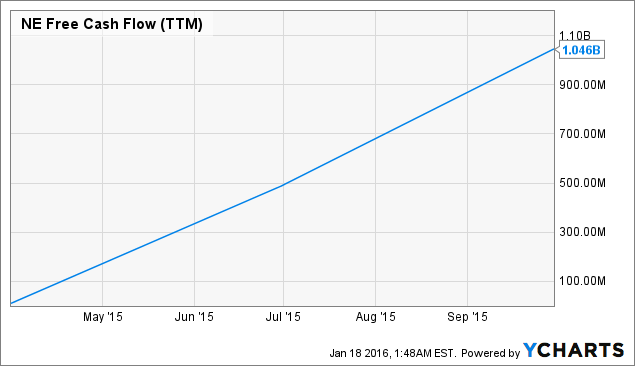 NE Free Cash Flow (TTM) data by YCharts
As seen above, Noble's free cash flow now exceeds $1 billion, indicating that the company is well-equipped to make investments in its own business for future growth and also withstand the weakness in the oil patch. Looking ahead, Noble will be able to maintain this impressive liquidity position as it has reduced its capital expenditure levels, while the fact that it has also reduced its dividend to the tune of 60% will take its cash position to $300 million from around $165 million currently.
All in all, Noble Corp's total liquidity at the end of 2015 will come in at $3 billion with further improvements expected next year due to a lower dividend and reduced capital expenses.
Conclusion
Thus, Noble is well-placed to overcome the downturn in the oil industry as it has a strong balance sheet and robust liquidity. On top of that, as mentioned in the previous article, Noble also has a robust backlog that will allow it to benefit from an improvement in the end-market scenario in the long run. So, in my opinion, it will be a good idea to remain invested in Noble Corp. as it looks like a resilient performer in the current oil environment.
Disclosure: I/we have no positions in any stocks mentioned, and no plans to initiate any positions within the next 72 hours.
I wrote this article myself, and it expresses my own opinions. I am not receiving compensation for it (other than from Seeking Alpha). I have no business relationship with any company whose stock is mentioned in this article.