Background
Established asset manager as well as up-and-comer in the ETF world, Virtus Investment Partners (NASDAQ: VRTS) is in our spotlight.

VRTS is a small cap. investment management company, with a market cap. of approximately $790 million and an overall AUM of just under $50 billion. AUM for VRTS has been declining for quarters, and share prices have reflected this.
However, there may be one silver lining to VRTS: ETFs. As detailed below, VRTS involvement in the ETF landscape could stop the bleeding as far as AUM is concerned.
AUM Decline for VRTS
| | |
| --- | --- |
| Quarter Ending | VRTS AUM (billions) |
| 09/30/2014 | $59.6 |
| 12/31/2014 | $56.7 |
| 03/31/2015 | $54.8 |
| 06/30/2015 | $52.4 |
| 09/30/2015 | $47.9 |
We would like to note there are only two possible reasons for fluctuations in AUM: inflows/outflows and performance of the assets. As we see above, there are quarter-over-quarter declines in AUM. As for the most recent quarter, VRTS claims that $1.6 billion of the drop in AUM was attributable to net flows, and the other 2.7 billion attributable to performance. Along with Institutional Accounts, the ETFs division was the only other VRTS division with net AUM inflows.

As for VRTS' mutual funds and other offerings, they had net outflows. This is a story that we will start to see more of as asset managers with offerings of yesteryear will go by the wayside unless they can jump on board this train. ETF industry net inflows overall are up year, after year. Not only are ETFs an expanding industry, it is a lucrative one.
ETF Involvement
On January 26, 2015, it was announced that Virtus would acquire a majority stake in ETF Issuer Solutions, along with affiliated companies ETF Distributors, and Etfis Captial. This established Virtus as a player in the ETF issuer market.
ETF Issuer Solutions Inc: "Comprehensive services platform designed specifically to build, operate, and market exchange-traded funds"
ETF Distributors LLC: ETF distribution firm and licensed Broker-Dealer
Etfis Capital: ETF advisor to 3 funds and registered RIA
ETF Issuer Solutions, and its affiliated companies have helped 7 total ETFs launch so far. It is important to note that despite Etfis Capital being listed as advisor to the funds, the do not fully operate these funds. Rather, they partner with sub-advisors to manage the funds. ETF Distributors LLC is, however, the distributor for the funds. Below is a table of the funds, in chronological order of launch date.
Ticker

Launch Date

AUM (millions)

Asset Class

Sub-Advisor Partner

Fund Name

Before VRTS Acquisition

InfraCap MLP ETF (NYSEARCA:AMZA)

10/07/14

$14.53

Equities

Infrastructure Capital Advisors

InfraCap MLP Fund

BioShares Biotechnology Products ETF (NASDAQ:BBP)

12/17/14

$17.33

Equities

LifeSci Index Partners

BioShares Biotechnology Products Fund

BioShares Biotechnology Clinical Trials ETF (NASDAQ:BBC)

12/16/14

$16.65

Equities

LifeSci Index Partners

BioShares Biotechnology Clinical Trials Fund

After VRTS Acquisition

Tuttle Tactical Management U.S. Core ETF (NASDAQ:TUTT)

02/25/15

$78.32

Multiple

Tuttle Tactical Management,

The Tuttle Tactical Management U.S. Core Fund

Tuttle Tactical Management Multi-Strategy Income ETF (NASDAQ:TUTI)

06/10/15

$32.48

Multiple

Tuttle Tactical Management

The Tuttle Tactical Management Multi-Strategy Income Fund

Virtus Newfleet Multi-Sector Unconstrained Bond ETF (NYSEARCA:NFLT)

08/11/15

$168.18

Bonds

Newfleet Asset Management

Newfleet Multi-Sector Unconstrained Bond Fund

Reaves Utilities ETF (NASDAQ:UTES)

09/23/15

$5.26

Equities

Reaves Asset Management

Reaves Utility Income Fund
Poor Stock Performance
VRTS shares have been getting battered since the stock's all-time high on May 8, 3013 at $239.00. VRTS shares are currently down over 60% compared to previously May '13 highs.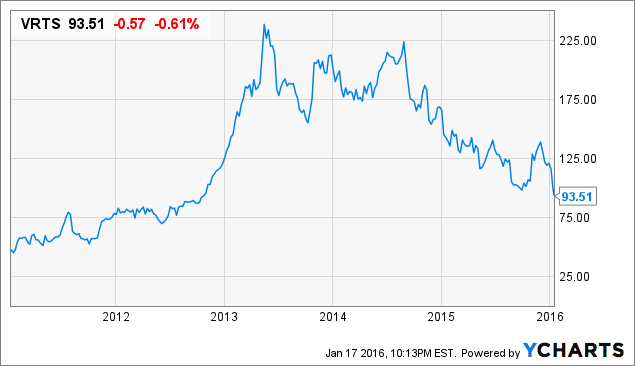 Value Comparison
VRTS is trading with a P/E of 17.94, which sparked us to make a brief valuation comparison to an ETF sponsorship titan with nearly identical AUM figures: WisdomTree Investments (NASDAQ:WETF).
One of our favorites, WisdomTree currently trades at a higher P/E of 22.69. The two companies have far different market caps despite nearly identical AUMs.
| | | |
| --- | --- | --- |
| | NASDAQ:VRTS | NASDAQ:WETF |
| Market Capitalization (millions) | $830.42 | $1,680.00 |
| P/E | 17.94 | 22.69 |
| AUM (billions) | $47.90 | $47.53 |
| # ETF Offerings | 7 | 92 |
| # Mutual Fund Offerings | 60 | 0 |
| Dividend Yield | 1.93% | 2.82% |
Conclusion
Given the trajectory of the ETF industry, and VRTS' history of steady ETF launches, we would expect VRTS to launch many more ETFs in 2016.
VRTS' investment in ETF Issuer Solutions might be what it needed to stop the firms AUM hemorrhaging saving this asset manager. Everyone loves a turnaround story, and looking into the future, VRTS could be one.
We look forward to keeping track as this all unfolds.
References
ETF Issuer Solutions Announcement
Disclosure: I/we have no positions in any stocks mentioned, and no plans to initiate any positions within the next 72 hours.
I wrote this article myself, and it expresses my own opinions. I am not receiving compensation for it (other than from Seeking Alpha). I have no business relationship with any company whose stock is mentioned in this article.