I have been pointing out for some time that major markets are heading down and so is the U.S economy. We are just starting to see more proof and the market has begun to see through the Fed rhetoric.
Last Friday it was reportd that U.S. industrial production dropped for the third straight month in December. The Federal Reserve says industrial production, which includes manufacturing, mining and utilities, contracted 0.4 percent after retreating a revised 0.9 percent the previous month. The November decline was the biggest drop since May 2009.
The Empire State manufacturing survey shows business conditions in New York worsened significantly in January, declining for the sixth consecutive month and at their worst level since the Great Recession, the New York Federal Reserve said Friday.
"Business activity declined for New York manufacturing firms more sharply than at any time since the 2007-09 recession, according to the January 2016 survey," the report said. The new orders component "plunged" 17 points to minus 23.5.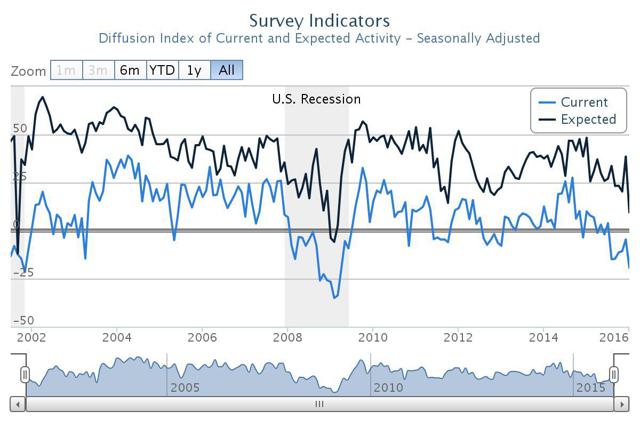 The only thing missing on the above Empire Survey chart is where the recession will get painted in. It is down in the territory only seen in U.S. recessions.
Labor market conditions continued to deteriorate this month. The index for number of employees was negative for the fifth consecutive month, rising by only three points to minus 13.
Amidst the negative readings, optimism remains subdued in January. "Indexes for the six-month outlook fell sharply this month, suggesting that optimism about future business conditions weakened considerably," the report explained. The index for future business conditions plunged 26 points to 9.5, its lowest levels since 2009.
And to put the icing on the cake we learn of weak Retail Sales in December. Bloomberg reports that sales at U.S. retailers declined in December to wrap up the weakest year since 2009. While the overall reading was in line with estimates, the so-called control group - excluding autos, gas, building materials and restaurants - fell 0.3%.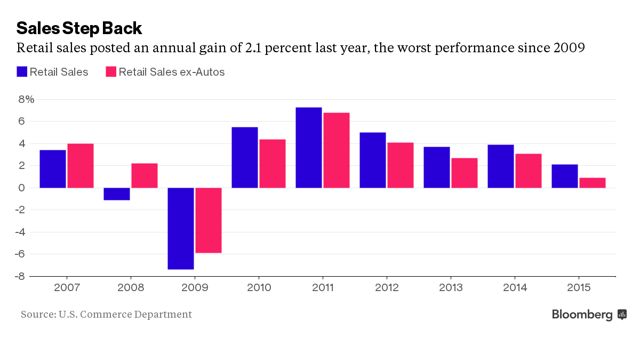 Above is a bleak chart by Bloomberg, but that is not the worst of it. When you adjust Retail Sales for inflation and population growth as shown below, the December sales number is really about $390 billion which shows an economy that has been going no where for about 18 months.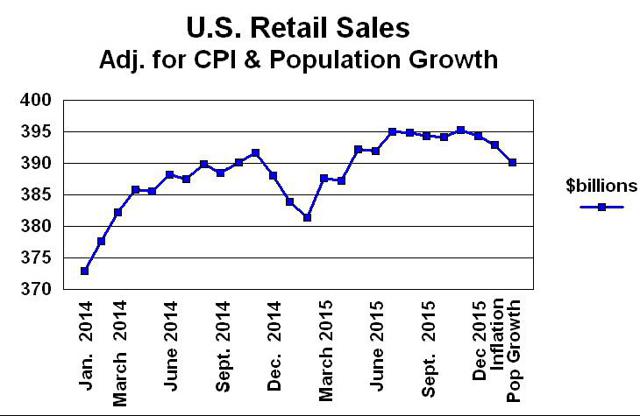 I have been commenting for some time that the U.S. economy is not as strong as portrayed nor the is the jobs report very strong when you look beyond the headline number.
The Atlanta Fed has been steadily cutting their GDP forecast. Their GDPNow model forecast for real GDP growth (seasonally adjusted annual rate) in the fourth quarter of 2015 is 0.6 percent on January 15, down from 0.8 percent on January 8. I expect before long when we get into Q1 2016 forecasts they will be predicting negative growth.
The Chart below from CNBC is the Baltic Dry Index, a good measurement of shipping activity, hence economic activity. It has been very weak in 2015 and in fact it is at a historic all time low.

While some of the blame is an excessive supply of ships, the China slow down is also cited often as a cause. I don't believe this to be true, because China is importing record amounts of raw materials.
While China US$ value of imports did see a decline in 2014, they have been rising in 2015.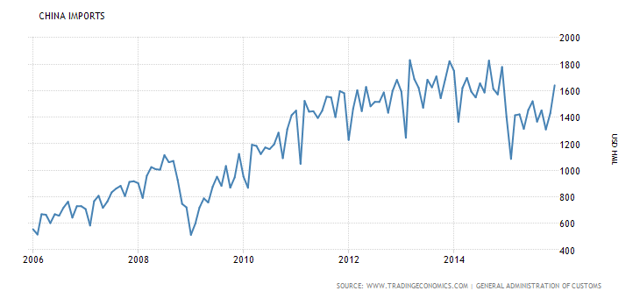 China's main imports are electromechanical products (43 percent of total imports). China is one of the biggest consumers of commodities in the world, with crude oil (12 percent of total imports), iron ore (5 percent), than copper, aluminum and soybeans.
This next chart was a chart of the day from GMP Richardson last week. It shows imports in quantity, not currency and you can see that demand from China for the major commodities has been strong, except for Coal.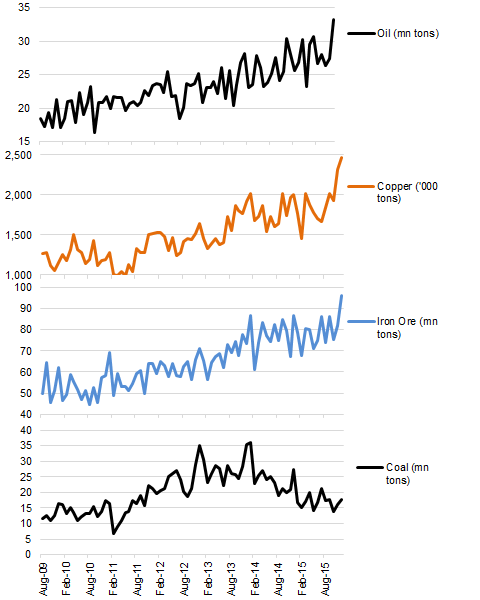 The slow down and blame lies right in our back yard as this chart on US imports shows a significant decline in 2015. And another sign of a slowing economy.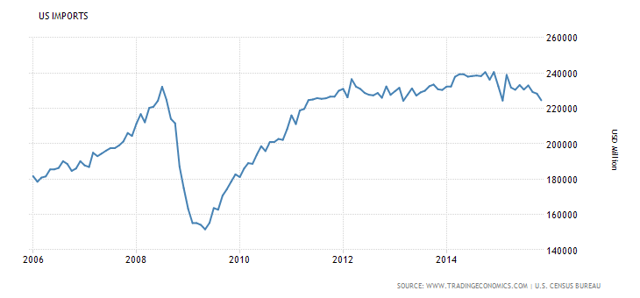 The United States is the world's second biggest importer. Main imports are: capital goods (29 percent) , consumer goods (26 percent) and Industrial Supplies (24 percent).
The most conclusive sign of a U.S recession and bear market is the Dow Jones Transport Index. It normally trades with the Dow and leads the Dow average. The Transports were signaling trouble in late 2015, but index decisively broke down into bear territory in January (> -20% decline). The Transports are now down about -27% from the high.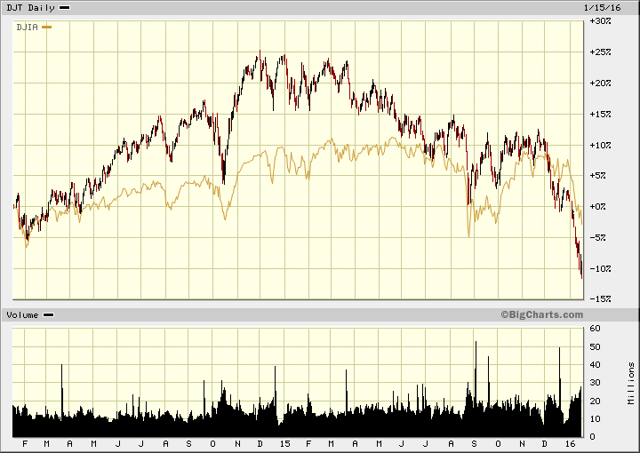 Fed turns dovish?
I knew the Fed would suddenly become dovish after this 1st rate hike and last week we seen the first clue. Bullard who would be considered one of the hawkish members of the Fed suggested recent selloffs in crude oil could hinder the central bank from hiking rates further.
"Once oil prices stabilize, headline inflation should return to the Federal Open Market Committee's inflation target of 2%, although it may take longer than previously thought," said St. Louis Fed President James Bullard, a voting member of the Federal Open Market Committee.
Bullard also said inflation expectations are falling as crude oil fails to find a bottom, a worrying trend. The Fed has struggled with one of its mandates -- to fulfill its goal of 2% inflation -- as crude oil pressured producer and consumer prices.
The Fed will soon have egg on their face for raising rates just before a recession. I believe the Fed will become very dovish with the 1st signal already revealed. I also believe the odds are higher that interest rates go back to zero before they hit ½ point.
This next chart of the S&P 500 is the best market barometer and it is looking scary!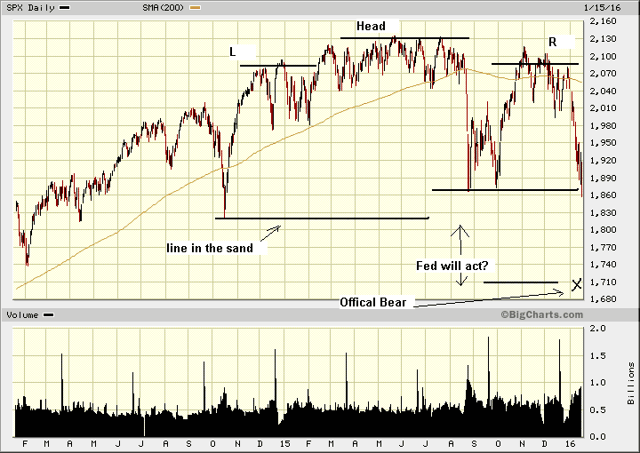 I highlighted what I see as a broad head and shoulders top formation. It looks like the support around 1870 is breaking down. If the market takes out the low around 1820 from last October we are most likely headed for an official bear market, defined as a -20% decline or greater. It will be interesting to see if the Fed just sits around and only tries to talk the market and economy up or if they act.
Cut rates back to zero? Go Negative? QE4 ? Or some new dreamed up concoction?
Investor may want to consider moving Equity Funds to cash, Put Options on market indexes or some of the bearish ETFs such as DOG (short Dow 30), SH (short S&P 500) or UltraShort S&P 500 - SDS
Disclosure: I/we have no positions in any stocks mentioned, and no plans to initiate any positions within the next 72 hours.
I wrote this article myself, and it expresses my own opinions. I am not receiving compensation for it (other than from Seeking Alpha). I have no business relationship with any company whose stock is mentioned in this article.