Sometimes, when looking at the structure of a merger, I quickly realize that it is made to deliver value to shareholders. Marriott's (MAR) acquisition of Starwood (HOT) is one such merger.
In my opinion, the fact that the merger includes a spin-off of Starwood's timeshare business of Starwood that bankers and CEOs have deliberated to solve a complicated situation. The merger was really prepared, and this increases the likelihood of success.
The buyer
I used the 2014 annual report to review this company ;you can read it here. Marriott is "operator, franchisor, and licensor of hotels' timeshare properties in 79 countries". Marriott does not own the hotels (only a two percent), instead it operates under management agreement (41 percent) or uses franchisees (56 percent).
This company makes business making use of base fees that depend on the "property-level revenue" as well as incentive fees that depend on the "net house profit adjusted for a specified owner return." This strategy provides very stable returns in a cyclical industry, and has caused outstanding growth with relatively small debt ($4.3 billion on Enterprise Value of $20.75 billion).
The financial figures look promising. Revenues increased by 8% in 2014 due to higher cost reimbursements and higher fees. Furthermore, operating income was increased by $171 million. Overall, the company is profitable. I do not need to know much more about its financial figures, as this is a merger arbitrage investment.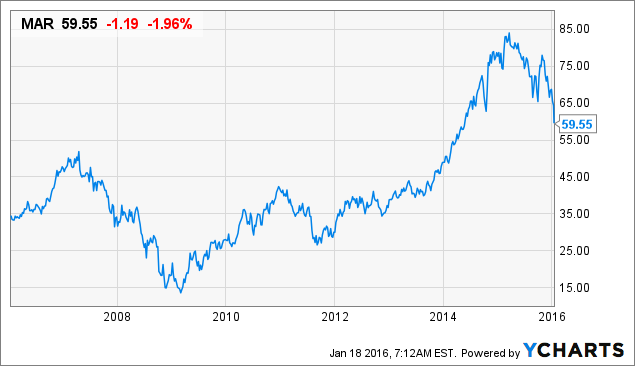 The target
Starwood operates in 100 countries, according to its last annual report, and is one of the largest hotel and leisure companies in the world. Moreover, Starwood owns just a few hotels (3 percent), operating 48% of the total hotels under franchisee agreements and 47% under management agreements.
This company is smaller in terms of Enterprise Value ($11.4 billion) as compared to its buyer. Its ROA is impressive at 6.42%, as is its ROE of 33.37%. Overall, it is a profitable opportunity for MAR.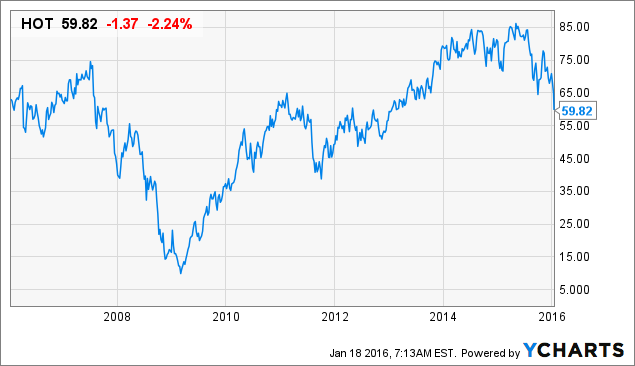 The merger agreement
The contract was announced November 15, 2015. Pursuant to this merger agreement, Starwood shareholders will receive 0.92 shares of MAR as well as $2.00 in cash for each common stock.
The merger is subject to some conditions, which include:
The approval of the merger by MAR shareholders.
The approval of the merger by Starwood shareholders.
The expiration of the waiting period, under the Hart-Scott-Rodino Antitrust Improvements Act of 1976.
The spinoff of Starwood's vacation ownership business.
The spin-off was announced February 10, 2015. According to my opinion, both the merger and the spin-off offer an outstanding opportunity for Starwood to remain competitive. In addition, the transactions will unlock value for shareholders.
I have not assessed the financial figures of the vacation ownership business, but I think that it's the most interesting part of Starwood. The fact that Matthew Avril, former president of the group, will lead the new entity, forces me think so.
On October 28, 2015, Interval Leisure Group (IIL) announced that it will acquire the vacation ownership business for approximately $1.5 billion. This is approximately $7.80 per Starwood share.
The termination fee is the same for buyer as well as target — $400 million. I do not think that is small given the size of both parties, yet at the same time, I don't appreciate that the target pays the same amount as the buyer, as their sizes differ greatly.
Institutional shareholders
This investment is a very interesting play; some smart money managers apparently agree. Some sophisticated institutional investors who've also bought Starwood:
After having made the necessary investment analysis on my own, I appreciate knowing some other experienced investors agree with my thesis. The institutional investment outlined above shows this is the case.
Conclusion
The total merger consideration represents $64.59 (0.92 shares * $59.55 (share price of MAR) + $2.00 in cash + $7.80). Therefore, the merger spread as of January 17, 2015 is 7.97% ($64.59 / $59.82 - 1). The transaction is expected to close in a period of 6 moths, so the annualized return is impressive at 15.88%.
The spread is affected by the current market volatility. In addition, the payment method is not standard, and some novice investors will not be interested. This factor enlarged the spread, and I do not think that it is justified, because the transaction risk is very low. Overall, this investment is a low-risk/high-return opportunity.
Note: This is a merger arbitrage investment idea, with the buyer paying in stock and cash. In order to benefit from it, you need to buy the target (Starwood) and sell short the acquirer (Marriott) proportionally: in this case, 0.92 shares of MAR for each common share of HOT.
Disclosure: I/we have no positions in any stocks mentioned, and no plans to initiate any positions within the next 72 hours.
I wrote this article myself, and it expresses my own opinions. I am not receiving compensation for it (other than from Seeking Alpha). I have no business relationship with any company whose stock is mentioned in this article.