A checklist prevents spur-of-the-moment portfolio decisions
Investing in the stock market can be fun and financially rewarding. However, it can be a humbling experience, particularly when a purchase is made on a whim or because someone has recommended a stock that "sounds good." If you have a checklist of items to research before making a purchase, you have taken the first important step to avoid making a hasty decision that you may later regret.
If impulsive buying decisions are not a problem for you, a checklist can be an important tool to assist your due diligence. It can help insure that you have made a relatively thorough study of a company. I say "relatively thorough" because no checklist can guarantee that you will make a good decision.
Just when you think you have analyzed a potential investment from every possible angle, your investment thesis can be negatively impacted by an unforeseen event within the company, the economy, or the world situation. But a good checklist can greatly improve your chances of making a sound investment.
A checklist can move a portfolio toward the goals you have established
Some Seeking Alpha participants purchase stocks with the primary goal of making a profit, perhaps a quick profit or a long-term capital gain. Some SA participants are primarily focused on maximizing the total return of an investment (capital appreciation plus dividends). Some investors in the SA community are primarily concerned about dividend income, often to provide income during retirement.
Within the cadre of dividend investors, some focus on dividend safety, some focus on high-yield securities, some focus on dividend growth, and some design a portfolio that combines these purposes.
A checklist can be created to gather data to support one's investment focus and one's investment goals. This article offers a checklist designed to build a portfolio of common stocks that seeks dividend safety, dividend growth and a portfolio yield of at least 4.0%.
A checklist encourages you to ask the right questions before making a portfolio decision
As you develop your checklist, you might benefit by looking at Bob Wells' Business Plan, which describes the criteria he seeks in a stock.
Also, you may want to consult RoseNose's 2016 Plan, David Van Knapp's investment process, and Chowder's objectives. Chuck Carnevale suggests three questions when researching a stock.
Here's a summary of some of the best insights from various Seeking Alpha participants.
What are your investment goals? Once you're clear about goals for the portfolio, the construction of a checklist becomes much easier.
Here's one approach to a checklist for you to consider as you create your own
The Internet provides extensive information about stocks. A checklist can help one gather and organize data about potential investments in a disciplined manner.
I will describe the basic resources I use to study a company, and I will use two recent purchases as examples: Texas Instruments (NYSE:TXN) and Parker-Hannifin (NYSE:PH).
Chuck Carnevale's F.A.S.T. Graphs
I subscribe to FAST Graphs ($9.95 per month), and this is the first stop on my checklist.
1. I first look for the Standard & Poor's credit rating, which is located on the lower part of the right sidebar. TXN is rated A+ and PH is rated A. Unless it is a special situation (such as a new issue or a high yield stock), I am only interested in new purchases that are rated A or better.
2. I look for the black price line on the graph. If the line is in the dark green area, I consider it UV, or undervalued. If it is near the top border between the light and dark green areas, I consider it FV, or fairly valued. If it is well into the light green area, I consider it PV, or premium valued. (Chuck Carnevale has written about "premium valued stocks" that are almost always given a market premium.) If it is near the top of the light green area or into the white area, I consider it OV, or overvalued. TXN is in the light green area near the border, so I consider it fairly valued. PH is in upper part of the dark green area, so I consider it also to be fairly valued.
3. The company's debt as a percentage of capital is given on the lower part of the right sidebar. TXN's debt is 27%. PH's debt is 33%. I prefer companies with low debt. If a company's debt ratio is 50% or more, I will need to ask more questions.
4. The stock's price/earnings ratio is given on the upper part of the right sidebar. TXN's P/E ratio is 16.4. PH's P/E ratio is 13.3. I am more comfortable if a P/E ratio is under 15, but P/E ratios vary from sector to sector. It's important to compare a stock's current P/E ratio with its historic P/E ratio.
5. The last metric I sift from FAST Graphs is the cash flow per share. You can adjust the graph to show several variations of earnings per share or cash flow per share. The cash flow per share for TXN in 2015 was $3.60 and the estimated cash flow for 2016 is $3.80. The cash flow per share for PH in 2015 was $9.11. The estimated cash flow for 2016 is $8.14, which reflects the current worldwide economic slowdown and perhaps to some extent the strong dollar.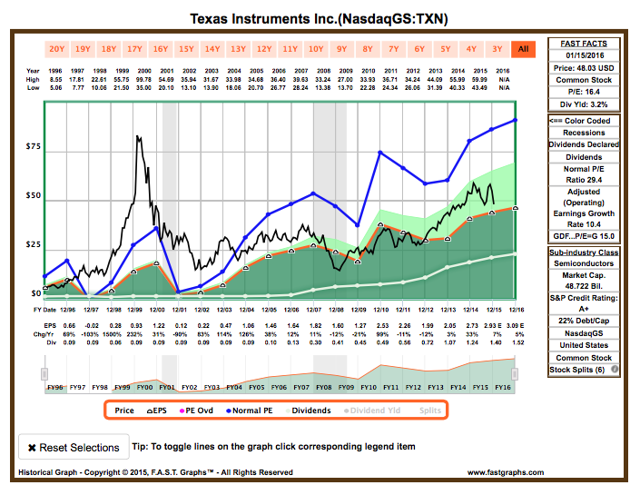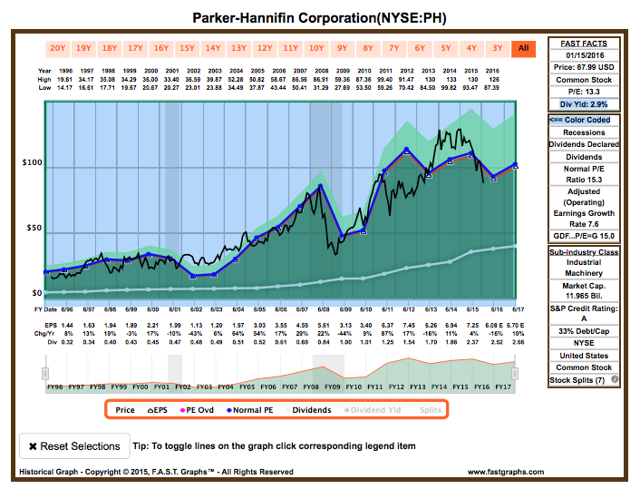 After FAST Graphs, my next stop is a sheet provided by Morningstar via BetterInvesting.org. This organization was formerly known as the National Association of Investment Clubs. The annual cost for a basic membership is $59. A wide variety of investment tools are available, including the Morningstar sheet.
6. I look for the trailing 12 months earnings per share, which is found by adding the most recent 4 quarters' EPS. For TXN, this number is $2.83 through September. For PH, this number is $6.51 through September. The economic slowdown is more evident in PH, an industrial company.
7. For me, one of the most helpful parts of this sheet is the Hi Yield column on the bottom right, which gives the high yield for each of the past five years (2010-2014). Since we are in January, you can compute the high yield for 2015 by looking at the 52-week price range and dividing the current dividend by the low price for the past year. TXN's high yield was 3.4% in 2013. The current yield of 3.16% is in the upper range of the past five years. PH's high yield for 2010-2014 was 2.6% in 2012. The current yield of 2.86% is the absolute high yield for the past six years.
8. I make note of the number of common shares outstanding, which for TXN is 1.023 billion and for PH is 136.8 million. I always like to see how much it would cost to buy the entire company at today's price. The market value of TXN is $49.1 billion. The market value of PH is $12.0 billion.
9. I check the Current P/E Ratio shown on this sheet against the Price/Earnings ratio shown on FAST Graphs, just to make sure they are the same or close to the same. Then, I compare this figure with the average P/E for the past five years. The current P/E for TXN is 17.0, compared to its average P/E of 16.8. This sheet gives the current P/E of PH as 13.5 and its average P/E as 13.8.
10. As a dividend investor, the payout ratio is important. What is the percentage of earnings paid as dividends. The column on the lower right of the sheet gives the payout ratio for the past five years. For TXN, the payout ratio began to increase in 2011 and decreased somewhat in 2014 to 47.5%. For PH, the payout ratio has edged up to 34.0%. I like for this ratio to be less than 50%.
11. I look at the overall sheet for trends and I compare the long term debt as a percentage of capital shown on this sheet with the number shown on FAST Graphs (above). This sheet gives TXN's long-term debt as 22.2% and for PH, it is 33.2%.
12. I look at the five-year price range of the stock (2010-2014). Since we are in January, I can also look at the 52-week price range and this gives me six years of price data. It appears that PH is more undervalued at this time than TXN.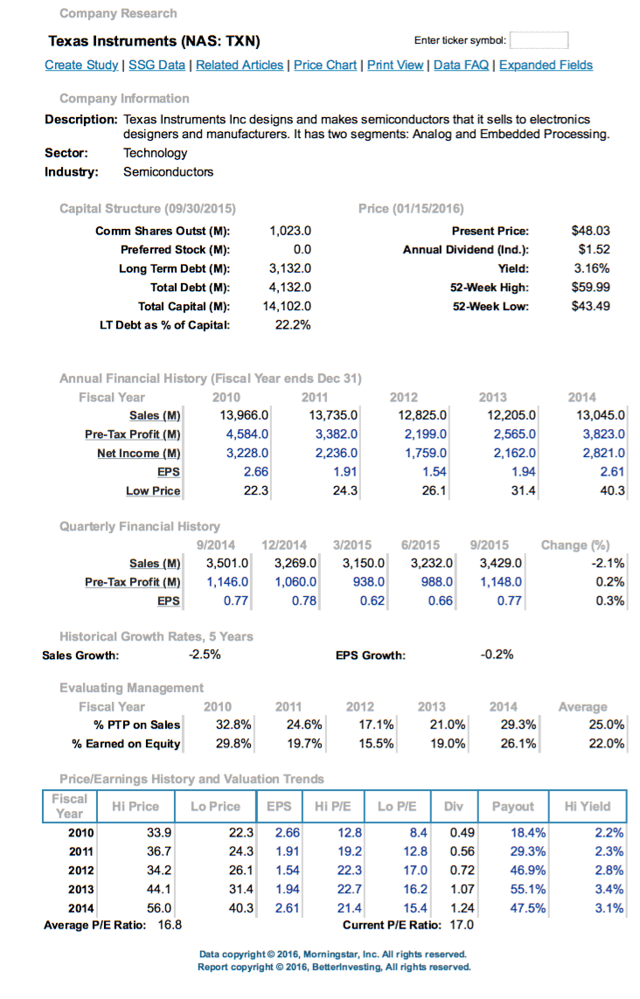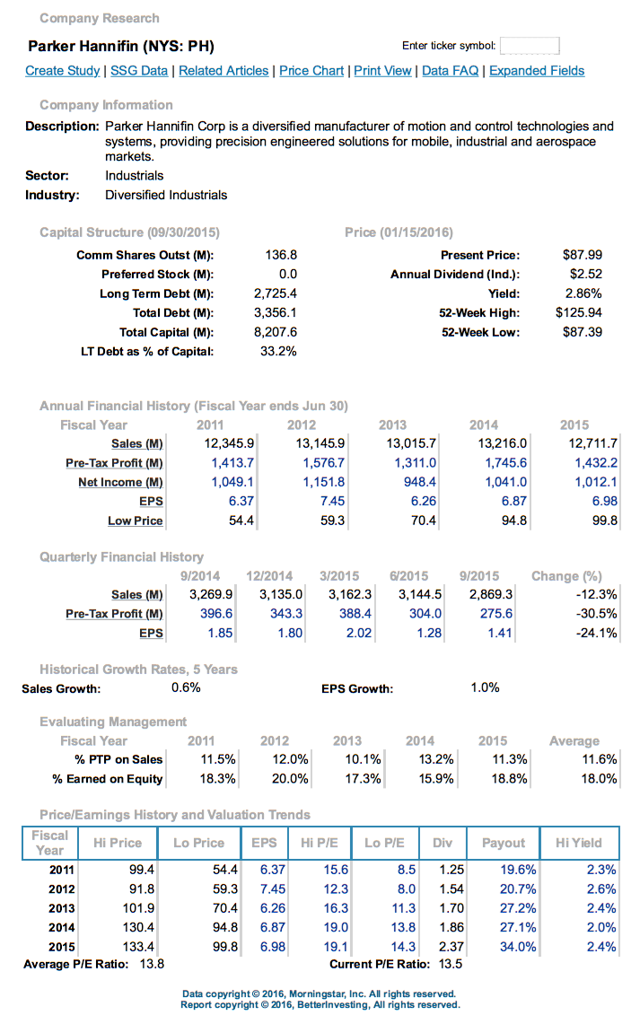 My next stop is David Fish's "CCC" list of Dividend Champions, Contenders and Challengers. Each month I download the Excel spreadsheet that David graciously provides free from his website. I refer to it often each month.
13. I look first at column D on David's spreadsheet, which gives the number of consecutive years of dividend increases. For TXN, the number is 12, making it a Dividend Contender. For PH, the number is 59, making it a Dividend Champion and number 4 on David's list (column E). (The only companies with longer dividend increases are American States Water (NYSE:AWR) at 61, Dover Corp (NYSE:DOV) at 60, and Northwest Natural Gas (NYSE:NWN) at 60.)
14. I look at the Dividend Growth Rates that David lists for 1 year, 3 years, 5 years and 10 years. (These are found in his spreadsheet columns AL through AO.) I note that the rate for Texas Instruments has slowed to 12.9% in the past year after being in the 23.4% to 29.6% range longer term. The number I post on my spreadsheet is the 5-year rate of 23.4%. For Parker-Hannifin, the 10-year rate is 16.0%, the 5-year rate is 18.7%, the 3-year rate is 15.9%, and the 1-year rate is 21.7%. These are very strong for a company with such a long history of consecutive yearly increases.
15. David lists the "Chowder Rule" number for TXN as 26.1 and for PH as 21.3. This is found in column CD on David's spreadsheet.
16. From here, I go to Yahoo Finance, enter the ticker symbol for the stock, and click on "Key Statistics." I look over this information to see if there are any red flags or areas worth more study. I often click on "Historical Prices" to check the recent daily price action of the stock to get a general sense of trends and where price support might be.
17. Next, I go to the company's website. Is it user-friendly? Is it shareholder-friendly? Do they provide adequate information to help you make an investment decision? Do you get a sense of the company's culture and priorities? Are their business goals clearly stated? Is there a stated dividend policy? Do you get a good impression of management?
18. Next, I go back through Seeking Alpha articles about the company. Many times, I have already read these articles unless it is a company that has just come to my attention.
19. While at Seeking Alpha, I also download the transcript of the most recent quarterly earnings conference call, if it is available. Often I will look at more than one quarter's transcript.
20. Finally, I will listen to the most recent earnings call. Sometimes I can access this through Seeking Alpha and sometimes I get it from the company's website. If there are recent investor day presentations, I will listen to those. I have found these audio replays to be very helpful in determining management's competency, transparency, and their ability to communicate their strategic goals.
I'm interested in hearing what resources you have found helpful in studying a stock and what your checklist looks like.
This article is part of the journal of my effort to design a retirement income portfolio. It is not intended as a recommendation to buy or sell any security. I offer this as part of Seeking Alpha's ongoing community conversation about stocks to study and how to design a portfolio. Please do your own due diligence.
Disclosure: I am/we are long TXN, PH, DOV, JNJ, PG, MMM, MRK, CMI, MSFT, WMT, GPC, IBM, CNP, PEP, WEC, SO, EMR, HCP, UNP, T, EPD, O, ADM, NNN, WPC, MAIN, STAG, HASI, EVA, PEGI.
I wrote this article myself, and it expresses my own opinions. I am not receiving compensation for it (other than from Seeking Alpha). I have no business relationship with any company whose stock is mentioned in this article.