According to a Transparency Market Research report, the global cloud computing market in the healthcare services sector is projected to grow to $6.8 billion by the year 2018 compared with $1.82 billion in 2011. Pleasonton, California,-based Veeva Systems (NYSE:VEEV) is delivering strong performance within this high-growth market.
Veeva's Financials
Veeva was founded in 2007 by Peter Gassner, Matt Wallach, Doug Ostler and Mitch Wallace to provide industry-specific business solutions over the cloud. They narrowed down on delivering the industry cloud for the health sciences sector. Veeva was thus born to deliver cloud-based customer relationship management and regulated content management solutions for the biotechnology industry. Its solutions provide healthcare providers with access to services such as payroll management, expense management and customer relationship management over the cloud. Providers are able to perform tasks like drug sample tracking, electronic signature capture and healthcare affiliations management over mobile as well. Its content management solution allows content collection and organization, workflow and approval processes.
In 2013, Veeva went public by raising $261 million at a valuation of $2.4 billion. Since then, its stock has done well and the company is valued at $3.25 billion at current trading prices. The rising valuation is partly attributed to the impressive financial performance delivered by the company.
In November last year, Veeva announced its third quarter results for fiscal 2016. Revenues for the year improved 28% over the year to $106.9 million with subscription revenues growing 33% to $81.7 million. Professional services revenues grew 12% to $25.19 million. Non GAAP net income per share improved from $0.09 a share to $0.12 a share for the quarter.
For the last quarter of the year, Veeva forecast revenues of $109 million-$111 million with a non-GAAP diluted net income of $0.11. Veeva expects to end the year with revenues of $404 million-$406 million and a net income of $0.46-$0.47. Compare that to fiscal 2015 revenues of $313.22 million with a net income of $0.28 per share.
Veeva's Acquisitions and Product Expansion
Veeva has made several acquisitions during 2015. Last summer, it announced the acquisition of Selligy for an undisclosed sum. Selligy was known for its mobile app and back-end system that helped salespeople and their enterprises by managing information needed to make salespeople more productive at selling. Later in the year, Veeva announced the acquisition of commercial content management system Zinc Ahead for an estimated $130 million. Zinc Ahead was one of Veeva's biggest competitors in the commercial content compliance market space. The acquisition will help Veeva create a best-in-class solution for content management that will be able to support all steps in the digital content lifecycle, from creation to expiration.
Additionally, Veeva also has been delivering improved products. Recently, it announced the launch of Veeva KOL Data, a global enterprise solution that's aimed at improving communication between information management systems by offering a single, comprehensive source of key stakeholder information to identify key opinion leaders (NYSEARCA:KOL) in a well-organized manner. The service is integrated with Veeva's CRM offering and will help simplify meeting preparation and personalized KOL engagement.
In 2013, Veeva had listed on the NYSE at $20 apiece. Today, the stock is trading at $24.43 with a market capitalization of $3.25 billion, marginally recovering from the 52-week low of $22.11 it touched in August last year. The stock has done well despite the collapse of the macro market conditions.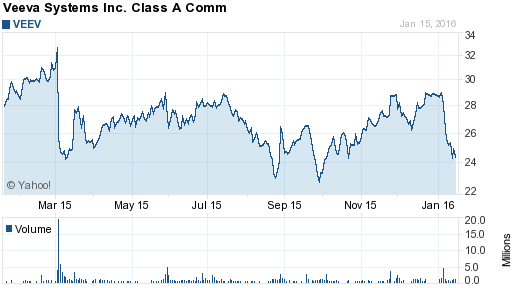 Disclosure: None.