Shareholders of Melco Crown Entertainment Ltd (NASDAQ: MPEL) have had a bumpy ride over the past couple of years, but a recent call by Atlanta hedge fund Pareto Capital Management suggests that things could get a lot worse from here. In fact, analyst Stanley Wang explained his prediction that MPEL's stock is headed below $1 per share in an interview with SumZero.
As a MPEL shareholder myself, you can imagine my surprise at the prediction. So I decided to take closer look at Wang's arguments to see if the crash-and-burn case for MPEL makes sense.
Background
The drama unfolding in the Macau gambling market in the past couple of years has had as many twists and turns as a soap opera. It all started with the government's corruption crackdown, but has continued with fears over smoking bans, junket embezzlement, mainland travel restrictions, and table allocations for new resorts.
Of course, on top of all the Macau-specific problems, the Chinese economy appears to be slowing down, a topic that has been the cause of market turmoil around the world so far in 2016.
The result of all these negative headlines in Macau is that monthly gaming revenue, which peaked at 38 billion patacas ($4.73 billion) in February of 2014 fell as low as 16.4 billion patacas ($2.04 billion) in November of 2015 before bouncing back slightly in December. Certainly the 51.8% decline in monthly gaming revenue from February 2014 to December 2015 is telling when it comes to the impact that the negative headlines have had on the Macau market. However, shareholders have already felt plenty of pain.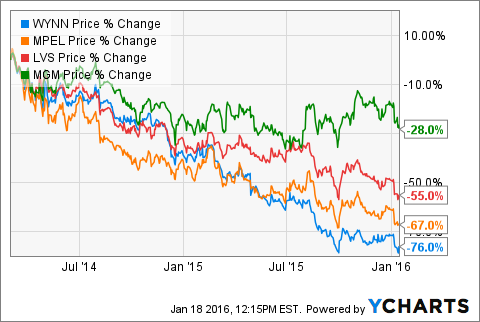 Despite the fact that all four names have varying degrees of exposure to markets outside of Macau, shares of MPEL, Wynn Resorts, Limited (NASDAQ: WYNN), Las Vegas Sands Corp. (NYSE: LVS) and MGM Resorts International (NYSE: MGM) have plummeted throughout Macau's revenue decline. In the case of three of the four stocks, (MPEL, LVS and WYNN) the share price decline has far exceeded the revenue drop.
The path to $1
So that's where MPEL stands today: Macau revenue down 51.8% and MPEL's stock down 67.0%. However, at over $14, it's still nowhere near the sub-$1 range that Wang predicts. What is his case?
Wang's main point is that the explosive growth in Macau following the Financial Crisis was due exclusively to the aggressive Chinese government stimulus, which has paid for lots of construction projects throughout China that have made a handful of people very wealthy. Wang argues that these stimulus beneficiaries made up the VIP gambling population that produced Macau's revenue surge.
"Melco Crown serves as another way to implement the short thesis for the China fixed-asset bubble, which is that the stimulus/spending plan that the Chinese government had instituted around 2008 has reached the limits of effectiveness," Wang said in an interview.
"The biggest risk (to a MPEL short) is the successful re-stimulus of the Chinese economy through current methods... If the stimulus ends and earnings per customer revert to historical pre-2008 China norms, these casinos are currently very over-priced," he concludes.
The end of stimulus
Let's take this one step at a time. The largest assumption in Wang's thesis is that the Chinese government stimulus program will end sometime soon. After all, the U.S. ended its post-crisis stimulus program in 2014.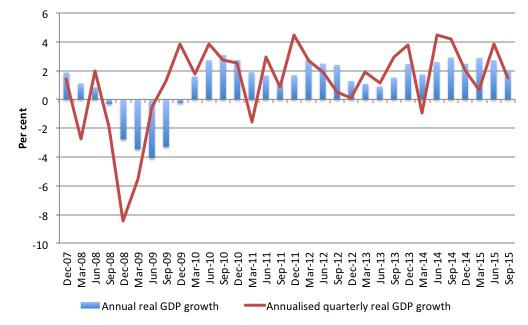 However, the end of U.S. government stimulus was not because of a timetable. The U.S. ended the stimulus because the economy had found its firm footing - the same reason the Federal Reserve finally decided to raise interest rates. This is far from what's going on in China, where GDP growth has been slowing and fears over the stability of the economy are at their highest level in recent years.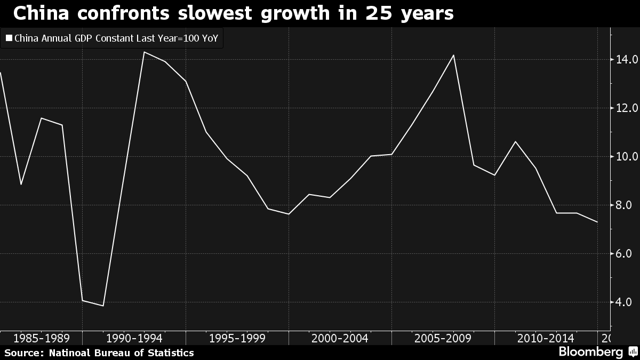 Wang argues that the sluggish economy is a sign that the Chinese stimulus is losing its effectiveness. That may very well be true, but does that mean that now is the time to cut off the stimulus when the economy is at its weakest?
Opponents can argue the implications of such a decision for the long-term health of the country, but just days after Wang's interview, Chinese government officials signaled that the stimulus program will continue in 2016. In fact, according to Goldman Sachs analyst Song Yu, "Although the overall cyclical policy stance is set to be 'steady,' the tone on fiscal and other policies was modestly dovish."
This makes sense to me, and I disagree with Wang's call for an end or easing of stimulus in China in the next couple of years. In my mind, Wang's thesis is now broken, but let's look at his other points.
Reversion to 2007
The next part of Wang's argument is that Macau operators will return to pre-2008 levels of revenue per visitor once the stimulus effect fully wears off. While that prediction could be true, a return to pre-2008 total revenue, what matters most to shareholders, would assume that the numerous new casinos that have opened in Macau since 2008 that have accounted for an extra 3,542 gambling tables (an 88.1% increase) on the island haven't drawn a single extra visitor.
Dangerous debt
Wang also argues that the debt that these companies have taken on during Macau expansion efforts is now at dangerous levels. However, WYNN is the only company of the four Macau operators with a historically high debt-to-equity ratio at the moment, and none of the companies are anywhere near their peaks during the financial crisis. MPEL's ratio remains below 0.5.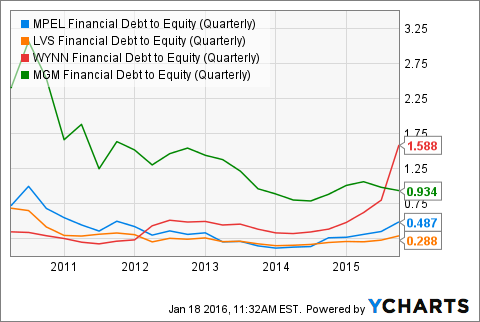 Overvalued stocks
From a valuation perspective, MPEL's forward P/E ratio is relatively high at the moment, but it trended down throughout 2015 and is now well short of its February 2014 peak.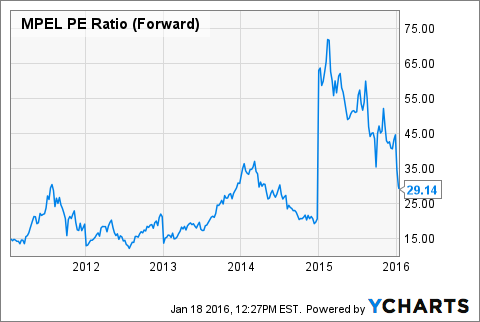 And while earnings have not been great throughout the decline, MPEL did not register a single quarter of negative earnings throughout 2014 or 2015, so things would need to get much worse from this point for the company to be in danger of bankruptcy.
Takeaway
Obviously, the Macau story has not played out the last couple of years like Macau bulls had hoped back in 2014. However, shareholders have already paid a hefty price, and further revenue declines seem to already be priced into the stocks of MPEL and others. The worst may not have come for Macau, but I believe that betting against MPEL or any of the other Macau operators at this point is a dangerous trade to make.
For MPEL to make it to $1 or lower would take a doomsday scenario in China. While it's not out of the question, I certainly wouldn't bet on it.
Disclosure: I am/we are long MPEL, WYNN.
I wrote this article myself, and it expresses my own opinions. I am not receiving compensation for it (other than from Seeking Alpha). I have no business relationship with any company whose stock is mentioned in this article.