In the financial sector, many investors are fixated on the big banks. After all, these are the financial institutions that dominate the headlines and get all the attention from the financial media.
As a result, as we look out over the 2016 investing landscape, one might assume I would pick a major U.S. bank as my best financial pick for this year. However, there is something to be said for consistency. To me, the big banks are simply too risky. The biggest banks can still be weighed down by large legal expenses in any given quarter. They were brought to the brink of collapse for extremely risky lending and trading activities.
Therefore, I'm going for stability in the financial sector. That's why my top financials pick this year is Cincinnati Financial (NASDAQ:CINF).
Go For Reliability
For anyone who saw firsthand the carnage of 2008 and 2009 unfold, bank stocks can be riskier than they appear. They are not just involved in traditional banking activity like taking in deposits and making loans; their tentacles are far more reaching than that, in much riskier areas like trading. This is what got the big banks into trouble in the financial crisis.
Even the well-run banks can unexpectedly hit their investors with billions in legal expenses or get caught in a major trading scandal. This results in a higher level of volatility than many income investors would presumably like to see. I still haven't made peace with the mega-banks for their huge dividend cuts and collapsing share prices during the depths of the financial crisis.
That's where Cincinnati Financial truly shines. This company is almost assuredly not a household name. Many investors probably have never heard of it. But it has a dividend track record that should be the envy of the entire financial sector. Cincinnati Financial offers a strong 3.3% yield, and it has raised its dividend for an amazing 55 years in a row, making it a Dividend Aristocrat more than two times over.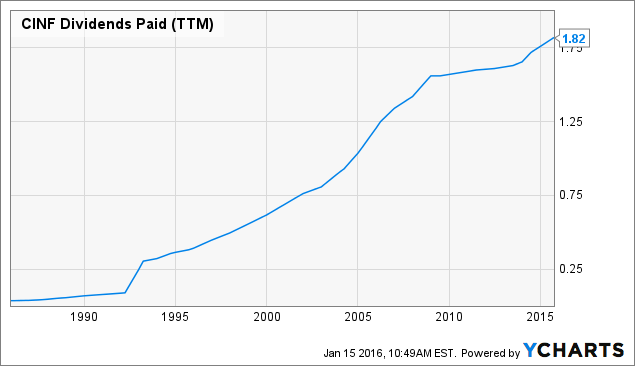 Here's how it accomplished such a feat.
Cincinnati Financial's Amazing Dividend Record
First, Cincinnati Financial isn't a bank, it's an insurance company. This should be viewed very favorably by income investors. Not only is insurance a highly profitable business model-insurers make money in two ways, by writing policies and by investing their large pools of capital-but it is also far more stable than investment banking and trading. This stability is why many 'old-school' type investors love the insurance business (think Warren Buffett and GEICO). And Cincinnati Financial is a leader in its industry-it is among the top 25 property and casualty insurers in the United States.
To be sure, you won't see eye-popping growth out of insurance companies. But you probably won't see them teeter on the brink of collapse, either. Over the past several years, Cincinnati Financial's earnings and book value grew at a nice, steady pace. Revenue increased each year from 2010-2014. Diluted earnings per share grew at an 8% compound annual rate in that time:
| | | | | | |
| --- | --- | --- | --- | --- | --- |
| | 2014 | 2013 | 2012 | 2011 | 2010 |
| Revenue (millions) | $4,945 | $4,531 | $4,111 | $3,803 | $3,772 |
| Diluted EPS | $3.18 | $3.12 | $2.57 | $1.01 | $2.30 |
| Book Value/Share | $40.14 | $37.21 | $33.48 | $31.03 | $30.79 |
*Note: 2011 EPS were reduced by $165 million due to one-time catastrophe losses; adjusted EPS was flat
Cincinnati Financial has consistently grown revenue and earnings. This has kept the company's dividend payout ratio at a modest level throughout, typically at or below 55% of core earnings per share, which has allowed it to continue raising dividends each year for more than five decades. Through the first nine months of 2015, it was more of the same: revenue and earnings per share rose 5% and 33%, respectively.
Reliable Future Dividend Growth
This is what allows the company to continue increasing its dividend each year like clockwork. Cincinnati raised its dividend by 3% per year over the past five years, which isn't a huge dividend growth rate, but is satisfactory on top of a 3.3% yield as a starting point. Plus, Cincinnati has offered special dividends on occasion, like last month when the company declared a $0.46 per share special dividend on top of its $0.46 per share regular dividend.
Going forward, there is a good chance that Cincinnati's dividend growth can accelerate, due to rising interest rates. The continuation of the Federal Reserve's zero-interest rate policy was one of the biggest factors weighing Cincinnati's dividend growth down, because low rates limits the rates of return on the company's investment pool.
Cincinnati's premiums revenue increased 6% over the first nine months of 2015. By comparison, its investment income grew only 3%--half the growth of its insurance business--in the same time. If interest rates continue to rise in 2016, as is widely believed, then the company's investment income will rise as well.
As a result, it's not unrealistic to project 4%-6% dividend growth per year going forward. This can result in significant income in just a few years' time. For example, assuming 5% dividend growth, as well as reinvestment of the 3.3% dividend yield, that's more than 8% total income growth per year. In five years, an investor can generate a nearly 5% yield on cost.
Slow-and-Steady Wins the Race
Most investors interested in the financial sector flock to the major U.S. bank stocks. For me, insurance companies are a better place to invest, because they are more stable. Investors don't have to worry nearly as much about complex financial derivatives and impossible-to-understand balance sheets when it comes to companies like Cincinnati Financial.
The insurance business is consistent and highly profitable. This stability is what has allowed Cincinnati Financial to amass such a long track record of annual dividend increases. Cincinnati Financial isn't the sexiest name in the financial sector and does not get nearly as much attention in the financial media as the major money centers, but it proves that slow-and-steady wins the race. That why it's my favorite financial sector stock pick for 2016.
Disclaimer: This article represents the opinion of the author, who is not a licensed financial advisor. This article is intended for informational and educational purposes only, and should not be construed as investment advice to any particular individual. Readers should perform their own due diligence before making any investment decisions.
Disclosure: I/we have no positions in any stocks mentioned, and no plans to initiate any positions within the next 72 hours.
I wrote this article myself, and it expresses my own opinions. I am not receiving compensation for it (other than from Seeking Alpha). I have no business relationship with any company whose stock is mentioned in this article.