It's no secret that Macau gaming revenue has plunged in the past two years following the government crackdown on corruption. While overall monthly revenue numbers in Macau have declined by more than 50% since hitting all-time highs in February of 2014, the VIP gambler segment has been hit much harder than the mass market segment.
Macau bears argue that these VIP gamblers have been chased off forever. While there has yet to be any evidence to the contrary, here are several reasons why shareholders of Macau operators Melco Crown Entertainment Ltd. (MPEL), Wynn Resorts, Limited (NASDAQ:WYNN), Las Vegas Sands Corp. (NYSE:LVS) and MGM Resorts International (NYSE:MGM) have to be hopeful the VIPs will soon come trickling back to Macau.
What happens in Macau…
While not all VIP gamblers are involved in nefarious activities, it's probably fair to assume that many Macau high rollers have a "what happens in Vegas stays in Vegas" attitude about Macau. In other words, VIP gamblers that weren't necessarily involved in organized crime and money laundering might still be leery of increased government scrutiny in the near-term.
Wealthy Chinese businessmen, particularly newly-wealthy VIP gamblers, likely have a wide range of vices that they would not want turning up in a government investigation. However, the intensity of the government's corruption initiative should fade over time, and at some point VIPs will no longer worry about being under a Macau microscope. Once the heat dies down, so to speak, at least some of the VIP gamblers will likely return in the future.
Betting on the big board
There is certainly a valid argument that investing is not gambling, but the stock market can become no different than a roulette wheel when treated as such by short-term speculators. I would not be surprised if many of the high-rollers that left Macau have been getting their gambling fix trading in the ballooning Chinese stock market. After all, trading stocks can be just as exciting as gambling and Wall Street has a much more sophisticated reputation than Vegas.
Incredibly, the Shanghai Stock Exchange Composite skyrocketed nearly 70% in a four-month period last year, providing plenty of gamblers high for speculators. Now that the market has begun to fall back down to earth, these market gamblers might start looking back to Macau for that adrenaline rush.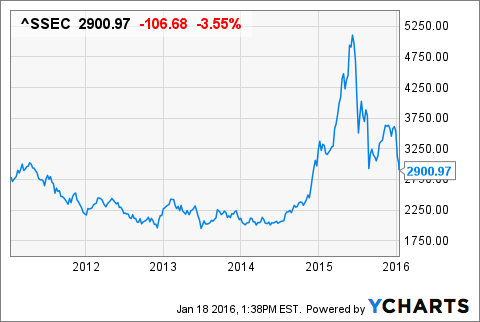 A whole new world
If nothing else, curiosity should lure a large number of VIP gamblers back to Macau at some point. MPEL (Studio City) and Galaxy Entertainment (Broadway Macau) opened two new resorts on the Cotai strip in 2015. In addition, five more massive resorts are scheduled to open in Macau in 2016, including LVS's Parisian Macao, WYNN's Wynn Palace and MGM's MGM Cotai.
While it's uncertain whether or not the new resorts will lure VIP gamblers back for good, it seems unlikely that former Macau regulars will not come back to check out the new world-class resorts at least once. If they are as impressive as they seem, the experience might go a long way in luring a number of former VIP gamblers back for good.
Convenience
In terms of convenience, local Hong Kong gamblers' lives will become a lot easier upon completion of the massive Hong Kong-Zuhai-Macau Bridge. Originally scheduled for completion in 2016, the projected opening has now been delayed until 2017. When opened, the bridge will reportedly shave off a huge part of the current four-hour roundabout drive from Hong Kong to Macau. This ease of access will certainly encourage a lot more impulsive weekend trips to Macau for Hong Kong VIPs.
Lack of viable options
Finally, with gambling illegal in mainland China, former Macau VIPs looking for alternative destinations to Macau must travel to the Philippines or even Vietnam for casino gambling. The extreme distances required for weekend trips to these destinations suggest that many former Macau VIPs are simply not gambling (or not gambling as much) for now. If that's the case, a rebound in the Chinese economy at some point in the future would likely have them back placing bets in no time.
Who wins from a VIP rebound?
There's no question that a rebound in VIP revenues resulting from one or more of the scenarios above would be good news for all of the Macau operators. However, WYNN's focus on luxury and its relatively high VIP market share make it the top pick for investors betting on a Macau VIP rebound.
Disclosure: I am/we are long WYNN, MPEL.
I wrote this article myself, and it expresses my own opinions. I am not receiving compensation for it (other than from Seeking Alpha). I have no business relationship with any company whose stock is mentioned in this article.