Seadrill's (NYSE: SDRL) CEO Per Wullf has been recently quoted saying the following: "Then you need to have all cards on your hand. It's banks, bonds and equity. It's the entire way around, but there is nothing being decided now". This quote caught my attention, as I've been recently looking at possible scenarios for Seadrill, especially in the light of Fredriksen Sandbox plan.
Oil prices continue to fall, and it's already obvious that this year will be nightmarish for offshore drillers in terms of contract activity. Seadrill's management has always been very active on the financing front, so one could expect that the company will remain proactive in dealing with the serious challenges.
Banks
Seadrill's various credit facilities comprise the biggest part of the company's debt. Seadrill has historically been good in arranging deals with banks. Let's look at the deals done in 2015 and try to estimate whether the company will be able to do something similar in 2016 and 2017.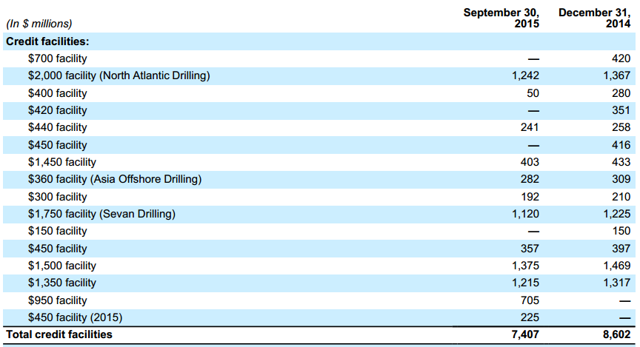 In 2015, Seadrill was able to get money from two credit facilities. The $950 million facility was opened in January 2015 and served to fund the delivery of West Carina and to refinance the company's indebtedness related to West Eclipse. This credit facility, except for the ECA facility for West Carina which was part of the deal, had an interest of LIBOR plus 2.00%. As a reference, WTI started the year 2015 around $53 per barrel.
In August, Seadrill entered into a $450 million senior secured credit facility. West Freedom, West Mischief, West Vigilant, West Resolute, West Prospero and the West Ariel were pledged as security. The interest rate was LIBOR plus 2.85%. WTI crude started trading in August near $46 per barrel. As for the share price, Seadrill was trading around $12 at the beginning of 2015 and slipped below $9 at the beginning of August.
As we can see, the interest rate increased as Seadrill's share price dropped together with the oil price. However, the rates were still generous given the overall price environment. In other words, banks were sure about Seadrill's ability to service its debt and about the value of the company assets.
However, the year 2016 started with in a different environment. The mood has clearly changed. A year earlier, almost everyone believed that the drop in oil prices was a temporary thing. The consensus was that oil dropped too far too fast and was due for a rebound. The rebound happened and reached its peak in May. Since then, the was only one direction for oil prices - down.
Now banks as a sector will have to deal with multiple debts in the energy sector. Will they be eager to finance a highly leveraged offshore driller in the current oil price environment? I doubt that anyone can give you an exact answer to this question, but my bet is that if Seadrill were to arrange a new credit facility right now, the interest rate would have greatly exceeded LIBOR plus 2.85%.
Bonds
At the end of the third quarter, Seadrill had $2.74 billion of unsecured bonds. I seriously doubt that Seadrill will be able to sell any amount of unsecured bonds at a reasonable rate in the current market. Frankly, it's just impossible. Anyone willing to lend money to Seadrill via unsecured bonds will likely demand astronomical interest rates.
In my view, bond financing for Seadrill is less likely than a new credit facility deal. In past, Seadrill clearly favored bank deals, and I see little reason why the company will change this course.
Equity
A sale of equity at current prices will be a nightmare for current shareholders. With Seadrill's shares at $2.34, the company will have to sell 42.74 million shares to get $100 million. For example's sake, let's suppose that the company wants to get $1 billion. In this case, it will have to sell almost 430 million shares and almost double the amount of shares outstanding.
Here, there is much place for any kind of conspiracy theories involving the Fredriksen's Sandbox venture. I won't speculate on this topic here, but, obviously, any involvement of Sandbox will likely lead to big losses for current Seadrill's shareholders.
Delivery delays
Seadrill has recently announced that it agreed to delay the deliveries of West Aquila and West Libra until the second quarter of 2018 and the first quarter of 2019 respectively. Fellow contributors Anthony Ruben and Fun Trading covered this topic, so if you want to read a more detailed opinion on this transaction, check out their articles.
I will be speaking about the bigger picture regarding delivery delays. Short-term, this is certainly good for Seadrill. When we think about longer timeframes, Seadrill is postponing current problems. Recently, all the focus was on the dramatic downside in oil. However, the offshore drilling industry would have had problems anyway because of rig oversupply.
Now, rig oversupply problem is pushed to 2017 - 2018, as players arrange similar deals with shipyards. However, these rigs will ultimately emerge in the market. So, while all eyes now are glued to the price of oil, investors should not forget to check out how much rigs will be scrapped this year.
Bottom line
Current price of Seadrill's shares reflects the risks that the company is facing. The recent oil price dive shows that we are still very far from the recovery. The company will certainly be evaluating its options this year, and the outcome of the company's actions may not be favorable for current shareholders.
Disclosure: I/we have no positions in any stocks mentioned, and no plans to initiate any positions within the next 72 hours.
I wrote this article myself, and it expresses my own opinions. I am not receiving compensation for it (other than from Seeking Alpha). I have no business relationship with any company whose stock is mentioned in this article.
Additional disclosure: I may trade SDRL.