If you are a value investor, then you have surely come by Rocky Brands in your value screens as they tend to be a repeat offender of "being cheap". Typically, these repeat offenders are known as value traps - which I'll discuss later. However, due to a few poor announcements, irrational market behavior has driven down the price of RCKY to an abnormally discounted value.
I'm refreshing my 2014 analysis of Rocky Brands, and now including some additional analysis and new insights which should prove that it is a good buy once again. I initially recommended Rocky Brands during July 2014 at $15 with a target price of $25. It subsequently rose to a high of $23 during March 2015. If you missed the first run up, as I did (due to my prior inability to invest due to my work), the stock looks ready for another smooth ride up as negative sentiment and irrationality has caused RCKY to crater to ~$10 per share.
Executive Summary:
Rocky Brands (NASDAQ:RCKY) is a footwear and apparel designer and manufacturer which is currently undervalued and under-appreciated in the market and should trade at ~$20 rather than the current market price of ~$10. RCKY trades at 8.0x LTM earnings and 0.5x P/book. Additionally, the stock is trading within a few percent of its 52-week low, its dividend yield is at an all-time high and key insiders have recently been buying these lows. Lastly, a net-net asset test shows that RCKY is trading below their current assets less liabilities, leaving the investor with plenty of downside protection at these prices.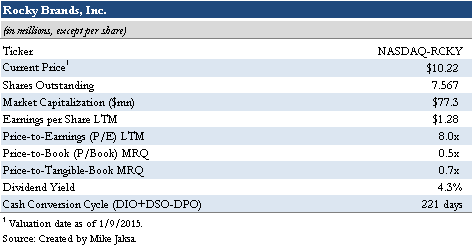 Context / Search Process:
RCKY is a small cap U.S. company trading on the Nasdaq with a market capitalization of $77mn. After RCKY missed earnings, B. Riley recently downgraded them to neutral, which is a tough loss for a company with such limited analyst coverage. RCKY averages returns on invested capital of about 5-6%, however, it has trended higher over the last few years as management has begun to move the business to more distinct and competitive lines of footwear, creating more competitive advantages. Their LTM P/E and EV/EBITDA is 8x and 5x, respectively. This is well below their historical averages and ~40% undervalued compared to their closest competitor, Wolverine World Wide (NYSE:WWW), which has a P/E and EV/EBITDA of 13x and 8x, respectively. Their price to book value is only 0.5x and price to tangible book value is 0.7x. RCKY's dividend yield is now at a record 4.3%, or about $3.3MM per year, which is easily afforded - not a bad yield to receive while waiting for the capital appreciation.
Industry & Company Analysis:
RCKY designs, manufactures and markets premium quality footwear and apparel under many well-recognized names in their respective field, including: Rocky, Georgia Boot, Durango, Lehigh, Creative Recreation and Michelin. RCKY's product lines are: outdoor, work, duty, commercial military, western, and lifestyle. RCKY has recently been slightly hit by the downturn in oil & gas, however, I think many investors are being too critical. RCKY doesn't sell many of their products directly into the oil & gas industry, rather, it is more of a second derivative, where they are affected by the weakened local economies that are affected by oil & gas. However, seeing as how well Rocky Brands weathered the 2008 financial crisis, I believe the current negative sentiment toward RCKY is unwarranted.

Catalysts:
1) Management focus on capital efficiency and cost structure
- Recently, we have seen a much more focused management team that has increased sales at a CAGR of 12% over the last two years.
- Management seems to be doing something differently from the past, in particular, focusing on more innovative footwear.
- The newer capital restraints placed on management from the increasing dividend and the long-term debt ensures that they will be pressured to use capital more efficiently.
2) Increasing analyst rating and/or coverage
- Currently, RCKY is covered by B. Riley, aside from various other online sources like Zack's, both of which have recently downgraded RCKY, sending the stock into freefall. If RCKY proves to the street that they can beat estimates more consistently going forward, they should get upgraded and patient investors should be rewarded with a rebound.
3) Shareholder Activist and/or potential takeover
- Rocky Brands has previously had a shareholder rights plan (poison pill) in place, however, it expired on August 19, 2015 and no replacement was put in place
- Not only did it expire on August 19, 2015, however, management accelerated the expiration on August 19, 2015 from June 7, 2017. This could be a step in the right direction in terms of shareholder friendliness and potential for future activism/takeovers
Risks:
1) There is a risk that RCKY will have more quarters of underperformance and perhaps not be able to pay a dividend and/or the interest on their debt. People may believe this because RCKY does not have a rich dividend history. However, even though the dividend yield is at their all-time high at 4.3%, the actual cash outlay is only $3.3MM. Further, their interest expense is consistently under $1MM. This is quite manageable given the fact that RCKY has consistently earned an EBIT of more than double this amount, including in 2009 when they had operating income of $9.5MM (on a 19% lower sales figure than the current LTM sales).
2) There is some weakness in the oil and gas market affecting RCKY. However, I believe the market is overestimating this impact. Rocky does not sell many of their footwear lines directly to this industry. Rather, their products can be affected by consumer sentiment driven by these industries due to lost jobs. I believe this risk is mitigated due to the fact that RCKY has done a good job of diversifying their product lines over the years.
3) Rocky has also recently been affected by the unusually warm weather of 2015, which has delayed some consumers purchasing habits that typically buy from RCKY for their heavily insulated sport/hunting footwear in their "Outdoor" product line. Rather than this being a risk as analysts are viewing it, I believe this is an opportunity to buy during a dip, particularly due to the fact that weather is known to regress to the mean.
Downside Risk Assessment (Net-Net Test, Insider Activity):
Aside from trading within a few percent of their 52-week low, a 56% drop from their 52-week high, RCKY is also trading at a discount to their liquid assets. RCKY's Cash + AR + Inventory less their total debt is $110MM - they are currently trading at a 30% discount to this. RCKY is trading at a 6% discount to their current assets less total liabilities of ~$82MM.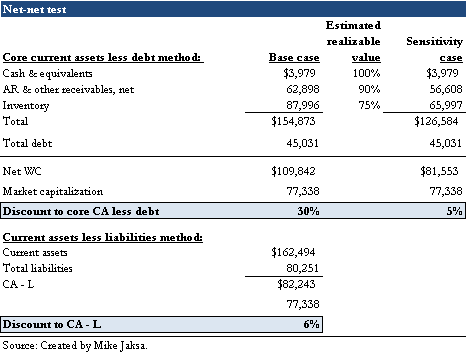 There has also been strong insider buying recently in RCKY, which is an added bonus. I went back many years to track insider activity in RCKY and tracked it against the stock price performance, and it is interesting to note that David Sharp (their CEO) and Curtis Loveland (Director/Secretary)'s buying and selling practices have been excellent predictors of RCKY's medium-term performance. On December 16, 2011, Curtis purchased shares as cheap as $8.95, and David purchased in March of 2012 for $12.68. Subsequently, they reduced some ownership in August of 2013 for $17-19. Earlier in 2015, when the stock was trading around $20-22, David and Curtis both disposed of 8,000 and 20,000 shares, respectively - since which the stock is down ~50%. As of October 27, 2015, David Sharp and Curtis Loveland bought 2,000 and 5,000 shares, respectively, at $11.60. Curtis Loveland purchased another 10,000 shares at $10.27 on December 8, 2015.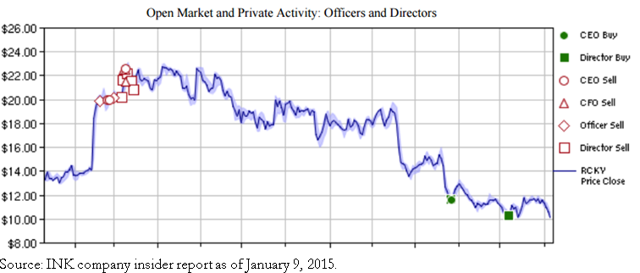 Addressing the Possibility of a Value Trap
A value trap is typically caused by 1) a secular decline in profits, rather than a cyclical one, 2) entrenched management that is not acting in the best interests of shareholders, and 3) a lack of catalysts. As shown in the yearly operating profit exhibit above, RCKY faces some cyclical profit swings, however, recently they have been able to maintain and actually increase profitability. Management is incentivized through strong bonus programs tied to cash flow and insiders own 9.11% of shares, so we can be assured that they think like shareholders. Lastly, the numerous catalysts mentioned above render this a great investment opportunity. RCKY does not earn enormous returns on invested capital, however, it has trended higher as management has moved the business to more distinct and competitive lines of footwear. Rather, this current investment opportunity is more of a mispriced asset than a growing franchise (buying the proverbial dollar for ten cents - in this case, $20 for $10).
Recommendation and Time Frame:
I recommend purchasing shares for a timeframe of 1-2 years for catalyst realization. However, if the catalyst is realized earlier, it would be time to revalue the company and decide whether or not you should take your profits early.
Disclosure: I/we have no positions in any stocks mentioned, but may initiate a long position in RCKY over the next 72 hours.
I wrote this article myself, and it expresses my own opinions. I am not receiving compensation for it (other than from Seeking Alpha). I have no business relationship with any company whose stock is mentioned in this article.
Editor's Note: This article covers one or more stocks trading at less than $1 per share and/or with less than a $100 million market cap. Please be aware of the risks associated with these stocks.