Introduction
A year ago, I published my first article in Seeking Alpha. Since then I wrote and published dozens more. The first article was a comparison between Procter & Gamble (NYSE:PG) and Unilever (NYSE:UL). I believed that Unilever was the more attractive investment, and a year later it appears that I was correct when comparing the performance of each company over the past year. Unilever brought higher returns than Procter & Gamble and the S&P 500.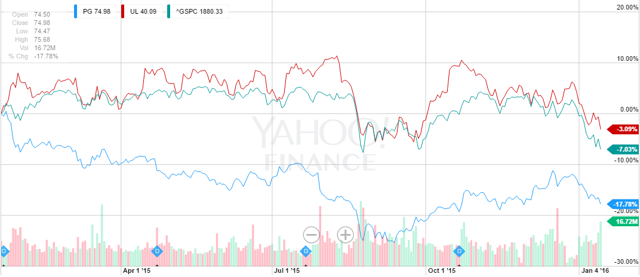 My colleague, Dividend Drive, published a month ago an article, in which he compared the two companies. His conclusion was that at the moment Procter & Gamble is more attractive. I understand the thesis, but I only partially accept some of the data like the FCF. My own conclusion is exactly the opposite. I believe that Unilever is still more attractive.
Both companies are giant multi national firms, and each one of them holds hundreds of brands, that most people use in their daily life. Procter & Gamble is twice the size of Unilever, and while the first one is an American company the latter is a European company, that publishes its results in Euros.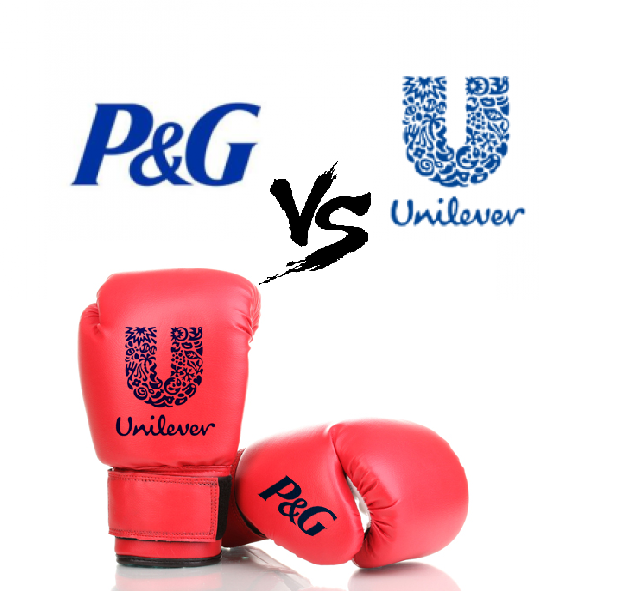 Fundamentals
In my opinion, Unilever has the better fundamentals. I look at each company in difference currency. I look at Unilever in Euros, and at Procter & Gamble in Dollars. It helps me understand the core growth in the business. While Procter & Gamble has declining revenues due to its reconstruction program, Unilever managed to grow its sales by 4% in 2015. Most of them come from increase in volumes, which is great. Procter and Gamble is loosing revenues not only because of the reconstruction, but also because it lost some market share in its global business.
Another aspect is the EPS and FCF. The FCF of Unilever did decline in 2014. From €3.9 billion in 2013 to just €3.1 billion in 2013. Therefore as my colleague pointed out, the FCF payout ratio is close to 100%. However, the company stated in its reports that this measure excludes the cash proceeds from disposals but includes tax on disposal profits which was €0.8 billion. Adjusting for that, free cash flow would be €3.9 billion. Another important aspect is that the FCF declined due to the massive investments and capex budgets that Unilever has. It invests the money in its brands to acquire larger market share, and these investments are successful. In 2015 as published today the FCF was €4.8 billion, massive growth in sales and in money generated.
EPS is also growing for Unilever. It grew 8% last year, and 10% the year before, when you see the numbers in Euros. In 2015, it actually declined 4% mainly due to currency headwinds, but core EPS rose 14%. On the other hand, Procter & Gamble is suffering from declining EPS over the past several years. Yes, they are trying to reconstruct the company, but when the alternative is a company that keeps growing both its top and bottom line, it is an even bigger challenge to attract the investors.
Procter & Gamble has kept raising its dividend for almost 60 years. Over the past several years, the dividend growth was not supported by EPS growth, but by expanding the payout ratio. This is not sustainable for the long run, and therefore the last raise was very small.
Unilever on the other hand raises it dividend in- line with the EPS growth over the past several years. The yield of both companies is almost identical, and Procter & Gamble does enjoy a lower FCF payout ratio. Using EPS payout ratio the numbers are slightly different and Procter & Gamble have payout ratio of over 70%, while Unilever keeps it around 62%. Using the 2015 FCF of €4.8 billion the payout ratio for Unilever is far from 90%+, it is 62.5% which is wonderful.
If you look at the figures in USD, then the numbers might look worse for Unilever, but this is a European company that pays dividends in Euros and only have ADR traded in NYSE. The strong USD might confuse investors, and make them think that the dividends are actually declining, but this is false. Long term investors should ignore currency fluctuations, and enjoy the growing dividends and the expansion of the profit margins.
Valuation
P/E ratio is still high for Procter & Gamble. A year ago in the article I published, I noted that the P/E for the 2016 estimates is 20. Right now the P/E is still 20. On the other hand, Unilever which shows growth in its EPS and revenues is traded for a cheaper P/E ratio, and therefore the valuation is more attractive.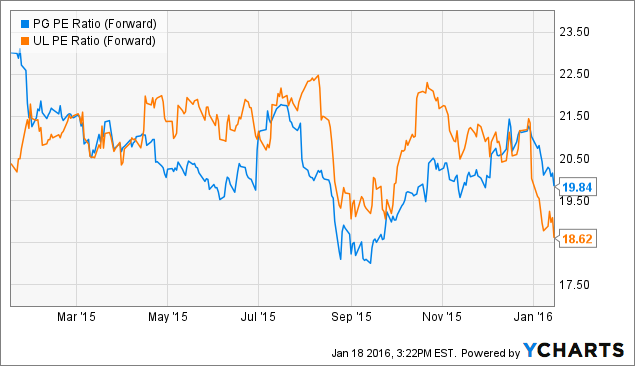 PG PE Ratio (Forward) data by YCharts
The graph below shows a sad picture for Procter & Gamble. Usually when the share price is lower, so is the P/E. However, during the last year, the price of share declined together with the EPS estimates for 2016. There is almost a perfect correlation, and it means that the outlook for the company was over optimistic in January 2015.
The outlook for 2016 was lowered even more in the past 90 days. Most analysts explain the decline in the forecasted EPS using the slowly turnaround that Procter & Gamble is going through. However, with all due respect, the firm doesn't trade in a P/E ratio that suit a company in a turnaround process. McDonald's (NYSE:MCD) for example, had its P/E expanded only after there were clear signs of success in the turnaround process. Procter & Gamble enjoys it already, and it is not justified, especially when Unilever is trading at its current valuation.
Why Unilever?
As I wrote above, Unilever enjoys better valuation and better fundamentals than its peer. It manages to grow its top line at mid single digits, and the bottom line at high single digits. All that while investing in its brand portfolio. The valuation is also better. However, the company isn't cheap, it trades at fair valuation that suites a company with this growth rate.
Most investors suffer from home bias. They invest mainly in their home equity markets. I see it now in Israel, where most investors own mainly Israeli stocks and bonds. Americans also hold mainly American companies traded in the U.S. The U.S is indeed a major part of the world economy unlike Israel, but it still doesn't justify the home bias.
It makes perfect sense for American long term investors to buy some Euros, Swiss Franks, Israeli Shekels, Japanese Yen, British Pounds or Norwegian Krone. Diversify yourself not only to different countries and economies, but also to different currencies. Buying Unilever in Euros, Sanofi in Swiss Franks, Statoil in Norwegian Krones and Teva in Israeli Shekels make a lot of sense for the long term global investor.
Today Unilever announced the 2015 results, and the numbers are great. The business is growing with no rebuilding or turnaround excuses. Operating margins is on the rise and is almost 15%, as the company manages to cut costs and pension deficits. The main story is the growth that is carried despite the fact that many economies in the emerging markets are declining.
This is an opportunity to invest in a company that is huge, but still has room to grow. It is only half the size of Procter & Gamble, and its expansion and growth plan is working according to plan. I believe that Unilever will be able to achieve its goals of stronger FCF and higher margins.
Why Procter & Gamble?
In several months Procter & Gamble will reach an amazing streak of 60 years of consecutive dividend raises. That is more than twice my age. This amazing track record means that this firm managed to grow in spite of many hardships, and weak economy. If they managed to cope with hardships in the past, they will probably be able to successfully implement they turnaround plan, eventually.
Investing in Procter & Gamble doesn't require buying foreign currencies, and therefore you have less exposure to currency headwinds. However, the strong USD showed us, that multi national corporation are affected by mild changes in the currencies, even if they are traded in USD.
A year ago McDonald's traded for less than $90. I read countless articles about its demise. They won't be able to grow earnings or traffic to their stores. I heard that people don't eat there, and that their turnaround plan will fail. However, it appears to me that these corporations know what they do. They know how to use their size and the power of the brand. Sure, better management can bring better results and quicker turnaround. I think that just like McDonald's, Procter & Gamble will get back on tracks and grow its top and bottom line.
Talking about new management, I believe that the new CEO and the business plan that the company showed to its investors makes sense. They are willing to focus on the stronger brands, rearrange the portfolio, and invest the capital in a more responsible manner. Weak brands will be sold, and capital will be returned to shareholders in dividends and buybacks.
Conclusion
I own both companies, with all due respect, I will not add to my Procter & Gamble position right now. It will probably succeed in turning the boat around, but it will take more time. This "eventually"
might take longer than anticipated. When they finally manage to show some real growth, and the valuation will be more suitable, I will gladly increase my position with the company.
The 2015 results are increasing my confidence in Unilever. I'll take Unilever for now, for the growth in the emerging markets, the currency diversification, the strong fundamentals and the fair valuation. Unilever won the first round of the battle, and in my opinion it will beat Procter & Gamble in 2016 as well.
Disclosure: I am/we are long PG, UL, MCD.
I wrote this article myself, and it expresses my own opinions. I am not receiving compensation for it (other than from Seeking Alpha). I have no business relationship with any company whose stock is mentioned in this article.