Let me get a quick addendum to yesterday's Briefing in here to start off. I found this excellent chart showing a 100-year chart of the Canadian dollar (NYSEARCA:FXC). If you're betting against it at these levels, be aware that you're pressing your luck to some extent.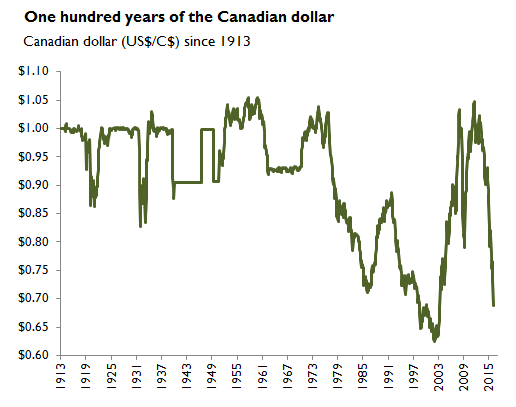 On to Tuesday's markets. They were, to put it in one word, volatile. Stocks shot up to start the day, as the long weekend passed without anything too dramatically bad happening in the rest of the world.
But the gains quickly gave way. A 2% rally to start the day fell to almost flat within the opening 30 minutes of trading. After some whipsaws, stocks went well into the red in afternoon trading before (yet another) 3 pm rally saved the day, bringing the market back to neutral for the day.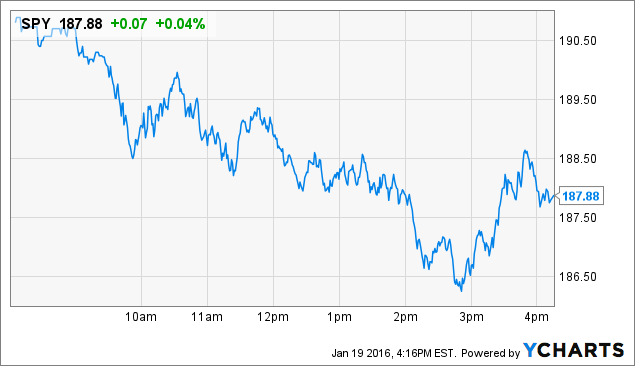 SPY Price data by YCharts
What to make of the day? The biggest story was oil (NYSEARCA:USO), which shot up as high as $31.40 at one point, but closed well south of $30. It's another in the long string of 5% runs off the lows that immediately get reversed.
You can argue oil is oversold, and perhaps even at an unsustainable level on a supply/demand basis, but anyone looking for a "V" bottom might come up disappointed. There are - and will continue to be - a lot of motivated sellers.
For the broad market, you can paint a bull or bear case off Tuesday's trade. For the bears, the market's failure to continue higher after a huge opening move shows that the "buy the dip" mentality is no longer paying off. It's never healthy for a market to give back all of a big move like that.
And furthermore, vulnerable sectors of the market, including small caps (NYSEARCA:IWM) and biotechs (NYSEARCA:XBI), continue to get pounded, to say nothing of the hedge fund hotels, such as SunEdison (NYSE:SUNE) and Hertz (NYSE:HTZ), which are straight-on imploding now.
But the bulls can argue back that it felt like the market was about to crash at 3 pm, and yet buyers stepped in. Had the S&P violated the 1857 level from last week, we could have seen a straight-on free fall. Instead, it held and bulls put in a very respectable 20-point rally off the low.
On the whole, the longer the market stays down below 1900, the more the bulls are likely to get discouraged and support to eventually give way. But bears can't claim victory just yet. Sentiment is still exceedingly negative, and it wouldn't take much for the tide to turn.
I should add that on the earnings front, we got one hit and one miss, with IBM Corp. (NYSE:IBM) falling to new 52-week lows in the after-hours session, while FANG champion Netflix (NASDAQ:NFLX) is up sharply on positive numbers. If you just look at the Dow (NYSEARCA:DIA), IBM's results are likely to weigh on the market, but Netflix should help put a bid in for tech stocks (NASDAQ:QQQ).
Mortgage REITs: Real Yield or An Accounting Gimmick?
Mortgage REITs have gotten pounded over the past year, with a huge wave lower to start 2016. The industry ETF (NYSEARCA:REM) now yields 13%, which certainly grabs one's attention.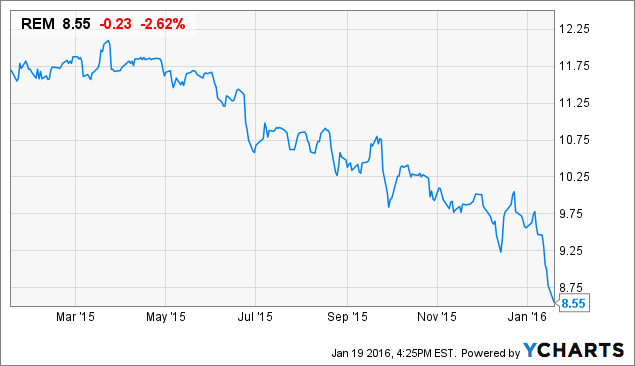 REM data by YCharts
I bought Western Asset Mortgage Capital Corp. (NYSE:WMC) last year and sold it shortly thereafter. I don't sell long-term holdings that frequently. However, with Western Asset Capital Corp., I tried to read the company's first earnings report after my purchase and realized I had no idea how the company actually made money. More poking around the internet revealed that I would have to burn the midnight oil studying some intricate accounting to try and figure the company out.
Not wanting to spend the time, I figured it was better to sell, since I didn't understand the business. In hard times, it's tough to stay invested in a company if you don't understand its business model completely.
If I had to guess why the sector is getting so hard lately, I'd conclude that other investors are coming to the same conclusion I did. This is too complicated, and with everything going to hell in a handbasket, the last thing I need is a high-yielding black box. The shadow of Kinder Morgan (NYSE:KMI) looms large for many investors.
All that said, there's a good price for just about anything. At some point, even opaque businesses with black box models become reasonable investing options if they are discounted enough.
That brings my attention to New Residential Investment Corp. (NYSE:NRZ). It is currently yielding 18%, trades with a single-digit P/E, and it is supposedly less tied to both the traditional mREIT business model and interest rate risk versus the field. Since they have exposure to loans that can't refi, in theory there is significantly less risk than to peers. And at roughly .8x book, it looks like a steal.
On Tuesday, the company announced a meaty buyback that could reduce the outstanding share count by almost 10%. Unlike many REITs, which painfully issue equity even after shares have fallen, NRZ is going in the opposite direction.
So, am I buyer? No, I'm not. I read ColoradoWealthManagement's recent article on the company. He's one of the best mREIT analysts here at Seeking Alpha, and usually he clears up any questions readers have. After reading the article, I remained completely confused. I brewed a cup of coffee and re-read it. And maybe I'm just dense, but I still can't wrap my head around this company's business model in anything near specific detail.
The stock appears to be cheap, and if it falls much more, there's a good chance of it producing blockbuster returns. However, the whole sector (probably unfairly) is getting painted with a broad brush. There's a lot of perceived risk out there tied to interest rates and high yield vehicles. The market is no longer tolerating risk. If you don't understand these products, be very careful buying them even after these big drops.
As for the rest of the sector, as long as book values continue dropping quickly, it is hard to see when they will bottom. Taking a look at the history of Annaly Capital Management (NYSE:NLY) or a peer company over the years, you have to realize that the dividend can, and has, gone to almost zero in the past. The share price can be similarly volatile.
mREITs are heavily owned by yield-seeking investors, who are quivering in their boots at the moment. The market could continue selling these names off long past fair value (even if you figure out where that is). Making it more difficult, it takes a lot of due diligence for potential bargain hunters to buy these names given the complex business structures.
If you feel compelled to take a risk on a super-high yielder, I recommend taking a look at J Mintzmyer's recent article on the Navios family of companies. I personally am long Navios Midstream (NYSE:NAP), and while there is significant risk, the 21% yield appears sustainable (or even growable) in most circumstances. And it is far easier to understand the forces that will drive that company's results going forward.
A New 40-Year Low For Gold Miners*
Tuesday marked a new all-time low for the gold miners ETF (NYSEARCA:GDX). Since that instrument has only existed for the past decade, one needs older data to see when we were last down this low.
Gold mining data sets vary significantly in composition (hence the asterisk above); however, this appears to be roughly the lowest the industry has been since the mid-1970s, when gold (NYSEARCA:GLD) lost its initial pop after the abolition of the gold standard at the beginning of that decade.
Gold miners had initially moved up off last year's lows despite a similarly strong move in gold itself.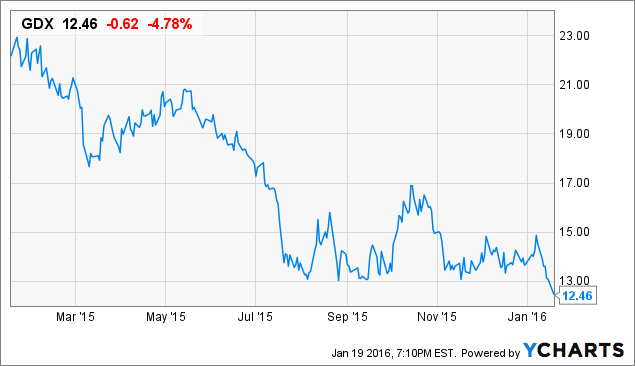 GDX data by YCharts
Notice that sharp pop in October even when gold itself wasn't doing much. But the relief rally quickly gave way, and with the recent broader selling in the markets, gold miners have lost support. The $13 area was hit on GDX over and over, and this time, bulls couldn't maintain the level.
It's kind of funny that price support gave way here, as gold itself is still up around $1,100/oz, well off the recent lows closer to $1,000. And there's been geopolitical news that would, in theory, provide a bid for the space.
It speaks to the general weakness of the commodity space in general that absolutely everything is getting dragged into the black hole. As long as the dollar (NYSEARCA:UUP) remains strong, it seems these stocks simply can't sustain any rallies.
I was previously quite enthusiastic about Tahoe Resources (NYSE:TAHO) in the precious metals sector. However, the company's primary mine is located in Guatemala, which just experienced an abrupt change its government. I can't honestly endorse investing in the country at the moment, and have sold my shares until it becomes clear what political direction the new outsider government will take.
I'd like to be long at least one of the precious metals miners, but honestly, nothing stands out to me at current prices. At some point, you hold your nose and buy Newmont Mining Corporation (NYSE:NEM), but even that looks like it could get a lot cheaper in the near term. Remember, don't trust book values in sectors where the assets are steadily eroding in value.
Disclosure: I am/we are long NAP.
I wrote this article myself, and it expresses my own opinions. I am not receiving compensation for it (other than from Seeking Alpha). I have no business relationship with any company whose stock is mentioned in this article.