By Rupert Hargreaves
China's GDP Numbers … China's long-awaited official fourth quarter and full-year 2015 GDP figures were released last night. The numbers came in lower than expected at 6.8%, compared to the median Bloomberg estimate of 6.9%. For 2015 as a whole, China's GDP expanded 6.9% year-on-year, down slightly from 7.3% YoY in 2014 but still in line with the government's annual growth target of "about 7.0%". Sequential growth came in at 1.6% quarter-on-quarter for Q4 2015, down from 1.8% in Q3 2015. GDP deflator growth fell to -0.8%, down from -0.7% in Q3 2015.
China's GDP Numbers: Sector breakdown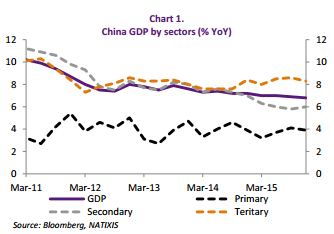 China's GDP Numbers
On a sector by sector basis, the primary sector grew by 4.1% YoY in real terms during the fourth quarter, unchanged from Q3. The industrial sector grew by 6.1% YoY, up from 5.8% in Q3. The services sector grew by 8.2% YoY, down from 8.6% in Q3. This means that the services sector contributed to China's GDP growth by more than half (50.5%) in 2015.
New bank loans shrank on a monthly basis (RMB832 billion from RMB887 billion in November) although total social financing growth reached RMB1815 billion (77.5% MoM; 7.1% YoY).
Industrial production growth slowed in December to 5.9% YoY compared to the growth of 6.2% reported for November. Mining production growth picked up to 1.4% YoY from 0.3% in November and manufacturing production growth ticked lower to 7.0% YoY from 7.2% in November. Power supply growth for the month of December actually contacted falling -0.8% YoY from 2.2% in November.
Investment activity data came in weaker than expected. Fixed Asset Investment (FAI) growth slowed to a historic low of 6.8% YoY in December, down from 10.8% in November. Infrastructure investment fell to a three-year low of 10.2% despite the reported approval of as much as RMB500 billion worth of infrastructure investment in December alone by Chinese authorities.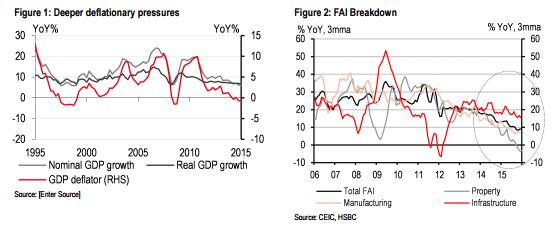 China's GDP Numbers
Moreover, the industrial sector saw the worst deflation in history with the deflator for this sector sliding to -5.9% in Q4. According to HSBC's research, industrial capacity utilization rates have fallen to a six-year low in not only conventional 'over-capacity' sectors (steel and autos) but an increasing number of manufacturing sectors, underscoring the impact of continued demand slowdown on the economy.
Still, the latest set of figures shows that China's shift towards consumption-led economy is gathering momentum, although the shift may not be as fast as policy makers and economists would like. Retail sales grew 11.1% YoY in December, down from 11.2% in November. The services PMI came in at 50.2, which signals that the sector is growing, but only just. Any reading above 50 indicates expansion. The latest manufacturing sector's PMI reading was 48.2.
As HSBC notes, the consumer spending data is the only positive part of China's 4Q GDP release:
Consumer spending likely remained the only bright spot in today's data release, despite also coming in slightly below market expectations. Sales of food, clothing and household appliances remain resilient, although generally moderated after Singles' Day promotions in November. Car sales growth remains at a high level, but may normalise in the coming months without further policy support or subsidies. The property sector is another key swing factor. Although December data showed that prices have risen in more cities, the pace of volume growth has stabilised in recent months. While the demand outlook will likely remain stable it is unlikely to accelerate further in the absence of further easing measures. The slowdown in the property sector has shaved 1ppt off GDP growth in 2015. More policy impetus, for example, from the upcoming NPC to support urbanisation related housing purchase will help quicken the de-stocking process and provide a bigger boost to growth.
Can China's figures be trusted?
One of the most concerning problems with China's GDP numbers is the reliability of the data, and Q4 2015 figures are no exception. Capital Economics points out that China's official GDP figures shouldn't be taken at face value and the, "continued stability of the official GDP figures will do little to assuage concerns over their credibility." Capital Economics' own figures point to much slower growth than the official data.
However, the leading macroeconomic research company believes that China's fourth quarter figures, although mixed, don't suggest that China is now entering a deeper economic crisis. In fact, the data hints that the tailwinds from recent policy stimulus are still building. As a result, China's economic data could start to, "gradually turn more upbeat over the next few months."