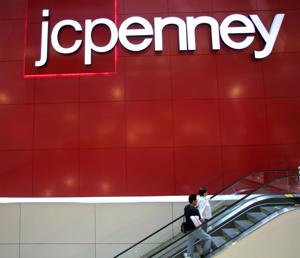 I'll admit that I've come around on my opinion of J.C. Penney (NYSE:JCP). I wrote an article in late 2014 titled "This J.C. Penney Turnaround Simply Isn't Working". At the time, I believed it was true. Same store sales growth was far below where it should have been to reach recovery level. Overall sales were largely flat year over year. Margins were improving but I was worried about how the company's increased long term debt load would affect it going forward.
While I still stand behind my judgement at the time, in the last 12 months there should be much less debate, in my opinion, whether or not J.C. Penney's turnaround is in fact working. Because it is. The second Mike Ullman era is quickly putting the failed Ron Johnson era in the rear view mirror.
I actually set foot in a J.C. Penney's for the first time in a while this past holiday season and I have to say I was pleasantly surprised with the experience. In the past, my visits to J.C. Penney lacked any kind of wow factor but this holiday season I felt like I was stepping into a high end retail store. The decor felt rich, the merchandise looked high quality and the Sephora within the store felt unique. Granted, the store near me had just gone under a bit of renovation so that no doubt contributed to the new look and feel but this was a much improved experience than I'd had at J.C. Penney in the past.
But one experience at one store does not a recovery make. It's the numbers that count. While J.C. Penney is far from a finished product and still has a lot of work to do, the results are pointing in the right direction.
Running a leaner operation gets free cash flow back to breakeven
A $0 free cash flow number doesn't necessarily sound exciting but it's been a long trip to get there compared to where J.C. Penney was at. During the Ron Johnson era, free cash flow nearly hit the -$3B mark as the company implemented his new corporate strategy and ratcheted up capital expenditures. J.C. Penney has returned to a neutral free cash flow position thanks to a cost cutting program that included closing 33 stores in 2013, 41 stores in 2014 and another seven planned closings this coming April.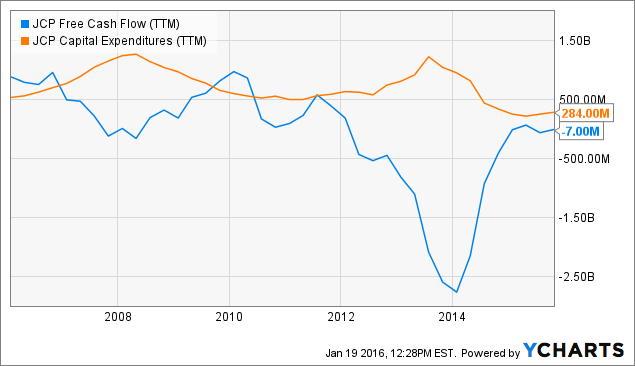 JCP Free Cash Flow (NYSE:TTM) data by YCharts
These cost cutting measures have shrunk capex from over $1B down to less than a third of that. It's a long ways from 2010 when the company generated almost $1B in free cash flow but 2016 should be the first year it's generated positive FCF since 2012.
Exceeding earnings expectations and raising guidance
One of J.C. Penney's biggest successes in 2015 was it's ability to beat expectations. The company has beat earnings expectations by over 10% in each of the past three quarters while at the same time raising forward guidance. Penney is expected to grow revenue by a modest 3% in both 2016 and 2017 while returning to profitability in 2018. It's a long term story for sure that has a long way to go to fully play out but the trends are pointing positive.
The potential for refinancing debt
J.C. Penney added about $2B in long term debt to its books within the past couple of years raising its long term debt to assets ratio to around 50%. Its ability to refinance that debt in order to further reduce expenses could be a focus in the current economic environment.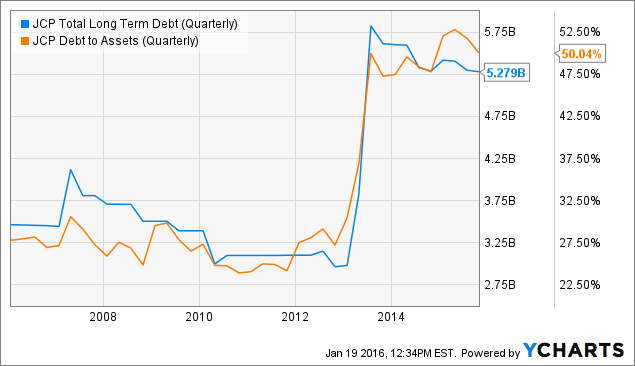 JCP Total Long Term Debt (Quarterly) data by YCharts
The debt will likely take years to pay off with focus right now in the return to profitability but refinancing could be an important step to bring the cost more under control in the short term.
Strong holiday sales
The retail sector in general had a tough holiday season but J.C. Penney was one of the exceptions. While higher end retailers like Macy's (NYSE:M) and Nordstrom (NYSE:JWN) struggled, J.C. Penney reported gains of nearly 4% and earned an upgrade from Citi in the process.
The possibility of a short squeeze
J.C. Penney is currently a favorite among shorts. It's the 14th most shorted stock on the NYSE with over 104M shares being shorted (up from under 100M shares a few months ago) and nearly 35% of the float is short.

Investors don't seem to believe in the J.C. Penney story just yet but shorts could be compelled to begin covering if quarterly results and trends remain positive. The company right now likely has a goal of recovery just a percentage of sales lost during the Johnson era for the time being but some consistent beats on revenue starting with Q4 could be a catalyst.
Conclusion
To date, the market hasn't really responded to the turnaround story yet. The stock was able to bounce up to the low double digits within the last year but at its current $7 level could represent a deep value play to those willing to make a higher risk play.
J.C. Penney is still in the early stages of a long term recovery and much has yet to play out to determine if the company will indeed complete its turnaround but an investment at current prices could yield big returns if the story plays out.
Disclosure: I/we have no positions in any stocks mentioned, but may initiate a long position in JCP over the next 72 hours.
I wrote this article myself, and it expresses my own opinions. I am not receiving compensation for it (other than from Seeking Alpha). I have no business relationship with any company whose stock is mentioned in this article.