It's been a long road for Guaranty Bancorp's (NASDAQ:GBNK) investors. Shares were hit hard during the financial crisis, and every year, since has included a series of one-time charges that has never allowed core earnings to shine through. However, it's important to note that some of these charges, like a pre-payment penalty last year, were made to increase future profits. There's no denying the fact that the bank is being valued favorably with some growth already priced in, but unencumbered, Guaranty is now free to step on the gas.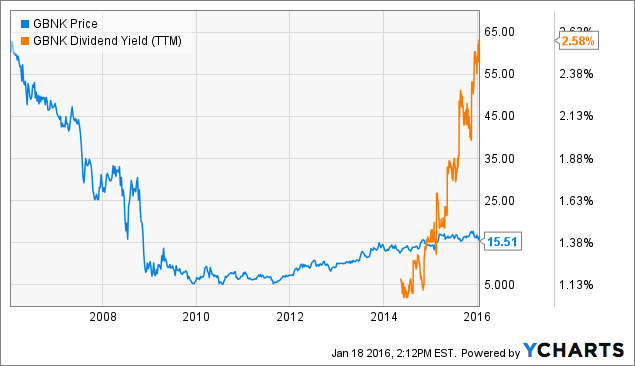 GBNK data by YCharts
A Look Back
It's been a long time since the financial crisis, but I still think it's important to take into account how a bank managed through this time. Stress tests are run now, but an overview of actual performance should be given more weight, in my opinion. With that, Guaranty suffered heavily from falling real estate values between 2006 and 2010. Going into the storm, the bank's loan portfolio had a large balance of construction loans (~22% of the portfolio in 2006) that turned in significant losses. These weren't the only problem assets on the bank's book, but in total everything added up to ~$349 million in negative pre-tax income between 2008 and 2010. To put $349 million into perspective, the market cap displayed on Seeking Alpha's website right now is $336.98 million.
For some, this alone is enough to write off the bank as a potential investment, but let's play around with $349 million for a second. Of the total, ~$250 million came from an intangible goodwill impairment charge, and during this time, the bank's provision expenses totaled $118 million. Charge-offs were significant but less than the allowance build at $97 million, and if we subtract the non-cash goodwill impairment and substitute provision expenses with actual charge-offs, the results are still negative but far from $349 million (-$349+250+118-97=-$79 million).
I don't necessarily think goodwill impairments are something to scoff at, but economically this non-cash charge would stack up better to a similar bank that was booking real losses on the loan book. And, while construction loans might not necessarily be a problem asset in the future, it is reassuring to see that the portfolio has diversified and cut this line down to 5.9%.
From 3Q Presentation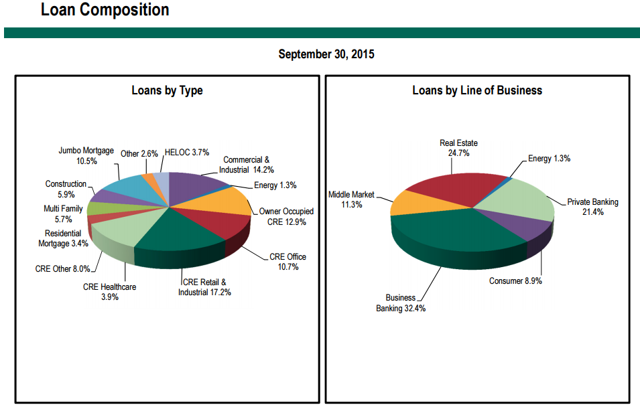 Road Bumps
After the goodwill impairment and losses, Guaranty's bottom line has been on a slow decline, with the exception of 2012. In 2012, net income turned positive ($0.72 per share) in the absence of significant one-time charges (non-cash ~$19.8 million or $0.30 per share) related to the conversion of preferred shares in 2011. 2012 was also helped by a $2 million provision benefit and a $3.17 million tax benefit, but while a big relief, these one-timers set up an unbeatable opponent for 2013.
Since 2011, net interest income has consistently grown despite falling interest rates, but even with a $5.2 million YOY increase, net income was down again in 2014 (to $0.64). 2014 looked like investors' best chance at an uptick, but the bank's top-line improvements were once again offset by a $4.8 million prepayment penalty (lowers net interest expense going forward) and a decrease in YOY income related to the sale of foreclosed assets.
Needless to say, the bank's core has been hidden. But, while these nonrecurring items are usually the culprit behind an undervalued stock, GBNK's shareholders are up big. In the past three years, Guaranty's stock has doubled, and that's even after the recent pull-back. ROA has averaged 1% this year and when the fourth-quarter earnings are announced, we are likely going to see the trailing P/E reset to ~14.5X from 18.5X where it is now. At 14.5X and with a P/TBV of ~1.5X (I'm projecting TBV of $10 at year end), shares do have some growth priced in, but considering where the bank is located, the valuation is compelling.
Note the multiple change: At the end of Q3, shares were priced at 1.78X tangible book value and 16.32X 2015 consensus earnings ($1.07 - same consensus used to calculate 14.5X P/E above).
Ready to Grow (assets and margins)
Guaranty's 26 branches are strategically located "on the thriving Colorado Front Range, which encompasses 85% of the state's population (Q3 Presentation)." As you can see from the clip below, the market is healthy, and for two years, deposits have grown 12.3%, and in 12 months, the loan portfolio is up 16.5%. Guaranty is the 14th largest deposit holder in the state, and market share has expanded in each of the last two years (from 1.38% in 2013 to 1.5%; to verify, you will have to re-run the report).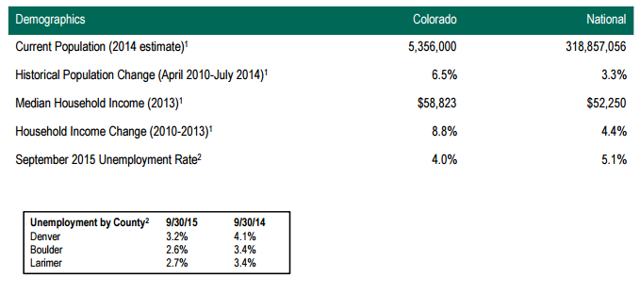 Compared to other banks in the state (with $1-10 billion in assets - also will have to run custom report) - Guaranty has:
A higher ratio of loans to assets (74% vs. 66%)
A larger commercial real estate portfolio (as a % of total assets - 39.5% vs. 26.6%)
A smaller percentage of no-owner occupied commercial real estate (9.97% of assets vs. 10.86%)
A lower efficiency ratio (60.8% vs. 64.95%; and 65.25% for all banks in the nation with $1-10 billion in assets)
More assets per employee (6.49 million vs. 5.8 million, and 5.08 million for all banks in the nation with $1-10 billion in assets)
Taken together, it's clear the bank is in the right place for growth. The past was shaky but not as bad as it appears to have been, and even though one-time charges have held up earnings, most of them were either non-cash or taken to improve margins. For example, the prepayment penalty last year saved $1.7 million in the first three quarters of 2015, large enough to help the yield paid on interest-bearing liabilities improve to 0.41% in Q3 2015 from 0.55% in Q3 2014.
Bottom Line
I plan to do a little more DD on other banks in the area, but I think it's going to be hard to find one as "ready to go" as Guaranty is now. Shares are interesting after last week's carnage, and it would be hard to pass up another fall. At ~14.5X this year's earnings, shares appear to be fairly priced, but this price may prove to be a steal considering how strong Colorado has been lately. Ironically, though, an above-average past (state growth) is part of the reason I'm cautious (mean reversion). Expectations are achievable, but I don't mind waiting to see how the stock performs over the next few months.
Also, Yahoo!'s major holder section lists regular bank investors and a large percentage of institution ownership. I imagine shares trade well above their acquisition price considering how the stock has performed, and this, in addition to market volatility could lead to some above-average selling, and a better starting point for anyone like me with a growing interest (fingers crossed).
Disclosure: I/we have no positions in any stocks mentioned, and no plans to initiate any positions within the next 72 hours.
I wrote this article myself, and it expresses my own opinions. I am not receiving compensation for it (other than from Seeking Alpha). I have no business relationship with any company whose stock is mentioned in this article.