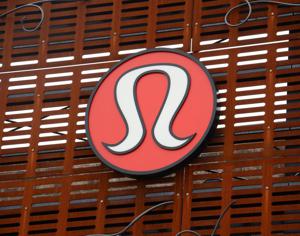 Lululemon (NASDAQ:LULU) is very different from almost every other mall retailer. If they offered off price promotions prior to Christmas, I did not see them. Their post Christmas sale was brief, offered shallow discounts and was energetically shopped. As of Monday January 11th sale and clearance product had been moved to the back of fixtures in the middle or back of the store. And as of Friday January 15th, all sale and clearance product had been taken off the floor, and they were still being enthusiastically shopped. I doubt that the prior season inventory literally sold out to the piece, so a strategic decision was made to halt the off-price/clearance activity, at least in regular mall locations. Maybe they will clear the balance in a warehouse sale somewhere. What a luxury to be in that position.
The balance of the mall is anywhere from 5% to 95% converted. No other retailer has entirely voided the floor of prior season inventory and no other retailer is 100% at ticketed price. You can't maximize margins any better than Lululemon is currently executing. I have commented before that the unusually high level of "seasonless" product that LULU carries is part of what makes this possible. It also takes rigorous planning and discipline to buy seasonal product at the appropriate depth and breadth and then actually pull it off the floor at the appointed time. LULU deserves a lot of credit to have executed to this level.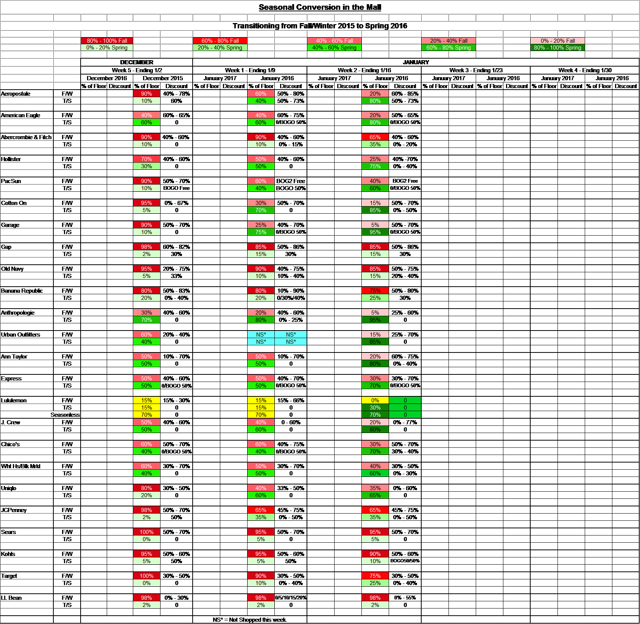 The teen retailers are doing a pretty good job of converting. The privately held Cotton On and Garage have very little residue remaining on the floor. Aeropostale (NYSE:ARO) has made good progress. American Eagle (NYSE:AEO) is already bringing phase 2 out onto the floor. Abercrombie & Fitch (NYSE:ANF) seems to be lagging. They have started, but are way behind the other players. ANF is moving to a different location in the local mall so I thought they might be stalling in order to facilitate the move, but my partners visit to another mall did not reveal any additional product on the floor. There is a little bad news in the first new product on the floor. There are already hard markdowns on some of the new knits. The hit is only 20%, but that they have to be hit at all is the issue. I scratched my head when some of this product first hit the floor, but gave them credit for trying some new ideas. So the bad news is that they have some clunkers. The good news is that they are dealing with them quickly and surgically and not putting the whole new delivery on some kind of promotion. It may be that the new President, Fran Horowitz, is exercising some healthy impatience with off-brand or poor selling product, which is a very good thing. She can't impact much new product until late summer or BTS, but hitting off-brand product early is a good start. Now if she can infuse Abercrombie with some of the Color Management she exercised at Hollister, it will be another step in the right direction.
Gap (NYSE:GPS)...what are they waiting for? I re-read some articles from last summer talking about the expectations for Spring 2016. The 4th quarter was a disaster so I am sure they want to launch Spring 2016 with as much gusto as they can. The first couple of fixtures in Women's are not exactly traffic stopping. The first and only fixture in Men's is somewhere between head scratching and forgettable. What I thought was the staging of Spring product at the back of the store turns out to be a test. A couple of Gap badges walked by saying, "I'll be glad when this test is over and we can finally set up Spring next week." I thought it curious that they were carrying the same shirt in two different fabrics, but if it was a test it makes perfect sense. If they really are now in "test and respond" mode, then I do look forward to improving assortments. "Test and respond" makes it sound a lot easier than it really is, but just to be operating with that model should indeed make a big difference. Now let's see what the whole first floor set of Spring actually looks like.
Disclosure: I/we have no positions in any stocks mentioned, and no plans to initiate any positions within the next 72 hours.
I wrote this article myself, and it expresses my own opinions. I am not receiving compensation for it (other than from Seeking Alpha). I have no business relationship with any company whose stock is mentioned in this article.
Additional disclosure: Articles I write for Seeking Alpha represent my own personal opinion and should not be taken as professional investment advice. I am an experienced apparel merchant, not a registered financial adviser. This article endeavors to give timely and ongoing color to the unfolding retail experience, not financial advice.
Editor's Note: This article covers one or more stocks trading at less than $1 per share and/or with less than a $100 million market cap. Please be aware of the risks associated with these stocks.