"Success is not final, failure is not fatal: it is the courage to continue that counts." - Winston S. Churchill.
There's been lots of talk about the dividend policy of AT&T (NYSE:T) on this platform as well as elsewhere in recent weeks following the annoucement that the telecommunication behemoth would raise annual dividends per share by 2.1% to $1.92 from $1.88.
The market was not impressed.
Why so?

(Source: imprint-mag.com)
Speed
Since 2008, AT&T has increased its quarterly dividend by $0.01, and some investors have an issue with the speed at which dividends are rising - in short, the want more income.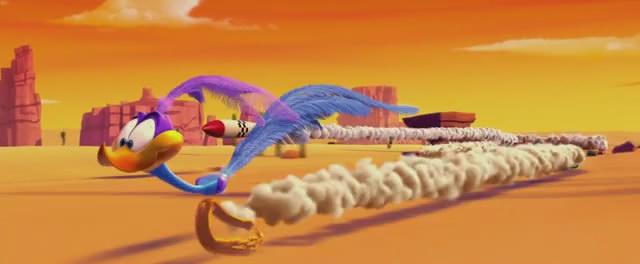 (Source: gamaniak.com)
Dividend
AT&T has been very predictable with regard to its dividend policy in recent years, during which its stock has carried a yield higher than 5%, which is broadly in line with its forward yield.
The chart below shows historical dividend data since 2012.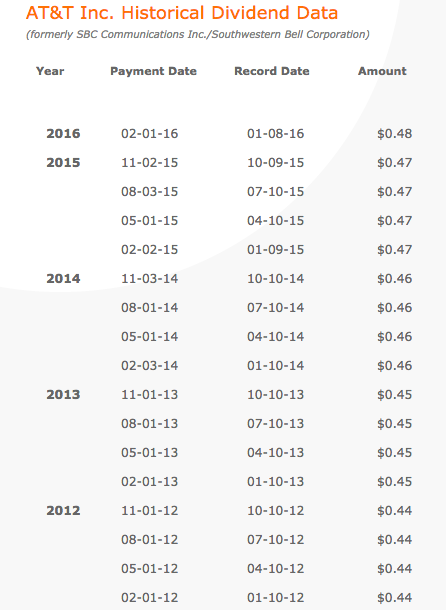 (Source: AT&T)
Between 2012 and 2013, AT&T splashed out $24.7bn in buybacks, which arguably contributed to a stable yield. In 2014, the figure associated to stock repurchases stood at $1.6bn, but it dropped to zero in the first nine months of 2015, when it adopted a different capital allocation strategy.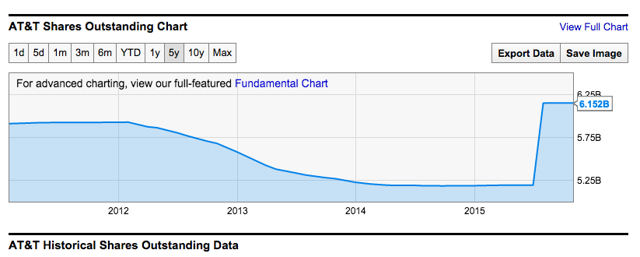 (Source: ycharts.com)
In 2015, AT&T decided to add debt onto its balance sheet to buy assets, and a strong performance against the market (+7 percentage points) may have something to do with that - as well as, of course, with broader market volatility.
Its five-year performance since the rally started in 2009 is shown in the chart below.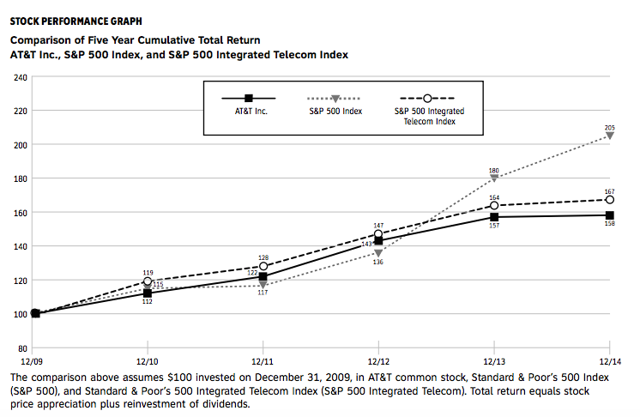 (Source: AT&T 2014 annual results)
Its cash flow from financing during 2012-2014 is shown in the table below, where I have highlighted the amount that AT&T decided to spend on stock buybacks.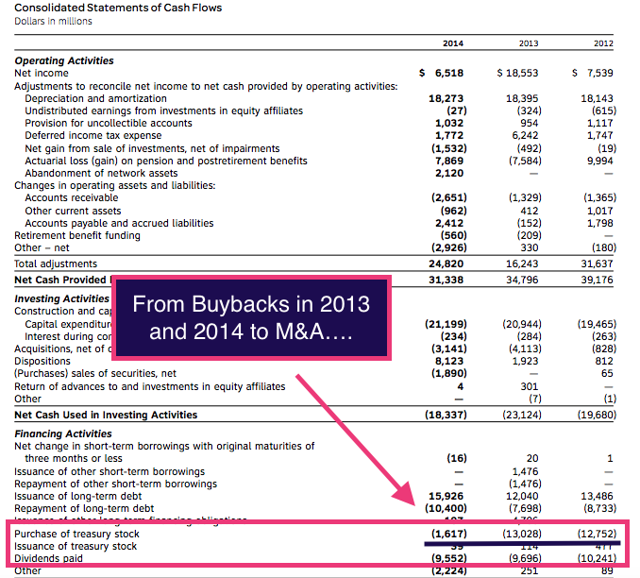 (Source: AT&T 2014 annual results)
Quad Play?
In the 2014 letter to investors, CEO Randall Stephenson said that "fast, secure and mobile connectivity to everything on the Internet - everywhere, at every moment and on every device - is what drives us at AT&T."
AT&T is changing. It is growing its balance sheet via acquisitions in order to have a properly diversified assets base, which currently spans business solutions, entertainment and internet services, and consumer mobility.
AT&T is not just a quad play - that is a concept the Americans don't like very much. In fact, the quad-play offering seems to be less appealing in the U.S. than elsewhere, but AT&T management acknowledges trends are not particularly encouraging, and is prepared to face other challenges.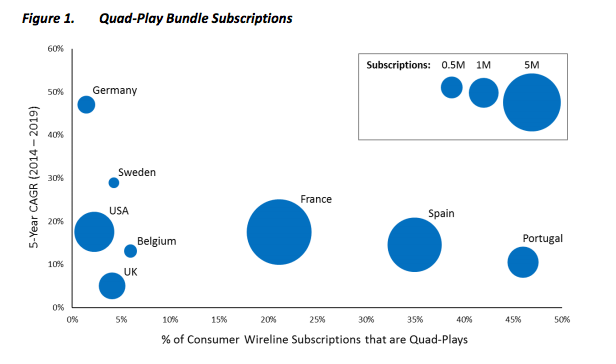 (Source: cartesian.com)
Inflation
Let's now look at what the latest increase in its dividend means for investors based on trailing and forecast inflation rates.
Inflation in the U.S. stood at 0.5% for the 12 trailing months ended November 2015, so it is safe to assume that AT&T's dividend rise outperformed inflation by 1.5 percentage points in 2015.
There are several estimates for the projected U.S. inflation rate in 2016 - the range is between 1% and 2%.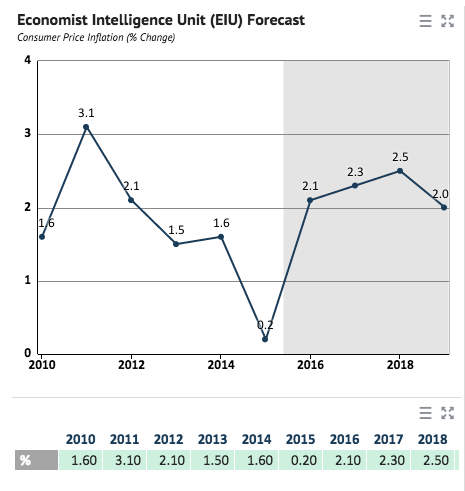 (Source: knoema.com)
AT&T has decided to reward shareholders with an annual dividend increase above inflation into 2016, but shareholders will likely be worse off than in 2015. Of course, AT&T management could point to adjusted CPI figures (check out the red line in the chart below), but it would not be wise to do so, in my view.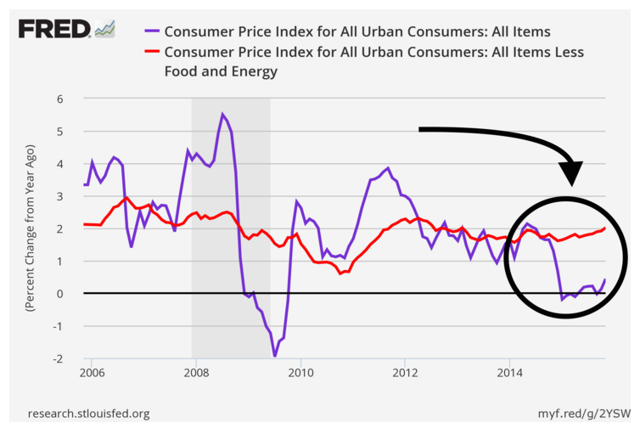 (Source: scenarieconomici.it)
Capital Appreciation
T stock didn't manage to reward shareholders between 2013 and 2014, but over the last 12 months it has proved to be a safe investment, having outperformed the main index by several percentage points, excluding dividends. True, a decent performance should have been expected in volatile market conditions given its lowly beta, but its capital allocation strategy also contributed to value creation.
Of course, shareholders could wonder whether AT&T should pay a much higher dividend - because if it did, it could attract an equity premium in a market where risk-off trades are likely to prevail for some time.
The problem in that the interests of shareholders and those of bondholders are not aligned.
Price Tag
According to Thomson Reuters, consensus estimates from analysts indicate a price target of $37.3, which implies upside of about 9% from its current level of $34.4, as the table below suggests.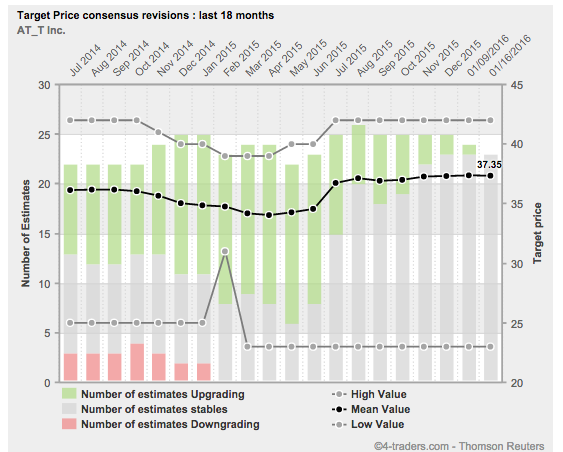 (Source: 4-traders.com)
The chart below shows the performance of AT&T stock against the average price target from brokers.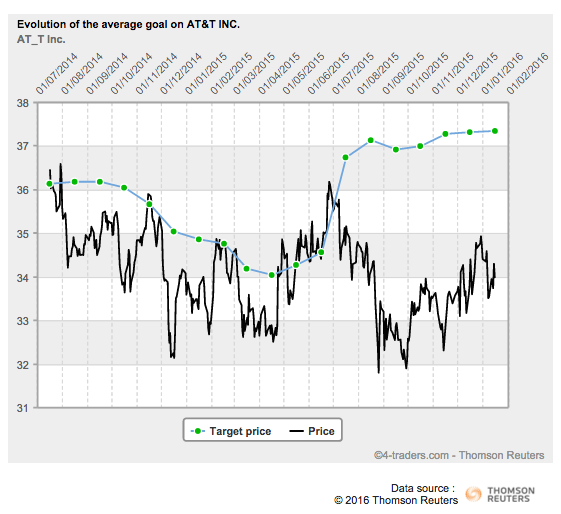 (Source: 4-traders.com)
Balance Sheet
Its growth prospects weigh on its valuation, but it could not be otherwise for a company of its size. Its projected 2015 revenues stand at $148bn, its market cap is $209bn, while its total assets amount to almost $400bn, some 8.7% of which is represented by current assets.
AT&T will likely continue to look for bolt-on opportunities in order to please investors - and its own deal-making, which will likely include divestment, could offer higher capital gains.
Its acquisition-led strategy in 2015 determined a rise in goodwill and debts. That is not something I like very much, but stable cash flows and net leverage below 3x indicate that AT&T will surely manage to repay its debts when they come due.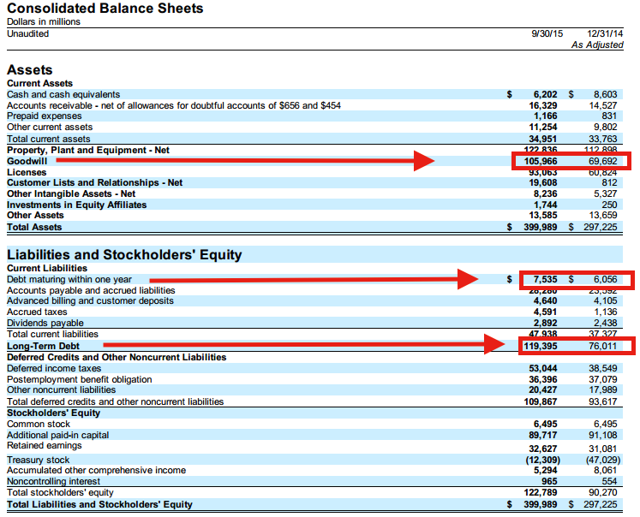 (Source: AT&T)
Now What?
If its equity value rises to $37 a share, its 2016 forward yield will drop 40 basis points to 5.2% from 5.6%. Then, assuming 2016 earnings per share of $2.65, its forward payout ratio will be in the region of 72%, which would represent a drop of about nine percentage points from the level that it is likely to record at the end of 2015.
Not only a more generous dividend policy is possible but is also required if its shares are to receive the backing of new investors, particularly if volatile subsides.
P&L: 3Q Results Snapshot
Full-year results are due on 26 January, when I do not expect a massive shift in trends for some its key P&L items, which are shown in the table below.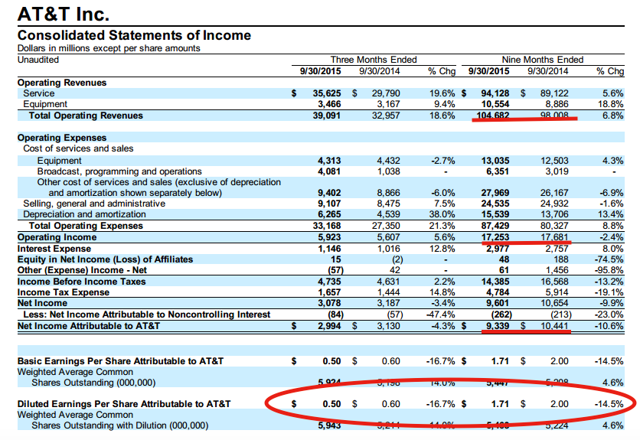 (Source: AT&T)
AT&T announced its third-quarter results on 22 October - net income totaled $3bn, or $0.50 per diluted share, which compares with net income of $3.1bn ($0.60 per diluted share) in the third quarter of 2014.
"Our third quarter 2015 results include the operations of DirectTV following the July 24, 2015 acquisition," the company said - adding that third-quarter 2015 revenues were $39.1bn, up 18.6% from the third-quarter 2014. Third quarter revenues reflect increased revenues primarily from the acquisition of DirectTV.
Compared with results for the third quarter of 2014, operating expenses were $33.2bn versus $27.4bn, primarily reflecting recent acquisitions, AT&T said. Meanwhile, operating income was $5.9bn, up from $5.6bn, but its underlying margin was 15.2%, down 1.8 percentage points on a comparable basis.
Notably, third-quarter cash from operating activities stood at $10.8bn, up from $8.7bn in the year-ago quarter, "due primarily to the acquisition of DirectTV and the timing of working capital payments."
Cash Flow
If AT&T continues to implement an effective strategy with regard to working capital management (changes in receivables, payables, and other current assets and liabilities), it could easily spend top dollar on dividends, also considering its debt maturity profile (which can be found at this link) and its capital requirements.
Just how much more, though? Well, how about $2bn more, for instance?
That's surely doable.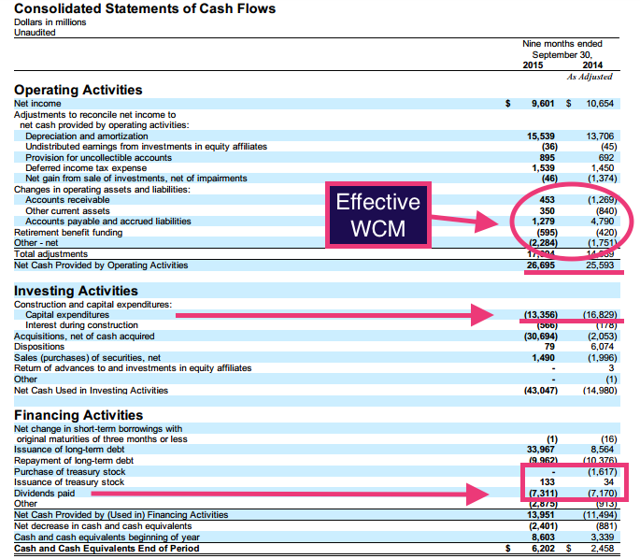 (Source: AT&T)
Such a move would signal confidence in strategy and guidance.
Ultimately, it could be a choice between higher dividends and buybacks.
Extraordinary Corporate Activity
If you are worried about its de-leveraging, consider that AT&T has plenty of assets to sell.
Reuters reported on Friday:
"Spanish telecommunications company Telefonica has expressed interest in buying AT&T's pay TV assets in Latin America, which could be valued at around $10 billion, according to people familiar with the matter.
There's possible upside here, even though it is hard to quantify.
My Take
Those in the bear camp argue that AT&T should pay less in dividends, while the bulls argue that its payout is absolutely fine.
I think management has decided to err on the side of caution, and in doing so AT&T stock might struggle to reward shareholders with increasingly higher returns from capital appreciation.
But its allure is obvious in this market.
Disclosure: I/we have no positions in any stocks mentioned, and no plans to initiate any positions within the next 72 hours.
I wrote this article myself, and it expresses my own opinions. I am not receiving compensation for it (other than from Seeking Alpha). I have no business relationship with any company whose stock is mentioned in this article.