On Tuesday, The Wall Street Journal wrote:
"French oil major Total (NYSE:TOT) is likely to report a 20% fall in adjusted net profit for 2015 because of the collapse in oil prices, chief executive Patrick Pouyanné said."
Pouyanné reportedly added that profits will fall, but they will fall just "a little more than 20% while the oil price falls 50%." Its shares shrugged off concerns on Tuesday, but have succumbed to market volatility in European trade on Wednesday. Its American Depositary Receipt (ADR) closed at $41.7 on Tuesday.
Elsewhere, Wednesday's preliminary trading update from Shell (RDS.A, RDS.B) left little room to the imagination - its stock was down over 5% in London (against -3% for the FTSE 100) at the time of writing on Wednesday, the day after its ADR lost a couple of percentage points.
Just how bad is latest news from oil majors for Exxon (NYSE:XOM), though?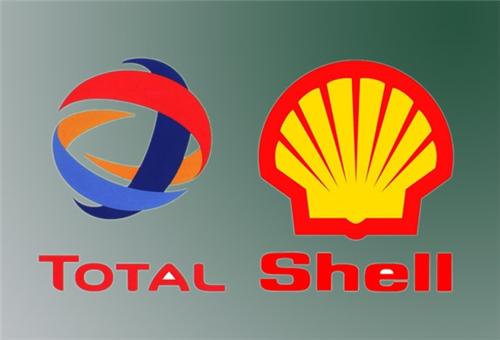 (Source: nileinternational.com)
Total
This is what Total had to say on some of its key financial metrics when it reported its third-quarter results on 29 October: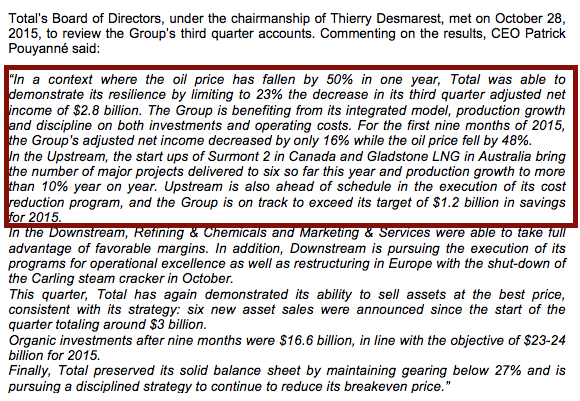 (Source: Total)
The table below shows that while upstream profits plummeted, as I would have imagined, upstream and refining and chemicals performed pretty well.

(Source: Total)
The chart below shows the drop in value of the black gold since the end of last year, when Total reported its third-quarter results.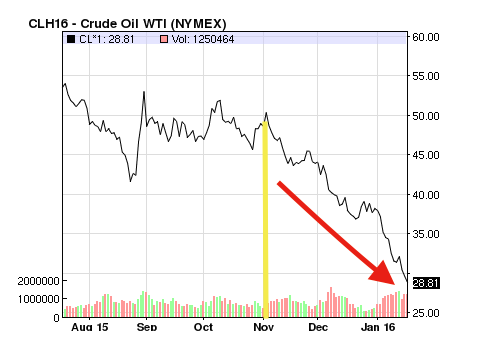 (Source: nasdaq.com)
So, Pouyanné is now telling us that in a market environment where oil prices could be about to hit rock bottom - under a bull-case scenario, of course - Total managed to generate a decent amount of income, while paying dividends that imply a payout ratio of around 75% at the end of 2015.
The drop in profits could have been much more painful if Total, just like Exxon, had not been prepared to face extreme market condition that may - or may not - improve any time soon.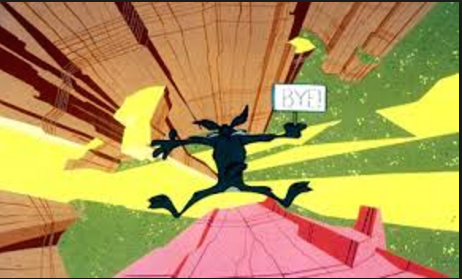 The international Energy Agency said on Tuesday that exceptionally mild temperatures in the early part of the winter in Japan, Europe and the United States - alongside weak economic sentiment in China, Brazil, Russia and other commodity-dependent economies - saw global oil demand growth flip from a near five-year high in the third quarter of last year, at 2.1 million barrels per day (mb/d), to a one-year low in the fourth quarter of 1.0 mb/d.
The outlook is not encouraging, either.
Shell
Economic profits were badly hit, it emerged on Wednesday, but such an outcome was widely expected.
In al this, the good news is that Shell said today that it has taken "impactful decisions in 2015 to reduce longer term, low return upstream positions, such as the exit from Alaska exploration for the foreseeable future, cancellation of Carmon Creek heavy oil project, and exit from shales positions in multiple countries."
Shell's-fourth quarter results are due on 4 February, when earnings - on a current cost of supplies basis excluding identified items - "are expected to be in the region of $1.6 - 1.9bn."
"This includes Upstream of $0.4 - 0.5bn, of which Integrated Gas some $1.6 - 1.9 bn, and Downstream of $1.4 - 1.6 bn, of which Oil Products some $1.3 - 1.4 bn and Chemicals some $0.1 - 0.2 bn. Full year 2015 earnings on a CCS basis excluding identified items are expected to be in the region of $10.4 - 10.7 bn."
Shell also noted that underscoring its commitment to returns to shareholders, "dividends declared for 2015 are expected to be $1.88/share or $12 billion," which is bang in line with consensus estimates. It also added that it expects to pay at least $1.88/share in dividends in 2016, which shows, once again, its commitment towards income investors.
Whether that will be possible or not also hinges on the successful integration of BG - I'd expect the merger to close successfully later this year.
On The Radar
As far as Exxon is concerned, here are some of the key financial metrics to watch when its results are due on 2 February:
Profits: they will likely plunge 50% year-on-year but will likely hover around $17bn
Revenues: they will likely drop 37% to $260bn
Adjusted operating cash flow margin: it should be above the level (16.6%) that it recorded in 2014
The payout ratio: it will more than double to 74%
As you might know, I have a very strong view with regard to Exxon's fair value, and I have no intention to change my mind about the risk involved in the trade around its current level, based on latest developments and on its diverse portfolio of assets.
Of course, I'll keep monitoring how things develop; although there is a chance that more volatility will materialize and may impact its short-term valuation, fundamentals indicate that XOM remains a very solid long-term play.
Disclosure: I/we have no positions in any stocks mentioned, and no plans to initiate any positions within the next 72 hours.
I wrote this article myself, and it expresses my own opinions. I am not receiving compensation for it (other than from Seeking Alpha). I have no business relationship with any company whose stock is mentioned in this article.