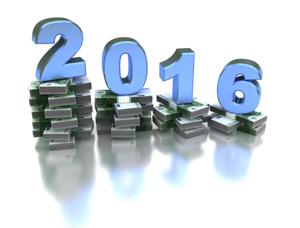 The first two weeks of 2016 have been surprisingly challenging for U.S. investors. But not all investors have been caught off guard. In fact, one of the world's most influential private equity companies appears to be ahead of the curve when it comes to predicting the market's path.
At the beginning of 2016, The Blackstone Group LP (NYSE:BX) hosted a research call in which Byron R. Wien (the company's Vice Chairman of Multi-Asset Investing) offered ten potential surprises for investors this year.
Just a few weeks into the new year, two of these potential "surprises" are already coming to pass. As these unexpected outcomes start to be factored in by the broad market, Blackstone should be able to profit from the company's foresight.
Let's take a look at these two surprise predictions and the investment opportunities associated with each.
Surprise #3: Only One Rate Hike
Byron Wien stated that he believed that the Fed would hike its short-term target interest rate by 25 basis points only once during 2016. This, despite the rhetoric following the December Fed meeting which indicated that the Fed would increase its target by an additional 100 basis points this year followed by another 100 basis points in 2017. (See page 6 of the Fed's Press Conference Transcript.)
Since the Fed statement and accompanying press conference on December 16, traders have had many reasons to doubt that the Fed will be able to continue a tightening policy.
For starters, the Fed's own minutes covering the December committee meeting showed that some Fed members were concerned that inflation would not reach the Fed's 2% objective. With low inflation, the Fed risks stalling the U.S. economic recovery if it hikes rates too soon.
Inflation expectations continue to trend lower as we head into the new year, thanks to lower oil prices, expectations for a slowing economy in China, and overall weakness in base metals like iron ore and copper. Below is a chart of the Fed's 5-year forward inflation expectation rate (now well below the 2% mark and trending lower).
(source: Federal Reserve Economic Data)
Based on these trends, investors are increasingly betting against the Fed being able to carry out its four rate hikes during 2016. In fact, according to CME Group data, the most probable outcome is now a single rate hike, and the implied probability of 4 or more hikes in 2016 has fallen to a measly 4.7%.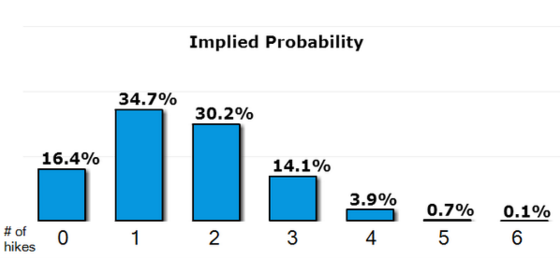 (source: CME Group)
In the past, U.S. stocks have traded higher when weak economic data has suggested that the Fed will be more accommodative. But this year it looks like the correlation will shift as the economic weakness pressuring the Fed to abandon its rate hike will be severe enough to challenge corporate profit growth.
Surprise #7 Oil Remains Depressed
Byron noted that the second most crowded trade in the market was long crude oil. Considering the 65.9% decline in crude oil prices over the prior 18 months, it is understandable for traders to expect some sort of relief rally in 2016.
But if anything, Byron's statement that "oil languishes in the $30s" may prove to be too optimistic. On Monday, Brent crude fell below $28 per barrel as Iran sanctions were officially lifted and more supply hit the market. In the U.S., oil production has been more resilient than expected, and high supplies have pushed WTI crude below $30.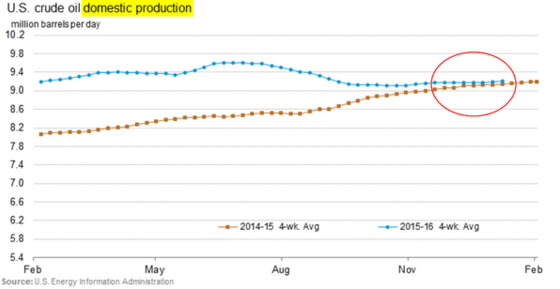 (source: US Energy Information Administration)
So from a purely economical viewpoint, it appears that a heavy global supply of oil will continue to pressure prices, while demand remains subdued thanks to slow economic growth.
The picture gets even worse when considering Wien's assumption that traders are effectively long crude oil. As oil prices continue to drop, margin calls and risk management will likely cause many of these traders to close out long positions, adding more financial pressure to crude oil prices.
At this point it would not be surprising to see oil languishing in the $20's this year, a full 10 points below Wien's already bearish predictions.
Is Blackstone Poised To Profit From These Surprises?
Considering the fact that Blackstone's Vice Chairman of Multi-Asset Investing was able to see these "surprises" coming, investors in BX have to wonder whether the company has been able to situate it's portfolios in a way that will allow the company to profit from these outcomes.
One of the benefits of the Fed choosing a more accommodative path for target interest rates is that Blackstone should have cheaper access to capital. This will come in handy for any leveraged buyouts that the company engages in over the next year.
As equities trade lower, the number of potential LBO targets become greater as distressed prices give Blackstone better deals for buying entire companies.
Lower crude oil could give Blackstone more opportunities to engineer lucrative credit arrangements for distressed oil companies as well. In early January, Blackstone announced an agreement with Rivington Securities which will allow Blackstone's credit funds to extend loans to upstream energy companies.
To the degree that Blackstone enters these arrangements during a period of low oil prices, the terms on new loans will be favorably structured to give Blackstone lucrative interest margins. The loans will presumably be secured with collateral which could be very valuable as oil prices eventually rise.
The current distressed market period bears a resemblance to the housing crisis in 2008, a time when Blackstone employed billions in capital to buy distressed homes from U.S. banks.
At that time, shares of Blackstone traded sharply lower as investors doubted the company's ability to turn a profit in the depressed housing market. But over time, the stock price recovered and investors were rewarded.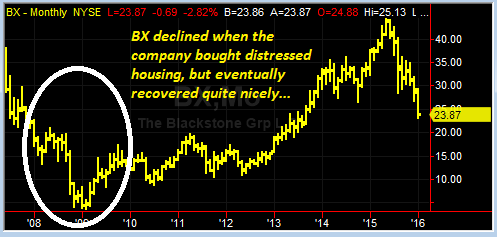 (source: TradeStation)
Blackstone shares are under pressure again as investors worry that global equity declines will depress the value of the fund's private investments. But Blackstone's history of using distressed periods to make wise investments should actually instill confidence.
Based on Byron Wien's foresight, I believe that Blackstone is ahead of the curve when it comes to low interest rates and low oil prices, and I expect the company to be able to profit from these events moving forward.
Disclosure: I am/we are long BX.
I wrote this article myself, and it expresses my own opinions. I am not receiving compensation for it (other than from Seeking Alpha). I have no business relationship with any company whose stock is mentioned in this article.