Bank of America (NYSE:BAC) has been perhaps one of my most frustrating long positions in the past couple of years as I - along with many other investors - await the time when the market realizes the company's potential. With shares now under $14 after yesterday's Q4 earnings report and no end to the selling in sight, it can be challenging to keep the faith. The yield curve continues to flatten as the Fed is raising rates at a time when a flight to safety is driving long bond yields down, a very unfavorable situation for banks. But are things as bad as they seem? Judging from the stock prices of the major banks it would seem another full blown financial crisis is upon us but to me, that seems unduly harsh.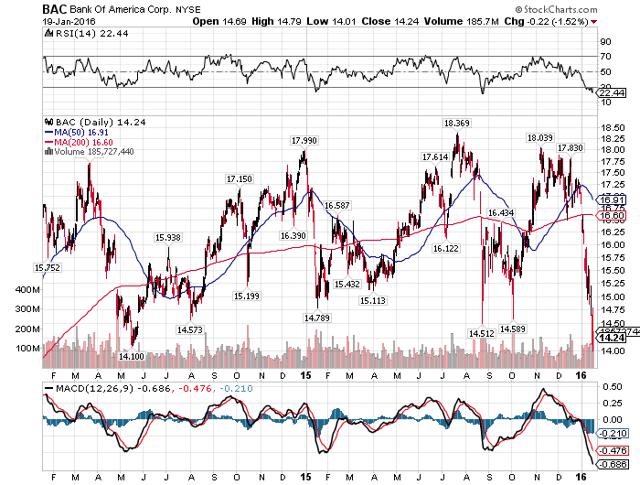 I've never said BAC was perfect or that it was going to fly into the stratosphere but what I have said is that it has the longest runway for earnings growth - in my view - of any of the major banks. I'll frame my analysis of Q4 in light of that as I think it tells an important story about BAC, where it has come from and where it could be going. In short, I think the market is very short-sighted and has run out of patience - something I can hardly blame it for - but something that should be put into perspective as well.
Investors would do well to understand the general environment for banks in Q4 of 2015 before harshly judging BAC's results because in comparison to most of its competitors, BAC generated a lot more revenue growth. In a quarter where flat is considered favorable, BAC posted 4.3% revenue growth. That is a very strong number indeed and speaks to the capacity of this company to generate top line growth in a terrible environment. Imagine what it can do when the panic subsides and rates rise with an upward sloping yield curve; the results could be spectacular. I understand that may be hard to imagine right now but flat yield curves generally don't persist very long unless something is very wrong and in this case, I don't think one can make the case that the US economy is in such dire straits. I was very pleased with BAC's revenue generation in Q4 as I think it shows what this company is capable of.
In addition to strong revenue generation, the company continues its laser focus on cutting costs. Obviously, after the ML and Countrywide mergers BAC was bloated. But it has done a lot of work in the past few years to work down its SG&A costs to a more reasonable level, work it is continuing as core noninterest expense fell 3% during the quarter. I'd like to see this number falling more quickly than it is but these things take time and BAC is doing the right thing.
Oppenheimer said after the report that expenses are way too high but that is neither news nor a reason to sell the stock. In fact, I think the fact that BAC is so profitable with a very high efficiency ratio speaks to the potential of this company. BAC's efficiency ratio came in at 70.2% during Q4, a nice improvement over last year but still very high by any measure and much higher than its competitors. But BAC generated almost $16 billion of net income in 2015 despite all of the headwinds it had. As revenue rises over the next couple of years and BAC maintains its focus on cutting costs, its efficiency ratio should fall precipitously, creating strong earnings growth in excess of revenue growth. While other banks are already at or near trough efficiency ratio levels, BAC has an enormous runway for earnings growth simply by getting its efficiency ratio in line. That is a very powerful potential tailwind and instead of focusing on what BAC can do, investors and analysts are looking backwards at high costs. BAC, by far, has the longest runway for earnings growth going forward of any of the big banks because its costs are still high. Instead of being a negative, it is a huge opportunity and one that management has made it very clear is a priority. BAC's high costs aren't structural and that means that at some point, they will come into line with its competitors. Negative sentiment on BAC's costs is shortsighted and overdone.
BAC's credit metrics took a hit in Q4 along with the rest of the financials as energy is weighing on the sector. BAC's net charge off ratio rose 11bps to 51bps as a percentage of loans, a sizable increase. Energy makes up just 2% of BAC's portfolio but if a significant number of those loans go bad, we could see a couple of ugly quarters in terms of charge offs. These numbers aren't quite big enough to derail the general trajectory of BAC's earnings but losses from energy could certainly alter its course somewhat. I'll say that BAC's net charge off increase was larger than what I've seen from others in the space so I'll be keeping a keen eye on that in Q1; did BAC take a 'kitchen sink' quarter with its net charge offs or are things really that bad? Accounting rules are funny things that are open to interpretation so it is entirely possible that BAC is putting most or all of its losses in one quarter; we'll just have to wait and see.
BAC continues to do the right things to get the stock back on course including making lots of money and building a strong capital base. Its CET1 ratio is now up to 10.8%, certainly not world-beating but strong nonetheless. Its capital position is such that it should be allowed to return a significant amount of capital to shareholders once again as the CCAR results come out in the next several weeks. I think BAC's quarter was pretty strong minus the fact that its charge offs rose as much as they did. But revenue generation remains very robust and with BAC continuing to chip away at its efficiency ratio, I suspect we'll see EPS grow well in excess of revenue in 2016. This is the single biggest catalyst for BAC to grow earnings and its ability to continue to remove cost from the model is paramount.
BAC is now under 8 times forward earnings as the selloff continues and it is trading for under 90% of tangible book value. That is unbelievably cheap for a bank that is growing earnings in the double digits each year and as I said, this is a multi-year story as BAC has such a long way to go with removing cost from the model. While BAC isn't as cheap as Citi it is still very cheap by any measure and the fact that it is trading for such a substantial discount to tangible book value tells you panic has set in. That sort of thing doesn't last forever and while it is very painful in the interim, BAC will not trade at a discount to tangible book value forever. Long term holders would do well to consider adding to their positions here because there is blood in the streets with bank stocks and for those willing to take the plunge, you can pick up BAC for significantly less than its tangible book value.
Disclosure: I am/we are long BAC.
I wrote this article myself, and it expresses my own opinions. I am not receiving compensation for it (other than from Seeking Alpha). I have no business relationship with any company whose stock is mentioned in this article.