A Record Year in 2015
Boeing (NYSE:BA) will report its quarterly earnings on January 27th and very likely beat the analyst consensus EPS of $2.11 on the back of record commercial airplane deliveries. This should be no surprise to investors as Boeing has managed a string of upside surprises in their quarterly earnings, beating by an average of 12% over the previous four quarters.
The company's earnings, however, will only be part of the story on the 27th. More importantly will be management's commentary on the company's all important 777 program that I wrote about last fall in some detail.
The 777/Wide Body Problem
At the heart of Boeing's profitability is the company's wildly successful, high margin, high priced 777. The 777's current generation 300ER model is the backbone of the world's long haul wide body fleet, but Boeing's most profitable program is facing a near and medium term headwind that investors should fully appreciate.
First, there is growing anecdotal evidence that the wide body market is over supplied in the near term. A report last fall by Goldman Sachs identified 122 legacy 777 aircraft coming off lease by 2020, while the CEO of Delta announced the purchase of a 777 on the used market for $7.7 million. Just this past weekend, several media outlets reported that British Airways was considering leasing 777-300ERs from the secondary market rather then purchasing new, presumably following Delta's lead where they can find greater value.
The second component of the headwind faced by the current generation 777 program is an admitted production shortfall between the current 777-300ER order book and the next generation 777X. The math is quite simple; Boeing has orders for 176 777-300ERs, and is producing the aircraft at a rate of 8.3 aircraft per month or just under 100 777-300ER's per year. Without new orders the company will exhaust the 777-300ER order backlog by the last quarter of 2017. CEO Dennis Muilenburg acknowledged as much on company's October 21st earnings call when he said he could see production cuts to the 777 program to no less than 7 per month. At this most extreme production rate cut, Boeing would reduce its quarterly 777-300ER deliveries by nearly 4 aircraft or about 15% of its 2015 777-300ER deliveries.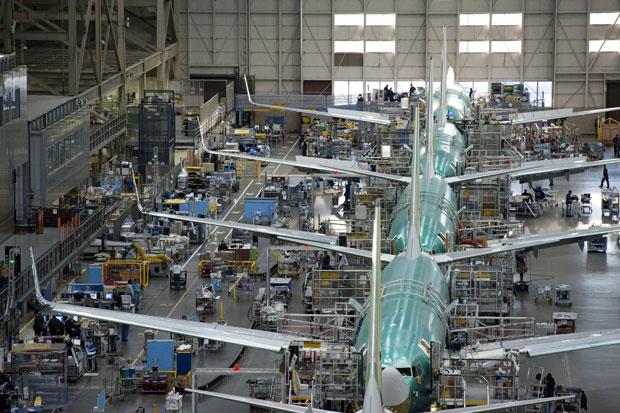 Replacing 3.9 777-300ER's Per Quarter
Investors should assume that at some point in 2016 Boeing will announce a production slowdown of its current generation 777 program. At the highest estimated impact, this could equate to a nearly 7% drag on the company's operating profit; assuming both a slowdown of 15% or 4 aircraft per quarter and that the 777 program contributes as much as 45% to the company's operating profit (Note: these figures are from a 2015 estimate by Goldman Sachs). Working from this worst case scenario, investors should look to how the company's ramping production in its other programs may offset the 777 decline.
The majority of Boeing's record high deliveries in 2015 came from its dramatically ramping narrow bodied 737 program. Boeing has successfully executed production increases in the 737 program over the past 3 years and plans for production to rise to 47 aircraft per month by 2017 and 52 per month by 2018. There is further speculation that Boeing may continue to increase production to match rival Airbus and its pledge to produce its popular A320neo at a rate of 60 per month by 2020. Even at this dramatically growing rate of production, Boeing will still need 7 years to clear its current backlog of 737 and 737MAX orders.
While estimates vary on the profitability of the 737 program, it is widely agreed that Boeing's margin is far smaller on the 737 then the 777, the sheer volume of the 737 production rate increases will almost certainly go a long way to ameliorating the earnings drag of a 777 production rate slowdown. Assuming Boeing reduced the 777-300ER production rate as described in a worst case scenario by Muilenburger, the 777 rate would be reduced by 1.3 aircraft per month by the end of 2016 or beginning of 2017 just as the 737 program is adding five per aircraft per month and moving towards an additional five a year after.
In addition, Boeing is standing behind its pledge that the 787 will be profitable in 2016 as production ramps to 12 per month this year moving towards 14 per month by 2020. These additional profitable 787's, however slim the margin is likely to be, will also help to lessen the sting of a potential 777-300ER production slowdown.
Another possible source of added cushion to the likely slowdown of the current generation 777 production comes from the renaissance in the company's 767 program led by a 50 plane order from Fed Ex. The company announced that it will increase 767 production by 25% in 2017. While the size of the 767 program is still relatively small, the 25% increase in production should equate to an additional 6 aircraft per year.
In total, the worst case scenario production cut for the 777-300ER would equate to approximately 15.6 fewer aircraft per year in 2017, while the ramping production in the 737, 787, and 767 programs would add an additional 76 lower margin deliveries that same year.
Something for Everyone: High Yield and Growth
The actions of Boeing's leadership shows no signs that they have any concern regarding the company's future cash flow and earnings as they have now dramatically increased the company's capital returns to its shareholders through an increased share repurchase and cash dividend in 2015. The early 2016 market decline coupled with the company's increased cash dividend gives the stock a nearly 3.5% yield all while trading at a near 20% P/E valuation discount to the S&P 500. One might argue that a modest discount is warranted given Boeing's cyclical industrial business, uncertainty on the defense side of the business, and lingering concerns about 777 production and transition, but the company's current share price more than discounts these concerns given the company's robust capital return plan.
Conclusion
Despite lingering short term concerns over the rate of production of the current generation 777, shares of Boeing are an attractive investment at their current price. The company is perfectly positioned to capitalize on the continued growth in air travel over the coming decades, and increasing production of the company's less profitable 737, 787, and 767, should more than offset the likely slowdown in the current generation 777-300ER production. At its current earnings valuation discount to the S&P, Boeing is a buy for both the growth and income investor.
Disclosure: I am/we are long BA.
I wrote this article myself, and it expresses my own opinions. I am not receiving compensation for it (other than from Seeking Alpha). I have no business relationship with any company whose stock is mentioned in this article.