Surgical Care Affiliate (NASDAQ:SCAI) is uniquely positioned to benefit from the regulatory and market shifts favoring Ambulatory Surgery Centers (ASC) over hospitals. Last week, the House of Representatives in Florida moved favorably towards setting up of Recovery Care Centers (link to bill HB 85), a small development in one state, but if the trend picks up, it may have major ramifications for the ASC sector. Besides the industry tailwinds, SCAI stands to benefit from superior execution, thus worthy of a closer look in this volatile market environment.
Having a relatively limited history as a public company, TPG (which owned the business before the company went public in late 2013) as a major shareholder and a relatively decent stock performance over the past few months may make any investor nervous about the name. Add to that the seasonally weak period and the usual volatility expected from the healthcare names in an election year, it is easy to expect that the next few months for the stock may be anything but boring.
Looking at the fundamentals, heightened fear may be an opportunity for investors looking for a high-quality business with favorable tailwinds. From a macro standpoint, as covered in detail in my recent notes on WellCare (NYSE:WCG) and Magellan Health (NASDAQ:MGLN), ACA (Affordable Care Act) and other changes are pushing the healthcare food chain to drive cost cuts (Member Benefits Ratio) and focus on quality (star ratings), which is also leading to consolidation in the hospital space. Since ASC offers a major edge, in terms of cost, over hospitals, it may only be natural that a regulatory push gains pace to help the ASC space.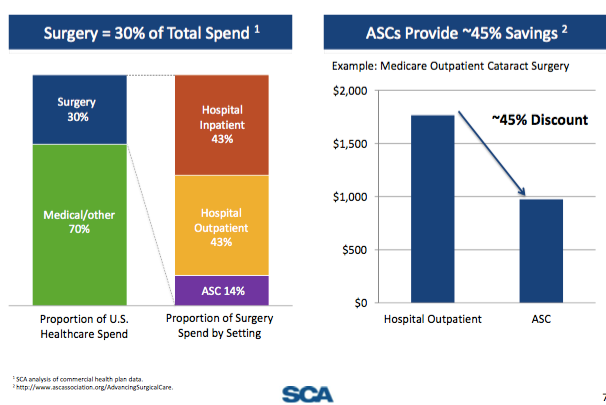 Source: SCAI
Besides the regulatory tailwind, the industry is relatively fragmented, offering opportunities for consolidation, with decent organic growth, as reflected by most operating metrics, be it same-site operating revenues, cases or same-site patient revenue per case, and double-digit EBITDA growth.
Comps

EV/ EBITDA (trailing)

Rev. growth est. 2015

Rev. growth est. 2016

P/E 2015

P/E est. 2016

SCAI

7

18%

10%

20

19

11

131%

12%

132

21

8

57%

17%

18

16

*SCAI EBITDA source: SEC filings
The favorable regulatory changes have the potential to re-price the entire sector, but looking at the low expectations, growth as well as EPS, even a consistent execution should be enough to help the stock move higher. In this consolidating industry environment, the business deserves an acquisition premium, but even otherwise, the current pace of value creation, which is already impressive if one takes into account the stability and visibility of healthcare, may move higher.
Very strong tailwinds
Even though the changing political, economic and regulatory environment can fundamentally alter the industry, ASCs are hardly appreciated in the healthcare "food chain", other than by a few payers, who take advantage, by driving cases to the ASC, of the lower cost and a relatively decent quality setting. Ambulatory care is also known as outpatient care since an "outpatient" procedure does not require admission to hospital for treatment.
ASCs, around since the '80s, deliver surgical and emergency care. At ASCs, patients can get the surgical procedure done faster compared to hospitals, the cost is lower for insurers because hospitals may have higher overheads. The insurers can share cost savings with physicians who may also like the more efficient environment of the ASC.
From a secular growth standpoint, there are approximately 5,400 Medicare-certified ASCs in the U.S., not that different over the last few years, but the list of procedures that can be performed on an outpatient basis is growing, which along with surgical advances should help the industry. Besides the innovation, population growth and more people under insurance should help the growth. So the developments suggest that the secular volume growth rate may remain low, but positive.
The industry is highly fragmented, and consolidation may be one of the biggest value drivers. The top chains own barely 20% of the facilities and the largest chain owns approximately 5-6%. Only 25-30% are owned or managed by multi-facility chains and hardly 20-25% have some sort of hospital ownership.
The forces that are driving consolidation may gain pace. The medical reimbursements are getting more complex, making it difficult for small stand-alone operations, which may not be able to negotiate with managed care firms as effectively as a larger entity.
Physicians sometimes get an equity stake in the business, a motivating factor to partner up with an ASC. For physicians, what matters is whether the ASC has the capabilities to partner with health plans, large medical groups and health systems; it seems like SCAI perfectly fits the bill.
With scale and improved financing, SCAI can stay up-to-date with the latest medical procedures, which can help add more specialties and services that can provide another avenue to drive organic growth. Converting single specialty centers to multi-specialty and providing more ancillary services like diagnostic laboratory, physician practice management, anesthesia, urgent care, optical and specialty pharma services is another growth opportunity. The ancillary services usually offer higher margins and only 37% of the ASCs are multispecialty.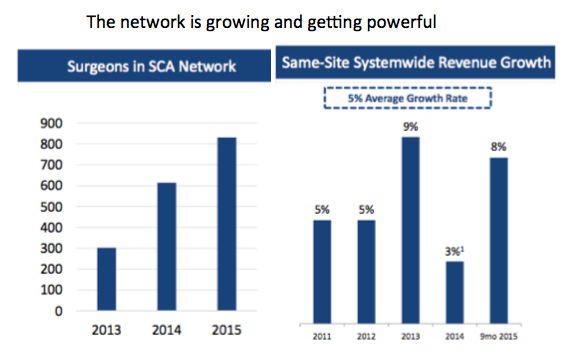 Source: Surgical Care Affiliates
From a regulatory standpoint, there are two major bills, before the Florida Legislature related to the space increasing the length of time that patients could stay in an ASC and creating "recovery care centers" where a patient could stay for 72 hours, after getting discharged from an ASC or hospital. Both of them may allow ASCs to be more like a hospital, at least close enough to impact the pricing power of the hospital. Besides questions about quality and the clout that insurance companies may have over the consolidating sector, there are concerns that these centers may choose more "lucrative" patients and procedures, negatively impacting the hospitals.
The business is successfully monetizing...
Growth

2013

2014

Q1-Q3 2015

Consolidated cases

-1%

2%

14%

Equity method cases

14%

7%

11%

Consolidated facilities

0%

9%

6%

Equity method facilities

15%

8%

11%

Managed only facilities

275%

-13%

-4%

System wide net operating rev. growth

16%

10%

18%

System wide net patient rev. per case growth

9%

5%

4%

Same site system wide net operating rev. growth

9%

3%

8%

Same site system wide net patient rev. per case growth

6%

3%

5%

*Data source: SEC Filings
Whichever way one slices the numbers, be it revenue growth, potential to grow, productivity or the quality of assets, there is little to complain about, especially if one measures the numbers in light of the stability offered by healthcare in general. Going forward, even the already announced acquisitions, partnerships and new service lines may be enough to instill confidence in the expected growth rate of the company.
...while creating superior value for the shareholders
The good thing is that all this positive momentum is falling through to create value for the shareholders as well.
| | | | | |
| --- | --- | --- | --- | --- |
| | 2012 | 2013 | 2014 | YTD 2015 |
| Book value/share | $10.5 | $13.1 | $14.7 | $18.7 |
| Tangible book/share | $(11.2) | $(12.3) | $(10.9) | $(8.2) |
| LT debt/share | $25.5 | $20.5 | $17.3 | $19.2 |
| Interest | $59 | $60 | $33 | $30 |
| EBITDA/interest | 4 | 4 | 9 | 7 |
More importantly, the cash flow trends are strong enough to support efforts to continue doing the same, including acquisitions.
| | | | | |
| --- | --- | --- | --- | --- |
| Fiscal Yr. (All $M, except per share) | 2012 | 2013 | 2014 | YTD 2015 |
| Cash flow operations | $171 | $166 | $211 | $194 |
| Capital expenditure | $28 | $37 | $37 | $30 |
| Free cash flow | $143 | $129 | $173 | $164 |
| Adjusted EBITDA | $225 | $249 | $282 | $222 |
| Growth | 7% | 11% | 13% | 28% |
| Adj. EBITDA/share | $7.40 | $7.85 | $7.33 | $5.47 |
The company raised the guidance during the last quarterly results and carries significant NOLs, all of which, combined with the strong fundamentals discussed above, seem to suggest the expectations might be pretty conservative.
Earnings sensitivity analysis (Approx.)

Change of

Metric

EPS Change *

1%

Revenue

3-5 cents

1%

Operating Margin

25-30 cents

*Keeping everything else steady as % of revenue.

*Author's calculation. Only for academic purpose, actuals may vary significantly.
Note: Detailed proprietary model is not attached in this note for the sake of easy readability, but happy to help and provide more details to readers interested in understanding the calculations used in this note.
Disclosure: I/we have no positions in any stocks mentioned, and no plans to initiate any positions within the next 72 hours.
I wrote this article myself, and it expresses my own opinions. I am not receiving compensation for it (other than from Seeking Alpha). I have no business relationship with any company whose stock is mentioned in this article.