Believe it or not, 2015 was the MOST difficult investment environment we have seen over the past 25 years for investors. Both traditional "flight-to-safety" and "risk" assets demonstrated measured instability, annual losses, and a historically high degree of month-to-month whipsawing price movements. At the same time, underlying sectors of the equity markets, in which we historically see relative underlying trends correlated to our economy's current stage in the economic cycle, also experienced more monthly directional changes than at any other time in the past 25 years.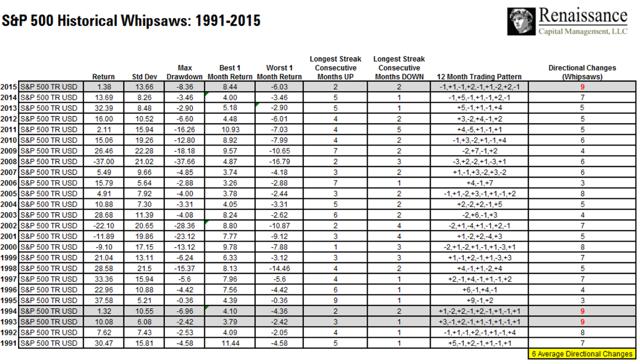 In the chart above we have cited the past 25 years of returns for the S&P 500 TR Index. (Wouldn't it be nice to relive 1995-1999 again?) Over this 25-year period, on average we see 6 inflection points in market direction intra-year (as measured by monthly returns). Throughout the year the markets have a general proclivity to follow trends. For example, 2011 began with a trend of 4 successive positive monthly returns, followed immediately by a successive downward trend of 5 months. Contrary to the norm, in 2015 we experienced 9 directional changes intra-year (50% more than the average). Over the entire 25-year measurement period we have only experienced "whipsawing" action to this degree on 2 other occasions: back in 1993 and 1994. While we do NOT believe simply looking at the sequence of returns on the S&P 500 tells us a whole heck of a lot, this does provide us with the rudimentary foundation to take the next step.
When assessing the financial landscape we believe in taking the 30,000 foot view of the markets and then working our way down. Our first step may be to take a look at the overall returns of a common domestic index like the S&P 500 and the sequence in which they were generated, but what is more important is to put these into context. The first way to put these returns into context is to compare them to an asset class that has historically generated long-term inverse correlations. In this case we use the Barclays U.S. Treasury 20+ Year TR Index. In doing so we are attempting to measure the apparent differences between the returns generated by "risk" assets like stocks versus "flight to safety" assets like Treasuries.
In 2015, while equities struggled, so did the performance of long-term Treasuries. The Barclays U.S. Treasury 20+ Year TR Index posted a negative return of -1.59% for 2015, but this historically more stable asset class demonstrated significantly more instability than it has in the past, producing 7 directional changes intra-year. Even more alarming was the fact that after beginning 2015 in January with a total return of +9.29% on the month, in February long-term Treasuries generated losses of -5.80%; setting the tone for much of the year as Treasuries began to price in a long anticipated rise in interest rates that ultimately occurred in December. To put this into perspective, the iShares 20+ Year U.S. Treasury ETF (TICKER: TLT) dropped from an intra-year high of 138.50 down to a low of 114.88. This marked a decline of over -17%, while at the same time the S&P 500 topped out for the year in May at 2130.82 and ended the year at 2043.94. So while equities struggled to maintain their ground, Treasury prices were falling as well. This led to increased instability in what may very well be characterized as a "nowhere to hide" environment.
Our next step is to compare the sequence and relative stability of returns on the S&P 500 to the those of the 9 major sectors that comprise the index: consumer discretionary, consumer staples, energy, financials, health care, industrials, materials, technology, and utilities. In a typical year we see a handful of these sectors generate strong outperformance versus the broader S&P 500 index, while others should obviously be expected to lag. Such measures of outperformance/underperformance by given sectors is often reflective of our current stage in the economic cycle or whether in general investors are favoring higher risk sectors (i.e. materials, energy, technology) or those that have historically proven to be more defensive (i.e. health care, consumer staples, utilities). In general, it only makes sense successful investors benefit from having a higher degree of exposure to the best performing underlying sectors, while more importantly possessing significantly less exposure to those sectors under the greatest duress (i.e. financials in 2008 or tech in the early 2000's).
In 2015, not only did the S&P 500 demonstrate a tremendous amount of instability, but for the first time in 25 years the vast majority of underlying sectors were equally as unstable or worse! In fact, only 3 of the 9 major sectors demonstrated less directional changes than the S&P 500 throughout the year. When the S&P 500 generated tremendous instability back in 1993 and 1994, there were still pockets of stability and strong outperformance present in the underlying sectors.
In 1993, only 1 of the 9 underlying sectors of the S&P 500 demonstrated intra-year directional changes as much or more than the S&P 500, and in that year while the S&P 500 struggled the Barclays U.S. Treasury 20+ Year Index began the year with positive returns for the first 10 consecutive months and finished the year up +18.00% (versus a gain of +10.08% for the S&P 500). In other words, while the monthly returns on the S&P 500 were highly unstable, investors were still able to participate in strong underlying trends in both sectors and Treasuries.
In 1994, only 3 of the 9 underlying sectors of the S&P 500 demonstrated intra-year directional changes as much the S&P 500 itself. Treasuries posted negative returns of -8.22% on the year, but during the year they posted both a 5 consecutive month decline, as well as a 3 consecutive month decline; so trends were far more clearly in place. And while the S&P 500 only generated a modest return of +1.32%, 5 out of the 9 sectors posted superior performance, led by the technology sector +19.94% and health care +13.80%.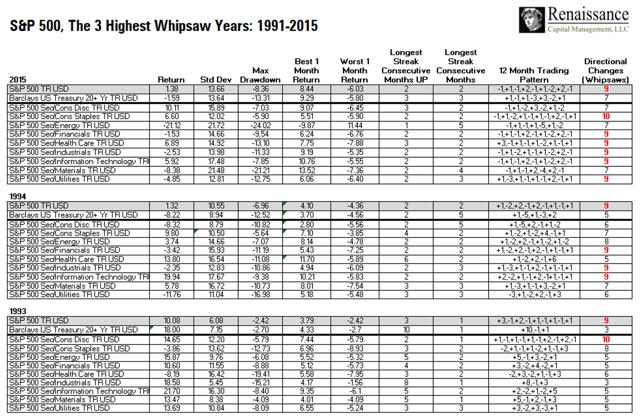 While the S&P 500 TR Index did manage to eek out a positive rate of return of +1.38% in 2015, suffice it to say this was very deceiving. Consider the following:
The positive rate of return on the S&P 500 last year was only attributable to dividends. The return of the S&P 500 PR Index was actually -0.73%.
The 50 largest stocks in the S&P 500 gained an average of +1.5% in 2015 (Charles Schwab).
The 50 smallest stocks in the S&P 500 lost an average of -11.9% (Charles Schwab)
The 50 highest yielding stocks in the S&P 500 at the beginning of 2015 on average lost -14.9% by year ended (Bespoke Investments).
The average stock in the S&P 500 lost -3.8% in 2015 (Charles Schwab).
Additionally, as we noted in an article we wrote, published by SeekingAlpha, "S&P 500 Posts 3rd Best October Returns in 25 Years", after experiencing a decline of over 8% over the prior two months, the S&P 500 was up +8.44% in October. This was the 7th best monthly return recorded over the past 25 years. But what we find to be of particular interest is that at any other time over the past 25 years when we have had a monthly return north of 8%, it has always come after declines of greater than -20%.
Consider further the 2015 returns on some other common notable indices and benchmarks:
S&P MidCap 400 TR Index: -2.18%
Russell 2000 Small Cap TR Index: -4.41%
MSCI EAFE NR Index: -0.81%
MSCI Emerging Markets NR Index: -14.92%
SPDR Gold Shares ETF (TICKER: GLD): -11.78%
iPath Bloomberg Commodity TR ETN (TICKER: DJP-OLD): -27.81%
During all of the other measurement periods in our 25-year study there was always an asset class or subsector of the market that provided relative stability, capital preservation, or even the opportunity for gains in otherwise difficult markets:
During the Great Recession of 2008, when the S&P 500 declined by -37.00%, the Barclays U.S. Treasury 20+ Year TR Index was up +33.72%.
In 2000 when the tech bubble burst and the S&P began a 3-year decline, down -9.10%, 5 of the 9 underlying S&P 500 sectors turned in positive returns, and 4 out of those five generated returns greater than +20% (financials, consumer staples, energy, and utilities).
From 2000-2002 when the S&P 500 TR Index declined -37.61%, the Barclays U.S. Treasury 20+ Year TR Index was up +47.31%.
Recently, we've heard a number of market pundits coming into new year forecasting that we are in for a repeat in 2016 of the investment landscape we experienced in 2015. When we hear this we wonder if these same forecasters truly recognize how rare and difficult 2015 really was? When taking into account all that we have covered in our 25-year analysis, we have NEVER seen an investment market environment like we did in 2015. Not only was every broad equity index in the world negative and highly unstable, so were Treasuries and the underlying sectors of the market. While no one can say for sure what to expect in 2016, we are highly suspect we will see anything remotely like what we experienced last year.
While having "flight to safety" assets unwind in price at the same time the equity markets waffled made for a bad investment environment in 2015, we believe this was highly overdue. Throughout the history of capital markets Treasuries have served investors as a means to preserve capital during prolonged equity market declines. In 2014 the S&P 500 was up over 13% and the iShares Barclays U.S. Treasury 20+ Year ETF was up over +27%. This was not a trend that anyone should have expected to continue. We have needed to see Treasury prices unwind in order for them to return to having an inverse relationship to stock prices when we need it the most. So far in 2016, as equities have gotten off to their worst start to a year in the history of the U.S. markets, Treasuries have once again returned as an effective flight to safety for investors. Should stocks continue to decline, we anticipate Treasuries to continue to behave in this manner (despite whatever stage we may be at in the interest rate cycle).
Disclosure: I/we have no positions in any stocks mentioned, and no plans to initiate any positions within the next 72 hours.
I wrote this article myself, and it expresses my own opinions. I am not receiving compensation for it. I have no business relationship with any company whose stock is mentioned in this article.