Introduction
Endeavour Mining (OTCQX:EDVMF) has always been a little bit a value trap, but with the most recent corporate strategy update and the acquisition of the new producing mine in West Africa, the company seems to have turned a corner, and its financial year 2016 could and should be pretty good.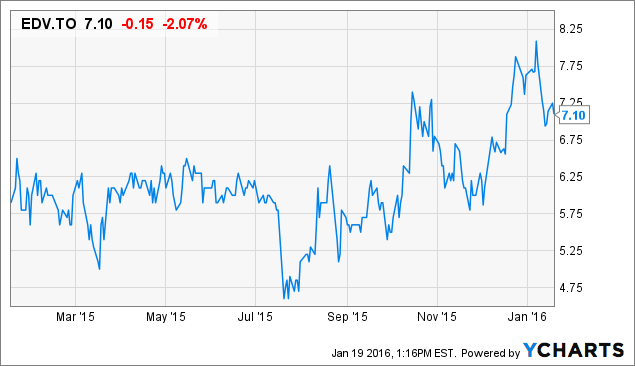 The company's US listing does have some liquidity, but it would be a better idea to trade in Endeavour's shares through the facilities of the Toronto Stock Exchange, where Endeavour is listed with EDV as its ticker symbol. The average daily volume is approximately 200,000 shares, so that should be sufficient to satisfy your hunger.
The 2015 gold production was nice, but 2016 will be much better
Endeavour Mining was guiding for a full-year gold production of 475,000-500,000 ounces of gold but has most definitely beat this target as its effective gold production was more than 3% higher at almost 518,000 ounces. Even if you'd exclude the 5,689 ounces that were produced at the Ity gold mine, Endeavour would still have beat the higher end of the guidance.

The main 'culprit' for the production guidance beat seems to be the Agbaou gold mine in Ivory Coast which has been performing very well. Whereas Endeavour expected to produce 150,000-155,000 ounces at Agbaou, the total production came in at 181,365 ounces, a clear 15-20% beat on the back of an exceptionally strong Q4 production rate (wherein almost 52,000 ounces were produced). As the Youga gold mine also outperformed the expectations, I don't think anyone will be disappointed about the slight guidance miss at the Tabakoto project and the fact the output at Nzema has barely met the lower end of the guidance.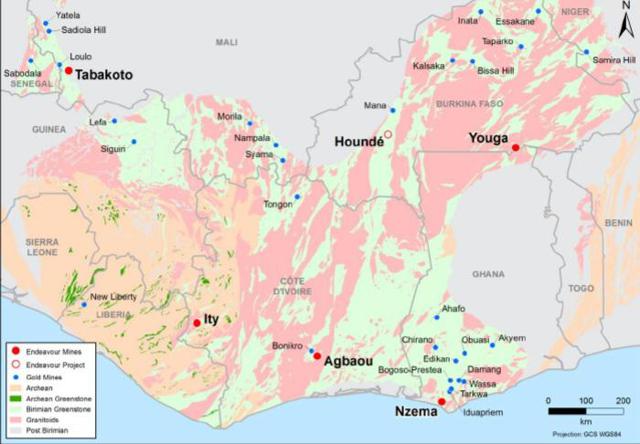 Source: company presentation
For 2016, Endeavour seems to remain pretty conservative with its guidance, and the company's full year production guidance is calling for a total gold production of 535,000-600,000 ounces and the Agbaou project should remain the company's largest producer (despite an expected change in the ore feed). The newly-acquired Ity-project should contribute 65,000-75,000 ounces to the total production mix, and Endeavour Mining's 'more aggressive' and 'on-record' guidance consists of a gold production of 575,000-600,000 ounces.
As Endeavour's production costs will remain under control, the debt should evaporate
Producing a lot of gold is one thing, but I do prefer quality over quantity and it makes no sense to produce in excess of half a million ounces of gold at a loss, so Endeavour Mining needs to focus on keeping its production costs under control as well.
The definitive all-in sustaining cost per produced ounce of gold has not been publicly released just yet, but Endeavour Mining says it now expects the FY 2015 AISC to be 'slightly below' the previously given $930-980/oz guidance, indicating the current net operating margin is approximately $150/oz, and that's pretty substantial for a company with a market capitalization of just $290M.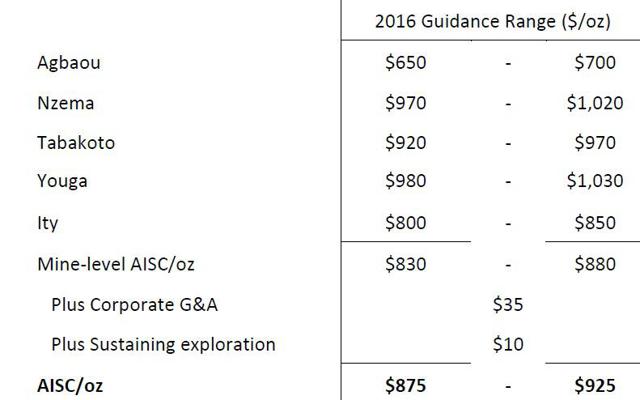 Source: press release
But things will start to look even better this year, as Endeavour Mining is now expecting an AISC of $875-925/oz for its anticipated production of 575,000-600,000 ounces of gold. If I would use the mid-points of both guidances and a full-year average gold price of $1075/oz, Endeavour's net operating margin will increase to $175/oz and its full-year net cash flow (on a sustainable basis, so excluding the cash spent on growth capex) could reach $100M.
That's important because this would allow Endeavour Mining to slash its net debt position by at least another 50%. The net debt was reduced by $111M in the past year thanks to a positive free cash flow and the corporate transaction and as the EBITDA increased as well, the net debt/EBITDA ratio should have fallen from 1.8 to 0.7 (and a ND/EBITDA ratio of 0.25 by the end of this year looks quite achievable).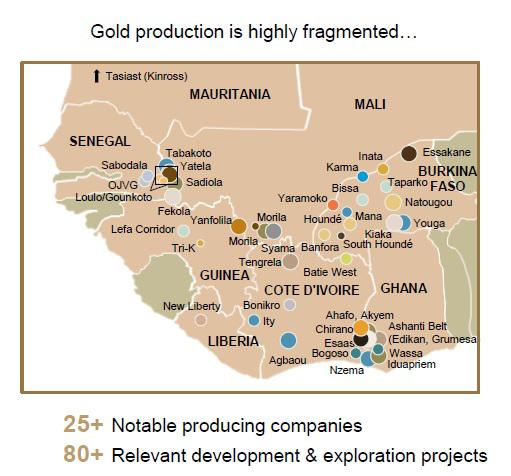 Source: company presentation
The excellent financial condition of the company and its expectations to generate a meaningful positive free cash flow are strengthening my conviction Endeavour Mining might pursue another acquisition this year. As one should never change a winning team, Endeavour will very likely focus on the Western part of Africa and for instance Amara Mining (OTCPK:CLUGF) (Ivory Coast) and Aureus Mining (OTC:ARSMF) (Liberia) might be on the company's radar. Or, why not, African Gold Group (OTC:AGGFF).
Investment thesis
Endeavour Mining has outperformed in 2015 based on the provided guidance and not only did the company produce more gold than expected, it was also able to do so at a lower than expected production cost, beating the guidance again. The strategic deal with Sawiris was an interesting and good one, and the one thing which had been holding me back in the past, the debt level, has now been rectified and the current moderate debt level of less than 0.75 times the EBITDA shouldn't be an issue at all.
Or, to answer Hard Asset Investments' title question: 'Yes, Endeavour Mining (with an U) will continue to outperform in 2016'.
Disclosure: I am/we are long EDVMF.
I wrote this article myself, and it expresses my own opinions. I am not receiving compensation for it (other than from Seeking Alpha). I have no business relationship with any company whose stock is mentioned in this article.
Editor's Note: This article discusses one or more securities that do not trade on a major U.S. exchange. Please be aware of the risks associated with these stocks.