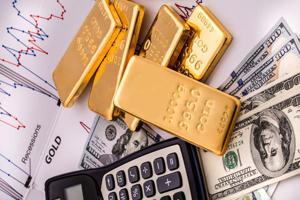 It's been a while since my last article on Seeking Alpha, but we haven't missed too much in terms of action in the gold (NYSEARCA:GLD) market. In my last offering dated November 7th I gave the primary support zone as being $1030-1060, and if we held that zone we should see a rally unfold, but if we dropped below we may see a strong decline instead. We held support, eventually bottoming out at $1046 in what was a long lasting and arduous process, and we are now starting to climb again. The question is now how far will this rally takes us?
Global Tensions Remain On The Rise
It is a close call, but I think we can all agree that our political leaders just about managed to edge out the central bankers in the dying minutes of a closely contested battle for "who can create the most headline risk and thereby sow the most seeds of doubt among the investing community" championship of 2015 - certainly they have done little to foster a sense of stability and optimism in a world that has grown increasingly fractious in the last 24 months.
Headline risk has grown over the last year, and while I am not of the opinion that gold always rises in times of military crisis, these events do affect other markets (equities in particular) and that often has a knock on effect with gold. We can argue all day long about the reasons why gold has now rallied (especially since the target range for the low was given long before tensions ramped up), but certainly a part of this is due to the fact that the global stock markets have been weak of late and investors have taken shelter in the perennial safe havens of gold and the bond markets.
If we are going to face another year of geo-political strife coming thick and fast we should expect that markets will be volatile, and volatility does nothing for investor confidence when it remains in place for an extended period. I am therefore expecting gold prices to be volatile also, and can well imagine that we'll see some wild price swings in both directions this year. There could be some great trading opportunities coming our way.
We Have Liftoff
The US Federal Reserve grabbed its fair share of the headlines this year, as Janet yellen and her board of governors played their version of peak-a-boo with the investment world. 'Where's the rate hike? Where's the rate hike? There it is!!' To be fair I think they would have acted in the summer without Christine Lagarde's very public plea to the Fed not to raise interest rates, but having promised normalisation repeatedly throughout the year and having had the majority of its economic criteria met, it could not very well fail to deliver or face further recrimination from an increasingly befuddled and bemused investing public. I think Jim Bianco of Bianco Research captured the mood best when quoted on CNBC in September:
"If the Fed's policy was to intentionally confuse the market, how would it differ from what they are doing now?"
Well as it stands now, we have the first rate hike in place and if we are to take the Fed Board at their word, we can expect further increases to the base rate in 2016. In the last few days they seem to be backtracking slightly, but for the most part the message is clear that we now have a tightening cycle in place. Typically gold has rallied with a steadily rising base rate as tightening cycles have tended to signify an inflationary economic environment and a rising tide lifts all boats, but it is questionable as to whether or not inflation is on the horizon - certainly there is no real signs of it at present. We therefore cannot rule out another leg down in the gold price as gold is a commodity asset like all the others and subject to the same deflationary pressures.
The one thing in gold's favour is headline risk due to Central Bank policy which, much like the geo-political risk we are experiencing now, may result in a move into safe haven assets if we do see further shock moves similar to the Swiss National Bank's de-pegging from the Euro. Looking further afield to the emerging economies, we can see that many governments are running into problems servicing their debt loads so perhaps there is a good case for 2016 being 'the year of the exogenous shock'.
Carmen Reinhart of Harvard has written an interesting piece on this which you can read here and states the following:
"As 2016 begins, there are clear signs of serious debt/default squalls on the horizon. We can already see the first white-capped waves.. Some of the biggest risks lie in the emerging economies, which are suffering primarily from a sea change in the global economic environment.. the US Federal Reserve's move to increase interest rates, together with slowing growth (and, in turn, investment) in China and collapsing oil and commodity prices, has brought the capital inflow bonanza to a halt. Lately, many emerging-market currencies have slid sharply, increasing the cost of servicing external dollar debts. Export and public-sector revenues have declined, giving way to widening current-account and fiscal deficits. Growth and investment have slowed almost across the board."
Data Points
CoT
The latest data from the commitment of traders report can be found below: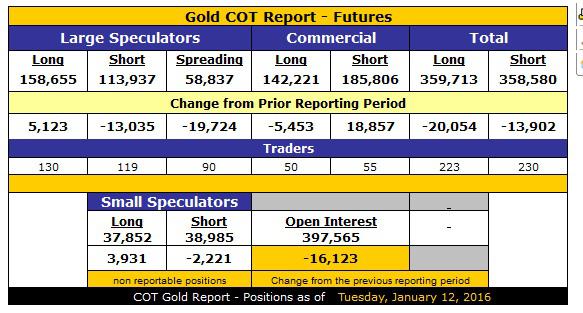 * courtesy of GoldSeek.com
As we can see the large speculator category has not chased this rally to date, and has added only a small number of long contracts. They have however reduced their short positions by quite a margin. Regular readers will know that one of the key signs that the bear market may be close to reaching a crescendo is the large speculator category getting net short, and the fact that they have not chased the current rally is a good sign. Major lows are formed not by huge block buying but by short covering, and we now just need a decent drop in the gold price.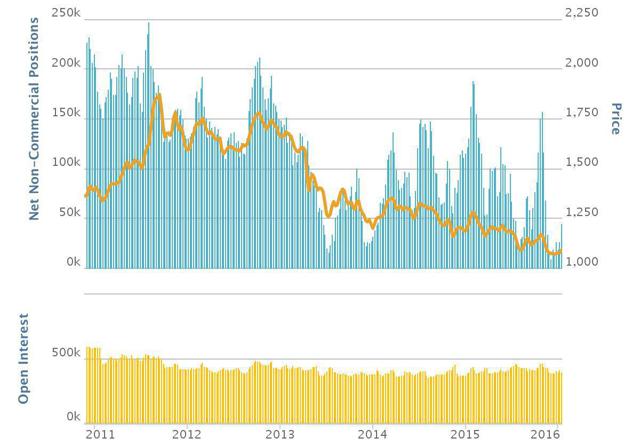 * courtesy of OANDA.com
The speculator net position graph shows they have accumulated a net long position of under 50,000 contracts to date. I would imagine that figure will be closer to 100,000 before gold tops out on the current rally.
USD
The US Dollar (NYSEARCA:UUP) has rallied a little since the first rate hike by the Federal Reserve, but has failed to make a new high and looks set to pull back to support in the short term. Since it often trades inversely to gold, this bodes well for a further move higher in the gold price into month end.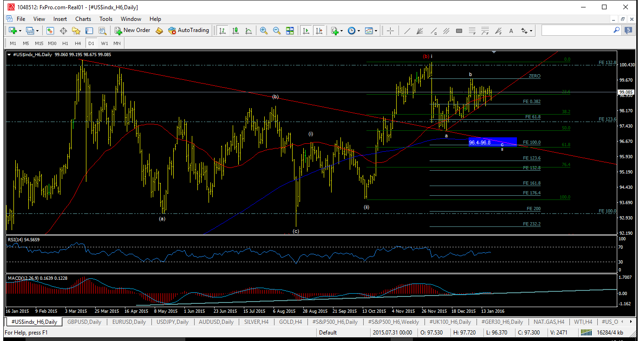 However, the fundamental picture for the dollar is still bullish in my opinion given the fact that the global economic picture is not all that rosy at present, the United States and the US Dollar remain the best place for capital to ride out the currently volatile climate. We have seen big drops in the Euro, and the British Pound too, and although the Japanese Yen has put on a spurt in recent weeks I am not sure the investing world views it as a safe haven for their capital. For now the US Dollar remains the best dirty shirt in the laundry.
MINERS
The gold mining majors (NYSEARCA:GDX) made new all time lows this week, following their equity market cousins lower despite gold putting on a reasonable show. If you were wondering how the miners managed to drop 4.7% on Tuesday with gold flat on the day you are in good company, but if I had to hazard a guess it would be that a large commodity fund may have had to liquidate part or all of their positions. The selling was indiscriminate, and largely at odds with what we were seeing across other markets.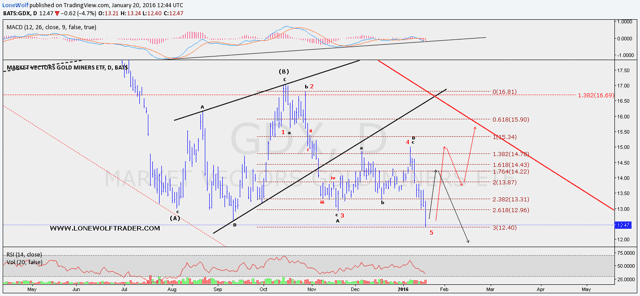 Looking out to the future, and given that I do not believe that the bear market lows have been struck as yet, my primary expectation is that GDX will now recover some of the losses incurred over the past week and will head back up towards 14.50. Like gold I expect it to top out within the next 7-10 trading days and I believe we will then decline towards 10 by late March. At that point, and on the proviso that gold has dropped towards $900 and the large speculator category is net short, I would consider that a price level at which we could have a bear market low in place.
THE GOLD
Gold has rallied in a choppy fashion since making the low at $1045 in early December. That choppiness often marks a lack of confidence among investors, as it shows that the new bulls are quick to jettison their positions at the first sign of trouble. Since a lack of confidence in any market means a lack of underlying bid, I am comfortable that new lows will be made into the spring.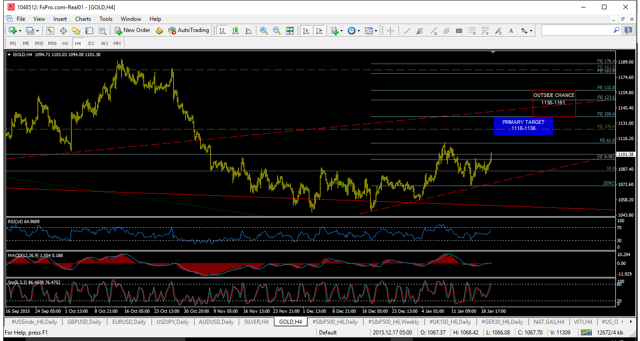 In the short term however, I think gold should rally into the $1118-1136 range to complete the bounce, and there is an outside chance we could hit $1161. From there I expect a retest of the December lows at a minimum.
As usual I wish you all good luck for the coming weeks!
This writing is for informational purposes only and does not constitute an offer to sell, a solicitation to buy, or a recommendation regarding any securities transaction, or as an offer to provide advisory or other services by Lone Wolf Publications Ltd, in any jurisdiction in which such offer, solicitation, purchase or sale would be unlawful under the securities laws of such jurisdiction. The information contained in this writing should not be construed as financial or investment advice on any subject matter. Lone Wolf Publications Ltd (lonewolftrader.com) expressly disclaims all liability in respect to actions taken based on any or all of the information on this writing.
Disclosure: I am/we are long GLD; GDX.
I wrote this article myself, and it expresses my own opinions. I am not receiving compensation for it (other than from Seeking Alpha). I have no business relationship with any company whose stock is mentioned in this article.