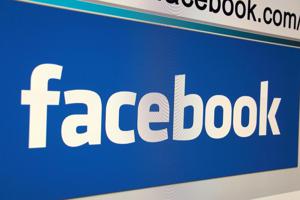 There are not many times when empirical or anecdotal information and presentation is more than just supplemental in an investment case, either bullish or bearish. The times where it is useful as a driving factor are slim, but when there is a stark difference between either side of the case it becomes more relevant than financials alone.
That is the case here where I have drawn on some meaningful empirical evidence - beyond just my small bubble - where it in turn drives the company's business and lifeblood directly. What two companies am I referring to? Facebook (NASDAQ:FB) and Twitter (NYSE:TWTR), of course. More specifically I am talking about Facebook's wholly-owned Instagram.
Why do I write today about this comparison of application usefulness and business execution? It's pretty simple. I co-own a small race team that is building its own brand and using social media as a major facet of that brand establishment. We don't necessarily have time to drive engagement of our followers and fans beyond doing what any social media account owner would do - which is posting and following up with likes, requests and comments. This isn't to say we are lazy, in fact we enjoy the social aspect of the journey, but when it takes grinding effort and a lot of following up to further that brand or image then we're going to look for the best value of time versus engagement.
The Empirical Evidence
We began our social media engagement through YouTube since we are part of a visual- and audio-driven market by nature. Once that was established we desired to interact with others who shared our passions and interests on a more personal "one-on-one" level. I wanted something quick and easy and decided to go with Twitter. Having never used Twitter I figured this would be a good reason to give it a try. After setting up our account and filling it up with pictures, information, and some initial friends to follow us we were in business. We began tweeting and posting semi-regular updates and began our engagement.
As the weeks and months went by we didn't see a huge increase in engagement and only moderately saw our following increase. I began thinking that this was going to take a lot of work. Thereafter, my co-owner said we should also get an Instagram. Also not having a reason to have an Instagram account prior, we had one before I could spell my username.
I quickly learned that pictures are what everyone wants to engage with. A huge portion of the internet population has succumbed to reading less and looking at pictures more. It makes sense since reading takes effort, comprehension and visualization while pictures tell a thousand words all on their own. Of course you can post images on Twitter very readily but it isn't required to make a tweet. On Instagram it's all about imagery, angles, filters and perspectives. There's something more appealing about engaging with a picture rather than plain old text.
Our Instagram engagement has been far and wide a better experience than our Twitter. We have doubled the number of followers on our Instagram compared to our Twitter account in less than four weeks. We also noticed more of our friends and acquaintances are more likely to be on Instagram than Twitter when we were in the process of setting up our account.
Turning my focus to the backend rather than the front-facing end of both apps I noticed that Instagram is far less bulky and cumbersome to use than Twitter. Having used Twitter for nearly a year I still cannot open the app and easily remember how to get to my profile page. In Instagram my menu is always visible and the icon is always there for me to go to my profile or back to my feed and then to my notifications. I'm a highly tech savvy person so for me to be confused by the UI/UX (user interface/user experience) of Twitter says something.
All of this empirical evidence is simply that; my own observations. However, I don't believe this to simply be my own experience and opinion. How can I prove that you might ask? It actually comes down to simple data sets.
The Statistics To Prove The Empirical Side
We can start with how many active users there are on both sites. Instagram for example surpassed 400M monthly active users (MAUs) users a few short months ago. Twitter on the other hand reports 320M MAU's. There is obviously an 80M user difference, but there's more to it than that.
The growth rate of these users is the more telling aspect of these statistics.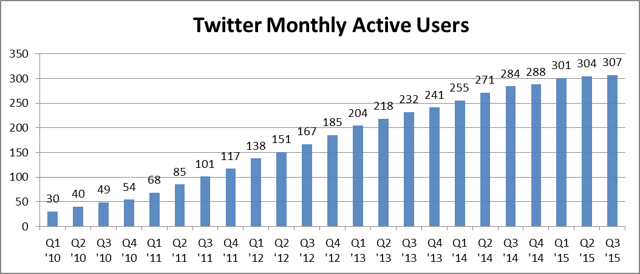 Source: Data from Statista, Chart is Author's; excludes SMS Fast Followers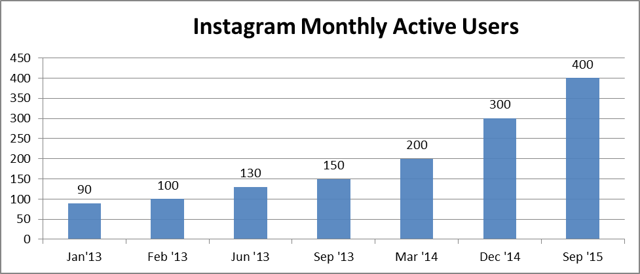 Source: Data from Statista, Chart is Author's
Let's further break this down by examining the growth rates we are seeing at a comparable level. To do this I take the time periods for Instagram data and create the same data time periods for Twitter. Then, I show the growth rates relative to each time period.
By examining the following chart we can see some substantial differences, the largest being that Instagram's growth is in the mid-double digits pretty consistently. Twitter on the other hand is consistently in the high single and very low double digit range.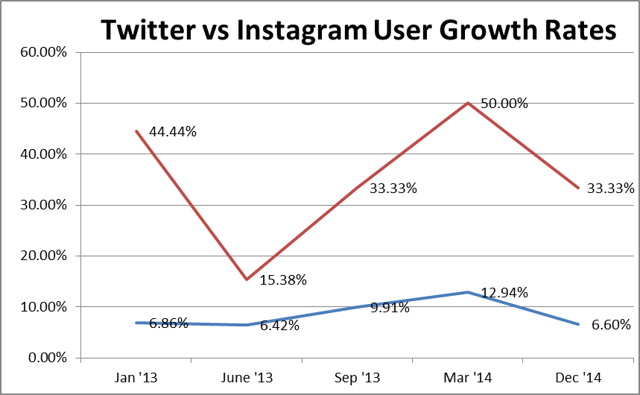 Source: Numbers based on above charts, chart is Author's
Now of course the first thing many will say is that Twitter is much more mature in its user growth than Instagram. There is no argument there. Twitter has been established since 2006, while Instagram was founded in 2010. With a four-year headstart it makes sense that Twitter has single digit growth for the most part.
The difference, though, is that Instagram has grown and surpassed Twitter in such a short period of time - five years to be exact, half of Instagram's existence.
Going even further into a comparison, some will say Facebook and Twitter share very little in common. One is a micro-blogging site while the former is a full-fledged social network. However, Instagram is a closer comparison to Twitter and is the reason why I draw comparisons in users and their growth.
Another point that I will make is that many users of Twitter are found on Instagram and even more so on Facebook while the reverse cannot be said for Facebook or Instagram users being on Twitter. In a research report by Pew Research Center there is a concise collection of statistics outlining this.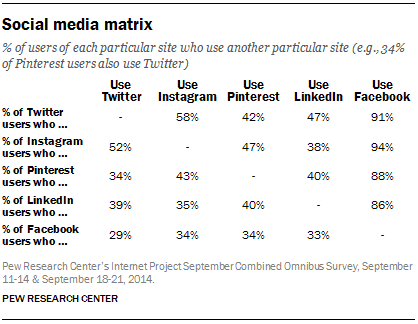 Out of those who use Twitter, 58% of them use Instagram and 91% of them use Facebook. Of those who use Instagram 52% use Twitter and for those who use Facebook only 29% use Twitter.
If I was a small business looking for a better engagement - and to some extent I am with my race team - it's clear that my audience is residing on Instagram and Facebook. This is apparent to me in my experience on both social media sites as I've already described at the beginning of this article.
On a related thought to this, I know it has been said time and time again that Twitter is the place to find a lot of celebrities, athletes and other famous people. This is great and all, but as someone with a business or organization who is trying to gain a following and create engagement with their new brand why would I want to be where the attention is on the already famous? With Instagram I am finding many groups and followings that are similar to me very easily. Hashtags are a huge help in this, and while Twitter may have "invented" the hashtag, I find its use far more superior on Instagram than I ever have on Twitter.
The Financials Share A Similar Story
To make the connection to an investment case I find that all of what I have described above translates into revenue on the business side of both public companies. Let me start with the valuation of each and how they match up.
Twitter trades with a market capitalization of about $12.24B. This is far less than what it was trading at just several months ago; nearly twice the current market cap. Instagram has been valued by some analysts to be worth around $33-35B. This means in the present day that Instagram is worth almost three times as much as Twitter. Oh, did I mention those valuations of Instagram were a year or so old?
That's not hard for me to believe with the way users are engaged on each platform and how more and more users join Instagram by the month.
Facebook currently does not break down Instagram revenue on its quarterly reports but there are estimates that believe Instagram will have over $2.8B in revenue by 2017. On the other hand Twitter's trailing twelve month revenue is just now approaching $2B after existing for 10 years.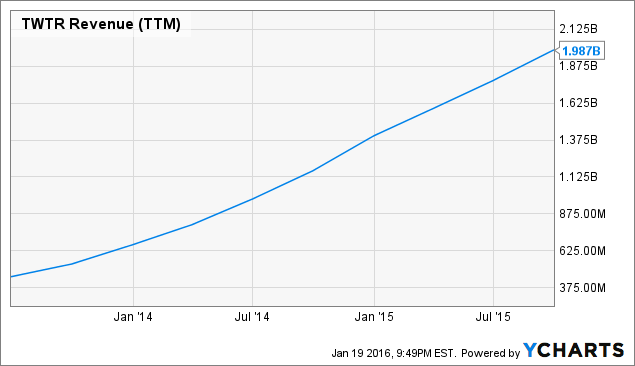 Instagram didn't start producing revenue until 2015, according to eMarketer. But let's say it actually started in 2014 when Instagram signed its first ad agency deal valued at $100M. If the estimates turn out to be accurate that means Instagram will have the same $2B in revenue that Twitter has today after 11 years of existence. Twitter took 10 years to get to $2B. This means Twitter did it faster, right? Not so fast.
Twitter was bringing in revenue long before Instagram as Twitter's 2010 revenue coming in around $28M. So Twitter technically starting bringing in revenue about the time Instagram was born. On the other hand, Instagram had zero revenue up until 2014. Going back to that 2017 estimate it means Instagram would have grown its revenues more than twice as fast as Twitter as it would have only taken four years to go from zero to $2B. This is also me cutting Instagram short - remember the estimate is for $2.8B in 2017; $2B could very well be reached in mid or late 2016.
The Market Also Shares This Story
There is a very telling story going on in the market right now. As we all know there is quite the downward trend in the market since the start of the year. Facebook entered the year near all-time highs and has fallen 14% since those highs while Twitter entered the new year near all-time lows and has fallen close to 28% further into uncharted all-time low territory.
A lot of tech stocks are getting hit hard right now. With all that I have presented I don't wonder why Facebook has fared so well against all other stocks, especially against Twitter. The market clearly thinks Twitter has an issue and broken business model as the stock continues to take out new lows while Facebook hovers within reach of its all-time high.
The Reason For My Investment Decisions
To bring this all together, I am saying there is a clear difference in the products of both companies. The UI/UX is better in one product over the other, the user engagement and user growth is seeing a steady outpacing, and on top of that revenues are there to prove that the empirical evidence is not without support and fundamental backing.
It is due to this reason that I will continue to hold Facebook while at the same time continue to stay far away from Twitter as an investment vehicle. Twitter's product, while popular in most regards, falls short on all tests that make the purpose of the product fruitful. This is not just my opinion as the user growth and user engagement along with the statistics and revenues show a similar and agreeable story.
While this is not the sole reason I own Facebook it is the reason why I have no plans of selling my Facebook stock. It also is the reason even with Twitter falling to all-time lows why I will not purchase shares in the company. There is clearly a winner and a loser in this segment of advertising and Instagram has the better product, audience, and financials to keep that trend moving in the right direction.
Disclosure: I am/we are long FB.
I wrote this article myself, and it expresses my own opinions. I am not receiving compensation for it (other than from Seeking Alpha). I have no business relationship with any company whose stock is mentioned in this article.