Like many MLPs, small-cap (~$1 billion) Summit Midstream (NYSE:SMLP) has had a rough time of late. Its growth trajectory has slowed significantly and units are trading at half their value as compared with the start of 2015. Some of the decline can be attributed to producers in Summit's locales drilling but not completing wells ("DUCs"). This has resulted in falling throughput rates across much of Summit's asset base. While as many as 32 Marcellus wells in Summit's operating region could come online during the first half of 2016, it won't be enough to offset stagnation in Summit's largest operating segment: the Piceance Basin.
Asset Base
Summit Midstream has assets across four shale plays:
Marcellus: natural gas gathering.
Williston Basin: natural gas & crude oil gathering; water.
Barnett Shale: natural gas gathering and treatment.
Piceance Basin: natural gas gathering and processing.
It's clear from YTD results that growth in Summit's two largest segments (Barnett and Piceance) has stalled: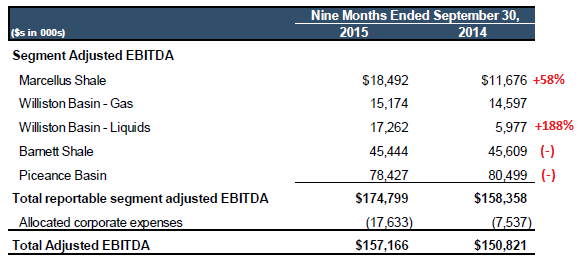 Source: UBS Conference Presentation (available here).
While operations in the Marcellus and Williston Basin (liquids) are growing nicely, those two segments accounted for only 23% of total YTD adjusted EBITDA. Combined with rising corporate expenses, the result is that Summit's growth trajectory has flat-lined. It's hard to grow distributions when total EBITDA growth has stalled.
General Partner Searching For Options
The drop in Summit's LP units, slowing growth as shown above, and the overall energy market environment apparently motivated Summit's general partner, controlled by private equity firm Energy Capital Partners ("ECP"), to review operations and search for value enhancing alternatives. In a December press release, Summit announced the conclusions reached by the review:
ECP believes its continued ownership in Summit is the best option to enhance value in Summit Investments and SMLP.
Drop-downs to SMLP are expected to be structured in order to eliminate any need for equity issuance in 2016.
ECP authorizes Summit Investments to acquire up to $100 million of SMLP units via open market purchases.
In the same press release, SMLP said it expects adjusted EBITDA for full-year 2015 to be at or slightly below its previously issued guidance of $210-$220 million. Per unit distribution growth was expected to be 4.0% to 6.0%.
While this announcement appears to have temporarily halted the slide in SMLP units (it's trading at roughly the same price as the day of this announcement), note the $210 EBITDA guidance (or possibly below...) shows a continuation of the flat-line results shown earlier.
Possible Upside As DUCs Are Completed
But there is some hope. In the Q3 EPS report, Summit's President and CEO Steve Newby, commenting on slowing throughput rates said:
We believe that this trend will begin to reverse over the next two quarters given our visibility towards the commissioning of a large number of drilled and uncompleted wells ("DUCs") across our asset base.
Of particular note was 32 DUCs upstream of Summit's Mountaineer gathering system in the Marcellus play of West Virginia: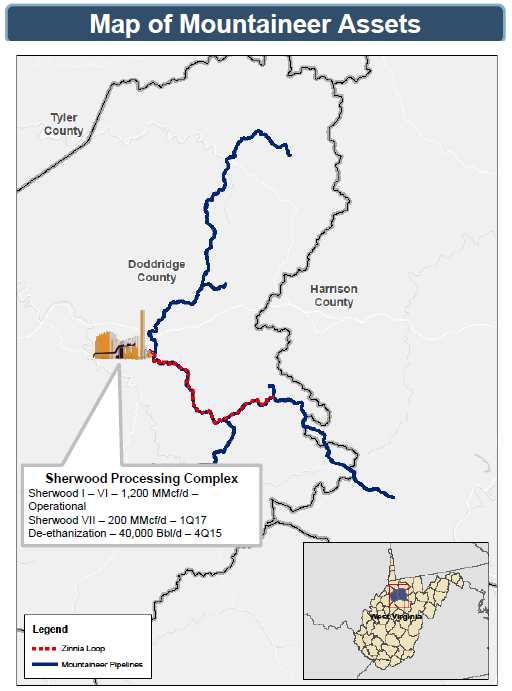 Mountaineer has a throughput capacity of ~1 Bcf/d yet Q3 throughput was less than half that (457 MMcf/d). The gathering system has one primary customer: Antero Resources (NYSE:AR) and the delivery point is Mark West's Sherwood Gas Processing Plant. The 49-mile system has a 100% fee-based revenue stream supported by minimum volume contracts (MVCs) - of which the details are confidential.
Taking a look at Antero's plan, we see the company's DUC strategy was to delay production in late 2015 in order to get an uplift in pricing and IRR in 2016. We can also see the projected increase in production as these DUC's are completed and brought onto production in the first half of 2016: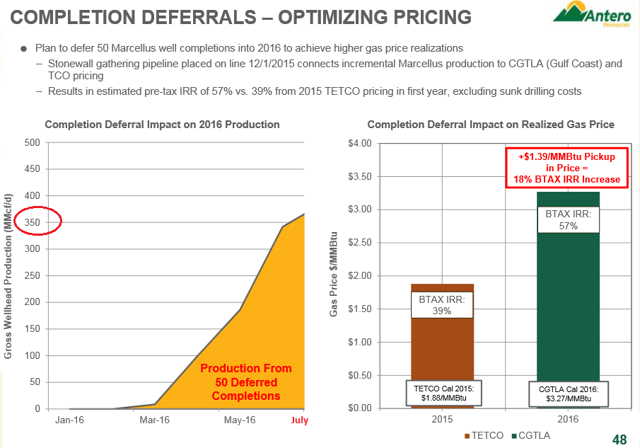 Source: Antero Resources' January presentation.
Also of note in Antero's presentation was that the company has essentially hedged all of 2016 estimated production at an average price of $3.94/MMBtu, almost $2 higher than the current NYMEX quote. In addition, the Sherwood Processing Plant is shown to have a capacity of 1.2 Bcf/d of rich gas - some 300 MMcf/day over Antero's current stream into the plant. So odds are Antero will indeed bring on the DUC production as planned because it will be both profitable to do so and the infrastructure is there to handle it.
That's the good news for Summit Midstream. The bad news is that Antero does not plan to bring on newly completed DUCs online until late in the first quarter and their production will not peak until mid-year. That means it is doubtful Summit will see a pickup in Marcellus segment results in either Q4 2015 or Q1 2016. Instead, Marcellus throughput rates are likely to decline until the DUCs are completed.
When July does come around, the addition of ~350 MMcf/d of estimated production from the newly completed DUCs will significantly increase Summit's Marcellus derived EBITDA. Q3 Marcellus throughput (457 MMcf/d) could fall, via depletion of existing wells, to an estimated 375 MMcf/d by mid-year 2016. Adding in the new production yields a total estimated production come July of 725 MMcf/d. A straight-line read across from YTD results (515 MMcf/d resulting in $18.492 million in adjusted EBITDA) would yield an estimated 30% uptick in Marcellus generated EBITDA.
However, meantime the production outlook for the Piceance Basin, Summit's largest operating segment and representing 50% of YTD adjusted EBITDA, continues to be bearish. Natural Gas Intelligence reports Piceance Basin production growth has been falling for 7 years in a row. In fact, total production actually declined 8.7% in 2013 and was down another 5% in 2014:
While total 2015 production from the Piceance Basin is not yet available, we do know that drilling activity has declined in the play - falling from a recent peak of 35 rigs in early 2011 down to 5 rigs in early October 2015.
As a result of declining throughput in its biggest operating segment, the net impact of SMLP's MVC shortfall payment mechanisms increased adjusted EBITDA by $14.7 million in Q3 of 2015: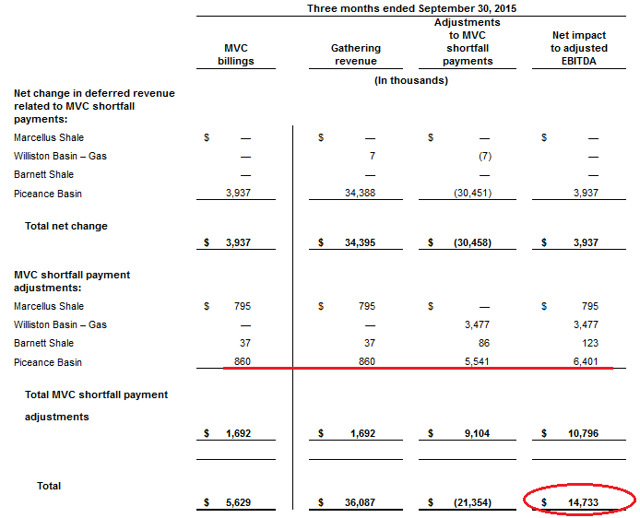 That $14.7 million equates to roughly 30% of Q3's total adjusted EBITDA. While it is nice to have the protection of MVC's, it is not a good sign that such a large percentage of EBITDA is dependent on shortfall payments. It certainly doesn't paint a picture of growth going forward. In fact, Q3 2015 distributable cash flow fell to $34.42 million versus $38.58 million in Q3 of 2014 (-12%).
There are other risks as well. As of Q3, Summit Midstream had ~$900 million in total debt:
$304 million in a revolving credit facility due in 2018.
$300 million in 7.5% Senior Notes due in 2021.
$300 million in 5.5% Senior Notes due in 2022.
Debt-to-EBITDA was 4.3x at the end of Q3 - on the high side. In addition, the coverage ratio in Q3 was only 0.85x. On the positive side, the LP does have $396 million available on the revolver, and the corporate family is rated B1 and B+ by Moody's and S&P respectively.
Summary & Conclusion
Summit Midstream has generated approximately 50% of YTD adjusted EBITDA via its Piceance Basin segment. However, throughputs are falling in the Piceance and SMLP is having to rely on MCV shortfall payments to backstop revenue and DCF. Meantime, while Antero decided to drill and not complete wells in Summit's Mountaineer region of the Marcellus, it would appear things will not pick-up there until Q2 of 2016. In other words, Q4 of 2016 and Q1 of 2015 could continue to see declining overall throughputs and weaker yoy results.
Private equity firm Energy Capital Partners has decided to stick it out with Summit Investments and has committed capital to buy back $100 million of SMLP units. However, until operating and financial results show improvement - MLP investors seeking distribution growth will likely shop (and buy) elsewhere.
To sum it all up: don't be tempted by Summit Midstream's current 15.3% yield. In the current market environment, slow growing MLPs (or those showing negative growth...) are and will be punished. Investors could easily lose a year's worth of distribution in a couple days worth of lower trading. Today's chart is exhibit #1: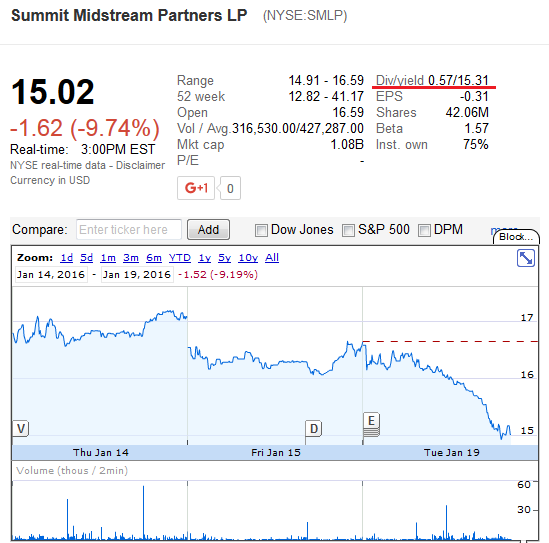 Investors in SMLP should consider swapping units for those of larger, investment grade MLPs with strong general partners, highly visible drop-down growth prospects, and tied to refining and/or oil transport from reliably producing assets. Phillips 66 Partners (NYSE:PSXP) and Shell Midstream (NYSE:SHLX) are two that come to mind.
Disclosure: I am/we are long PSXP.
I wrote this article myself, and it expresses my own opinions. I am not receiving compensation for it (other than from Seeking Alpha). I have no business relationship with any company whose stock is mentioned in this article.
Additional disclosure: I am an engineer, not a CFA. The information and data presented in this article were obtained from company documents and/or sources believed to be reliable, but have not been independently verified. Therefore, the author cannot guarantee their accuracy. Please do your own research and contact a qualified investment advisor. I am not responsible for investment decisions you make. Thanks for reading and good luck!