A lot of investors compare Sirius XM Radio (NASDAQ:SIRI) and Pandora Radio (NYSE:P) and many come out in favor of Pandora because it is free to listen to while Sirius XM charges a monthly fee of around $15 a month. I agree that it is a fair comparison when you compare Sirius internet radio with Pandora internet radio. But to compare Pandora internet, and even Sirius XM internet radio to Sirius XM satellite is just plain wrong. There is really no comparison.
Many listeners have all three services. I am one of those. First I got a portable 2.0 Edge radio for the car with a Sirius XM subscription of $12.99 a month. Then I got a Pandora app for my IPhone 4 to listen to when I was inside and not in my car. But when the Sirius iPhone internet radio app came out, I added it to my sub for an additional $3 a month. And I will say that due to the "content" I am one of the listeners that will always choose Sirius internet versus Pandora internet. Pandora is full of ads that are very annoying.
Many will argue that Satellite is superior to internet because of sound, skipping, data usage charges, etc. And I totally agree. But the main advantage that Satellite Radio has over internet is the coverage. You really notice this when traveling. Not only do you lose service in certain areas, but you also might incur roaming charges. Here is a current AT&T data coverage map: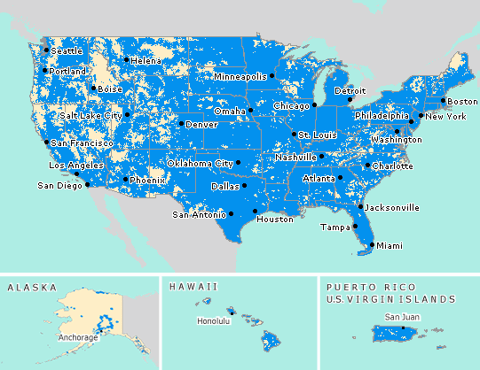 As you can see there are a lot of places (white areas) in the United States that can not receive internet radio on a smartphone. Forget any type of road trip in the western half of the country. But to look at this map and take it as "gospel" would be a huge mistake. When you zoom in (at the AT&T link above) on the map the true coverage is more clear.
I can tell you from personal experience that when you drive from Dallas to Houston, or from Dallas to West Texas on major Interstates there are lots of areas without coverage, even though the map shows solid coverage. And something even worse is that sometimes (especially when near Mexico) your data may be uninterrupted in a non coverage area. If you are very lucky you might get a text message saying you are roaming internationally, or you might get a hefty bill a couple months later. Satellite on the other hand covers all of these areas with the same sound and clarity no matter where you have wondered off to.
Because of this, satellite radio is superior to any other type of radio especially in an emergency. Living in Texas, I have experienced tornados and hurricanes, both of which caused a loss of power, phone service, tv service and radio. It is kind of hard to know whether to evacuate or take cover when you don't know what is going on. I am only bringing this up because no one ever does, and this is the main reason that I bought satellite radio to begin with. Hands down internet radio of any kind is not a legitimate competitor with satellite radio.
And Sirius outweighs Pandora internet radio as an investment. Imagine that you purchased both stocks when Pandora came on the scene last summer. Let's compare the stock prices at that time. As you can see Sirius is up 15%, and Pandora is down 28%. So if you invested $10,000, your Sirius would be worth $11,500, and your Pandora would be worth $7,200.
Then when both stocks are compared to the Nasdaq, it outperforms Pandora, even thought the Nasdaq has remained relatively flat since the beginning of Pandora. And Sirius XM has outperformed the Nasdaq the entire year, and is up 25% from this same time last year:
Now let's compare Sirius to Apple (NASDAQ:AAPL) over the last year. The interesting thing is that Apple has been up (on average) about 20% since last July. It has only been in the last couple weeks (since February 1, 2012) that it has taken off, ending up 50% over last year at this time. Is this because it has made a correction, or because it is about to make a correction? One thing to look at in such a situation is the Relative Strength Index (RSI). When the RSI is over 70, a stock is considered to be overbought. Since the middle of January Apple has had an RSI ranging between 70 and 100 (100 is the highest number on the scale). According to the RSI it will have a correction downward because it has been overbought for the last month:


Sirius on the other hand has remained around 50 (RSI) since the middle of November 2011. It spiked to 80 for a few days in January when the price suddenly went from $1.80 to $2.09. But it is not overbought. Now let's compare Apple to Pandora. If you purchased both stocks when Pandora was first offered your Apple stock would be up 50%, and the Pandora down 28%. Again, your same $10,000 in Pandora would only be worth $7,200, and the Apple stock would be worth $15,000. I always get asked why I compare stocks to Apple. And my answer is always the same - I consider Apple to be the "gold standard of tech stocks":

In summary, there is no radio that exists today that can compare to satellite radio. And since Sirius XM is the only satellite radio company, it is a true monopoly. Granted, it is fair to compare Sirius internet radio to other internet radio companies including Pandora. In my opinion Sirius internet is also superior to Pandora, and a lot of paying Sirius internet subscribers will agree.
Disclosure: I am long SIRI.