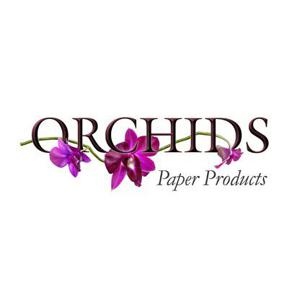 The Business
At a $285 million market cap, Orchids Paper Products (NYSEMKT:TIS) is a small-cap, under-the-radar income name that does not get a lot of attention. However, given the current economic uncertainty, it is exactly the type of company investors should be looking to add to their portfolios.
Before we get into some of the numbers, let's take a brief look at the business. Orchids Paper Products is an integrated manufacturer of private label, "at-home" tissue products. The majority of its revenues, about 94% as of the end of 2014, are comprised of paper towels and bathroom tissue. In fact, from its most recent annual report, the company states, "changes in the national economy, in general, do not materially affect the market for our converted products."
While this seems like a pretty boring business, it is exactly the type of business that income investors need to be looking at right now. I recently co-authored a piece about BDCs (BDCs - Last Stop On Debt Food Chain) and argued that the time of just investing in high-yielding securities is over because there is a risk of that dividend being cut. In times of economic uncertainty, companies that have the ability to sustain their dividend are important. With a current yield of 5.05%, Orchids Paper Products offers an attractive dividend in a stable business.
Financial Overview
Now let's take a look at the safety and sustainability of the dividend because that is the most important thing to look at. Below, I put together a chart since 2010 of the different cash flows. The 2015 numbers are as of the third quarter since the fourth-quarter numbers are not available yet.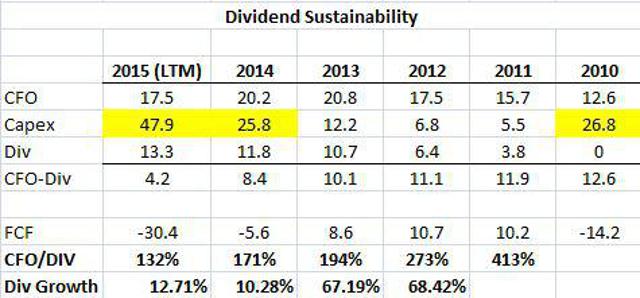 As you look at the numbers, it can give a mixed picture as far as the trend and slowdown in the growth of the dividend. In our view, this is to be expected with an initiation of the dividend in 2011, which grew rather rapidly and settled into a steady state since the middle of 2014. While the CFO coverage has come down, it is still covering the dividend at 132% in 2015.
The real issue arises when you look at the capex and free cash flow. Let's review this as there have been large capital expenditures in the three highlighted years of 2015, 2014, and 2010.
Capital expenditures are a good thing for a company when used to generate future profitability and not used to simply maintain current profitability. First, we will look at 2010 since there has been ample time to review how well this investment turned out. From the 2014 10-K the company states:
In 2010, we undertook an expansion project that included the purchase and installation of a converting line and the construction of a converted product warehouse. This project had three main objectives: increase the capacity of our converting operation, provide the capability to produce higher-quality premium and ultrapremium tier converted products and reduce warehousing costs by decreasing our utilization of third-party warehouses.
In order to assess the results of the expansion, we will look at two things; first, the product mix, and next, operating margins.

As you can see, the amount of Parent Rolls, which are a lower-margin product, has decreased significantly from almost 20% in 2010 to 3% in 2014.

As we look at the margins from 2010 to 2014, before capital expenditures began to increase again, you can see a steady increase, and more importantly, a nice increase in the incremental margin which attempts to show the effect of the capital expenditure.
Looking Forward
In 2010, Orchids Paper Products manufactured exclusively from its Pryor, Oklahoma facility and distributed to Texas, Oklahoma, Kansas, Missouri, and Arkansas and has increased capacity to 83,000 tons.
In 2014, it entered into a strategic agreement with Fabrica de Papel for a factory capacity of up to 19,800 tons, and this gives the company access to California, Nevada, Arizona, New Mexico and Utah.
In 2015, it began work on a facility in Barnwell, South Carolina, for a capacity of 35,000 to 40,000 tons with access to the Southeast Region of the United States.
With these strategic initiatives, Orchids Paper has reduced the risks by increasing its geographical footprint and increased the amount of its capacity. Given the prior success with the 2010 expansion, we believe that it will be successful again.
Conclusion
In a year where global growth is uncertain and we are approaching the latter part of the business cycle, Orchids Paper Products stands out as a safe haven for several reasons:
Dividend sustainability
Geographic diversification
Successful capital expenditures
Disclosure: I am/we are long TIS.
I wrote this article myself, and it expresses my own opinions. I am not receiving compensation for it. I have no business relationship with any company whose stock is mentioned in this article.