Exchange-traded funds are an incredibly useful tool in building a diversified portfolio. The expense ratios of index tracking ETFs in the emerging market space can be an order of magnitude cheaper than actively managed mutual funds. However, the reliance on indices can introduce country concentration risk into an investor's portfolio.
This article will look at the exposure level to Chinese equities amongst the largest Emerging Markets ETFs, as determined by market capitalization. While the four ETFs profiled are by no means the only options in the marketplace, their size is indicative of their popularity. Please note that all figures were sourced from ETF Database on 01/17/2016.
Beginning in summer 2014, Chinese stocks soared 150% as measured by the Shanghai Composite index. In hindsight, this was more of a bubble than a sustained bull market, as prices have since fallen over 40% from the peak. Despite the recent weakness, the Shanghai Composite is approximately 40% above the 2100 support level that the index traded around during much of 2013 and early 2014.
Actions by the Chinese Central Bank do not give investors much reason to be hopeful of a near-term rebound. Last week, over $15 billion was injected into the banking system to improve liquidity. Credit markets are often leading indicators of economic health, so this may foreshadow head-winds to Chinese growth. Systemic problems in the Chinese banking system could result in a disastrous further decline in prices, similar to the stock market crash during the sub-prime crisis in the United States.
As a result, investors should be aware of their exposure to Chinese equities within their emerging market investments. The table below shows exposure level and recent performance of four dominant ETFs in the emerging market space.
| | | | | | | |
| --- | --- | --- | --- | --- | --- | --- |
| Symbol | Name | Benchmark Index | Expense Ratio | Total Holdings | Chinese Exposure | 1-Year Return |
| | Vanguard FTSE Emerging Markets ETF | FTSE Emerging Index | 0.15% | 3098 | 27% | -25.93% |
| | Schwab Emerging Markets ETF | FTSE All Emerging Index | 0.14% | 774 | 27% | -26.23% |
| | iShares MSCI Emerging Markets ETF | MSCI Emerging Markets Index | 0.67% | 863 | 25% | -25.65% |
| | iShares MSCI Emerging Markets Minimum Volatility ETF | MSCI Emerging Markets Minimum Volatility Index | 0.25% | 275 | 21% | -20.00% |
Please note that this table does not include Vanguard's future inclusion of China A-Shares, which are denominated in renminbi instead of foreign currency. This will increase Chinese exposure in VWO by approximately 5% when the new benchmark is adopted.
All four ETFs are highly concentrated in Chinese equities, but that should not come as a surprise given the size of the Chinese economy. However, the magnitude of the recent declines in the Shanghai Composite has resulted in an inverse correlation between level of Chinese exposure and one-year return.
EEMV has the lowest exposure to Chinese equities and is therefore recommended as a core emerging market holding. Minimum volatility funds often underperform in bull markets and outperform in bear markets, making this an ideal defensive position. Despite its low diversification with only 275 holdings, this fund maintains exposure to a variety of emerging markets. Additionally, the expense ratio is less than half that of EEM.
If an investor is primarily interested in low cost ETFs, SCHE is recommended. It has the lowest expense ratio and will not include China A-Shares like the Vanguard offering.
Alternatives
Unfortunately, there are no recommended emerging market ETFs that have no exposure to China. Recently, EG Shares established the EGShares EM Core ex-China ETF (NYSEARCA:XCEM), a market capitalization weighted index excluding stocks listed or domiciled in China or Hong Kong. However, assets under management are less than $1 million and average daily volume is less than one thousand shares. This will fail to meet the size or liquidity standards for many investors, and should therefore be avoided.
There are two non-market capitalization weighted ETFs that offer investors exposure to emerging markets with less weight to China. The WisdomTree Emerging Markets Equity Income ETF (NYSEARCA:DEM) and the WisdomTree Emerging Markets SmallCap Dividend ETF (NYSEARCA:DGS) both track fundamentally weighted indices based on dividend yield. Companies are weighted in the index based on annual cash dividends paid. Exposure to Chinese stocks is lower than any of the four ETFs in the table above, at 20% for the High Dividend Fund and 18% for the SmallCap Dividend Fund.
Conclusion
Emerging Markets have been one of the worst performing asset classes for the last three years. The streak of under-performance may very well continue into 2016, given the weakness of the Chinese economy and the recent fall in commodity prices.
(click to expand)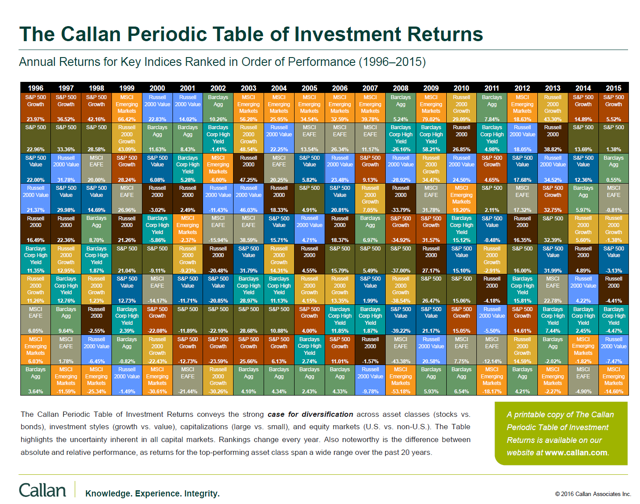 However, investors should not be disillusioned with emerging markets. As seen above, emerging market equities are one of the most volatile asset classes, with large swings in performance over the last two decades. In light of current developments in the Chinese economy, investors should monitor exposure to Chinese equities while seeking to remain invested in this asset class.
Disclosure: I am/we are long DGS.
I wrote this article myself, and it expresses my own opinions. I am not receiving compensation for it (other than from Seeking Alpha). I have no business relationship with any company whose stock is mentioned in this article.