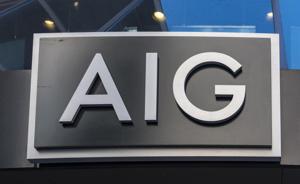 American International Group (NYSE:AIG) reported operating results that fell in Q3'15, citing lower income on hedge fund investments and lower income on assets marked to fair value through earnings, among other reasons. And now, it appears many of the insurance provider's shareholders are ready for action.
There was a recent survey conducted by analysts research firm Sanford C. Bernstein, revealing many AIG shareholders believe there is a "clear mandate for change" at AIG.
Only 4% of investors said they support management's current strategy, as it is. A further 13% said they do support the strategy, but management needs to "better communicate and pick up the pace." In the survey, 82% of AIG shareholders also pointed out they are unhappy with what they perceive as the lack of 'urgency and intensity of senior management and the board. Furthermore, only 9% percent of all respondents said they would support AIG management's directors in pursuing the current strategy enhanced by a "modest acceleration of cost-cutting and small divestitures."
Many shareholders want AIG to 'de-SIFI'
The federal government classifies AIG as a "systemically important financial institution" (SIFI), meaning it identifies AIG as a financial institution whose failure could cause a financial crisis. The Bernstein survey showed 74% of AIG shareholders want the company to "de-SIFI."
Now, this is Carl Icahn's key thesis as well. He got involved in October, sending a letter to AIG CEO Peter Hancock [full letter here]. The SIFI de-designation would represent a bold move for AIG, one that could have far-flung effects on the company and its shareholders.
Also increasing the pressure on AIG is Metlife (NYSE:MET). Metlife this week announced a plan to de-SIFI much of its U.S. operation. Beyond MetLife, this announcement further highlights the compliance and operational burden of being a SIFI.
Pressure mounts, a spit only a matter of time?
Carl Icahn is back at it as of the January 19th, sending another letter [full letter here] to AIG. He's still pushing the company to shrink itself to avoid the SIFI designation. Note that AIG is holding a presentation next week to lay out its vision for the company. As Carl Icahn notes:
It would be a mistake to squander this opportunity to present a bold new strategy and instead waste investors' time providing excuses for past underperformance.
Icahn points to MetLife's strategy, saying:
There is only one sensible path for AIG to follow: become a smaller, simpler company with a path to de-SIFI.
AIG has updated its management structure, etc.
Although many shareholders want SIFI de-designation and potentially other changes, AIG already has made at least one major change recently.
AIG last month announced a new management structure designed to execute AIG's strategic priorities and provide value to its approximately 90 million clients around the world. The revamped management structure provides end-to-end accountability within its customer segments. Hancock has also noted his company is focused on four strategic priorities:
Narrowing our focus on clients, products and geographies where we can grow profitably; driving for efficiency; growing through innovation and optimizing our data assets and client relationships; and returning excess capital to shareholders.
But AIG's decision to alter its management structure did little to help the company's per-share price. AIG's per-share price was $60.98 on the date of the announcement (Dec. 10, 2015). Since that time, however, this price has continued to fall. Further announcements of small asset sales and cost cuts won't cut it on Jan. 26.
The bottom line
Many AIG shareholders face a tough decision: Wait for the company to make strategic changes and ride out per-share price fluctuations, or sell their shares and potentially suffer financial losses.
AIG, meanwhile, is at the forefront of a key juncture. If the business follows the path of SIFI de-designation, it could spin-off or sell some of its assets or create another public offering. Conversely, AIG could maintain the status quo, even if the move may be unpopular in the eyes of the majority of its shareholders.
A wait-and-see approach may prove to be ideal for AIG shareholders, at least for the time being. AIG already has promised to alter its strategy, and shareholders who hold out for a little while longer can decide whether or not the company's changes could deliver long-lasting profits.
Disclosure: I/we have no positions in any stocks mentioned, and no plans to initiate any positions within the next 72 hours.
I wrote this article myself, and it expresses my own opinions. I am not receiving compensation for it (other than from Seeking Alpha). I have no business relationship with any company whose stock is mentioned in this article.