It has certainly been a difficult start to the New Year. The major U.S. stock market indices are already down double-digits across the board, and the pressure in the market remains decisively to the downside. It has been many years now since investors have had to endure the degree of downside that we are witnessing today thanks to extended efforts to support asset prices and dampen financial market volatility, but such downside shifts in stock prices were not only normal but also expected to periodically take place over time. Given that it has been nearly a decade now since the market has been allowed to behave the way that it is today, a great many investors have likely entered stocks for the first time in the years since and may not know what to make of the current situation or how to react to it. Are you experienced?
Markets In Turmoil?
I have found it notable the reaction in the financial media to the recent market decline. While I understand that the goal of traditional media outlets is to attract eyeballs to encourage more advertising spending for their programming, but some of the dialog being attached to the recent market decline does raise an eyebrow. I think of some of the special programming that has been run by one particular financial news outlet in recent days with the headline "Markets In Turmoil". But are markets really in turmoil?
Turmoil is defined as a state of great disturbance, confusion or uncertainty. But is this what we are truly dealing with in today's markets? Yes, the S&P 500 Index (NYSEARCA:SPY) has had the worst to a calendar year in history, but the calendar year just got started with only eleven full trading days under our belt. And this has certainly not been the worst performance over eleven trading days that we have seen by a long shot. It just so happened that this decline is taking place since the very end of last year.
The stock market is down, but not in turmoil. Indeed, the U.S. stock market as measured by the S&P 500 Index is down over -12% from its intraday high on December 29 at 2081 through Wednesday afternoon. This is certainly a notable move, but it is not something that I would describe as tumultuous. Before the days when global central bankers coddled global equity markets into a comatose state, such corrections of -10% or more were rather commonplace over time. Furthermore, today's correction has been taking place for just 14 trading days to date. To put this into perspective, I have cheese in my refrigerator at home that is still not past its expiration date that I bought before the current market correction got underway.
Lastly, while other readings of market stress such as the CBOE Volatility Index (NYSEARCA:VXX), long-term U.S. Treasury yields (NYSEARCA:TLT) and gold (NYSEARCA:GLD) have risen somewhat, they have hardly made extreme moves that would correspond to anything that would be associated with turmoil. In fact, these readings have been rather subdued and thus not suggesting any great disturbance, confusion or uncertainty. That's not to say that it won't eventually evolve to this point, but we are certainly not there yet given the magnitude and duration of the current decline.
With all of that being said, I understand why network programming would be titled "Markets In Turmoil". After all, a show called "Markets In Typical Correction By Historical Standards" might not draw as anxious an audience.
Are You Experienced?
Whether the current correction is typical by historical standards or not, it does not diminish the fact that a good number of investors are likely stressed about how they are seeing stocks perform to start the New Year. And truth be told, they have good reason to be stressed, for corporate earnings have been in decline for some time at the same time that valuations have been running well above historical averages. Thus, we do not need a looming recession to spark a -20% to -40% decline in the U.S. stock market, as this could take place simply through a downward adjustment in currently lofty stock valuations.
This raises an important point for consideration. Are you experienced with past stock market declines? Not the fleeting, buy-the-dips types of corrections we have seen in the post crisis period, but a true market correction that plays out over a series of months if not years? Perhaps you believe you are protected by owning some of the most defensive stocks with bulletproof balance sheets the market has to offer today. Are you prepared for the potential decline that may still lie ahead?
Let's take a look over time at four bastions of stock market stability over time.
We will begin with Johnson & Johnson (NYSE:JNJ), which is the eighth largest company in the U.S. by market cap at $270 billion. Operating across the defensive health care industry spectrum, it is among the most stable stocks in the market universe. And over the past two decades, it has increased in value including capital gains and dividends by more than ten fold.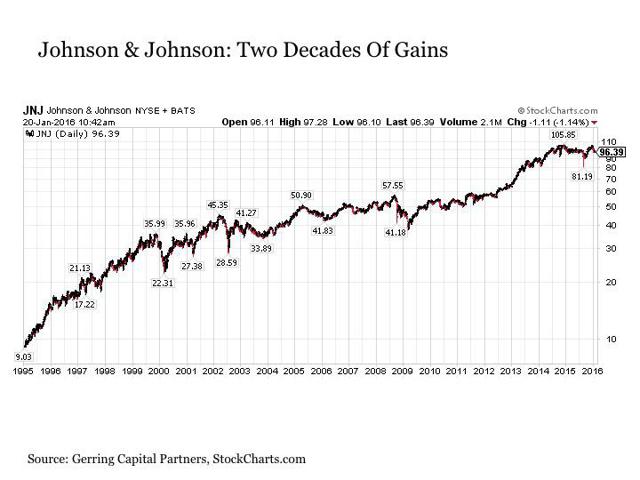 But it has not been without periods of stress along the way. For example, from November 1999 through March 2000 when the tech bubble was rising into its crescendo peak, JNJ shares shed -38% of their value over the course of four months.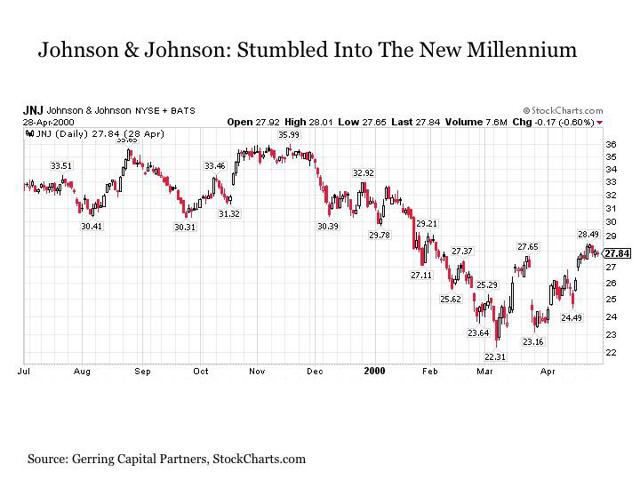 During the late stages of the 2000 to 2003 bear market, JNJ shares engaged in a bottoming process in its own right, dropping by -37% over the course of four months in the middle of 2002.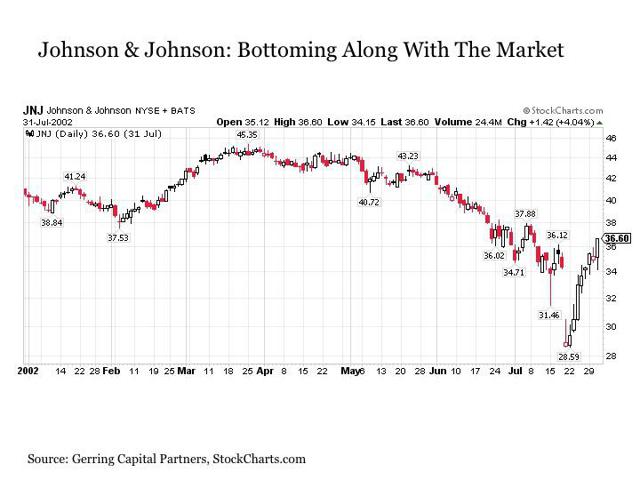 And during the depths of the financial crisis, JNJ shares plunged by -35% over the course of six months from September 2008 to March 2009.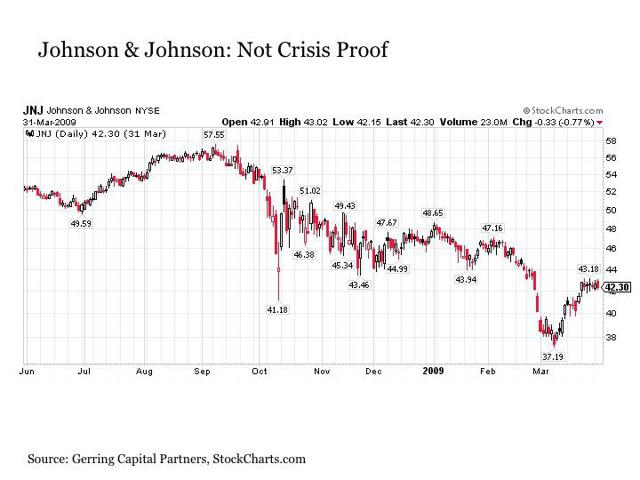 Continuing on to a second example to show that these declines were not exclusive to JNJ, let's take a look at Procter & Gamble (NYSE:PG), which is another market giant as the 14th largest company in the U.S. by market cap at $209 billion. Despite the fact that the company is a brand giant selling products that consumers need regardless of how the economy is performing, they have endured extended periods of downside volatility despite the fact that shareholder value has increased by more than five fold over the past two decades.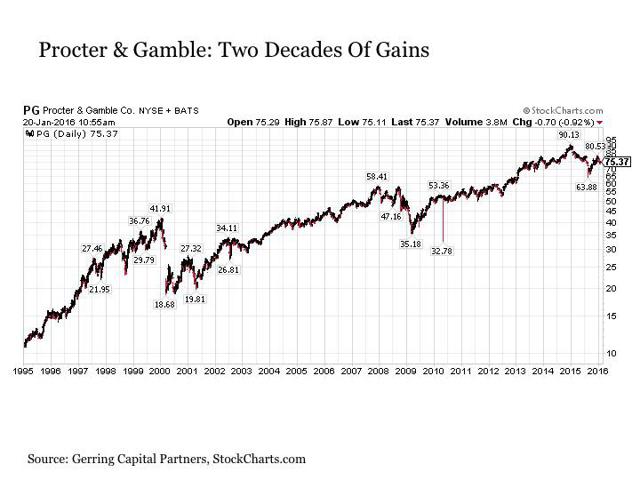 For example, leading up to the bursting of the technology bubble, some management blunders including the misguided attempt to try to transform into a pharmaceuticals company left the consumer giant reeling by as much as -55% to the downside.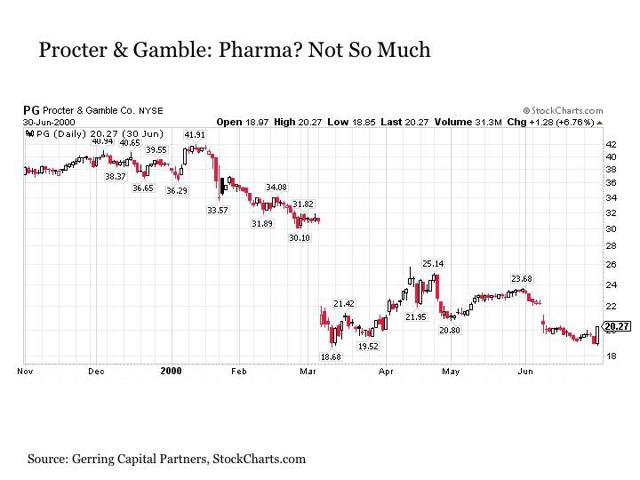 Like JNJ, P&G was not immune to the downside forces of the financial crisis, having fallen by as much as -40% over the six month period from September 2008 to March 2009.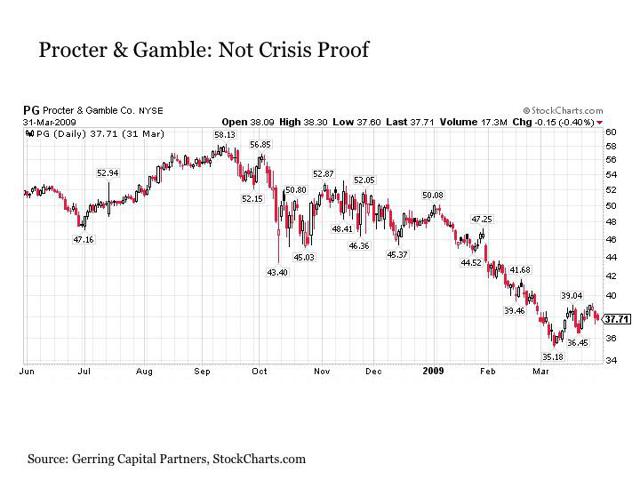 And even after the calming of the financial crisis, P&G shares were caught up in the flash crash on May 6, 2010, seeing -37% of its value momentarily go missing before finding it before the end of the trading day.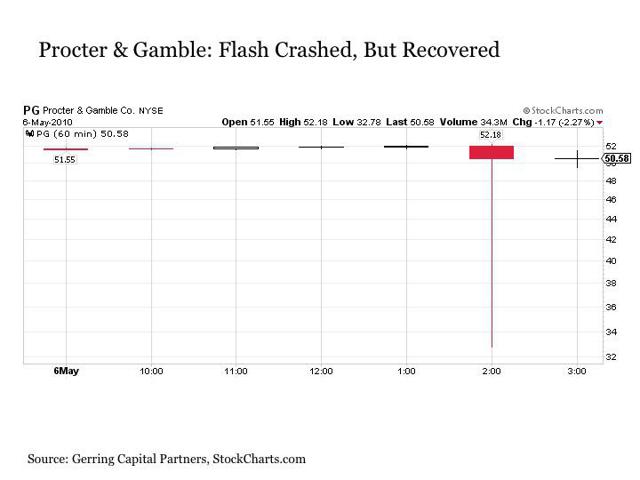 The last example is AT&T (NYSE:T), which is a stock that some are touting as a potential safe haven amid these currently struggling markets due to its size and plump 5.6% dividend yield. Before going any further, it is worthwhile to reinforce that this is not your Grandma's AT&T. For while it is still the 12th largest company in the U.S. with a market capitalization of $212 billion, this is a company today that was formed by former regional telecom SBC Communications taking over its one-time parent in long distance provider AT&T. The company does have somewhat of a moat but operates in a number of highly competitive markets and has a massive amount of debt. With that said, it has still increased by three times in value over the past two decades.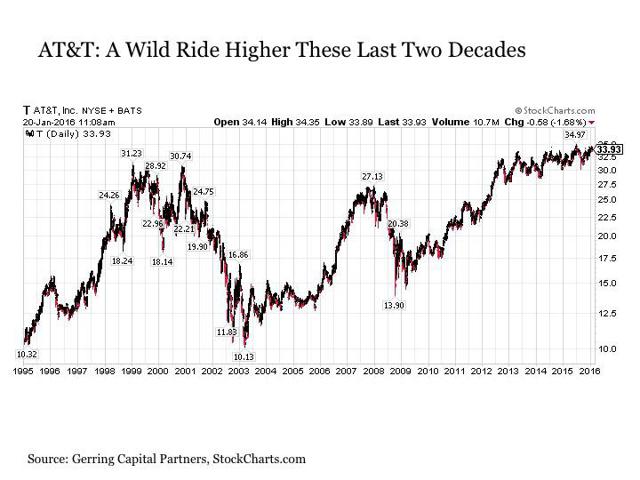 But the stock has not gone without incidents along the way. For example, with the bursting of the technology bubble, AT&T saw its shares crater by -68% over the course of more than two years.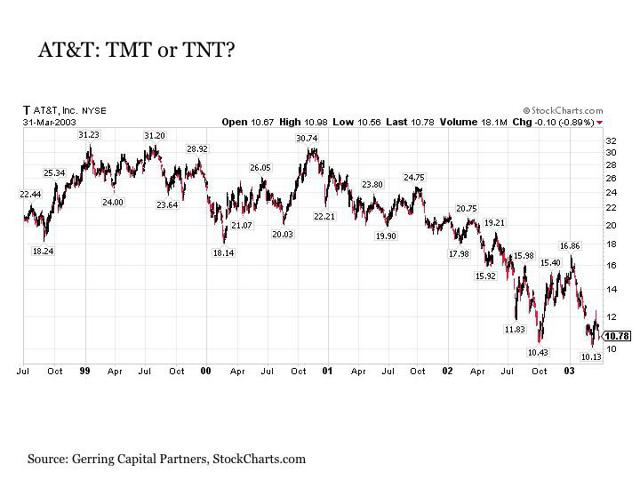 And during the financial crisis, AT&T stock lost nearly half of its value over roughly 15 months.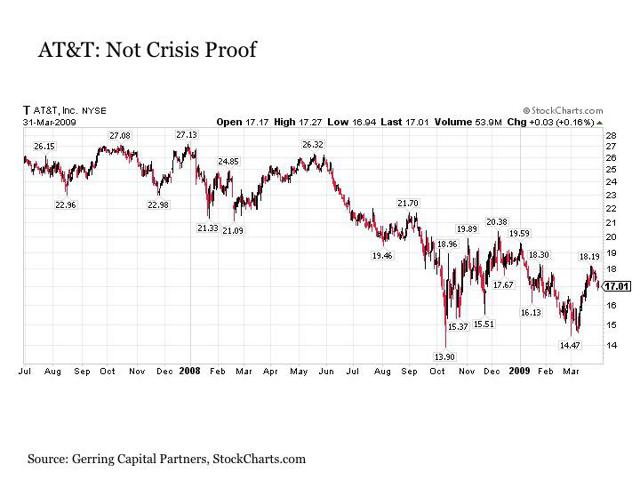 The Bottom Line
Markets are not in turmoil. They may be at some point, but for now they are simply in correction. And this is the normal type of correction that markets would endure from time to time before the extreme monetary policy intervention that we have increasingly seen in recent years.
If you have not experienced such market declines in the past, what we are starting into right now may seem disturbing, confusing, and uncertain. But this is what a normally functioning market should be doing at any given point in time. Stocks do not always go up, particularly in the way that they have in recent years. They do in fact go down, sometimes for a prolonged period of time. And no stocks are immune to such forces, even those that are considered among the most safe and stable companies in the market place today. This is why any suggestions that certain stocks are "bond equivalents" is so misguided, as they are different in their price behavior in many ways.
Stock investing is primarily for those that have a long-term view. And part of taking this long-term view is the understanding that stocks will suffer through periods of unsettling downside volatility that may last for an extended period of time lasting months if not years. But for those investors that purchase high quality stocks with sustainable growth potential at attractive valuations and maintain the discipline to weather such periods of downside volatility, they stand to be rewarded over the long-term.
Investors should also recognize that the current stock market decline may only be the beginning of what may be an extended bear market. Such environments are characterized by sharp declines such as what we are enduring right now followed by swift rallies. These are not environments in which to overreact. Instead, the imperative is to remain calm, recognize the market for what it is, and maintain your discipline to sell what needs to be sold and the right times and look for attractive opportunities in the rubble that is formed along the way. For if you are a long-term investor in stocks, you should view with enthusiasm the times when the market is putting on sale, and potentially at a deep discount at some point in the not to distant future, the assets that you would like to own into the future.
Disclosure: This article is for information purposes only. There are risks involved with investing including loss of principal. Gerring Capital Partners makes no explicit or implicit guarantee with respect to performance or the outcome of any investment or projections made. There is no guarantee that the goals of the strategies discussed by Gerring Capital Partners will be met.
Disclosure: I/we have no positions in any stocks mentioned, and no plans to initiate any positions within the next 72 hours.
I wrote this article myself, and it expresses my own opinions. I am not receiving compensation for it (other than from Seeking Alpha). I have no business relationship with any company whose stock is mentioned in this article.