A lot has changed since Cliffs Natural Resources (NYSE:CLF) last reported earnings. The commodities market has continued its downfall as prices failed to yet form a solid bottom, seeing a fresh new dip over the last few months (seaborne iron ore with 62% content has gone from around $56/ton in September to reaching a bottom of $38.30/ton in December, then recovering back above $40 in January). The company itself has undergone some material changes as well, with the sale of their remaining coal assets and further execution of the turnaround strategy originally laid out by Casablanca Capital and Lourenco Goncalves. Although I am thoroughly impressed by this management team's ability to drastically improve Cliffs' odds for survival, the global commodity markets continue to present newer and deeper challenges.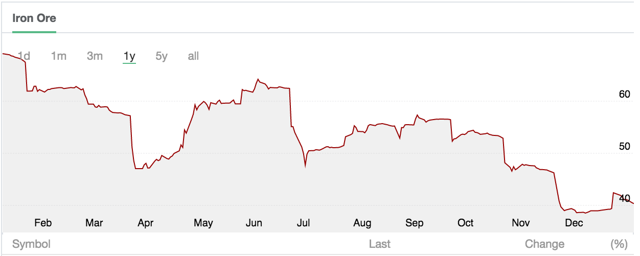 Given the many changes that have taken place, both on the company side and on the global/macro side, any attempt to guess at Cliffs' 4th quarter earnings and/or cash flow figures would involve a substantial degree of speculation. As of the end of the 3rd quarter, cash flow remained positive (adjusted for one-time items), which in my opinion is the most important financial metric to consider in this company's distressed position as there are no major upcoming debt maturities until 2018, and any excess cash flow can be used to materially decrease balance sheet debt, in a highly levered manner, by repurchasing debt at 12-20 cents on the dollar. Effectively, every additional dollar of positive cash flow can be used to pay down 5+ dollars of balance sheet debt. At this point, so long as they are able to meet their obligations and turn a positive cash flow, I believe they can be considered a going concern. However, if market fundamentals continue to deteriorate further, things won't be looking too pretty.
In the meantime, I would wait to make any judgment calls on bankruptcy likelihood until we see how the recent changes and restructuring have impacted their ability to generate cash flow. However, I am aware of their stockpile accumulation over the prior quarters and how that may "inflate" 4th quarter cash flow figures. Nevertheless, this reduction in 4th quarter cash outflows coming from decreased current production costs as a result of their inventory stockpiles may buy them some additional time to pay down more debt at these advantageous prices, allow the import tariffs on steel to take hold, and hopefully allow them to survive long enough to see a solid bottom to this commodity cycle.
To conclude, knowing what we know today, the equity should be considered a call option, with a considerable degree of speculation in many of the assumptions that would have to be made in order to justify a purchase. If you were looking for exposure to this turnaround story, I would argue that the 1st lien debt appears to have the most attractive risk/reward profile, but still carries with it some degree of speculation given the uncertainty and unpredictability of what the 4th quarter results will expose. For those who are the most risk hungry among us, if we see positive cash flow generation in Q4 along with signs of a bottoming commodity environment, then there may be a case to be made for the equity yet again.
Disclosure: I am/we are long CLF.
I wrote this article myself, and it expresses my own opinions. I am not receiving compensation for it (other than from Seeking Alpha). I have no business relationship with any company whose stock is mentioned in this article.