Traditionally, investment sentiment surrounding mining companies has much to do with the precious metals themselves. The interest rate hike could make gold and the related metals lose some luster. But for investors looking for opportunity, many are choosing to turn to junior mining to fill this void.
One of the biggest struggles that gold miners face is the need to keep capital expenditures and all in sustainable costs (AISC) as low as possible. Given the current mining climate, many large mining operations are facing increased costs & decreasing metal values. Companies including AngloGold Ashanti and Agnico Eagle Mines Limited (NYSE:AEM) have cut capital and exploration spending. And according to some analysts, mine production could level off given the lack of new projects. But this hasn't cut larger opportunities for junior mining companies.
In fact, larger mining companies are working with other miners to help redeem losses. In August, for example, gold mining giant Barrick Gold (NYSE:ABX) signed an agreement to supply Royal Gold, Inc. (NASDAQ:RGLD) with gold and silver from its Dominican Republic mine. In exchange for a payment of $610 million up front, Barrick will supply Royal Gold with 7.5% of Barrick's share of the gold produced at Pueblo Viejo until a cutoff of 990,000 ounces is reached, and then 3.75% after that.
One of the biggest struggles that gold miners face is the need to keep capital expenditures and AISC as low as possible. These costs include cash costs, sustaining CAPEX (capital expenditures), expenses for exploration, and general and administrative expenses. In fact, according to a 2015 survey by Gold Fields Mineral Services Ltd., gold miners' average total costs, including interest and any infrequent costs, were close to $1,208 per ounce in 2014 (the average gold price was $1,260 per ounce); it did not include the impact of deterioration. Based on these aspects, many intermediate and senior gold producers have seen diminishing production profiles, which has given rise to the further appeal of junior miners in exploration and development.
Listed on the Nasdaq exchange, Pershing Gold (NASDAQ:PGLC) is a junior gold producer having its main focus on the Relief Canyon Mine in Pershing County, Nevada. Relief Canyon includes three open-pit mines and a state-of-the-art, fully permitted and constructed heap-leach processing facility, as stated in several company press releases. Pershing Gold is permitted to handle the mining at Relief Canyon under the existing Plan of Operations.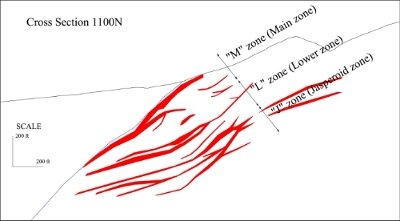 Pershing Gold's landholdings cover roughly 25,000 acres, which includes the Relief Canyon Mine asset and lands surrounding the mine in all directions. Company PR's state that "this land package provides Pershing Gold with the opportunity to expand the Relief Canyon Mine deposit and to explore and make new discoveries on nearby lands". According to the company, the preliminary internal economics on the Relief Canyon project are based on the NI 43-101 resource estimate published earlier this year and used assumed prices of $1,100 per oz of gold and $14.25/oz of silver.
Based on these assumptions, the Company estimated that Relief Canyon would have a starting capex of about $11 million, cash costs in the range of roughly $695-745/oz Au, and AISC in the range of approximately $725-775/oz Au, on a constrained in-pit resource over a 6-year mine life.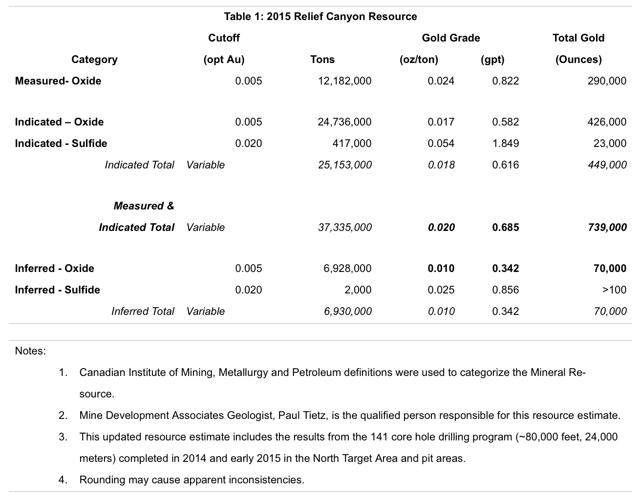 But it isn't just these data that support Pershing's opportunity within the junior mining space. Pershing Gold is currently in the process of completing a program consisting of approximately 177 holes, is 95,000 feet and is more than 90% complete based on information from the company. Pershing has stated that it intends to publish an updated NI 43-101 resource estimate incorporating these drilling results in the second quarter of 2016 in addition to publishing a third-party Preliminary Economic Assessment.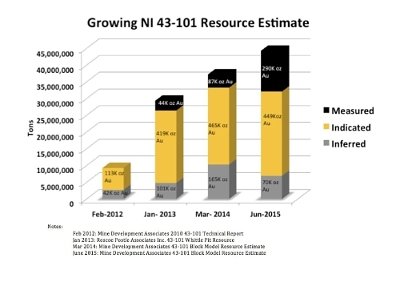 Pershing Gold has drilled a total of 304 holes and approximately 164,000 ft. to expand Relief Canyon deposit. This was done from the beginning, since initiating its work at the end of 2011. The update is based on data from these holes plus the addition of the 588 holes previously drilled by former owners of the mine. PGLC also anticipates an approximately 3:1 strip ratio over the life-of-mine for its Relief Canyon project (IE 1 cubic meter of ore vs 3 cubic meters of waste rock).
According to Pershing, initial CAPEX includes costs to construct leach pad space for near-term operations, upgrades, future development and relocation of the crusher facility, mobilization of contract mining equipment and start-up equipment and supplies. Management states that "the open-pit, low strip ratio and low CAPEX nature of this project validate our belief that Relief Canyon has the potential to be one of the lowest-cost, near-term gold producers in North America."
While mines have a limited lifespan, companies operating them simply don't. Miners either have to identify new mines to replace exhausted mines or purchase mines from junior miners like Pershing, who are engaged mainly in exploration. With diminishing reserves and a lower occurrence of new discoveries, miners can use M&A as a quick way to pass over costs as well as time to identify additional reserves and simply focus on growth. This puts the opportunity for investors at the forefront when considering investments in lower cost, exploration stage junior miners that have low CAPEX and high-grade intercepts in target areas of exploration, of which Pershing has achieved both.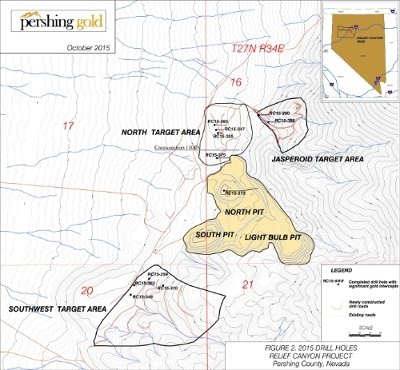 In early November the company announced that it has recovered multiple high grade intercepts at Relief Canyon.
"Building on the success of our previous resource updates, an increased NI 43-101 resource based on this years' drilling should enhance what we already believe are robust economics for Relief Canyon," stated Pershing's CEO and Chairman, Stephen D. Alfers.
Results like these have afforded the company much more attention from the street as well. Noble Financial Capital Markets picked up coverage on the company. Senior Research Analyst, Michael Heim, CFA, expressed that the estimated net asset value of $5.50 per share "reflects our best estimates regarding the timing and scale of an expected start-up of operations, the future price of gold and silver and our expectations regarding future operating costs."
In fact in a recent interview with The Gold Report, Rob Chang of Cantor Fitzgerald Canada stated that Pershing "is a solid company from top to bottom." He highlighted many of the points listed here and he also pointed out its production having a short-term path and being possible for a relatively low cost.
Risks For Mining Companies
This isn't to say that there aren't risks involved especially when the junior mining space is being discussed. Obviously as mentioned above, one of the biggest risks is the lack of operating capital for future production. Just like many major mining companies, juniors face the risk of having a limited amount of resources available. This falls into the category of exploration risk. In addition to this, many junior mining companies face the risk of the overall feasibility of production, meaning, "Are the deposits sufficient enough to profit?" Or "Are prices high enough to support operations?"
Obviously the recent market turmoil has made a positive impact on gold prices in the short term but unfortunately a mining company can't recover gold within a matter of days or a few weeks if they are not yet in production and this is what Pershing could be faced with. A difficult mine generally means having to partner with a larger producer or even selling a claim for pennies on the dollar to avoid a loss if they were to other wise hang onto such a claim without any certainty of return. Unlike the majors, smaller mining companies don't have the extra capital necessary to "sit" on a mine. For Pershing's cash consideration, its cash and cash equivalents were nearly cut in half from only 9 months of operations ($15.15m in December '14 to $8.34m in September '15).
At this point, despite the management team behind Pershing or the measured, indicated, and inferred gold reserves, the company is still continuing to report no revenues as a result of having a lack of actual production. As of the last quarterly filing, Pershing reported a significant loss of nearly $6million due mostly in part to overall exploration costs ($3.39 million). If the company cannot begin "taking their money out of the ground" investors could be the ones with bigger holes in their pockets than on Pershing's property.
Here's something else many investors forget to consider even in a climate like today where oil and energy stocks are taking a hit, "How much will it cost to operate the property?" Of course gold is seen as a "safe haven" stock but it still takes water and energy to run operations. Accessing affordable means is essential to keeping that CAPEX number to a minimum. To this point Pershing has done well but now that energy is taking another slump, affordability could quickly emerge as a negative impact on future filings later on this year. This becomes especially concerning with global demand for energy being expected to increase 36% by 2025.
Other items that pose risks to juniors include debt risk or toxic financing. Pershing, to this point, doesn't have much to show for this on the books and therefore would not appear to be a particular risk in this case. Exchange risk would play a part if the company was producing from foreign claims. Furthermore, management risk could easily be a risk many other juniors face but in the case of Pershing, their team, as stated above, is lead by experienced and seasoned mining professionals.
Pershing Gold Value Proposition
Potential investors should also note the recent company filings for the most recent period ended September 30, 2015. A strong balance sheet shows more than $8.3 million in cash and cash equivalents as well as total assets north of $39 million. More than $22 million of this is made up of the company's mineral rights. Meanwhile, dilutive financing has been kept to a minimum with current and long-term notes payable only amounting to just over $23,000.
Based on these figures as well as considering other factors such as an analyst target of $5.50, Pershing Gold could be in an optimal position to capitalize on the current market trends and business climate of today's gold industry.
Disclosure: I/we have no positions in any stocks mentioned, and no plans to initiate any positions within the next 72 hours.
I wrote this article myself, and it expresses my own opinions. I am not receiving compensation for it (other than from Seeking Alpha). I have no business relationship with any company whose stock is mentioned in this article.
Editor's Note: This article covers one or more stocks trading at less than $1 per share and/or with less than a $100 million market cap. Please be aware of the risks associated with these stocks.