First Data (NYSE:FDC) is and has a solid history of functioning as a quality company. Operationally, they are one of the best around with an operating margin of 13.1%. And as the leader in payment processing with a reach to more than 6 million merchants, why was the IPO a failure, and why is investor interest so weak?
To start, First Data's IPO had unfortunate timing. 2015 was weak for IPOs compared to 2014 with 106 less deals happening. IPO proceeds raised in 2015 were the lowest in over six years. So right out of the gate First Data faced a cold and uninviting market, having to price their IPO at $16 per share, which was less than their projected $18-$20 estimates. And since then the stock has tumbled with the rest of the market.
Debt
There is only one word that can sum up investor fear and disinterest in First Data - debt. Ever since KKR (NYSE:KKR) took First Data private via a heavily leveraged buyout back in 2007 their balance sheet has never been the same. They currently have nearly $21 billion of long-term debt sitting on their books, cutting into their net margins, and destroying stockholder equity. With the heavy interest expense cutting their 13.1% operating margin into a -2.2% net margin, investors have a right to wonder if the company will ever be able to pay off their debt and create value.
Growth
Everyone knows that when you're the biggest in your industry it is much harder to stimulate significant growth compared to your smaller competitors. That is the dilemma that First Data faces. With nearly $11.4 billion for the trailing twelve months, First Data is facing a significantly slower growth rate compared to their smaller competitors. And if they grow their top line by only 3% YOY, it's going to take quite a while to turn a positive bottom line. So where can they gain some growth?
Clover Go
First Data recently announced the availability of Clover Go to add to their Clover platform which they acquired in December 2012. The Clover Go will compete more directly with Square (NYSE:SQ), as it is designed for businesses on the go. The card reader plugs into an Apple (NASDAQ:AAPL) or Android tablet and can then process payments with WiFi or cellular connection after they have downloaded the app. First Data has already competed against Square with their Clover Station against the Square Stand with success. The Clover Go gives First Data the ability to tap a newer market for them and open the door to some growth within their hardware sales.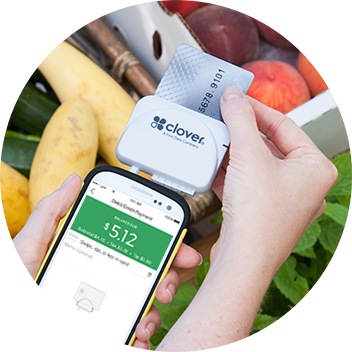 Source: Firstdata.com
AribaPay
SAP SE (NYSE:SAP) and First Data just announced that they've joined forces to create simplicity and improve the efficiency of business-to-business payments through AribaPay. The service will help companies across Europe and Latin America make and receive B2B payments quicker, with reduced fraud risk and lower costs. First Data was the obvious partner for this and is the obvious choice to lead the changes in the payment processing industry because of their size and $1.9 trillion of processing per year. So, as the industry evolves I believe more doors will open for First Data to make partners with the leaders in technology who want to play a role in the evolving industry.
Conclusion
First Data is a long way away from cleaning up their balance sheet, however the company has very sound operating fundamentals. And while their growth rate is slow, being the dominant company in payment processing makes them a target partner for tech companies who are trying to make a footprint in the payment processing industry. Not only is First Data growing their cloud-based hardware payment processing line through Clover, they are teaming up to try and capitalize on the changes on the software and security sides as well. Nevertheless, $21 billion is a lot of debt to swallow and it won't go away any time soon. But with First Data's sound fundamentals and large footprint in an evolving industry, they will eventually get there.
Disclosure: I/we have no positions in any stocks mentioned, and no plans to initiate any positions within the next 72 hours.
I wrote this article myself, and it expresses my own opinions. I am not receiving compensation for it (other than from Seeking Alpha). I have no business relationship with any company whose stock is mentioned in this article.