Several people who read my article on my favorite foreign bank stocks have asked for information on these companies since both of them have declined quite a bit. Those 2 stocks are Scotiabank (NYSE:BNS) and Bladex (NYSE:BLX). The declines of these 2 issues are shown on the graphs below: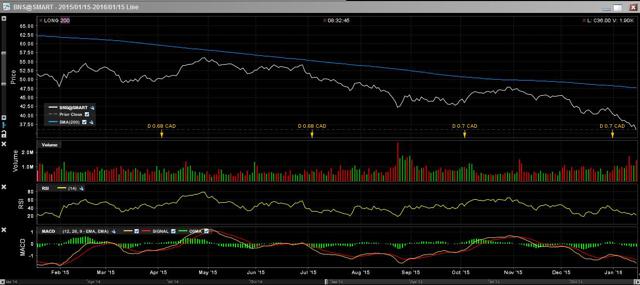 Source: Interactive Brokers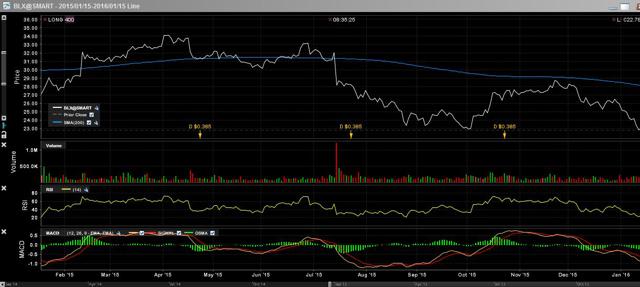 Source: Interactive Brokers
BNS has moved from a high of about $55.00 per share to a current price of $36.00 per share, a 35% decline from the high. BLX has dropped from a high of about $34.00 per share to its current price of about $23.00 per share, a decline of about 33% from its high.
This article is geared toward discovering whether these huge declines are a consequence of corporate problems or if they are a demonstration expression of worsening investor psychology associated with the market sell-off.

Scotiabank's main offices are in Canada and the bank's dividend and earnings are denominated in the Canadian dollar. In spite of the fact that the bank has increased its dividend in Canadian dollars this year from $0.66 to $0.70 the dividend in US dollars has declined because of the weakness of Canadian dollar against the US dollar. Canada's economy is largely based upon raw material production such as oil, gas and various ores and the steep price decline in commodities has people concerned that Canadian banks will suffer huge losses as a consequence. The IMF said,
"In commodity exporters, lower commodity prices weigh on the outlook through reduced disposable income and a decline in resource-related investment, the latter mechanism has been particularly sharply felt in Canada, where growth is now projected to be about one per cent in 2015, 1.2 percentage points lower than forecast in April."
There is concern that Canadian oil companies may not be able to meet their loan covenants. An executive at a major lender to the junior energy sector said,
"The ability for companies at this price point to stay the course is becoming increasingly difficult, there are very few producers in this environment that are cash-flow positive - period - from operations, let alone the burden of running the company."
Therefore all Canadian banks have been beaten down. For example Bank of Montreal (NYSE:BMO) has gone from a high of $67.00 per share to the current price of $49.00 per share, a 27% loss and Royal Bank of Canada (NYSE:RY) has gone from a high of $67.50 to $47.50 per share, a 30% loss.
Furthermore many analysts and investors are concerned that the price rout in commodities will have a broader ripple effect on the banks' other businesses in Canada. There is fear that customers especially in Western and Atlantic Canada with the loss of jobs and income will default on more mortgages, auto loans and credit card debt. The most recent data shows that consumer bankruptcy proceedings rose 21.4% in Newfoundland and Labrador in the 3rd quarter of 2015 as compared the 3rd quarter of 2014. The oil producing province of Saskatchewan filings rose 10.7% and in Alberta they rose 25.8%.
Scotiabank's 4th quarter report at the end of November 2015 shows the company doing well up to that point. The company's financial performance is encapsulated below: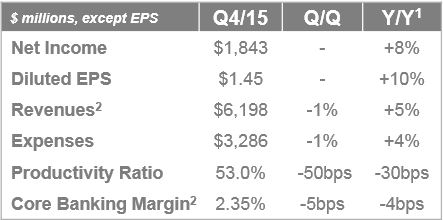 Source: Scotiabank web site (4th quarter investor presentation)
BNS repurchased 15.5 million shares in 2015 besides raising the dividend 2 times. The company also reported that deposits were up 5%, loans were up 3% and net interest margin was up 11 bps year over year. An area of strength for BNS is its strong foothold in Latin America. The company is no longer dependent entirely on its Canadian business, but is doing well with its international reach. This part of the bank's business has shown superb growth in 2015.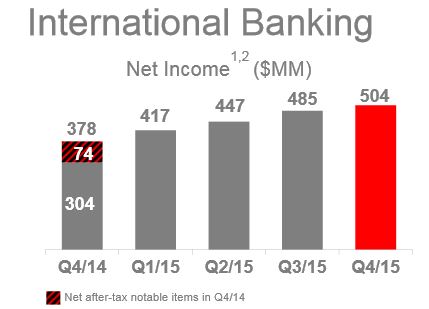 Source: Source: Scotiabank web site (4th quarter investor presentation)
An area where the company faltered last year was in global banking. It was particularly hard struck in the 4th quarter: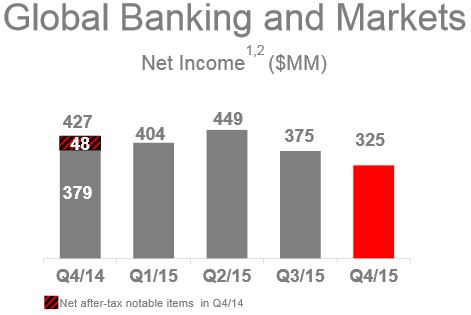 Source: Source: Scotiabank web site (4th quarter investor presentation)
The company maintained that the provision for credit losses has remained essentially the same as last year. BNS said that its current exposure to oil and gas was $16.5 billion which was 3.5% of its total loan book. It said that 58% of this amount was with investment grade companies.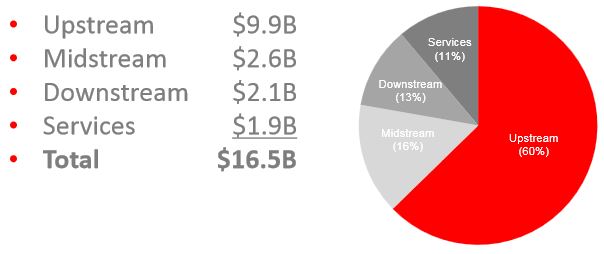 Source: Source: Scotiabank web site (4th quarter investor presentation)
It also has undrawn commitments of $14.3 billion where 75% is in investment grade companies. The company maintained that most of these loans and commitments are reasonably safe.
The company was positive looking out to 2016. The company was sanguine about higher provision for credit losses, but expected to counter that with better margins and lower expenses in other areas of business. Of course at that time oil was selling at a higher price than it is currently.
On balance BNS looks to be sound and the dividend safe. However the stock price of BNS will probably remain at the current price level or lower until the oil price begins to turn around. This looks to be a safe way to play an oil and gas rebound with a reasonable dividend while one waits.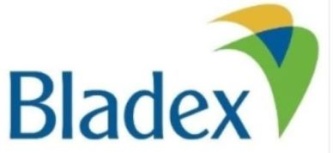 BLX at its current price is offering a 7% dividend. There is no currency translation problem since Panama uses US currency. The 4th quarter results are not yet in, so there is no new news on the state of Bladex's earnings. The only news coming from Bladex is the syndication of several loans to various agencies of several Latin American governments.
While the economic news coming from Latin America is not positive, it does not appear to be that bad either. Latin America's GDP is projected to contract 0.2% in 2016 which is quite a bit lower than earlier projected because of the recent price decline in commodities. Since most of the business of Bladex is trade-related, this indicates lower need for financing of the movement of goods and services.
On the other hand, a Reuter's article on the Latin American economy suggested that 5 countries in the region have vulnerable economies; they are Brazil, Venezuela, Argentina, Colombia and Peru. Perhaps it is the uncertainty in the region along with the decline in commodity prices that has worried investors in Bladex. The bank makes many of its loans to governments and government agencies in Latin America and this uncertainty may have led people to sell their positions in Bladex. Since a great deal of the commodities shipped from Latin America head to China, the decline in China's economy has led to lower sales and added fuel to investor concerns.
Since 48% of the outstanding shares were being held by institutions and mutual funds at the end of September, the huge downdraft in the stock price may be a reflection of a share selloff by these institutions. There was a really huge jump in negative volume in September which could indicate institutional selling. It could also represent Latin American governments needing cash selling their Bladex stock holdings as well.
BLX currently shows a trailing P/E of 7 and a yield of nearly 7%. Unless the bank is in some kind of major trouble, the stock seems to be mispriced. There is the distinct possibility that the company's growth will be stymied for a time and there may be some additional charge-offs in the near future, but structurally the company appears sound and that the selling has been overdone. When 4th quarter results are in, it will be easier to judge the direction of profits for 2016.
Disclosure: I am/we are long BNS, BLX, BMO.
I wrote this article myself, and it expresses my own opinions. I am not receiving compensation for it (other than from Seeking Alpha). I have no business relationship with any company whose stock is mentioned in this article.