Verizon (NYSE:VZ) is a company that I see as having significant upside potential over the long-term. The company has established itself as a key leader in the telecommunications industry across the United States, and from both a financial and business standpoint I see the company being in a highly attractive position to outperform competitors over time.
In this article, I elaborate on 1) why I see Verizon has significant upside potential based on an earnings sensitivity analysis, and 2) why the company is set for success in catering to the high-end of the wireless market in spite of increased competition and falling prices in this industry.
Currently, Verizon trades at a P/E ratio of 17.64 at the time of writing. From below, we can see that this ratio is far lower than that of AT&T (NYSE:T) and T-Mobile US (NASDAQ:TMUS):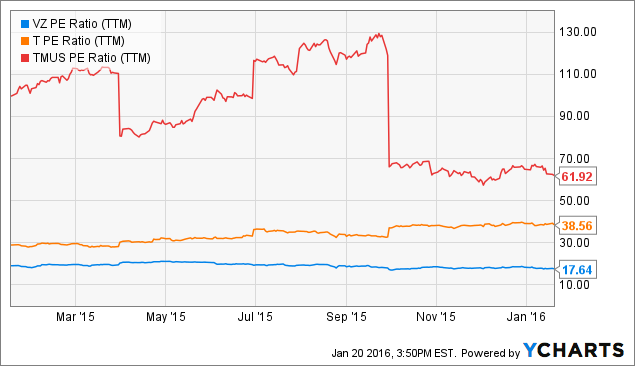 Moreover, assuming that the P/E ratio for Verizon remains in line with a historical range of roughly 15-17, then this means that the company stands to be highly biased to the upside in response to earnings increases.
For instance, using the Dividend Discount Model (analysis available on my website), I ran a model assuming a 3% growth in dividends (in line with the historical average) and a 5% yearly growth in earnings. Assuming a P/E ratio of 16, this would yield a target price of $70, which is an upside of over 56% from the current price. On the other hand, should earnings fall by 5%, the stock would still retain value in net terms as a result of dividend growth and a target price of $46 would be expected.
The World Economic Forum reports that by 2025, more than 90% of the world's population will have internet access. In this context, demand will greatly increase but so will supply. The capital expenditure required to expand services will place pressure on the balance sheets of telecommunications companies and increased competition will place price pressure on firms as internet access becomes more of a commodity product.
Indeed, Verizon is at risk (as is the firm's competitors) of price competition eroding margins making the industry less profitable. However, I still see Verizon as having the ability to sufficiently differentiate their services and cater to the premium end of the market.
For instance, Verizon has consistently shown its ability to serve as a wireless innovator, as opposed to simply a wireless provider. The company's "Internet of Things" initiative totaled $495 million by Q3 2015, and included significant launches such as humTM, a technology which serves to further the smart driving experience through the use of telematics services, and go90TM which further cements Verizon's presence in mobile video. Moreover, the past year saw an increase of 34 percent in Verizon's customer base for 4G smartphones. In terms of wireline internet connections, Verizon continues to remain strong in this area with revenue growing by 7.5 percent to $3.4 billion in 2015.
Admittedly, Verizon does face short-term pressure in that subscriber growth has been leveling off of late. However, I still see Verizon being able to thrive long term through attracting premium users and encouraging greater usage among existing subscribers. Moreover, from an earnings standpoint, the company has significant upside potential on the basis of its current valuation and for this reason I take a highly bullish view on Verizon.
Disclosure: I/we have no positions in any stocks mentioned, and no plans to initiate any positions within the next 72 hours.
I wrote this article myself, and it expresses my own opinions. I am not receiving compensation for it (other than from Seeking Alpha). I have no business relationship with any company whose stock is mentioned in this article.