Note: this is the article version of an in-depth report I just published on MV Oil Trust (NYSE:MVO). For the sake of keeping the article short, I have excluded certain sections (such as my oil price forecast). If you are interested in understanding MV Oil Trust I suggest you download the full report, as it is much more comprehensive than this article.
Executive Summary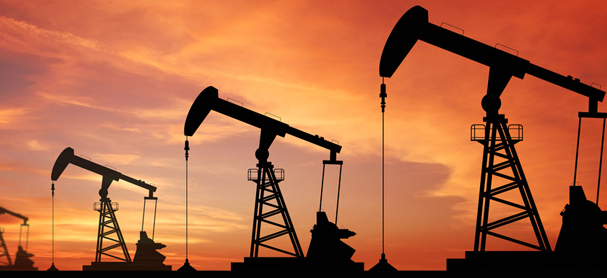 MV Oil Trust is, as the name suggests, a trust that receives substantially all its revenues from selling oil. After the oil price started falling in the middle of 2014 the share price of MV has been falling precipitously. The stock is down around 86% in that period, and has fallen about 91% since topping in 2011.
Given the negative sentiment in MV's share price, it begs the question if now is a good time to invest. After all, MV is sporting some very impressive ratios (2.2 P/E and 18% yield).
Key Figures & Historical Price
| | |
| --- | --- |
| Share price | $4.24 |
| 52 week range | $3.93-$17.10 |
| Market cap | 48.8 mil |
| P/E TTM | 2.2 |
| Yield | 18.04% |
| Price/sales | 2.1 |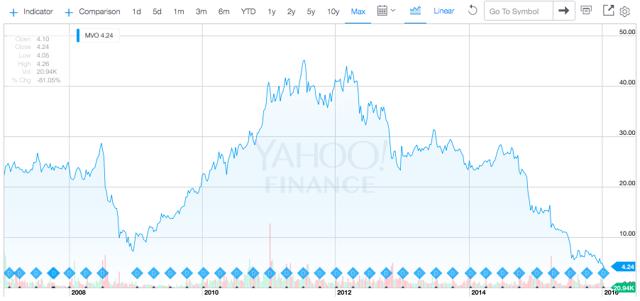 Source: Yahoofinance.com
Business Description
MV Oil Trust differs from most investments because it is a trust, not a company. The Trust receives 80% of the profits from around 1,000 mature wells located in Colorado and Kansas.
MV Partners (the Operator) produces and sells the oil while MV Oil Trust (the Trust) receives 80% of the profits (sales minus direct operating expenses). These profits are paid out as cash distributions every quarter to unitholders/shareholders.
Another interesting element about oil trusts is that they are finite. MV Oil was formed in August 2006 and is set to terminate on 30th June 2026.
The finite nature of the Trust is a very important consideration because when the Trust terminates there will virtually be no recoverable assets left for investors (i.e. terminal value is zero). Moreover, the barrels produced per year have been steadily declining over the years, and will continue to do so in the future.
The company's underlying properties are located in mature fields with predictable production rates. According to the 2014 annual report the Operator produced oil from approximately 1,000 wells and the projected reserve life of the underlying properties is more than 50 years.
Another point to note is that the Operator sells its oil at about a $7 discount to the West Texas Intermediate price.
Investment Thesis
I first learned about MV Oil Trust when I ran a stock screen, looking for undervalued stocks. It showed up as a very attractively priced company with a high return on capital. When I saw that the company was in the oil business I was doubly interested because I tend to gravitate towards investments in beaten down industries.
When I set out to analyze MV I did not know what my ultimate findings would be, but I expected that my valuation would show that MV was a great investment opportunity. However, as my research progressed I came to a different realization.
While I do expect oil to eventually rebound and MV's share price to increase from these depressed levels, I believe it's a sub-optimal way to play a rebound in oil.
Below I have presented a discounted cash flow analysis that will take the reader through my analysis and explain why I personally would not invest in MV Oil Trust, even though it currently looks undervalued.
Drivers of revenue and costs
When estimating the intrinsic value of a company, we must understand what drives revenues and costs in order to estimate future profits.
In MV's case the drivers of revenues are the prices of oil and gas, as well as the amount of oil and gas produced from MV's wells. Oil production has historically accounted for more than 99% of revenues for MV, so in the analysis below I will exclusively focus on oil revenues.
The drivers of costs are a bit more complicated and I will go through a detailed analysis of costs below.
The challenge we face with MV Oil is that they have stated that they don't make projections about future sales, earnings or other results. We are therefore left making our own projections and these projections are necessarily based on historical data, as well as certain clues that can be found in the Trust's annual and quarterly reports.
- Drivers of Revenues
The normal attribute of an oil trust is that its wells deplete and production steadily declines. MV is no different. The challenge is that the trust provides no clear estimate of how much production will decline.
They do say that based on a reserve report that was carried out on its wells, production from the proved reserves are projected to decline at an average annual rate of approximately 5.9% over the next 20 years. This is assuming no additional development drilling or other capital expenditure outlays. However, the company has stated that it plans to invest in capital expenditures in the future and we can therefore conclude that a depletion rate of 5.9% is likely too high.
But what number should we use then? I believe that the prudent solution is to look at the historical depletion rate and choose a number at the high end of the spectrum. In that way we don't run the risk of overstating future production. Below I have included a table showing the historical decline rates.
| | | | | | | | | | |
| --- | --- | --- | --- | --- | --- | --- | --- | --- | --- |
| | 2006 | 2007 | 2008 | 2009 | 2010 | 2011 | 2012 | 2013 | 2014 |
| Decline in oil produced (YoY) | | 3.13% | 3.83% | 0.52% | 0.53% | 3.50% | 2.52% | 3.83% | 1.52% |
Source: MV Oil Trust annual reports
We can see that the upper end of the spectrum is a decline rate of around 3.8%. This therefore seems like a prudent level to use. However, in the first nine months of 2015, compared to 2014, barrels produced fell 3.9%. Since this number is more recent, and a bit higher than the historical average, I use 3.9% as my decline rate.
The reader might argue at this point that 3.9% is too high, however Warren Buffett teaches us that the first rule of investing is to protect our downside and this is exactly what we are doing when we forecast a high decline rate. In investing we want to be surprised to the upside, rather than to the downside.
Below is a graph showing the historical barrels produced, as well as the forecasted future barrels produced, using a 3.9% decline rate.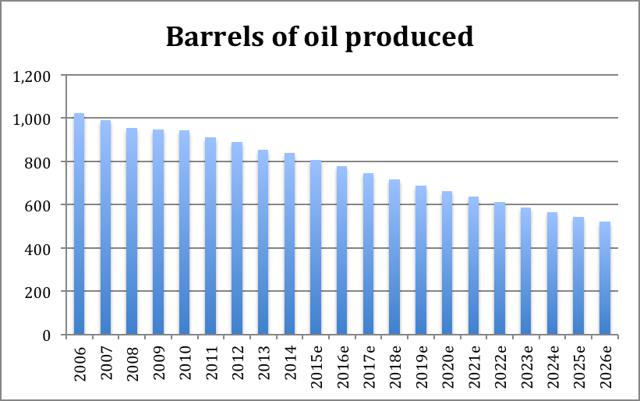 Source: historical figures from MV Oil Trust annual reports
As for the other driver of revenues, the oil price, I have estimated an average WTI price of $45 in 2016, $70 in 2017 and $80 in 2018 and going forward. I go into detail about these forecasts in the report, which I have linked to at the top of this article.
- Drivers of Costs
I mentioned above that MV does not give projections about future sales or profits. I also mentioned that drivers of costs are a bit more complicated to predict than sales. We are therefore left somewhat in the dark with regards to projecting future costs.
To deal with this challenge I resorted to looking at historical costs to try and figure out a reasonable level for costs going forward. MV has several operating costs, and they fluctuate each year. I tried to find a pattern in these costs, but struggled. I then tried to figure out why certain costs increased or decreased in certain years, but the company provided no explanations in their annual reports or quarterly statements as to why.
But what I found was that total costs hovered around 30%-32% in "normal years", meaning years where the oil price did not fluctuate considerably (2006, 2007, 2010, 2011, 2012 and 2013). However, in more volatile years the cost margin increased. As an example, while revenues declined in 2014, costs actually rose somewhat, resulting in a higher cost margin. It therefore seems that costs are "sticky" to the downside.
The most recent company results serves as further support to this argument: in the fourth quarter of 2015 the operating costs were around $6.1m, which is around $24.5m annualized.
Comparatively, in 2014 operating costs were about $25m. So costs seem to have remained more or less constant year on year, however sales in the same period declined considerably. As a result the operating cost margin in Q4 2015 was 81%, as opposed to the normalized level of around 30%-32%.
Because operating costs seem to be sticky to the downside, I make the assumption that costs in 2015 and 2016 will be the same as in 2014. In reality, if the oil market is soft in 2015 and 2016, costs might fall somewhat. However, I am not able to predict with confidence if costs will actually decline and it's therefore more prudent to assume they will stay constant.
In 2017 and onwards I assume operating costs will grow 3.2% per year, which is the compound annual growth rate of costs from 2006 to 2014. The reason I use this figure is because MV Oil has said that since more or less all of their underlying properties are located in mature fields, they do not expect the future costs to change significantly, other than in line with the general cost of oilfield services.
Since the company does not give any indication as to what this level of growth may be, and since I am unable to predict with confidence the general cost of the whole oilfield services industry, I thought it prudent to use the historical figure of growth.
Below is a graph showing the historical growth in operating expenses, as well as the predicted future growth, using an annual figure of 3.2%.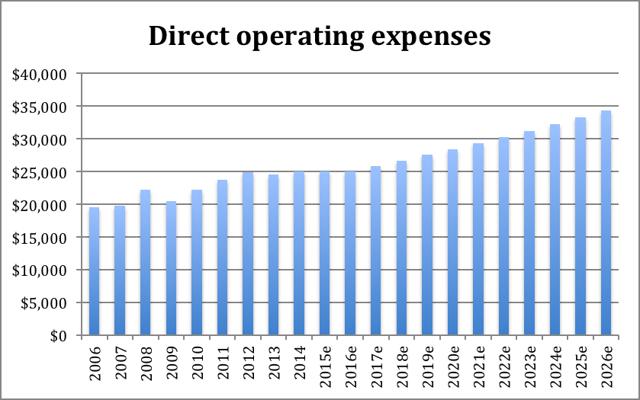 Source: historical figures from MV Oil Trust annual reports
Valuation: MV Is Currently Undervalued, But The Uncertainty Is Large
After having made predictions about MV Oil's future production and costs, as well as having made predictions about the oil price, I put all this information together in a discounted cash flow analysis to find the intrinsic value of the Trust.
My forecast for revenues was derived from multiplying the forecasted amount of barrels produced each year, with the oil price I predicted in the corresponding year. As I explained above I assumed that the total number of barrels produced would decline 3.9% per year on average.
My oil price forecast was $45 in 2016, $70 in 2017 and then $80 in 2018 and onwards.
I did not carry out a forecast for the future revenues from natural gas sales. Natural gas only makes up a negligible portion of revenues (0.33% in 2014) and it was therefore beyond the scope of this report to analyze the natural gas market. I therefore assumed that the gas price would be $2 per Mcf every year, which is approximately the price MV receives today. I assumed that the decline rate in natural gas would equal that of oil, 3.9%.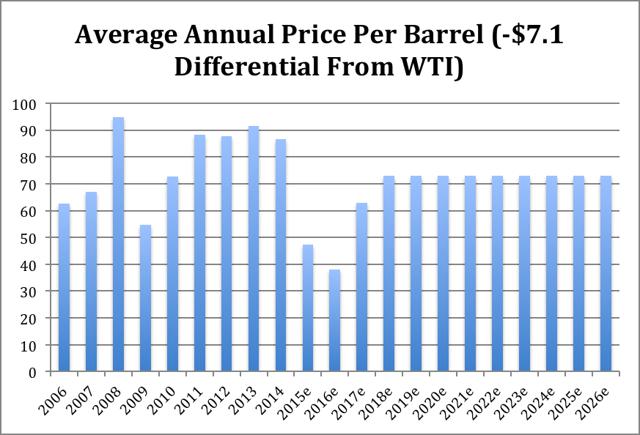 Source: historical figures from MV Oil Trust annual reports
I also explained above how I assumed total operating costs in 2015 and 2016 would equal those in 2014, and then start to grow by 3.2% per year after that.
I arrived at the net profit figures by subtracting the direct operating expenses from the revenues, and then multiplying the figure by 80%, which gave me the cash distributions that the Trust is entitled to each year. Below is a visual representation of the expected payouts.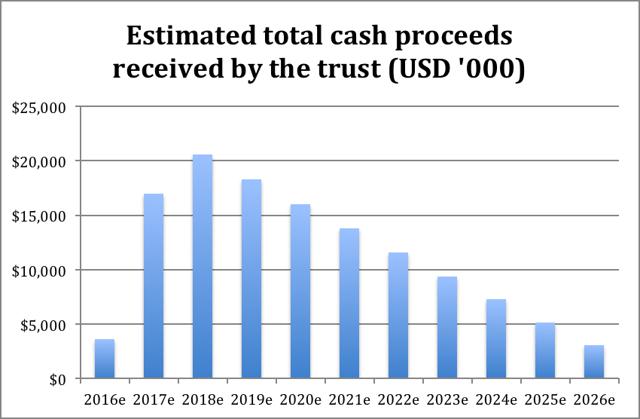 To find the present value of the cash distributions I used a discount rate of 10% because that is the minimum rate of return I tend to look for in an investment.
These assumptions resulted in a total present value for MV Oil of approximately $79 million. There are currently 11.5 million units/shares outstanding, which gives a value per unit of $6.86. The price per unit is currently around $4.24, which equates to a potential upside of 62%.
Based on my analysis, MV Oil is currently undervalued. Moreover, my estimates are quite conservative so the real value of the Trust might turn out to be higher. However, as I mentioned above, I would personally not buy MV Oil because the Trust has a finite nature, a naturally declining production profile and future costs are expected to increase.
If oil prices were to stay lower for longer it would be problematic for MV Oil. We know that the Trust will terminate in about 10 years' time and that the recoverable value is virtually zero at that point. If oil stays low for a large portion of those years the value of the Trust declines considerably.
The effect that a "lower for longer" oil price scenario would have on the value of the Trust becomes apparent if I change the oil price assumptions in my model. If oil prices were to stay at current price levels, $30, in 2016 and 2017, and then increase only to $50 in 2018, 2019 and 2020, and then subsequently go to $80 in the years after, the present value of the trust tumbles to around $1.5.
MV Oil is a pure oil play. A higher stock price is predicated on higher oil prices and I simply believe there are better ways to play a rebound in oil.
Conclusion
In the analysis above I presented my findings on MV Oil Trust and explained why I personally would not buy the stock even though my conservative estimate of value suggests that the Trust is currently undervalued.
To make it clear, I am not saying that the Trust is a bad investment, and if oil prices are to rebound I think MV will rise significantly from these depressed levels. However, due to the uncertain nature of the Trust, it is not an investment that I am willing to make, and furthermore I believe there are better ways to play a potential rebound in the oil market.
Disclosure: I/we have no positions in any stocks mentioned, and no plans to initiate any positions within the next 72 hours.
I wrote this article myself, and it expresses my own opinions. I am not receiving compensation for it. I have no business relationship with any company whose stock is mentioned in this article.
Editor's Note: This article covers one or more stocks trading at less than $1 per share and/or with less than a $100 million market cap. Please be aware of the risks associated with these stocks.