This time last year…
About 12 months ago, I spent many hours compiling the data on a 13-year drip investment in General Electric (NYSE:GE). I knew things had not gone well for GE during and after the global financial crisis, but busy being pregnant and with a new baby, I just continued to let my $100 a month investment with dividend reinvestment ride.
In April of this year, I published my findings, which were not as bad as I'd thought thanks to a misunderstanding of total return. Thanks again to all of you who patiently explained where I had gone wrong. Over and over until I "got" it.
I'm still not a fan of an investment returning nothing on a capital basis and using dividend payments to make myself feel better about it. But that's my hang-up.
So after 13 years, I had an investment that had generated close enough to a zero capital return. On a total return basis -- that is, capital and all dividend payments -- things looked better with $3338 paid in dividends over the 13-year timeframe.
So, not as bad as my grumbling implied…
Then, things changed…
My first couple of articles attracted a lot of good advice, encouragement, and expanded my education. If there were unpleasant comments made, I didn't see them, thanks to moderators, and being asleep while the US is awake.
Though I already knew things had to change, in my life and my GE investment, it sometimes takes a gentle nudge to take that leap of faith and make changes. In life, it meant going it alone after over a decade of marriage while trying to keep my daughter out of before and after school care. With this statement I do not wish to imply that my daughter's father is not involved in her life - he is. It is simply that our lives that have taken separate paths.
For my GE investment, it meant sifting through the advice generated by the Seeking Alpha community and finding a path that felt "right." One change I made very quickly was to stop reinvesting dividends in GE. Those dividends have been used to build up a cash position and invest in other stocks to deal with my diversification issues.
The other overwhelming piece of advice was to stop making the $100 a month investment. Which I did. Sort of…
Confession Time…
Here comes the confession.
I continued to invest the $100 a month. But those shares are to be directed into an account in my daughter's name. Setting my daughter up with a small nest egg to start her adult life is another one of my goals.
And yes, I realize that this move sets my daughter's portfolio up with the same mistake I have made in mine -- no diversification. But there is a plan for her portfolio also -- that is just the topic of another article.
So, with 2015 closed, I have another year's worth of data to add to the analysis I did last year.
What happened in 2015?
Even without looking at the numbers, I know things will look a lot better than they did 12 months ago, because there have also been many changes for GE in 2015.
Just after I published my first article exposing how overweight my portfolio was in GE, and while I was being encouraged to sell some of my GE stock to diversify my holdings, the stock made a nice upward move. GE management made public their restructure plan to return the company to its industrial roots and shrink GE Capital.
This was a great opportunity to sell, but as stated above, I didn't. The stock, however, thanks in part to the August flash crash drifted lower and my investment, on a capital basis, was underwater. Again. (It's spent a lot of its life there.)
Later in the year, however, with the Synchrony split-off becoming a reality, and some guy I've never heard of (Peltz?) taking a big $2.5 billion position in GE for his fund, the stock trended upwards until it closed 2015 at $31.15.
That's a significant upward move from its 2014 closing price of $25.27.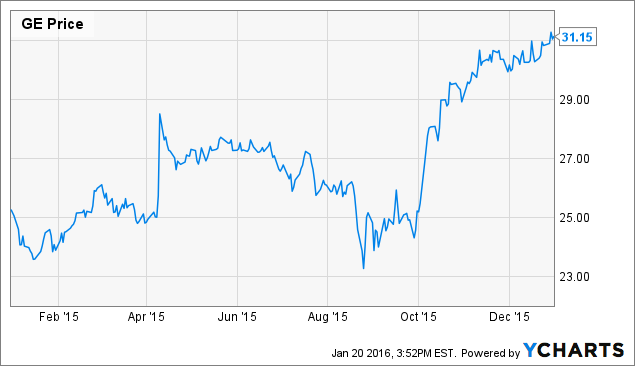 GE data by YCharts
But while the stock closed the year with a nice capital upswing, the dividend has been frozen for 2016. These are not words that this dividend growth investor wants to hear. Especially with the dividend cut of 2008 still ringing in my ears.
But, dare I say, this time is different? First, GE is divesting itself of the unit that caused most of the damage in 2008 -- GE Capital, the Synchrony spin-off has reduced GE's share count, and the frozen dividend is occurring at the same time as the share price is rising.
The Numbers -- 14 years of GE Drip Investing
The numbers confirm what I thought to be true. With a closing price of $31.15 for GE stock, and my average purchase price over the 14 years being $23.86 on 31 December 2015, I have a nice capital gain on the stock. (For the purpose of this analysis, I'm combining the two holdings).
With 865 shares across my daughter's and my portfolios, that translates to a $6,306 capital gain. Over the 14 years, these GE shares have also paid out about $4100 in dividends. That gives me a total return in cash of $10,406.
As a percentage, this 14-year investment has returned a total of 50% as at 31 December 2015, or an average of about 3.57% on an annual basis.
The real lesson from my GE experience is that an investment's value is fluid. At the end of 2014, and in fact, for half of this investment's life, the return hasn't been so hot (see chart below). But right now, things are looking okay.
That isn't to say it will stay that way. Sure shares go up in the long run, but over the short term, things can look quite different. 2008-2012 on the graph below illustrates this point nicely.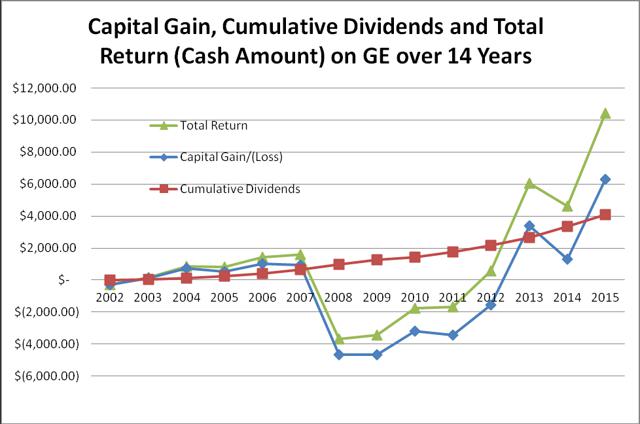 Time matters in investing. Both the time in the investment and the time period the investment is held over. Had I started my investment closer to the mess of 2009, then I would have felt very differently about GE last year. It is the shares I bought in the early years at high prices that are dragging down my investment's return.
Those who had the courage and foresight to buy in at GE's lows are now sitting on enviable capital gains and an impressive yield on cost.
Even for me, though, a mere 12 months later, things are looking much better. Do I regret my investment? No. But it has taught me that simply buying consistently over the long term doesn't always produce the best results when you pick the wrong stock. BUT it has also given me a quarterly income that I can use to buy more stock. It's a slow-growing snowball, but a snowball, nonetheless.
I know this decision will be controversial given that the share price appreciation in GE this year has also done nothing to alleviate my portfolio's diversification issues, but I'm going to hold my 825 shares of GE and my daughter's 40 shares, for now.
I do not make that decision lightly. I read articles such as this one from Regarded Solutions with keen interest. Regarded Solutions sold two stocks out of his portfolio and bought another to gain an immediate gain in current income. Since current income is one of my stated goals, I cannot ignore this aspect of portfolio management.
Conclusion
2015 has been a year of transformation for me and GE. GE put into action a plan for change. I did too, though I suspect mine was a lot more chaotic. For me, Seeking Alpha has been a big part of that change. Even if I haven't been writing, I have been reading, learning, and thinking.
I know many will not agree with my choice to keep such a large percentage of my portfolio in GE stock while slowly increasing other holdings. I can't help but think I've already seen the worst by holding through the GFC. The wobbly start to 2016, however, is keeping that decision on my radar for reconsideration.
As at the end of 2015, I own 825 GE shares. My daughter now owns 40 shares of GE. I think that is enough GE for both of us. The $100 drip will be terminated (really, it will this time). My dividends are already being paid in cash for the purpose of expanding my other holdings.
I haven't decided what to do with the dividend on my daughter's 40 shares. Reinvest or collect as cash. I'd love to hear everyone's opinions on that. Either way, it will be interesting to track the holding as it ages with my daughter.
So, as my 14-year experiment in dollar cost averaging and dividend reinvestment closes, a new experiment starts. Hopefully, in 14 years I will be sitting here managing my retirement portfolio and patting myself on the back for buying my daughter those shares.
She will be 21 then. With a bit of luck, the article I pen then will start something like:" If your parents bought you $1200 worth of GE stock in 2015, never sold any and reinvested dividends, life would be good…"
As much as I love a hypothetical that starts in such a manner, I like the real life investment stories more. Hypothetical investments are based upon 20:20 hindsight, but real life investments are future looking. They take courage to start, discipline to maintain and most of all, faith in an unknown future.
Let's hope my faith in GE isn't misplaced. Just in case, I think I'll use 2016's wobbly start to expand some other holdings.
Happy investing!
Disclosure: I am/we are long GE.
I wrote this article myself, and it expresses my own opinions. I am not receiving compensation for it (other than from Seeking Alpha). I have no business relationship with any company whose stock is mentioned in this article.