Fellow Forbes writer, Paul Johnson, explained the "rhino principle" a few years back and I keep a copy of his inspirational wisdom on my desktop. Here's how the distinguished author described great leadership attributes in the context of a rhinoceros:
Now, the rhino is not a particularly subtle or clever animal. It's the last of the antediluvian quadrupeds to carry a great weight of body armor. And by all the rules of progressive design and the process of natural selection the rhino ought to have been eliminated.

But it hasn't been. Why not? Because the rhino is single-minded. When it perceives an object, it makes a decision-to charge. And it puts everything it's got into that charge. When the charge is over, the object is either flattened or has gone a long way into cover, whereupon the rhino instantly resumes browsing.
Johnson concluded the Forbes article by offering the following advice:
That is what the rhinoceros does. It may not be a model animal in most ways. But it does one thing very well. And that one thing we can learn: Charge!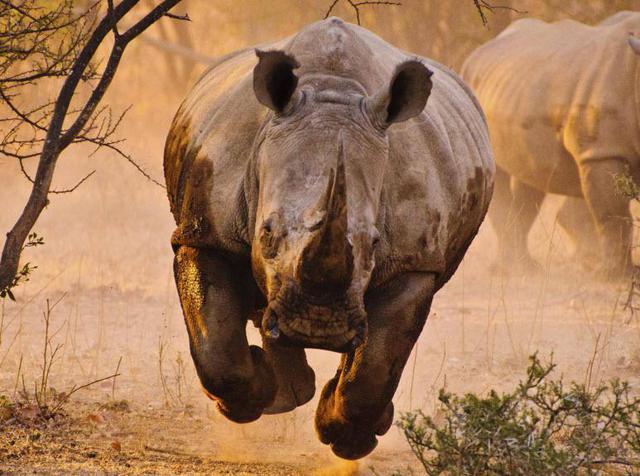 Welltower Deserves to be a Rhino REIT
I'm putting the finishing touch on my list of "Rhino REITs" for 2016. I plan to include the list of best-in-class names in my upcoming Forbes Real Estate Investor newsletter.
It takes more than a few good quarters to be included in my Rhino REIT list - that should be rather obvious since rhinos are survivors - and stamina and strength are critical to the longevity of the enterprise.
One of the reasons that I decided to develop the annual Rhino list is because I consider it an essential tool for analyzing the battle-tested brands. By comparing the durability metrics for each REIT that I cover (around 100 names), I can deduce the good from the great, the weak from the strong, and the wheat from the chaff.
It seems that now, more than ever, investors should understand the importance of owning rhinos. There's a lot of fear in the market and in these anxious economic times it is better to own shares in companies with a long record of profitable operations and in strong financial condition. As the legendary investor Ben Graham wrote:
One of the most persuasive tests of high-quality is an uninterrupted record of dividend payments going back over many years. We think that a record if continuous dividend payments for the last 20 years or more is an important plus factor in the company's quality rating.
One Rhino REIT on my list and easily defined as a high-quality enterprise under Graham's definition is Welltower Inc. (NYSE:HCN). As the chart illustrates below, HCN has generated steady and reliable dividend performance for over 44 years.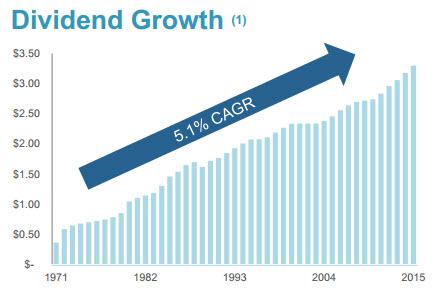 Welltower Has Deep Roots in Ohio
Welltower is one of Ohio's largest publicly traded companies with nearly 500 employees. About 200 of them work at its Toledo headquarters. It also has offices in Jupiter, Fla., London, Toronto, and Newport Beach, Calif., among its largest satellite locations.
In September 2010, Welltower moved into the former headquarters of the Dana Corporation in Toledo sited on 166 acres of mature landscape and gently rolling terrain. The original 1970's era structure has been transformed into a modern state of the art facility designed to embody the goals of the Corporation by creating a comfortable workplace conducive to creative thinking and collaboration.
In the early days, Welltower grew its portfolio by acquiring nursing homes, but around 1996, the company went on a growth spurt and began acquiring larger portfolios. In 2005, the company's portfolio of assets was worth nearly $3 billion, and by 2010 it had grown to $9 billion. At that stage, Welltower began to super-size acquisitions with several transformation deals:
In 2011, it spent $2.4 billion to acquire assets of Genesis HealthCare, an operator of rehabilitation facilities, nursing homes, and assisted-living complexes in the Northeast and Mid-Atlantic states.
In 2012, the Toledo company partnered with a Canadian company, Chartwell Seniors Housing REIT, to acquire 42 senior housing and care communities in Canada at a cost of $925.2 million.
Then in 2012 and 2013, it paid $4.3 billion, in stages, to acquire the properties of Sunrise Senior Living, Inc., a senior living firm with 125 high-quality properties in large metro areas of the United States, Canada, and the United Kingdom.
Today, Welltower partners with 14 of the healthcare industry's top operators of senior assisted living and long term and post acute care facilities. The company has a portfolio that consists of 1,414 properties with an enterprise value in excess of $37 billion. Here's how HCN compares with the peers based on market capitalization:

The Business Model
As one of three dominant health care REITs, Welltower, owns a diverse collection of properties ranging from seniors housing, post-acute care facilities and outpatient medical buildings. Unlike Ventas, Inc. (NYSE:VTR), now an owner of acute-care hospitals, HCN focuses on keeping people out of acute care hospital beds in an effort to drive better outcomes at a lower cost.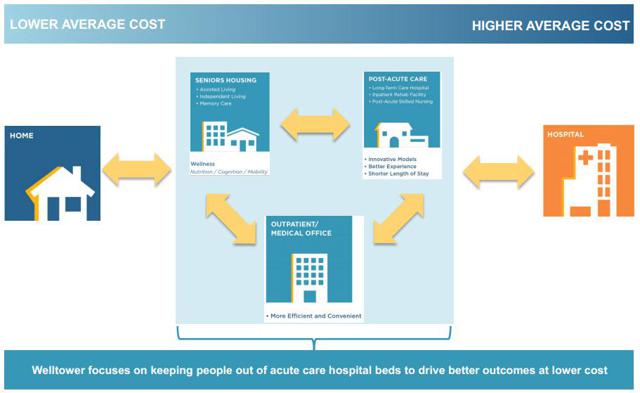 In the US, HCN owns 1,175 properties with a major focus on major metro markets: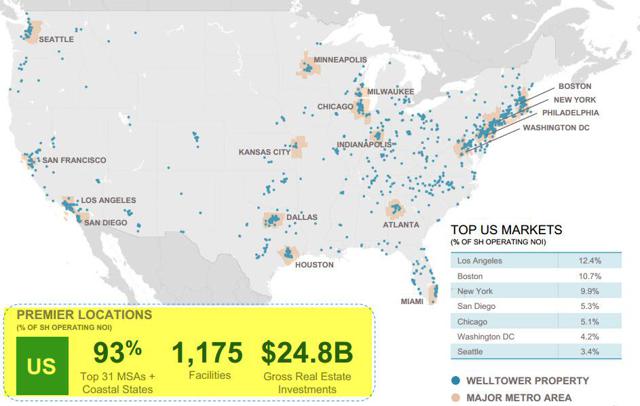 In the UK, HCN owns 110 properties, a large majority located in Greater London and Southern England.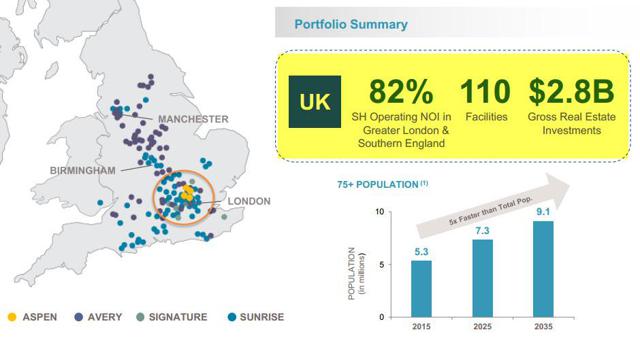 In Canada, HCN owns 129 properties in key MSAs: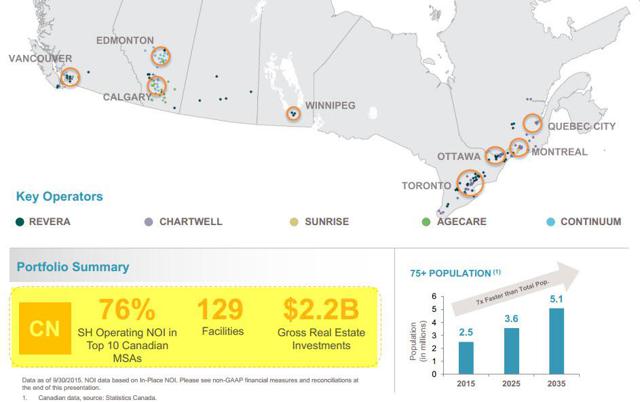 As one of the "big 3" healthcare REITs, HCN invests in most every sub-sector except hospitals and life science (HCN sold its life science JV last year to Forest City). As illustrated below, the health care sector is highly fragmented and HCN represents a small slice of the pie.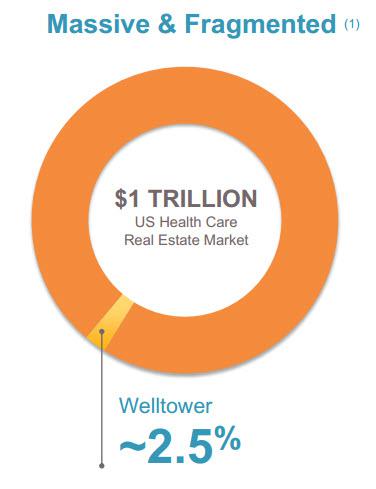 The demand in healthcare has fueled the growth in the industry and as illustrated below, the over 85 population offers a compelling opportunity for consolidation of health care owned real estate.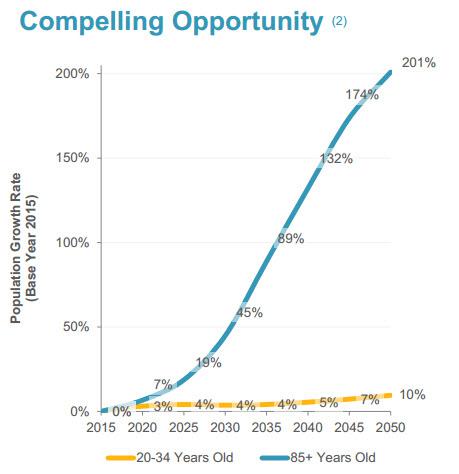 One chart (below) that I find most interesting is the annual asking rents for senior housing (in orange) compared with other major real estate sectors. It's clear to see that health care is a resilient asset class that has managed to sustain rental demand through various market cycles.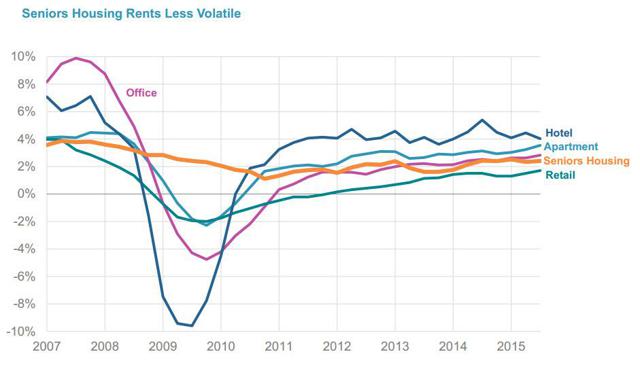 A Closer Look Inside Welltower's Holdings
As I said, the general aging population, combined with advances in medical technology and the continued implementation of the Affordable Care Act will be positive drivers of demand for health care services.
Irrespective of the demand, in 2015 many healthcare operators began to experience major setbacks related to general business execution, macroeconomic headwinds and government investigations.
The largest senior housing operator, Brookdale (NYSE:BKD), came under pressure amid merger-related integration issues and senior housing supply concerns. Brookdale's share price illustrates this concern with a 58% decline in the past year.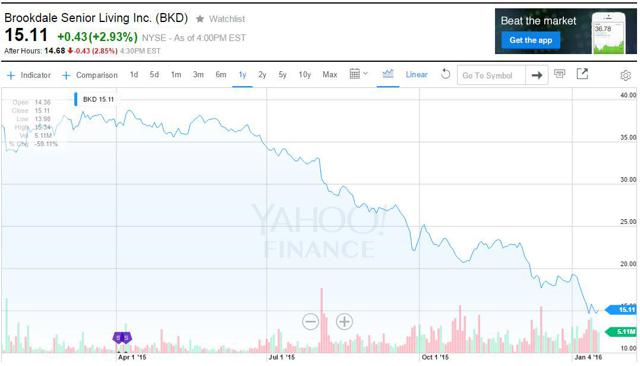 Also, investors remain cautious of skilled nursing facilities related to evidence of fraud as HCP Inc.'s (NYSE:HCP) largest tenant, HCR Manorcare, remains under investigation for overcharging Medicare, which could lead to substantial fines in the near future putting the company's existence at risk.
Kindred Healthcare recently agreed to a $125m fine to settle allegations that it knowingly submitted false claims to Medicare.
There has also been substantial concerns related to senior housing supply, with units under construction as a percentage of inventory at 5.8%, which is the highest it has been since 2008. However, given the higher-quality portfolio associated with HCN's platform, I am not concerned about the risks of new construction.
Overall, I view HCN's segment diversification well-balanced. The highest risk subsector in my opinion is SHOP (representing 35% of the portfolio).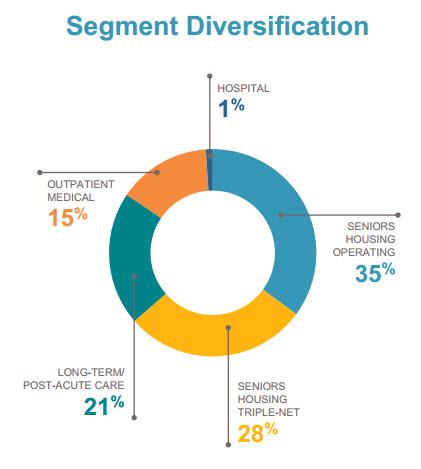 Here's how HCN's sector composition compares with other peers: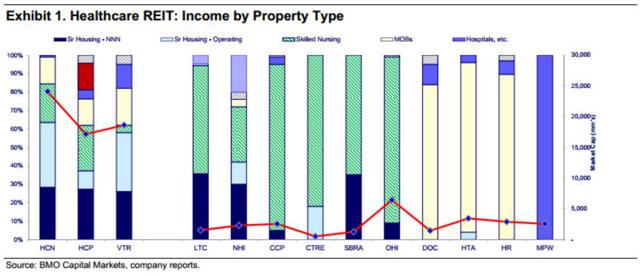 As you can see below, HCN's Top 5 customers represent 45% of overall revenue. Again, I find the diversification balanced as evidenced below: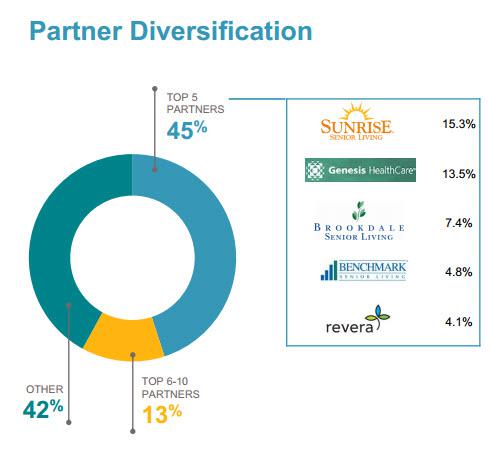 Although HCN has an over-weight allocation in the RIDEA structure, I view the mix as attractive. In a RIDEA model, the REIT participates in the earnings of the underlying properties and while growth headwinds may impact some of the REITs, I believe that HCN has the healthiest customer profile (HCP has 22% exposure to Brookdale, VTR has 9% exposure to Brookdale, and HCN has 7% exposure to Brookdale). Here's a snapshot comparing HCN's senior housing portfolio with other peers: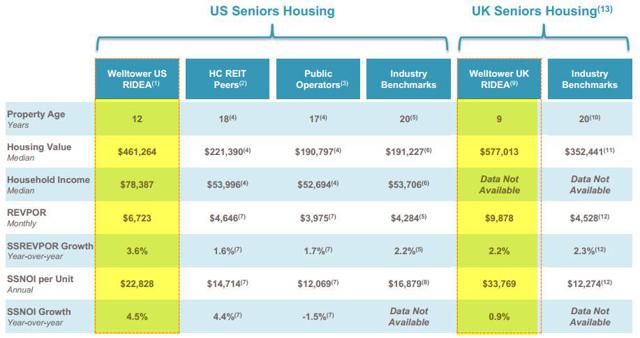 Here's a snapshot comparing HCN's post-acute portfolio with the peer group: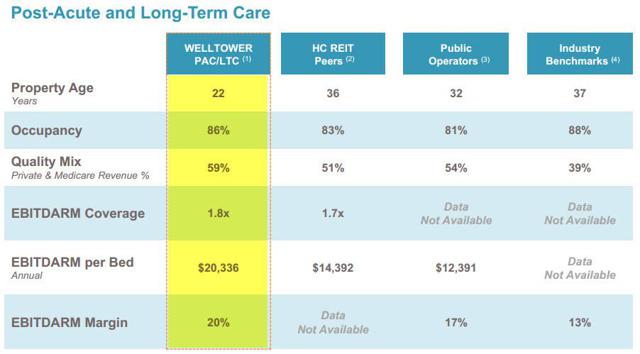 Back to the "rhino principle," remember that VTR has reduced exposure to skilled nursing (by way of the CCP spin) and has replaced much of the revenue by entering the hospital segment. Conversely, HCN maintains around 20% in the SNF sector. As you can see below, the "survival of the fittest" benefits HCN with average rental rate growth of 2.9% vs. 2.0% for senior housing.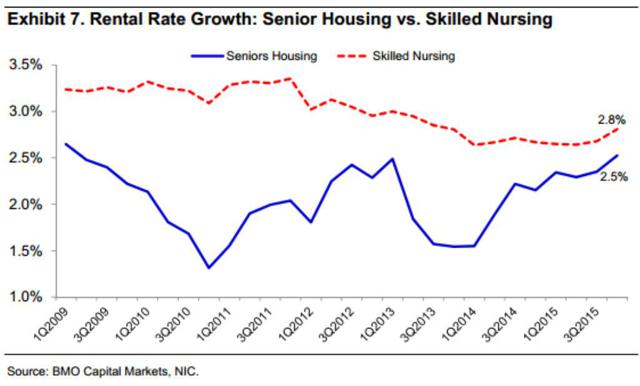 HCN also has strong outpatient medical stats as evidenced by 95% occupancy and minimal lease expirations through 2017.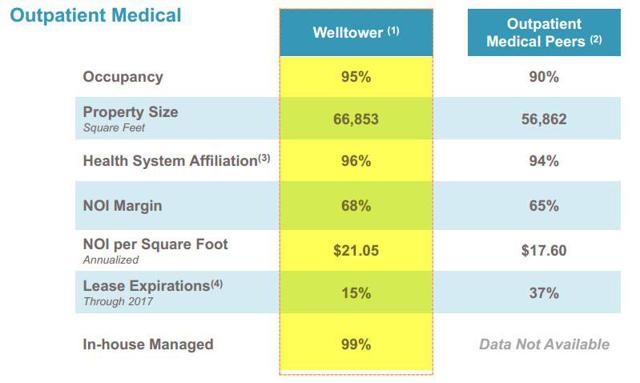 The Durable Dividend Beast
One key differentiator for HCN is the company's active portfolio management profile. Since 2007, the company has invested over $27.5 billion while disposing of around $4.5 billion. During that time, HCN has grown the company 5 times.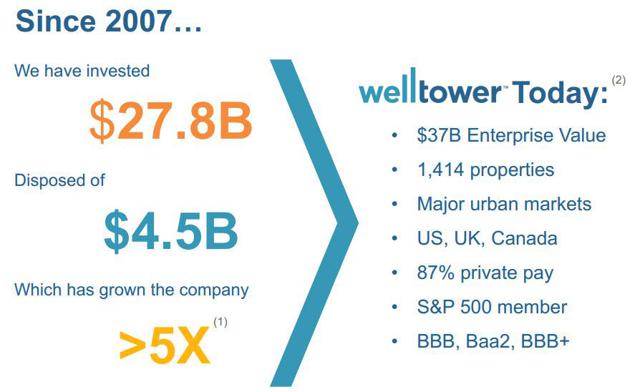 Since 2010, HCN has raised over $22.6 billion, consisting of around 38% debt and 62% common equity. Currently HCN has around 8% drawn in its $2.5 billion unsecured line of credit.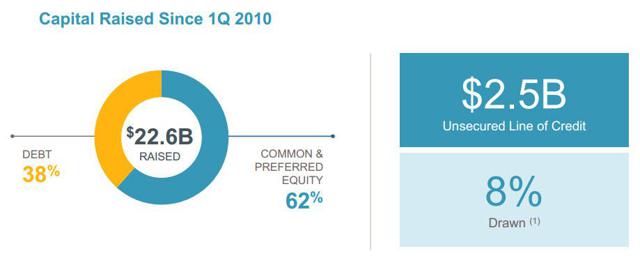 Here's how HCN's total debt to total capitalization compares with the peer group:

Health care REITs weighted-average cost of debt is at all-time lows because they have been able to consistently refinance at lower rates. The cost of debt stands at 3.9% for all health care REITs, and there may still be some room for some REITs to improve.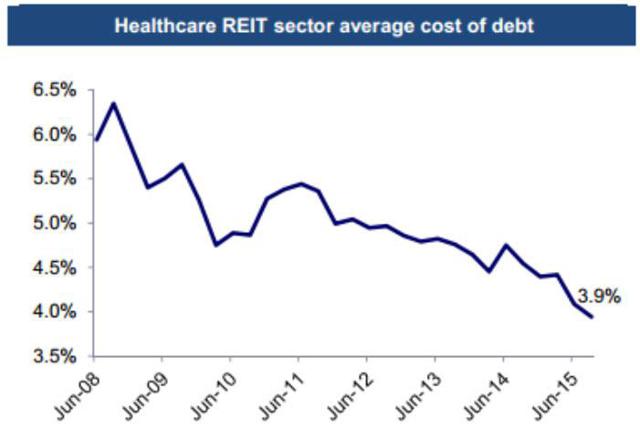 HCP, HCN, and VTR have all issued 10-year debt in the past 6 months at low rates. HCP priced $600mm at 4.1% in November 2015; HCN priced $500mm at 4.3% in October 2015. This would imply accretive refinancing on HCP's upcoming maturities, and some slight accretion for HCN's upcoming maturities. VTR is expected to see some dilution when refinancing over the next few years.
Overall, I view HCN's overall weighted cost of capital as the most attractive right now. VTR bumped leverage slightly as a result of the CCP spin. The snapshot below illustrates HCN's strong balance sheet and financial muscle: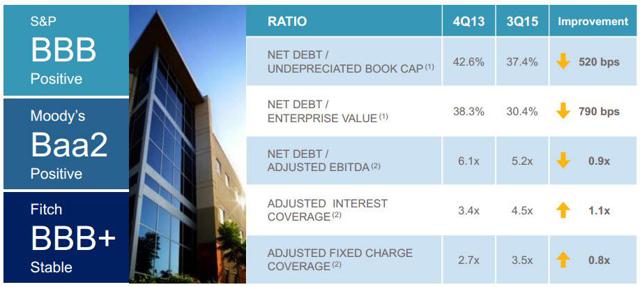 2015 was also a strong year as HCN closed or announced over $4.1 billion of new investments: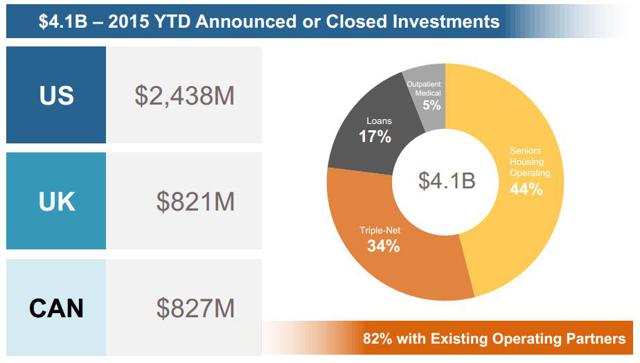 The combination of disciplined capital management, skillful risk management, and superior relationships have contributed to HCN's superior performance record: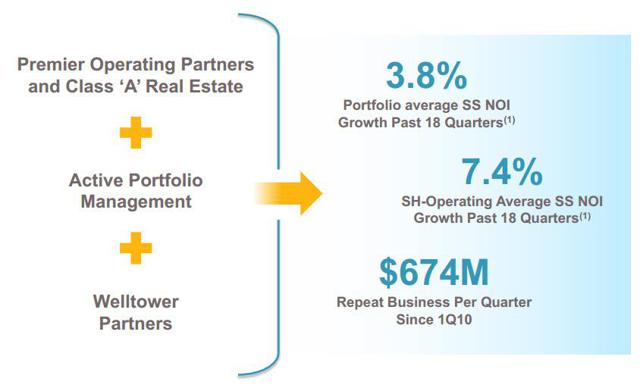 Why I'm Taking Charge!
As I stated at the outset, the power of the "rhino principle" is the ability to "take charge" and in turn generate reliable and predictable dividend performance. To survive over various economic cycles, HCN has been forced to adapt to changing market conditions and that means effectively managing risk.
One of the key differentiators with HCN has been its focus on both reducing leverage while simultaneously increasing earnings (of FFO) per share. This is no small feat - especially for a $35 billion enterprise - yet HCN has proven its skills as a leading rhino that stands above the rest by preparing for the future. The chart below is a powerful indicator that HCN is a stalwart animal in REIT-dom: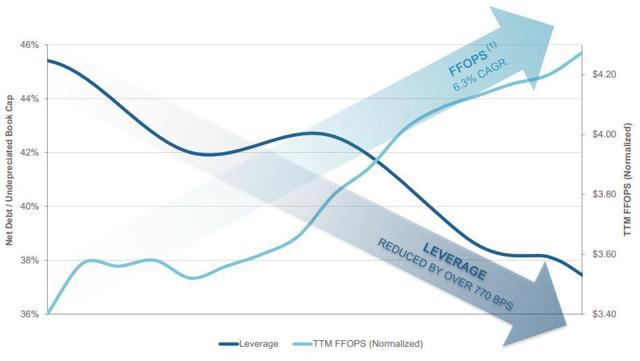 The timing for this article could be meaningful for some investors since Mr. Market decided to run from the rabbits and the rhinos yesterday. The "big 3" health care REITs were down around 4.7% in one-day trading.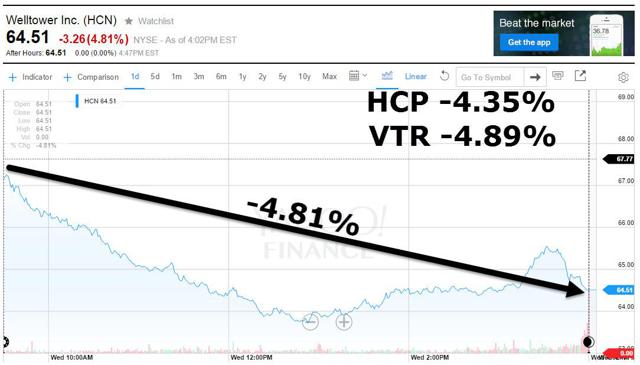 Translating that to dividend yield, HCN closed the day yielding 5.1%.

Here's a historical snapshot of HCN's dividend yield: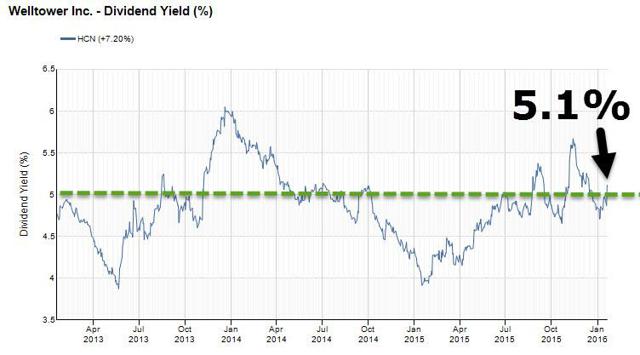 Here's how HCN compares based on 2016 P/AFFO multiples:

In these uncertain times, now more than ever, it's important to own rhinos. I know, they aren't as glamorous as lions, tigers, or bears; however, it's my job to steer you away from the monkeys (i.e. Senior Housing Properties Trust (NYSE:SNH)). My recommendations can range from higher risk (tolerance) to lower risk but the REITs with a rhino mark are in a class of their own. Here's how HCN has performed over the last 5 years:

Arguably, HCN has not grown its dividend as much as VTR, but there's a good reason for that, as I said, HCN has been reducing debt along the way. I consider the company's payout ratio sound.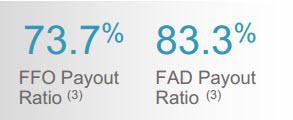 While some analysts may view HCN's RIDEA exposure as a negative, I actually consider the "partnership-focused" strategy a positive. These assets benefit from rising rents and occupancy rates and post faster growth than the rest of the portfolio.
As I said, HCN could grow its dividend more rapidly but management has opted to reduce the payout ratio and deliver a more defensive operating structure. As I see it, this provides a bigger margin of safety for variability in cash flows and allows the company to fund future growth with internally generated capital.
On October 30th, HCN said it would pay $3.44 a share in dividends in 2016 (quarterly payments of $.86 per share). Based on my analysis, HCN is positioned to deliver (and sustain) 4% annual dividend growth for quite some time. Again, this is not a sexy bird, just a boring rhino that will provide highly predictable income.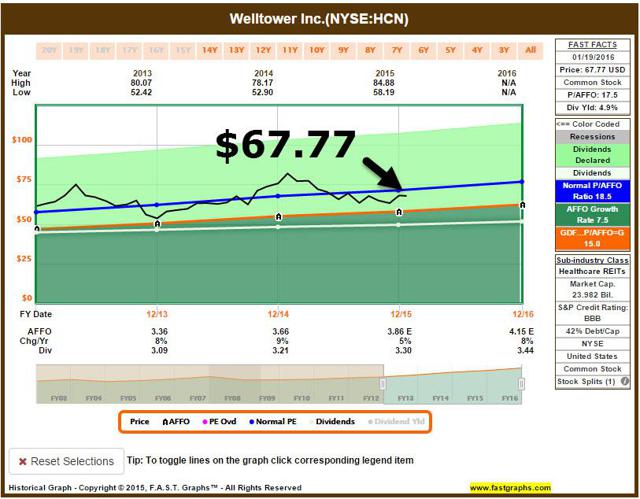 The Bottom Line: I own rhinos because they are stress-free investments. My objective is to buy the shares at a margin of safety, put them on cruise control, then sit back and let the beast take charge! (even this white rhino knows how to sleep well at night).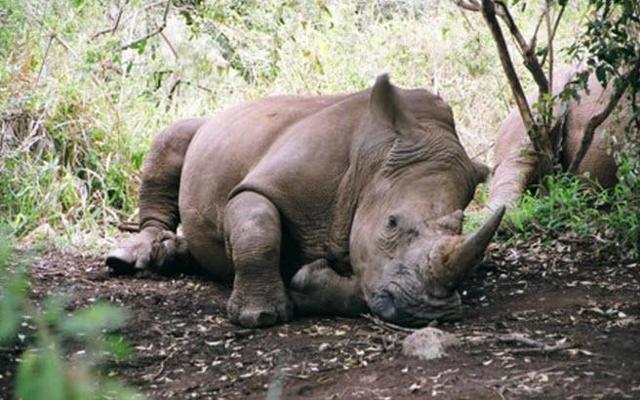 Author's Note: I'm a Wall Street writer, and that means that I am not always right with my predictions or recommendations. That also applies to my grammar. Please excuse any typos, and I assure you that I will do my best to correct any errors if they are overlooked.
Finally, this article is free, and my sole purpose for writing it is to assist with my research (I am the editor of a newsletter, Forbes Real Estate Investor), while also providing a forum for second-level thinking. If you have not followed me, please take 5 seconds and click my name above (top of the page).
The only guarantee that I will give you is that I will uncover each and every rock I can in an effort to find satisfactory investments that "upon thorough analysis promises safety of principal and satisfactory return. Operations not meeting these requirements are speculative." (Ben Graham)
Sources: SNL Financial, FAST Graphs, BMO Research, Yahoo Finance, and HCN Investor Presentation.
Disclaimer: This article is intended to provide information to interested parties. As I have no knowledge of individual investor circumstances, goals, and/or portfolio concentration or diversification, readers are expected to complete their own due diligence before purchasing any stocks mentioned or recommended.
Disclosure: I am/we are long O, DLR, VTR, HTA , STAG, GPT, ROIC, HCN, OHI, LXP, KIM, WPC, DOC, EXR, MYCC, BX, TCO, SKT, UBA, STWD, CONE, BRX, CLDT, HST, APTS, FPI, CORR, NHI, CCP, WSR, CTRE, WPG, KRG, SNR, LADR.
I wrote this article myself, and it expresses my own opinions. I am not receiving compensation for it (other than from Seeking Alpha). I have no business relationship with any company whose stock is mentioned in this article.