Oil companies are really not in a good spot at the moment. Oil prices are in free-fall and inventories continue to build...that's not a good recipe for improving Q1-16 earnings. Lower crude oil prices are weakening cash flow, and bankruptcies in the levered oil patch become more likely every day. While smaller companies are more at risk of failure than big ones, big oil companies don't get much love from investors either.
Take BP (NYSE:BP) for example. The stock reflects deep investor concerns over the probability of a dividend cut as terrifying fourth quarter results are awaiting shareholders in February.
Weak price forecast and persistent supply glut
Crude oil prices can't seem to find a bottom right now. Record crude oil inventories and the end of Western sanctions on Iran that clear the way for Iranian crude oil supplies to world markets, have hurt prices this year. WTI crude oil prices for February delivery have slumped to just ~$27 per barrel. I didn't think I'd say this, but $40 crude oil looks really good from down here.
The U.S. Energy Information Administration's latest short-term energy outlook suggested that U.S. crude production will decline in 2016 and in 2017, but the question remains whether the reduction will be enough for prices to find a bottom. The volume of Iranian crude oil supplies coming back to market are a big source of uncertainty for prices moving forward. According to the EIA:
Forecast Brent crude oil prices average $40/b in 2016 and $50/b in 2017. Forecast West Texas Intermediate (NYSE:WTI) crude oil prices average $2/b lower than Brent in 2016 and $3/b lower in 2017. However, the current values of futures and options contracts continue to suggest high uncertainty in the price outlook.

U.S. crude oil production averaged an estimated 9.4 million barrels per day (b/d) in 2015, and it is forecast to average 8.7 million b/d in 2016 and 8.5 million b/d in 2017. EIA estimates that crude oil production in December fell 80,000 b/d from the November level.
With crude oil crashing below $30 a barrel, it has now become more likely that more oil companies are going to react and slash their dividends if the supply glut does not ease substantially in 2016. That said, big oil will make it through this downturn, but bankruptcies will be an issue for independent, non-integrated oil companies. Every dollar price decline at this low a level really hurts oil companies.
Is a dividend cut priced into BP's shares?
The high distribution yields of (levered) upstream companies in excess of 15% that we have seen in 2015 were a clear warning sign that demonstrated that investors didn't have confidence in the sustainability of the distributions. And they were right. High-flying upstream companies like Linn Energy (NASDAQ:LINE), Vanguard Natural Resources (NASDAQ:VNR), or BreitBurn Energy Partners (NASDAQ:BBEP) were all forced to slash their distributions. The lesson learned, of course, was that high distribution yields are a red flag.
BP's dividend yield is not nearly as high as 15%, but the company is also not as levered and dependent on its upstream business as other companies.
BP's dividend yield did spike since November, though. It has left the 5-6% yield range, which could be considered normal for the risk shareholders accepted by investing in BP, in summer 2015. BP's dividend yield has now risen to more than 8%, underscoring that investors are skeptical about whether BP will be able to maintain its current dividend.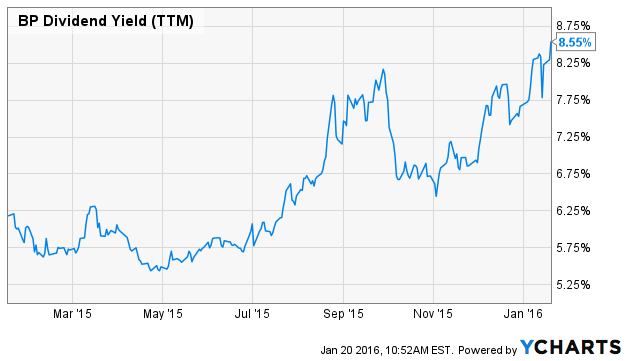 Fourth quarter results are going to lead the way
BP's fourth quarter results, which will be released on February 2, 2016 will give investor a better feel about where its upstream business and cash flow stands, and whether the company thinks it will be able to make up a cash shortfall with additional asset sales.
In any case, BP's dividend signals that investors are waiting for the company to drop the other shoe.
Your Takeaway
In light of crashing crude oil prices in the last couple of days, and a not very optimistic outlook from the U.S. Energy Information Administration, pressure on oil companies' valuation is likely going to build. BP's fourth quarter earnings will be very uninspiring, and if prices don't find a bottom soon, Q1-16 earnings are not going to be much better. I'd peg the chance of a dividend cut at ~30% at this point.
Disclosure: I am/we are long BP.
I wrote this article myself, and it expresses my own opinions. I am not receiving compensation for it (other than from Seeking Alpha). I have no business relationship with any company whose stock is mentioned in this article.