Since the beginning of 2016, the S&P volatility index (NYSEARCA:VXX) has been on fire. With the slide in the S&P (-8.6%), the fear factor has been growing and the VXX has spiked (+35.2%) (Figure 1). Many traders and investors have taken a severe beat down in the first few weeks of 2016 and are looking for explanations. No doubt, oil has been hit the worst but other sectors such as biotech have been crushed as well and are now in bear territory.
Figure 1. 2016 S&P and VXX comparison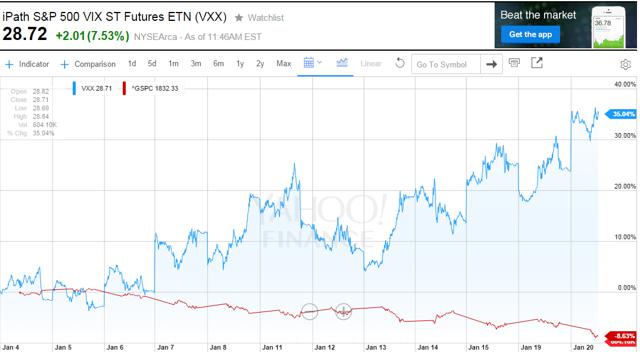 Many people are asking, should I pull out of the market? Should I hold? Should I buy more for value? Lots of good questions. My opinion is a combination of multiple approaches but my main strategy is to use the VXX as a strategy for profit. The VXX can be used to hedge your portfolio if you are long stocks. The VXX can be used to generate conservative revenue in this downslide by employing a covered call strategy to realize high weekly gains (>5%) with considerable downside protection. Which is the right choice? It depends on your strategy and your risk level.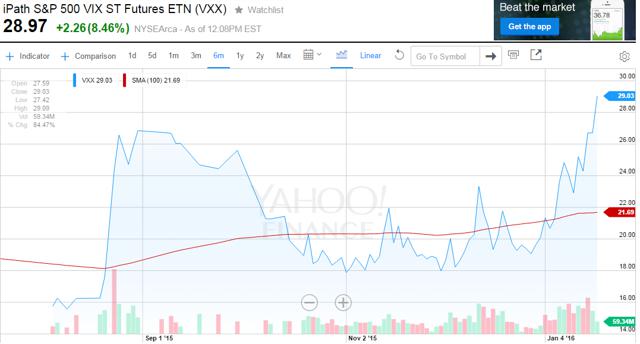 My strategy is a combination of VXX approaches to complement my portfolio. As many of you know, I am long in the biotech sector and I don't plan to sell Gilead (NASDAQ:GILD), Celgene (NASDAQ:CELG), or Bristol Myers-Squibb (NYSE:BMY) at these levels. Recently, I chose Gilead and Bristol Myers-Squibb as my best large cap plays in the sector for 2016 at these levels. I am long these investment for the future as they represent significant future upside based on their portfolios, projected earnings, and research pipeline. To hedge my portfolio, I am long the VXX. Based on the extremely high volatility in the market turn down, the VXX has been on the rise and the option premiums are sky high. One strategy I am using is to sell covered calls on VXX common stock to generate income. This is a pretty conservative investment in light of the current market meltdown. Even with the huge jump in volatility as I write today, the market premiums for next Friday are sky high (Figure 2). With 7.5 trading days to go, a covered call on common out of the money at $29.50 for January 29th, expiration is paying 2.09-$2.13. With an average price of $2.11, that represents a 7.2% premium with a maximum of 8%. That is pretty nice. A more risky approach is to use weekly options to hedge against your portfolio long positions. I am employing this strategy in moderation to capturing earnings opposite to my long portfolio in the short term. However this position is relatively small because one must use caution with this strategy since option premiums are so high, time to expiration is short, thus making premium erosion is extremely fast which can crush you if the market goes against you in the short term while continuing the long term trend.
Figure 2. January 29th VXX option chain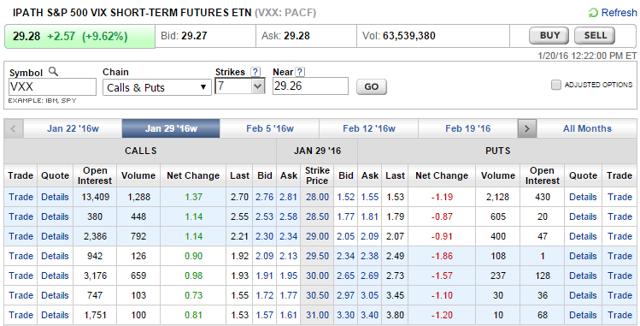 With this strategy in place, one has to think about going long VXX common stock and just holding. Being more conservative in nature, I think the market could be in for some more hurt and continue the downward spiral in 2016. A more conservative bet is buying the common stock and selling the January 20, 2017 Leap at $29 for $8.95-$9.20. Assuming the midpoint, that represents a $9.07 call price (31.3%) covered call premium, you have considered downside protection in this environment with a large 30+% gain. This puts the breakeven point under $20 which makes this a reasonable play for investors that want to hold this strategy and go on autopilot for a while.
Figure 3. January 20, 2017 VXX Option chain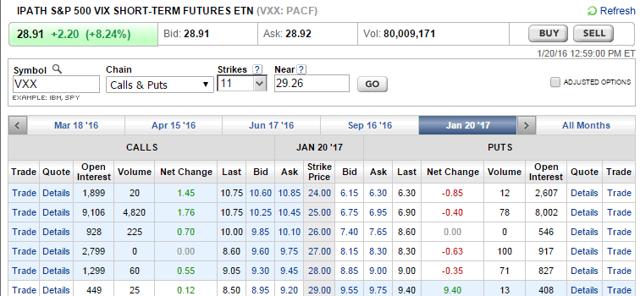 Best of luck to all of my colleagues in this stressful time.
Disclosure: I am/we are long VXX, GILD, BMY.
I wrote this article myself, and it expresses my own opinions. I am not receiving compensation for it (other than from Seeking Alpha). I have no business relationship with any company whose stock is mentioned in this article.