Exelon Corp (NYSE:EXC) has one of the industry's largest portfolios of electricity generation capacity, with a nationwide reach and strong positions in the Midwest and Mid-Atlantic. It is the largest owner/operator of nuclear plants in the United States. Exelon delivers electricity to approximately 5.4 million customers in northern Illinois via ComEd and southeastern Pennsylvania via PECO, as well as natural gas to approximately 494,000 customers in the Philadelphia area via PECO. Exelon is headquartered in Chicago.
Exelon was the #1 U.S. utility for the second year in a row on Forbes Magazine's 2011 list of the world's 2,000 largest, most powerful public companies. Exelon has been the top-ranked electric and gas utility on the FORTUNE 500 for four years running. Exelon was the #1 U.S. electric utility on Platts' Top 250 Global Energy Companies list in 2011.
So why is a company that is ranked #1 in so many areas having issues with stock appreciation, while other utilities/generation companies are at 52 week highs?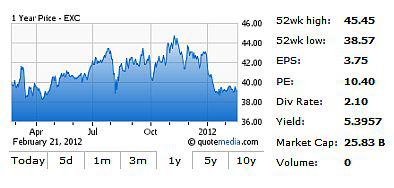 Dominion Resources (NYSE:D) is just under an all time high and now approaching an area where it is going to pay 70% of its earnings towards its dividend. Dominion's PE also sits at about 19 for the year, and the company is going to repeat earnings from 2010 and 2011.
Duke Energy (NYSE:DUK) is also just under an all time high and expects earnings of $1.40-1.45 a share for 2012, with a dividend payout of $1.00. This is about a 70% payout. Duke's net profit margin and operating margin were 9.25% and 16.17% respectively. This is a stock that had earnings of $1.46 for 2011, the prediction for 2013 is more of the same.
Southern Company (NYSE:SO) is in the same boat as the other two stocks above, just under an all time high as well. The company is currently at a 73% payout. However, unlike the two stocks talked about above, Southern appears to have some earnings appreciation for the next two years, at 15 cents a share additional for 2012 and an additional 15 cents a share for 2013.
So I have compared three smaller but similar utilities to Exelon. Exelon is a 19 billion dollar company, which will be closer to a 30 billion dollar company once the merger with Constellation (NYSE:CEG) is completed. Exelon, which is already in many ways the rule maker in the industry, will now just have more clout in the generation field. Exelon just received approval from the state of Maryland on Friday, leaving it just one more hurdle to clear. This 9 month process thus far, is what has held Exelon's stock price down. Here are some more issues to consider before jumping into Exelon.
Exelon's earnings for 2011 were 4.16 a share and are projected to be $3.04 for 2012 and $2.86 for 2013. These are a large cause for concern. Exelon's income comes from its generation. 67% of its generation comes from Nuclear. Exelon's capacity factor for its Nuclear facilities was over 93% for 2010, which is best in the industry. In 2011, we saw, of course, the disaster in Japan and Exelon had some additional expense in maintenance and fueling costs of its reactors. Nuclear power is now competing even with Natural Gas as a baseload generation, with the cost of natural gas at a 10 year low. Exelon has sold the majority of its 2012 generation at even lower prices than 2011, which has been the main driver for decreased earnings projections. The company has begun to sell some 2013 generation, which has not commanded a higher price per megawatt.
Constellation's earnings have been projected as 2.43 a share for 2012 and 2.78 for 2013. This equates to about 490 million for 2012 in income, and 560 million for 2013.
The merger between Constellation and Exelon will give existing Constellation shareholders 0.93 shares of Exelon stocks for every share of Constellation stock. The dilution of stock will make it that 78% ownership is original Exelon, and 22% is Constellation. Using some math, this will leave Exelon with 850.82 million shares of Common Stock, up from 663.64 million currently. Here are my calculation for the following combined earnings for 2012 and 2013.
2012: EXC: 2.017 billion + CEG: 490 million = 2.507 billion

2013: EXC: 1.898 billion + CEG: 560 million = 2.458 billion
Exelon also mentions on its merger website that it expects to increase combined earnings by 5% based on the merger for 2013, which would increase the profit for 2013 to $2.58 billion.
What does this mean for EPS and Forward PE (based on $40 per share price) for the combined company?
2012 EPS: $2.95 Forward P/E: 13.56

2013 EPS: $3.03 Forward P/E: 13.20
What else does this mean for Exelon? Like the companies I compared it to above, it will be paying nearly 71% of its earnings out in dividends for 2012, and just slightly less in 2013. However, its forward PE is still less than Dominion, Duke or Southern Co.
I believe that Exelon's price was held down by the merger. Now the price is down (for good reason) because of forward earnings predictions; based on extremely low natural gas prices and the higher costs it has incurred to run its baseload generation, which is 67% nuclear.
Why should you avoid Exelon? If you believe that natural gas prices are going to stay around 2.60, or even go lower with increased production here in the United States. Another play to avoid Exelon is if you are adverse to nuclear generation, which is always one accident away from bankrupting an organization that favors it so heavily. One other reason to avoid Exelon is if you believe a giant 30 billion dollar utility will not be able to run as efficiently as it feels it will.
Why should you buy Exelon? Exelon has essentially hedged its own bets in generation. Currently, Exelon has 25,000 MW of generation, which is approximately 17,000 MW of Nuclear Generation. The company is buying Constellation, which has 11,000 MW of generation (which is approximately 5,500 MW of Natural Gas generation). Combined with Exelon's 2,700 MW of Natural Gas generation, the company will now have over 8,000 MW of this. With natural gas at a low price, this can allow Exelon to run these plants baseload to offset coal production, and an added bonus, spare production during refuel outages for the company. The company can basically create its own replacement energy without going to the open market to buy more. This is definitely a monopoly effect, so to speak.
Talking a bit more about coal, First Energy is closing six plants immediately based on EPA concerns with Mercury. Nearly 75% of coal plants are now over 30 years old, and the cost/benefit to make these plants run more environmentally friendly is just not there. This is going to reduce the available amount of generation available in the market. Luckily, the new combined Exelon company has only about 6% or 2,000 MW of its portfolio in coal fired power plants. The same article I have linked to above is projecting based on the cost of building new power plants; the majority of new power we are going to see will be from natural gas fired units.
Summary and Conclusion: I wrote an article about Dominion last week advising to sell the name. I recommended Exelon as a better choice. I had a few comments that if Dominion gets its Cove Point LNG plant running, that it would be a large moneymaker for the company. However, this plant won't be functional until late-2014 at the earliest. Dominion and Duke, much like Exelon, are currently showing flat earnings over the next two years, but those two stocks are trading near all time highs, with PE's at 19 and 15.5 respectively. Exelon's forward PE stands at just over 13, and with a PE of 17, it would sit the stock at around a $50 price point. Exelon is hurt currently with low projections on generation prices. These do not affect Southern Company (which is almost completely regulated generation/distribution). Hence, the reason why Southern Company continues to forecast modest earnings gains for the next 2 years.
I believe that with some generation coming off of the market, (coal power plants being retired) along with the economy starting to upswing, we will see a modest price increase in non-regulated generation. This will also be alongside a small increase in natural gas pricing, as companies will flock to the very cheap fuel source. Both of these items will increase earnings for Exelon. My belief is that we will continue to see this company find ways to beat earnings and keep its shareholders happy. At a price right around $40 a share, with a dividend yield of 5.25%, now is a great time to jump on the Exelon bandwagon.
Disclosure: I am long EXC.
Additional disclosure: I have a limit order in to sell DUK at 21.50 a share.