Introduction:
New Oriental Education (NYSE:EDU) reported second quarter 2016 results on the 19th of January before the market open. The results saw them beat both top- and bottom- line estimates marking a successful turnaround for their operations. Regular followers of EDU will recall that I had talked about their restructuring in my initiation report on EDU in October last year that should see EDU re-rated. I think the latest results announcement, which follows their strong performance in the first quarter puts EDU firmly on track on the path of recovery. I am long EDU.
Strong Second Quarter Results beat put them firmly on recovery track
EDU reported second quarter 2016 results (Fiscal year begins in June) before the market open beating both top- and bottom- line. Revenue was up 17.7% on a year-on-year (yoy) basis accounting for foreign exchange adjustments. When we exclude foreign exchange (negatively impacted by depreciation of the CNY) however, the results beat was an impressive 22.1% driven up by total enrollments. I think what makes this even more impressive, is that EDU managed to do all this from their existing centers and not from newly opened centers. This highlights the success of their restructuring efforts of focusing in cities they have a competitive advantage in rather than simply
I think the slight concern in the latest results would be the decline in the ASP's (calculated by taking the revenue divided by total teaching hours) by 7% on a yoy basis. The decline however, is really the result of a change in the accounting policy. When we ignore the accounting policy change however, ASP's is flat.
Investments in new technology to drive future margin improvement
The results announcement conference call started with the newly appointed President of EDU, Chenggang Zhou talking about his role in optimizing marketing strategy and in particular, their O2O integrated education ecosystems. This is important to differentiate EDU from the rest of their competitors.
The spending on O2O, which is expected to end by May this year (end of their fiscal year), will see EDU create an integrated education ecosystem like none of their competitors and take advantage of the fast-growing online segment. When we assume no future capex spending on new technology in FY17, EBITDA margins improve from 16.5% in FY15 to about 17.5%.
Dispelling the concerns of EDU
Since peaking at $32.95 in December last year, EDU has corrected over 14% in less than a month based on their closing price yesterday (19th of January). I think the steep sell down is evidently a result of the general risk-off sentiment towards Chinese stocks.
The latest results announcement however, shows that despite the slowdown, the education business in China remains resilient and rightly so. The one-child policy (which was recently abolished) in China means that Chinese couples place a lot (sometimes all) of their hopes on their child to succeed in life. The Chinese see education as the only route to success and the surest way to break out of the poverty trap. The result is that Chinese couples spend heavily on tuition fees to give their kids one leg up over the competition.
The concern over fee collection is also unwarranted in my view as EDU collect their fees three to four months in advance. This removes the chance of any bad debts and should give investors comfort.
EDU has also guided that they will be increasing fees by about 5 to 10% every year, and I think this will further boost margins as labor costs in China has recently moderated in the face of an economic slowdown.
I think investors also do not give enough credit to EDU for not having any debt on their balance sheet. EDU does not have any outstanding debts on their balance sheet, which allow them to lever up if they want to take advantage of any opportunities that come by. This is in contrast to other firms, who have borrowed USD debt and are facing difficulties servicing the debt because of the RMB devaluation.
Valuations
Based on their closing price on the 19th of January, EDU is currently trading at 21.4x of earnings versus Tal Education's (NYSE:TAL) 46.5x. I think this is still undemanding vs. the 16.6x at initiation. On a forward basis, they are trading at 19.5x earnings but the strong results beat in the latest quarter means that analysts are likely to upgrade earnings over the next few weeks, which is a positive for EDU.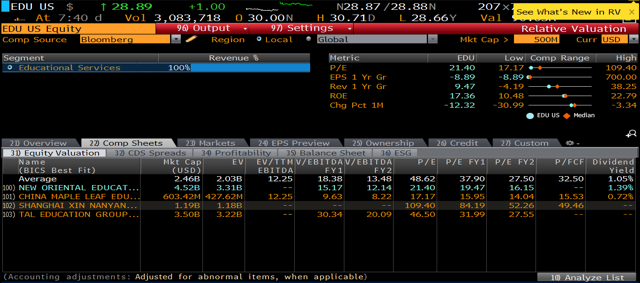 Source: Bloomberg
Conclusion
The latest results shows that the restructuring effort that management had embarked upon is starting to bear fruit for shareholders in terms of improved utilization rate and margins on a yoy basis. The recent share price correction presents investors an opportunity to accumulate stocks of EDU on the cheap. The near-term concern is whether a further devaluation of the RMB will act as an overhang on the counter. Nonetheless, I think the fundamentals of EDU is sound and I will be adding to my positions on dips.
Disclosure: I am/we are long EDU.
I wrote this article myself, and it expresses my own opinions. I am not receiving compensation for it (other than from Seeking Alpha). I have no business relationship with any company whose stock is mentioned in this article.