XPO Logistics (NYSEMKT:XPO) announced its fourth quarter results on Tuesday, after the market closed, and it was sketchy at best. At first glance it may look as though the company is regressing, but if you dig deeper there are some positives from its earning report. As a long-term investor of XPO the lack of operational progress is frustrating, but maybe our expectations are too high and need to come down to earth. Therefore, let's look at the company's Q4 and try to identify the positives and negatives to make a better investment decision.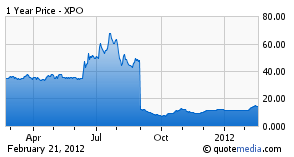 It's safe to say that I have been one of the more bullish financial writers covering XPO Logistics over the last year, giving it a $100 price target within the next five years. Like most XPO investors, I was overwhelmed with joy when Bradley Jacobs made his $150 million investment last year and I assumed an automatic road to success based on his exceptional resume. But after two consecutive quarters of loss and no acquisitions to date, investors may be feeling a bit impatient.
The impatience is well deserved; the stock is up 55% over the last three months yet some believe this report could cause massive selling pressure. Therefore, with recent gains should investors sell shares and take profits or buy on the dips and ride it higher? Let's try to dissect the company's Q4 and determine what's ahead.
Q4 Highlights
The company announced revenue of $44.1 million, a gain of 6.4% year-over-year. It posted a net loss of $1.5 million compared to net income of $820,000 in the year prior. And its EPS for the quarter dropped to (0.27) from 0.10 in 2010. Both the expedited transportation and freight brokerage segments returned large year-over-year gains while the freight forwarding business dropped nearly 5%. And the company finally hired a CFO, investment banker John Hardig, who most believe is well equipped for the job due to his extensive knowledge in transportation, along with mergers and acquisitions.
Positives
At first glance the earnings report looks bad, but if you dig deeper there's quite a few areas for optimism. The John Hardig hire is a big win for the company because of his experience in acquisitions and mergers, especially since a large portion of the company's growth plan revolves around acquisitions. The company also announced six additional hires in which three had long-term working experience at transportation giant C.H. Robinson Worldwide (NASDAQ:CHRW).
These hires are great additions to a newly hired executive team that's more likely to be seen at billion dollar companies rather than a small company such as XPO Logistics. I feel comfortable with the management team that has been put into place with people such as Greg Ritter who is yet another hire from the C.H. Robinson family and its senior VP of strategic planning Scott Mallat who left his cozy job at Goldman Sachs (NYSE:GS) to join the team at XPO. I think investors should feel confident that the best possible team has been put into place in order for this company to reach its ultimate goal.
The quarter reflects a gain in revenue and gross margins which in large part is due to its 27.2% growth in its freight brokerage segment. I am very encouraged at the growth from this particular segment, which is still very small in terms of the company's overall revenue stream, but is estimated to be a $150 billion global market. I think this segment, along with the expedited transport segment, is well positioned for future growth considering the amount of money that is available to invest.
The company once again reiterated its plan for cold starts and stated that it's on track to meet all of its goals. The company should be well positioned especially since it has $74 million in cash compared to just $561,000 in the year prior. This number sticks out to me more so than any fundamental measure on the company's earnings report because it shows that as a long-term investment the company is well capitalized and positioned for future growth. In addition, because of its cash pile the company's long-term liabilities have significantly declined to just $3.2 million compared to $7.4 million in the year prior. Therefore, with $74 million in cash and just $7.4 million in long-term liabilities, it seems as though its financial position will remain solid for many years to come.
Negatives
The most obvious area of concern is the company's net loss of $1.5 million compared to its $820,000 profit in 2010. This is especially frustrating to investors who thought the company could maintain profitability after one time accounting charges resulted in a $44 million loss in Q3. But because of its dream team executive team and an increase in purchased services the costs have increased by a substantial margin.
In 2010, during the same quarter, the company spent $3.3 million on salaries and benefits but in 2011 salaries increased 64% to $5.45 million. In addition to high paid hires, the company's purchased services increased 144.8% to $1.8 million, and Jacobs' 4% annual dividend isn't helping the total costs, which accounted for the majority of its additional costs. These costs and the net loss that the company is accumulating isn't necessarily hurting the operations of XPO but it is hurting the confidence of investors who expect immediate results.
The lack of acquisitions is discouraging for investors who believed that acquisitions would be often and plentiful. So far Jacobs has yet to acquire any companies despite reports that he had supposedly met with nearly 100 potential takeover candidates at the time of his $150 million investment. In the past, Jacobs has built multi-billion dollar companies in a period of less than five years, most in four years, but if he plans to accomplish this feat in this amount of time the company will have to become more aggressive in its approach.
Conclusion
The net loss is discouraging and the lack of acquisitions is frustrating but the company is showing signs that it's moving in the right direction. The first step in growing any great company is the leadership and I believe that XPO Logistics has the leadership in place to build a successful company. But there's no doubt that during Jacobs' first two quarters as the CEO the spending has been out of control.
XPO Logistics is making the moves that you don't see quite often in a publicly traded company. Jacobs and company are saying all the right things and making all the right moves but aren't operating in a way to please the shareholders seeking immediate gratification. Instead, the company isn't worried about bottom line expectations and is spending money very fast to create more growth in the future. This is quite refreshing considering how obsessed most companies are with meeting guidance; we've seen in the past companies trading with record earnings but laying off employees to hit guidance. However, XPO is choosing to spend its money that it has and look further down the road than just the next quarter.
Investor's Perspective
As an investor I am encouraged by the quarter and XPO's strategy for growth. It has been no secret that the company plans to grow through cold starts and acquisitions, a strategy that has worked for Jacobs during all of his ventures in the past. Therefore, I am keeping my $100 price target for XPO by 2017 and expect a market capitalization of at least $800 million because I believe that Jacobs will achieve his goal of turning XPO into a multi-billion dollar company based on the company's position and its strategic plan.
To conclude, I will say that as an investor I hope the market responds negatively to earnings and the stock drops 30%. I am in this for the long haul and any pullback allows for me to purchase additional shares at a cheaper price. XPO is already my third largest holding and I would like to make it my second largest, behind only Apple (NASDAQ:AAPL). With a strong executive team in place I think that XPO can now turn its attention to acquisitions and that the next few months will provide key developments that all XPO investors have long awaited, acquisitions.
I have heard Jacobs say on several occasions that the transportation brokerage business is very fragmented; therefore, I anticipate there being a large number of companies that are begging to be purchased. Because XPO not only has the cash to buy these companies and finance the operations for it to grow, but also the leadership and experience for all new additions to become successful and aid in future growth that is almost guaranteed.