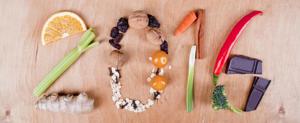 As markets continue to see selling pressure, investors should look to food as a place to hide. Consumers might be cutting back on iPhones and gold watches, but they can't stop eating. Below, we explore five top Zacks-rated stocks where there is potential to hide.
Campbell Soup (NYSE:CPB) is a household name known for its soup and also a Zacks Rank #1 (Strong Buy). Campbell isn't just a soup of course; it owns many other grocery store names including Swanson, Prego, Pace, Plum, Pepperidge Farm and V8.
The company sports a $16.5 billion market cap with a forward P/E of 19. The valuation seems high for a company like Campbell, and that is shown by a valuation Style Score of "D". However, a mild inflationary environment, as well as supply chain improvements, is leading many to believe that margins can improve, helping the bottom line.
Analysts are in agreement with that notion, as we have seen 10 upside estimate revisions over the last 60 days. Furthermore, those revisions have been rising from $2.60 to $2.81 during that period, an 8% move higher.
CPB also pays a 2.33% dividend, which will support the stock if macro market pressures persist. Below is a 10-year chart where you can see the outperformance of the stock versus the S&P.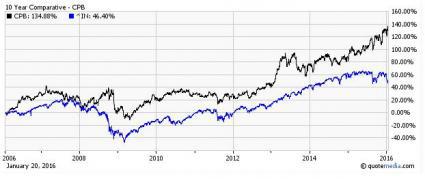 ConAgra (NYSE:CAG) is a packaged food company and a Zacks Rank #2 (Buy). The company offers products many of us are familiar with, such as Banquet, Blue Bonnet, Chef Boyardee, Healthy Choice, Hunt's, Orville Redenbacher's, PAM, Peter Pan, Slim Jim, and Swiss Miss.
The Omaha, Nebraska-based company is valued at $17.4 billion with a forward P/E of 17. The chart below shows that ConAgra has surprised on EPS five out of the last six times. More importantly, price action following earnings was to the upside. ConAgra also has a dividend, paying investors 2.5% to wait out the market rout.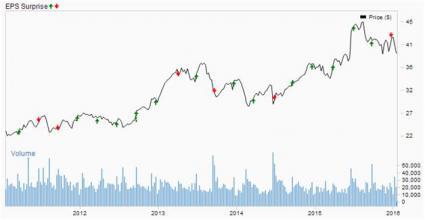 Post Holdings (NYSE:POST) is a North American manufacturer, marketer, and seller of cereal products and a Zacks Rank #2 (Buy). Some popular brands include Post, Honey Bunches of Oats, Grape-Nuts, Honeycomb Frosted Mini Spooners, Golden Puffs, Cinnamon Toasters, Abbotsford Farms, Simply Potatoes, Crystal Farms, PowerBar, Uncle Sam, Erewhon, Sweet Home Farm, and Pebbles brands.
The company has a $3.5 billion market cap with a forward P/E of 42. There are obvious valuation concerns when it comes to Post, but investors feel this will be justified as recent M&A benefits will start to help the top line.
Analysts have revised the current fiscal-year estimates 13.5% higher over the last 60 days, from $1.19 to $1.35.
TreeHouse Foods (NYSE:THS) is a North American food and beverage manufacturer and a Zacks Rank #2 (Buy). The company issued guidance last Thursday, leading investors to look closer into the company and its peers. However, today's offering of $750 million (24.3% of market cap) of common stock has investors on edge, pushing the stock down 5%. The offering is to fund part of the acquisition of ConAgra's private brands business.
The company raised its 2015 adjusted EPS to $3.14-3.17 versus the $3.06 expected; the prior outlook for the fiscal year was $3.00-3.15. It went on to guide fiscal-year 2016 at $2.95-3.10 versus the $3.27 expected. These 2016 numbers are a bit misleading, as they include the pending acquisition of CAG's private brands operations. Additionally, it expects revenue to come in at $860-870 million below an $877.1 million consensus. The decrease in net sales was due to the unfavorable Canadian foreign exchange and coffee pricing.
The reaction to the guidance was an overwhelming positive, with the stock up 5%, on above-average volume. The earnings report was a relief to investors as the stock was down over 20% from its 52-week highs.
This raise in guidance is a trend since 2013. TreeHouse has surprised to the upside, 10 out of the last 12 times, with price following EPS momentum. Over the last month, the market has undoubtedly had a drag on the stock, allowing it to get to attractive levels for entry. Today's offering gives investors another chance to get back in the stock, provided they believe the acquisition will benefit over the long term.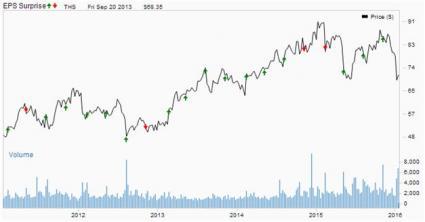 Chefs' Warehouse (NASDAQ:CHEF) is a distributor of specialty food products and is a Zacks Rank #2 (Buy). The company serves the finest restaurants, hotels, caterers and gourmet stores in North America.
Chefs' is a relatively small company with market cap of $375 million and a P/E of 16.66, which creates a value opportunity within a growth story. This is shown in Chefs' Value and Momentum Style Scores of "B" and Growth Style Score of "A".
The company issued guidance last week for fiscal-year '16, with revenue at $1.15-1.20 billion versus $1.19 billion expected. It was disappointing to the market as the stock sold off, but the company's long-term prospects remain, as the CEO remarked:
"2016 is shaping up to be another great year for the Company. We expect that growth in our core specialty business will remain solid, which will be fueled by growth in unique customers, placements and cases. Our protein business is also well-positioned for the year ahead as we expect to continue to rebuild Allen Brothers profitability and complete the integration of Del Monte. In addition to growing our existing markets, we will also continue to opportunistically pursue entering new markets through acquisitions."
In Summary
Food companies offer investors a place to hide as the market sells off. The dividend players of the group like ConAgra and Campbell offer a lower-risk opportunity. The more growth-oriented stocks like Post, TreeHouse and Chefs' Warehouse will be volatile, but offer a better long-term risk/reward scenario.