Kinder Morgan (NYSE:KMI) has just reported its Q4 2015 results. While the share prices does not reflect it, the company posted okay numbers. In addition, the guidance for next year was fairly stable given where energy prices are. As of this writing, shares of KMI are 4% higher in after-hours trading.

A look at DCF
For better or worse, KMI uses distributable cash flow, or DCF, as the main yardstick for measuring its success. The company plans its investments and capital deployments in order to increase this measure on a per share basis.
As a result, the Q4 2015 DCF numbers are surprisingly strong. DCF came in at $1.23 billion, 4% lower versus Q4 2014's $1.28 billion. On a per share basis, DCF was closer to $0.55, versus $0.60 last year. Though, these numbers are an 8% improvement from the Q3 2015 low of $0.51. Furthermore, the y/y decline is mostly due to lower oil prices -- if prices had been flat, DCF would have been ~$77 million higher, or ~$0.59 per share.
Nevertheless, despite lower oil prices, KMI's DCF in 2015 was $2.14 per share, up 13% from $1.89 per share in 2014. Contrary to what many would imagine, this company still grew cash flows at a double-digit rate this year.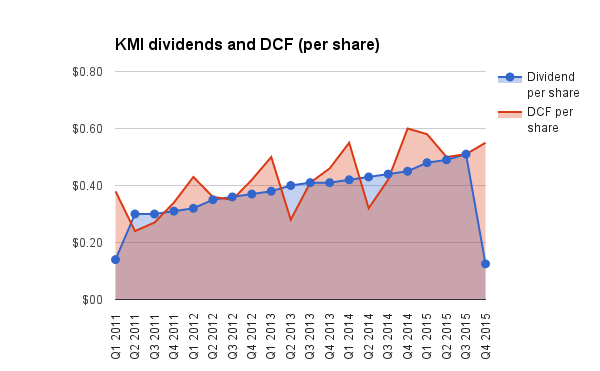 Weakness in CO2
Coming as no surprise, KMI's CO2 segment posted a large 21% y/y decline in segment earnings to $292 million versus $369 million, as the average WTI price was $42.18 per bbl versus $73.15 per bbl last year. With prices already much weaker for Q1 2016, expect segment earnings to drop even more.
Weakness in coal terminals
One of the more underreported issues facing KMI is its exposure to coal. While not a producer, it was handling a large amount of the exports of the product via it terminals. With the bankruptcy of two major producers, Arch coal and Alpha Natural Resources, KMI loss out on ~$45 million in segment earnings as exports fell 50% y/y. Segment earnings for terminals were just $257 million, down 7% from $277 million last year. Though, the decline would have been worse if not for long-term minimum tonnage commitments and offsetting growth from the added Jones Act tankers.
Strength in natural gas pipelines
Many do not realize that natural gas, not oil, is KMI's primary earnings driver. Its natural gas pipeline segment posted segment earnings of $1.10 billion up 4% from last year. Though, earnings would have been higher if not for very weak prices natural gas and NGLs. The company noted strong volumes on the Tennessee Gas Pipeline as new connections were put into service. Transport volumes grew over 5% from last year.
Product Pipeline business is booming
By far KMI's best performing assets are in its Products Pipelines segment, which saw 28% segment earnings growth to $289 million, versus $225 million last year.
This unit benefited from strong volume growth at the Kinder Morgan Crude and Condensate Pipeline and facilities near the Houston Ship Channel and from the start up of several of the splitter "petroleum condensate processing facility" projects. The company noted that crude and condensate volumes more than doubled versus Q4 2014 levels and tripled on a full year basis.
2016 guidance not as bad as feared
KMI also provided its initial 2016 outlook.
On Dec. 8, 2015, KMI issued its preliminary financial projections for 2016. Since providing this guidance, the company has updated its 2016 budget to reflect current commodity price and foreign exchange rate expectations as well as its high-graded investment plan. As a result, for 2016, KMI expects to declare dividends of $0.50 per share, generate approximately $4.9 billion of distributable cash flow available to equity holders and approximately $4.7 billion of distributable cash flow available to common shareholders (i.e., after payment of preferred dividends) and generate approximately $3.6 billion of cash flow in excess of its dividend. KMI's revised growth capital budget for 2016 is approximately $3.3 billion which is a reduction of approximately $900 million from the preliminary 2016 guidance. These expectations assume an average 2016 West Texas Intermediate (NYSE:WTI) crude oil price of $38 per barrel, an average 2016 Henry Hub natural gas price of $2.50 per MMBtu and interest rates consistent with the current forward curve.

The overwhelming majority of cash generated by KMI is fee-based and therefore is not directly exposed to commodity prices. The primary area where KMI has commodity price sensitivity is in its CO2 segment, where KMI hedges the majority of its next 12 months of oil production to minimize this sensitivity. For 2016, the company estimates that every $1 per barrel change in the average WTI crude oil price impacts distributable cash flow by approximately $7 million and each $0.10 per MMBtu change in the price of natural gas impacts distributable cash flow by approximately $1.2 million.
A few quick takeaways:
DCF of $4.7 billion (after preferred dividends) comes out to ~$2.13 per share,
Excess DCF after dividends is $3.6 billion, fully covering the $3.3 billion in capex
Capex budget cut by $900 million from earlier estimates
Free cash flow (after dividends and capex) of $300 million
In other words, DCF will be flat in 2016 versus 2015. This is assuming very low oil prices of $38 per bbl. If oil prices were at $50-$60, DCF per share would be closer to $2.20 per share.
This supports KMI's previous statements that it would have been able to grow its prior $2.00 per share dividend by 6%-10% in 2016 to ~$2.12-~$2.20 while keeping the coverage at or above 1.00x.
The $900 million in capex cuts were not detailed, though one can assume that this will largely come from the CO2 segment.
As for the $300 million in free cash, this will be used towards debt. KMI noted during its conference call that debt-to-EBITDA is expected to be at 5.6x at the end of 2016, implying EBITDA of ~$7.6 billion, 3% higher versus 2015's $7.4 billion.
Conclusion
KMI posted strong Q4 results and the company should continue to see very strong cash flows going forward, even with oil as low as it is.
However, investors in midstream companies need to prepare for even more volatility. The market has stopped valuing many of these stocks with any sort of consistency. or logic KMI is now trading at its lowest ever valuation based on numerous metrics. Price-to-DCF is under 6x, versus over 20x in late 2014. EV/EBITDA is under 10x, versus 17x in late 2014, etc. This is for an investment grade company that is growing and has a clear pathway for even more growth for many years.
Disclaimer: The opinions in this article are for informational purposes only and should not be construed as a recommendation to buy or sell the stocks mentioned. Please do your own due diligence before making any investment decision.
Disclosure: I am/we are long KMI.
I wrote this article myself, and it expresses my own opinions. I am not receiving compensation for it (other than from Seeking Alpha). I have no business relationship with any company whose stock is mentioned in this article.