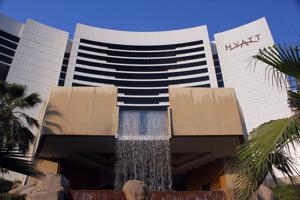 Hyatt Hotels Corporation (NYSE: H) has seen massive downswing in the past few months. The stock has fallen from $60 mark in mid-July to below $40. A couple of factors were responsible for this. One was the lower EPS figures for June and September quarter in comparison to consensus EPS forecast.
Another major factor was the recent data breach incident. The importance of data security for a brand like Hyatt cannot be underestimated. The news about data breach came in the last week of December, 2015. And newer information is still coming out which shows the extent of damage through this incident. Wall street journal listed name of 250 hotels which were hit by this cyber-attack. According to current investigations, this incident took place between August 13th 2015 and 8th December 2015 and affected 250 hotels in 50 countries. This news has added fuel to the already negative trend and sent the stock spiraling downwards from $50 mark to $35.
Data security is very important and the loyalty to a brand depends a great deal on whether it is able to ensure the customers that their data will be secure with the firm and adequate data protection processes are in place. Nevertheless this issue has been blown out of proportion as far as the current information is available. I doubt if this will have a long term effect on Hyatt's brand. Worst case scenario would require the firm to revamp its payment process and keep aside funds for any losses incurred during this period.
However, long term effect on the brand, RevPAR for its properties and earnings seem minimal. The firm has good pipeline of new rooms which come to a total of 56,000 rooms and represent 35% of the existing 158,608 rooms in operation (As of the latest quarter). This should continue to provide sizable increase in room count in the next few years. The firm has gross debt/ TTM adjusted EBITDA of close to 3.0x and has $1.5 billion in undrawn borrowing capacity under revolving credit facility which should provide adequate liquidity.
A long term negative factor for the entire lodging industry is Airbnb. According to a recent study the impact of Airbnb is felt much more strongly as we go lower in the price tiers in lodging options. Hyatt is placed at a very secure position as far as this is concerned. Over 97% of its hotel brands fall under luxury, upper upscale or upscale segment. In comparison to this InterContinental Hotels Group (NYSE:IHG), Hilton Worldwide Holdings Inc (NYSE:HLT) and Marriott International Inc (NASDAQ:MAR) have a higher proportion of their total portfolio in lower segments like midscale and upper midscale. IHG has over 80%, Hilton has close to 48% and Marriott has 24% portfolio within midscale and upper midscale segment (Segments defined according to STR chain scales).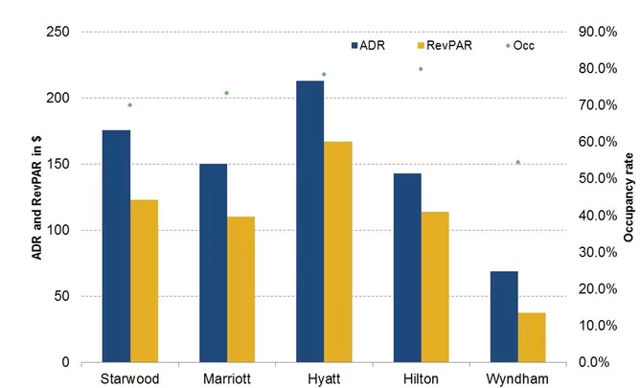 Fig 1: Higher concentration of Hyatt's properties are in Luxury, Upper upscale and upscale segment which gives it better ADR and RevPAR numbers than peers. Source: Q3, 2015 filings of the companies.
This concentration in higher price tier segment should limit any competition it sees with Airbnb in the future. This seems as one of the biggest factors working in its favor.
Another advantage which Hyatt has over other peers is the higher concentration of rooms in US. Currently 66% of the rooms are in US. This shields the firm against any international economic downturn or political uncertainty. Due to slowing of Chinese economy, many firms having higher concentration in that geography will have to modify their future plans and will surely feel its negative impact on their earnings. This also gives Hyatt greater room for growth in the future.
Conclusion
Hyatt has strong fundamentals and has several long term positive factors working for it. The firm is placed at a better spot when compared to peers with regard to future Airbnb competition. Once the current downward trend in the lodging sector bottoms out, Hyatt's stock should gain a robust upward momentum.
Disclosure: I/we have no positions in any stocks mentioned, and no plans to initiate any positions within the next 72 hours.
I wrote this article myself, and it expresses my own opinions. I am not receiving compensation for it (other than from Seeking Alpha). I have no business relationship with any company whose stock is mentioned in this article.