Drybulk shippers specialize in transporting cargos, typically commodities, such as iron ore, coal, grain and other materials around the world. Drybulk companies include but are not limited to DryShips (NASDAQ:DRYS), Diana Shipping, Inc. (NYSE:DSX), Golden Ocean Group Ltd. (NASDAQ:GOGL), Navios Maritime Holdings, Inc. (NYSE:NM), Navios Maritime Partners L.P. (NYSE:NMM), Scorpio Bulkers (NYSE:SALT), Safe Bulkers, Inc. (NYSE:SB), Star Bulk Carriers Corp. (NASDAQ:SBLK) and Ship Finance International Limited (NYSE:SFL).
The Baltic Dry Index (BDI) is a composite of the Baltic Capesize, Supramax, Panamax, and Handysize indices. It is useful in determining the cost to move materials by sea. Recently, it has again set new historic lows amid an increasingly unfavorable outlook.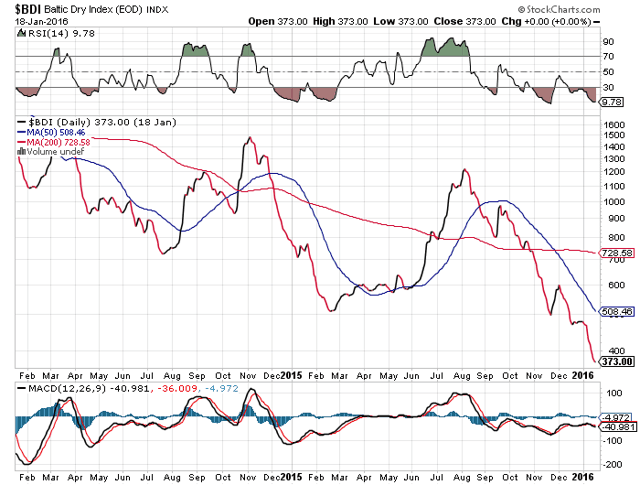 Source: stockcharts.com
The 2-year chart above illustrates this unprecedented collapse, and recent lows have reached levels that surprised some analysts, but I was less than shocked.
In fact, my latest dry bulk article headlines alone told the coming story:
Baltic Dry Index Could Test Lows: Drybulk Shippers Continue To Suffer, published on Nov. 8th, 2015.
Drybulk Shippers Could Feel Pain For Several More Years, published on Dec. 16th, 2015.
It was the recent events out of China that brought this segment to a new historic low and the pullback in stock prices has presented a tempting lure for value and yield seekers. I have recently received quite a few questions from readers wondering if they were safe to play the bonds/preferreds, if it was too soon to get in, or if the yields were too good to be true.
Here I would like to explain why I continue to view the drybulk sector as virtually un-investable, in a bullish sense, for the foreseeable future. But let's start with a bit of background so new readers are brought up to speed.
Background
It is widely accepted that currently the drybulk market is experiencing supply and demand disequilibrium. This was the result of too many ships being ordered prior to the 2008 crash to supply a commodity demand boom that was unsustainable in the long run. The end result was a massive amount of supply that was ordered before 2008 and being delivered as late as 2014 due to the lengthy nature of the shipbuilding process and the backlog in many shipyards that spanned several years. Thus, the available supply soon outstripped post-boom demand. This oversupply has now been met with the realization that we are now facing a demand side problem of increasing proportions. This has led to the record lows for the BDI.
Demand
Two-thirds of drybulk market demand comes from iron ore and coal, and China (which is experiencing an economic transition, an economic slowdown, and enacting protective measures to benefit both the domestic coal and iron ore sector) is a top consumer of both.
It might surprise many to learn that China has accounted for 95% of net growth in the seaborne iron ore trade from 2002-2014 and over 40% for coal. Together, iron ore and coal compose approximately two-thirds of the total drybulk shipping demand.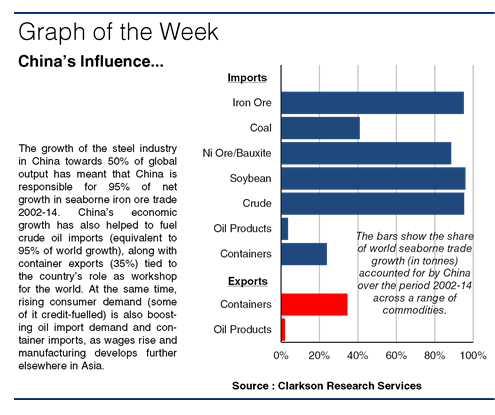 Source: Clarksons
Currently, China imports two-thirds of the world's seaborne iron ore and its coal trade accounts for almost a quarter of all coal trade globally. Therefore, you can see why drybulk shippers are concerned about the future of the Chinese economy.
Well, the numbers are out for 2015 and they aren't good news for dry bulk shipping. China saw imports of coal fall 30%, and iron ore imports rise just 2.2% in 2015. That 2.2% was greatly helped by a massive iron ore stockpiling effort that began midyear.
Coal
China's energy consumption is largely powered by coal, accounting for almost 70%, which is also the number one cause of smog, a problem which has plagued major cities and embarrassed the government.
Recent policies to curb coal consumption, a slowing industrial sector which consumes 75% of electricity, and reductions in energy intensity, are mostly responsible for this decrease. China is also growing at its slowest rate in 25 years further compounding this slowdown in coal imports.
Furthermore, China plans to cap coal use to below 65% of total primary energy consumption by 2017 and move towards 50% by the middle of the century, a potential reduction of over 800 million short tons from current totals.
Iron Ore
China's appetite for steel largely influences its iron ore needs with approximately 98% of iron ore utilized for steel making. Reuters reports that steel production is set to decline in 2016 "as a cooling economy hurts demand in the world's top producer, underscoring the bleak outlook for the steel and iron ore sectors."
If anyone doubted the magnitude of the crisis facing the world's largest steel industry, Bloomberg reported that Zhu Jimin, the deputy head of the China Iron & Steel Association, is issuing dire warnings.
Zhu notes that "China's steel demand evaporated at an unprecedented speed as the nation's economic growth slowed" and "as demand quickly contracted, steel mills are lowering prices in competition to get contracts." Additionally, "Production cuts are slower than the contraction in demand, therefore oversupply is worsening," said Zhu. Finally, "although China has cut interest rates many times recently, steel mills said their funding costs have actually gone up."
The end result is that more China steel mills halt output on demand woes. Reuters reports: "More steel mills in the Chinese province of Shanxi have halted production due to shrinking demand and a shortage of cash. Among the main 23 steel mills in the northern province, 10 including Linfen Iron & Steel, a unit of state-owned Taiyuan Iron & Steel Group, have shut down all blast furnaces, with a total annual capacity of 19.7 million tonnes, with the rest running at very low utilisation rates."
Supply
As stated earlier, the root of the problem began on the supply side and persists to this day. In fact, any sort of supply side correction may be off the table for another 2 years.
There is no quick fix here aside from a massive combination of demolition and idling, which appears highly unlikely. The long-term fix involves seeing demand stabilize for key commodities as demolitions outpace deliveries. The latter could materialize as early as 2018 since drybulk contracting rates have practically dried up.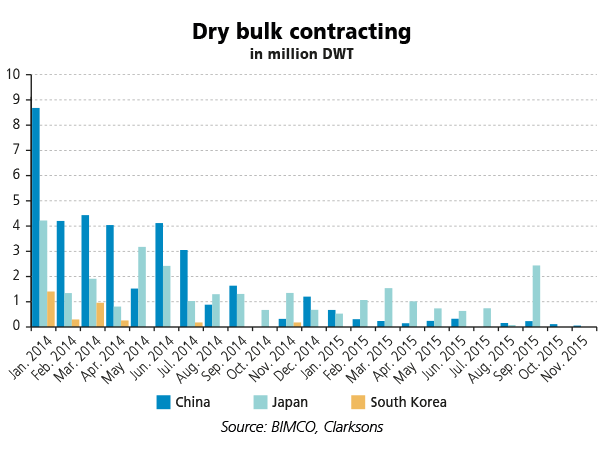 Source: BIMCO
However, BIMCO also notes that deliveries are indeed expected to outpace demolitions through 2017.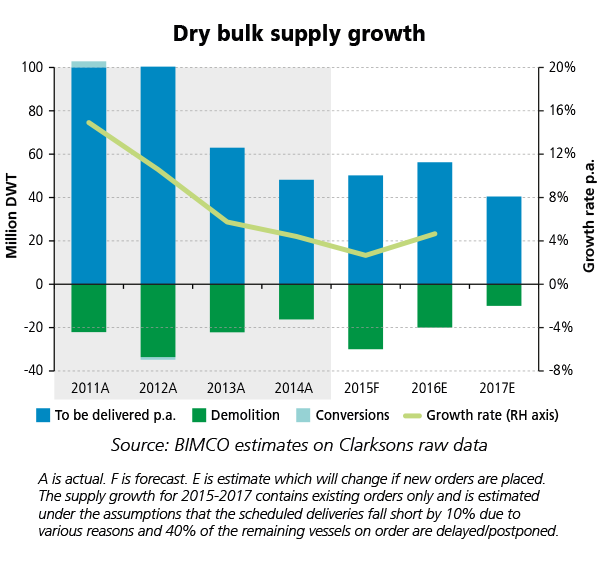 Source: BIMCO
Waning or decreasing demand in key commodities coupled with positive net fleet growth that exceeds the projected overall demand doesn't bode well for the short run. Basically, there is no easy way out, and things are likely to get worse before they get better.
Outlook and Trends
China has generated approximately 50% of the growth in seaborne trade since 2008. Europe and the US have declined and the growth of the other regions pale in comparison. The recent Chinese slowdown has many scrambling to find the next big trading partner, but that may not be a realistic possibility. Therefore, the fate of drybulk is still largely tied to China, and unfortunately, several trends have emerged that do not paint a bright long-run outlook.
Let's take a look at those trends and how they impact the future of this sector. Since I like charts, and Clarksons always puts out the best ones, here's a big thank you to Clarksons Research.
In May of 2015, Clarksons speculated that a structural shift was underway in China and could bring about a new dynamic for drybulk shipping.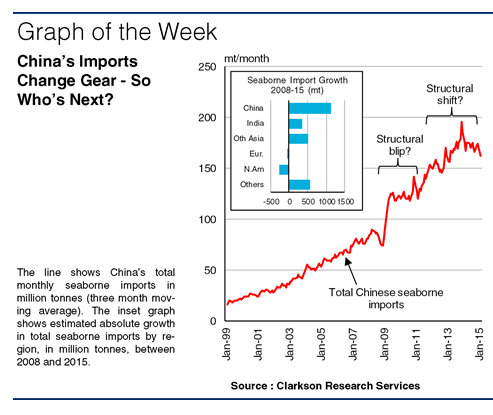 Source: Clarksons
This was followed up in August when Clarksons noted that "While global growth in low-cost ore production could still boost imports later this year, there is certainly no longer a consensus that China's steel industry has considerable long-term growth potential."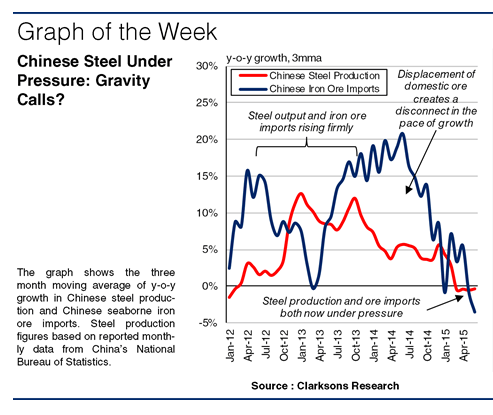 It wasn't just China that appeared to be facing these headwinds.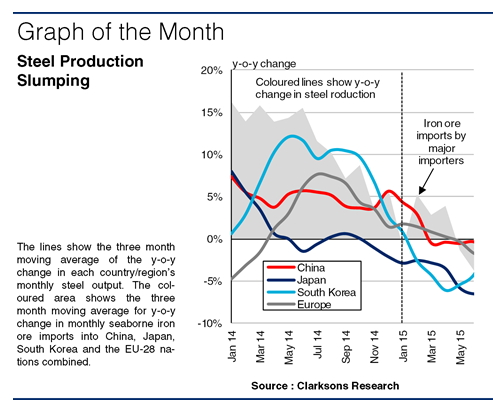 Additionally, coal also appeared to be on an even steeper downward trajectory since 2012.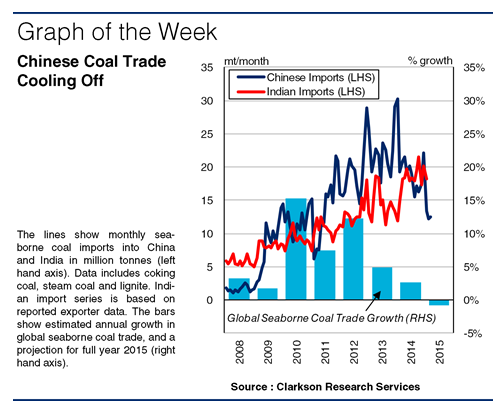 Finally, the parallel between industrial production and seaborne trade with regard to China is impossible to ignore as Clarksons points out.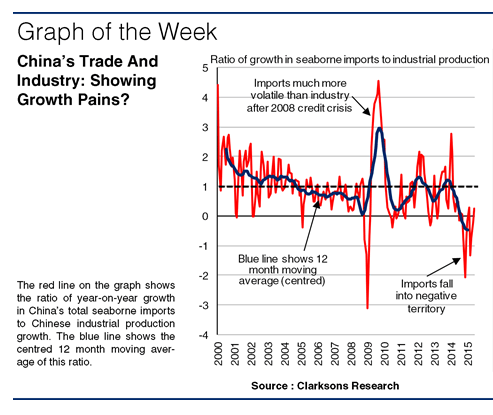 Finally, recently, the Caixin China Purchasing Managers' Index for December came in at 48.2, marking the 10th straight month of an ongoing decline.
The Asia Times noted that the "index fell mainly because of a renewed shrinking of manufacturing output. December was the seventh month out of eight in which production fell. Softer demand at home and abroad lead to a further weakening of new businesses. New export orders fell for the first time in three months."
Going Forward (long story short)
Everything presented so far indicates some important points that investors or potential investors must recognize. Waning demand for key commodities by the largest customer (China) is a long-term trend in the making. This trend has just started and looks to be a permanent shift for a key commodity: coal. There are no substitute markets to absorb the demand shift at this time. Industrial and manufacturing are under pressure and this also appears to be a long-term trend as China embarks upon a predetermined economic shift.
The supply of vessels remains a serious problem. 80 percent of the fleet is younger than 10 years of age and made up of lower-cost, larger, fuel efficient vessels which are unlikely to be voluntarily scrapped, especially given the extremely low demolition prices. Additionally, the world's fleet of dry bulk carriers has grown 84 percent since 2013 while bulk cargo demand has grown by only 33 percent in the same period.
The result of all this, as stated in the beginning of the article, is the Baltic Dry Index reaching record lows. The week prior to this Intermodal noted in its Week 2 Report (by subscription) that rates were below OPEX for drybulk across the board. Well, the BDI has declined a further 14% since that statement.
On Tuesday, Ship and Bunker reported that "average spot TC rates for Supramax vessels finally broke the $4,000 threshold, falling to $3,989 per day. Average spot TC rates fell to $2,662 per day for Capesize bulkers, and $2,952 per day for Panamax ships." Obviously, these rates aren't sustainable for companies.
Unlike other businesses, bankruptcies won't bring an end to the situation of oversupply. The problem with weaker companies going under is that no ships are removed from the equation. In many other industries when companies go bankrupt or cease operations, some supply may be removed from the equation. But shipping is not like that.
Ships from bankrupt companies are sold to others and put into service thus maintaining the supply. Often, these vessel sales occur at reduced prices which consequently lowers the break-even rates allowing for reduced day rates or contracts. Therefore, no excess capacity is really ever curtailed as a result and rates continue to see downward pressure.
Amazingly, there are still buyers in the drybulk market, albeit at prices that are half of what was being paid in 2014 for comparable 5-year-old vessels. Week 2 saw 14 drybulk transactions with 10 of those being Capesize vessels. Week 3 saw 12 drybulk vessel transactions with 5 being Capesize.
Therefore, time will be the only solution and it isn't until 2018 before we have a meaningful shot of demolitions outpacing deliveries. This is needed to make supply side concessions for a global economy that no longer requires the available supply to support the new normal in commodity demand. That is unless we see some sort of unprecedented demand shift in the meantime, which I view as highly unlikely.
Conclusion
As Intermodal noted, rates are below OPEX across the board. This environment looks to be troubled for quite some time, therefore, I expect many companies to continue to experience losses.
Which brings me to another point, don't be fooled by NAV or balance sheets at this point. These companies are experiencing severe cash burn and these assets depreciate. Not to mention the fact that 5-year-old Capesize vessels are selling for $23M vs. $47.3M this same time in 2014.
Another thing to avoid in my humble opinion would be companies with large newbuilding commitments. It was just last January when many were touting the size of their newbuild orderbook compared to other companies.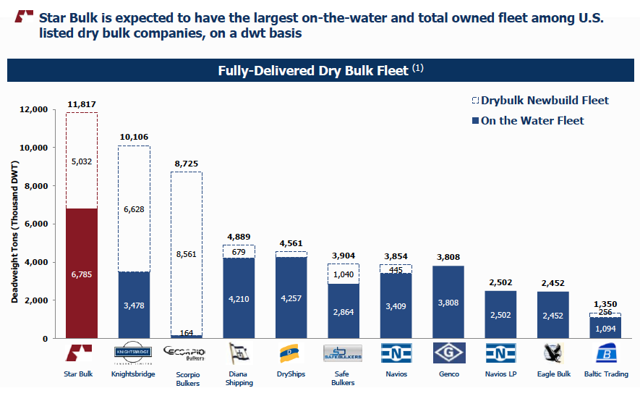 Source: Star Bulk Jan. 2015 Presentation
But today, these newbuilds are no longer the prize assets they once were believed to be. The scale of newbuilds compared to other companies was noticeably absent in Star Bulk's January 2016 presentation. The reason is simple: they are depreciative assets and will burn cash upon delivery in today's rate environment.
Also, any attempt to unload these commitments could be quite costly. One of the sales in Week 3 was a 2016 Capesize that sold for $35.5M. That's a 20% discount to current newbuilding prices and approximately a 40% discount to 2014 levels when many of these were ordered, yikes.
That brings us to another point. Last week, The Maritime Executive reported that "Deutsche Bank had a warning regarding vessel sales in the current weak market, suggesting that offloading ships could force some operators into bankruptcy as large asset reductions would violate their loan covenants."
Finally, Bloomberg went one step further noting that "the worsening forecast for container and bulk carrier markets, which make up most of HSH's (HSH Nordbank AG) 21 billion-euro shipping loan book, prompted the bank to "set aside a pretty significant amount of additional risk provisions in the fourth quarter of last year," said Ermisch, who's a former board member at Unicredit SpA's HVB and the German state-owned lender BayernLB. "Shipping markets are in an extremely difficult situation and it will stay that way for some time."
It's not just the dry bulk companies themselves that are in jeopardy at this point; the spillover has started. Shipyards were among the first to feel the pain but now the crisis appears poised to threaten the stability of those financing drybulk companies. The depth and breadth of this crisis appears to be unparalleled, and so could the impact on the sector, and those involved with it to a large degree.
I welcome all questions/comments and invite you to follow me on Seeking Alpha as I continue to cover all aspects of maritime trade. Thank you for reading.
Disclosure: I/we have no positions in any stocks mentioned, and no plans to initiate any positions within the next 72 hours.
I wrote this article myself, and it expresses my own opinions. I am not receiving compensation for it (other than from Seeking Alpha). I have no business relationship with any company whose stock is mentioned in this article.
Editor's Note: This article covers one or more stocks trading at less than $1 per share and/or with less than a $100 million market cap. Please be aware of the risks associated with these stocks.